If you're in the market for a new student loan product, you've probably heard of College Ave Student Loans. This versatile lender offers flexible loans with competitive interest rates for both new borrowers and refinancers.
Plus, College Ave has many repayment options to choose from, making your many years of repayment easier.
Should you put this lender on the short list for your own student loan search? We've created this College Ave student loan review to tell you everything you need to know.
What Is College Ave?
College Ave is a student loan provider founded in 2014. It doesn't dabble in personal loans or any other financial products — student loans (and refinancing) are all it does.
The company prides itself on a simplified, straightforward loan process from start to finish. It aims to make pre-approval, application, and even repayment easy (well, I guess that last one is open to interpretation).
How does College Ave do all this? By offering a number of loan term and repayment options for borrowers, along with rates that are some of the lowest around.
The College Ave Application Process
Whether you're applying for a new private student loan through College Ave or looking to refinance your existing student loan debt, the process is very similar. No matter which loan type you need, you can prequalify quickly on the College Ave website without any impact to your credit score.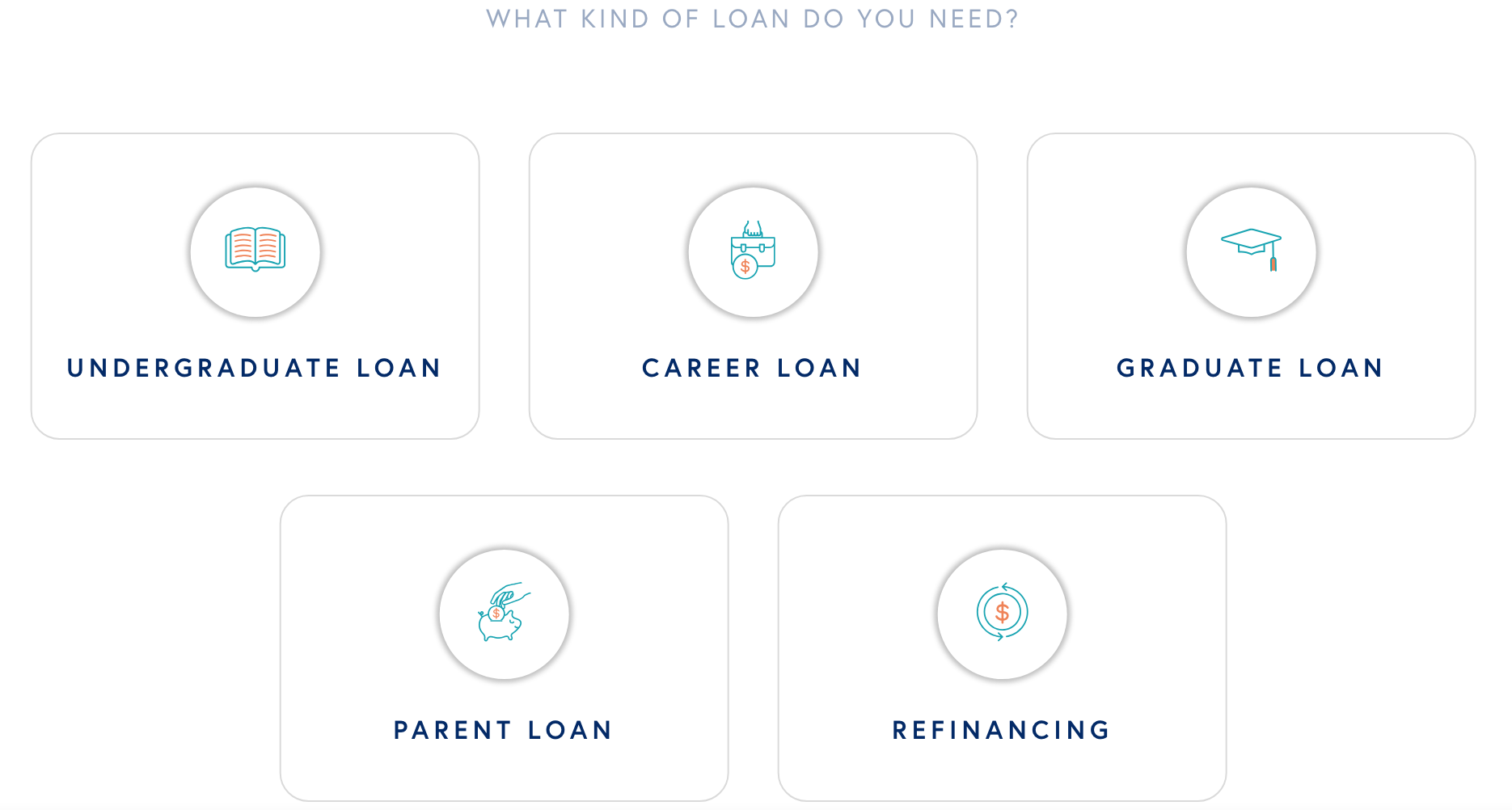 Before you get started, you'll want to have some important personal information available. This includes your:
Name and email address
Date of birth
Current address
This information is enough to get you an immediate prequalification. (If you're prequalifying for a refinance loan instead of an undergrad or graduate student loan, you'll also be asked to provide your annual income.)
However, keep in mind, you'll be expected to provide additional information when you're ready to officially apply for your loan.
My Experience
For me, the pre-qualification process took about 30 seconds to fill out and get an answer. However, I'll admit I was a bit surprised by the results.
When I tried to prequalify for a new undergraduate loan, I was told I wasn't eligible without a cosigner. Now, mind you, I have an excellent credit score and sufficient income and have refinanced my student loans once already without a cosigner.
However, without telling me why (and without asking me anything about my income), College Ave had already decided that I couldn't take out a new loan on my own. This makes me wonder if perhaps this is a common result for undergraduate borrowers. After all, it's more secure to have students and their parents both on the hook for the loan.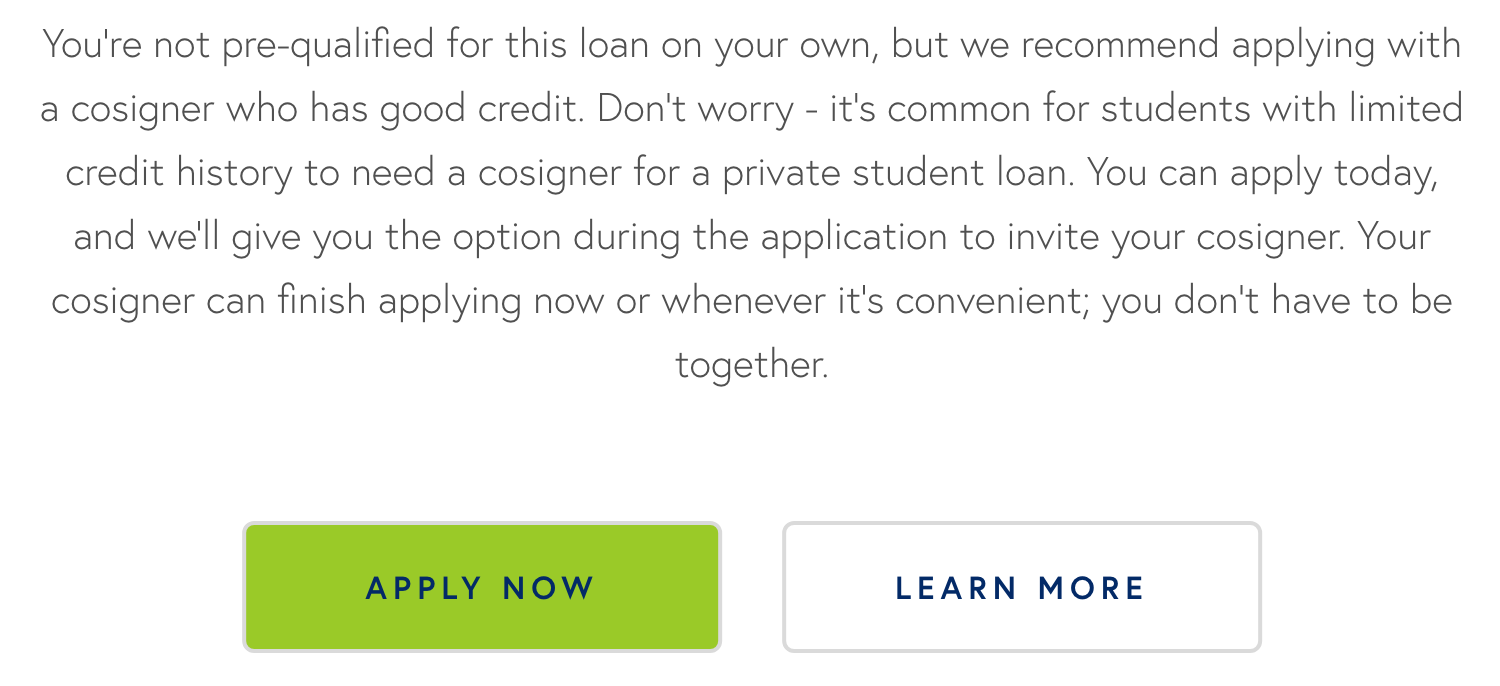 On the other hand, when I went back through the prequalification process and instead chose to refinance my existing loans, I didn't get any message about needing a cosigner. Instead, I was offered the fixed and variable rates I could expect on my loan, along with a prompt to officially apply for the refi.
Student Loan Requirements
Anytime you borrow funds, there are a few important requirements you'll need to meet. For College Ave, this is true whether you're taking out a new loan as an undergraduate/graduate student, refinancing existing student loan debt, or taking out parent loans for your student child.
In order to qualify for a private student loan through College Ave, you'll be expected to be enrolled at least half-time in an approved undergraduate or graduate program. You'll also need to be either a U.S. citizen or an international student with a valid U.S. Social Security number (such as an F-1 or J-1 visa holder).
While the lender doesn't advertise a minimum credit score requirement for funding, it's safe to say that borrowers need to have a score in the mid-600s. You're also unlikely to get approved if you have a bankruptcy on your credit report.
Student Loan Refinance Requirements
The same expectations apply if you want to refinance your existing student loan debt through College Ave, but there are a few additional requirements. These include:
Being at least 18 years old
Having graduated from a selection of Title IV eligible undergraduate or graduate programs
Earning at least $65,000 annually (or adding a cosigner)
Having a minimum credit score of 650 (or a creditworthy cosigner)
Having a positive credit history with no bankruptcies or accounts recently in collection
Your to-be-refinanced student loan debt should be at least $5,000. The maximum you can refi with College Ave is $150,000 for undergraduate and graduate degrees. If you have a medical, dental, veterinary, or pharmacy doctorate degree, $300,000 is your refi maximum.
College Ave Loan Options
There are many, many loan options to consider when borrowing from College Ave. In fact, the company boasts 16 different loan term combinations to choose from as a new borrower.
You'll be able to choose a loan with a repayment term of anywhere from five to 20 years. You can also opt for a fixed rate (great for locking in a steady rate over a longer repayment term) or a variable rate (an option for shorter repayment terms if you want to snag lower interest charges).
While Still in School
If you're still working toward your degree, you can choose to either begin repaying your student loan now or defer repayment until after graduation. The former option will help you reduce the interest charged over the life of your loan, resulting in a more affordable overall loan cost.
On the other hand, the latter option may be the easiest for you while you're still in school — especially if you're not employed.
You have four student loan repayment options as long as you're enrolled at least half-time:
Full Deferment: You can delay your entire repayment until after graduation (or until your enrollment drops below half-time). During this time, your private student loan(s) will accrue interest, but no monthly payment will be due.
Immediate Repayment: You can start making standard monthly payments on your new loan immediately, while still in school. This option is the best for reducing your overall interest burden but may not be feasible while still completing your studies.
Interest Only: You'll pay the interest accrued on your loan(s) each month while still in school, then begin paying down the principal and interest balance after graduation.
Fixed Monthly Payment: You can choose to make a small monthly payment on your loan while still in school. This option is available at $25 per month, but you can always make additional payments when you have extra funds.
While making a small fixed monthly payment — such as the $25 option — may seem like a drop in the bucket, it can have a huge effect on your overall repayment amount.
Let's See the Math…
So just how much could you save by paying a little bit while still in school?
Let's say you take out a $10,000 loan before your first year, at an 11.03% rate and with a 10-year repayment. You defer the loan entirely, then begin repaying it four years later, after graduation.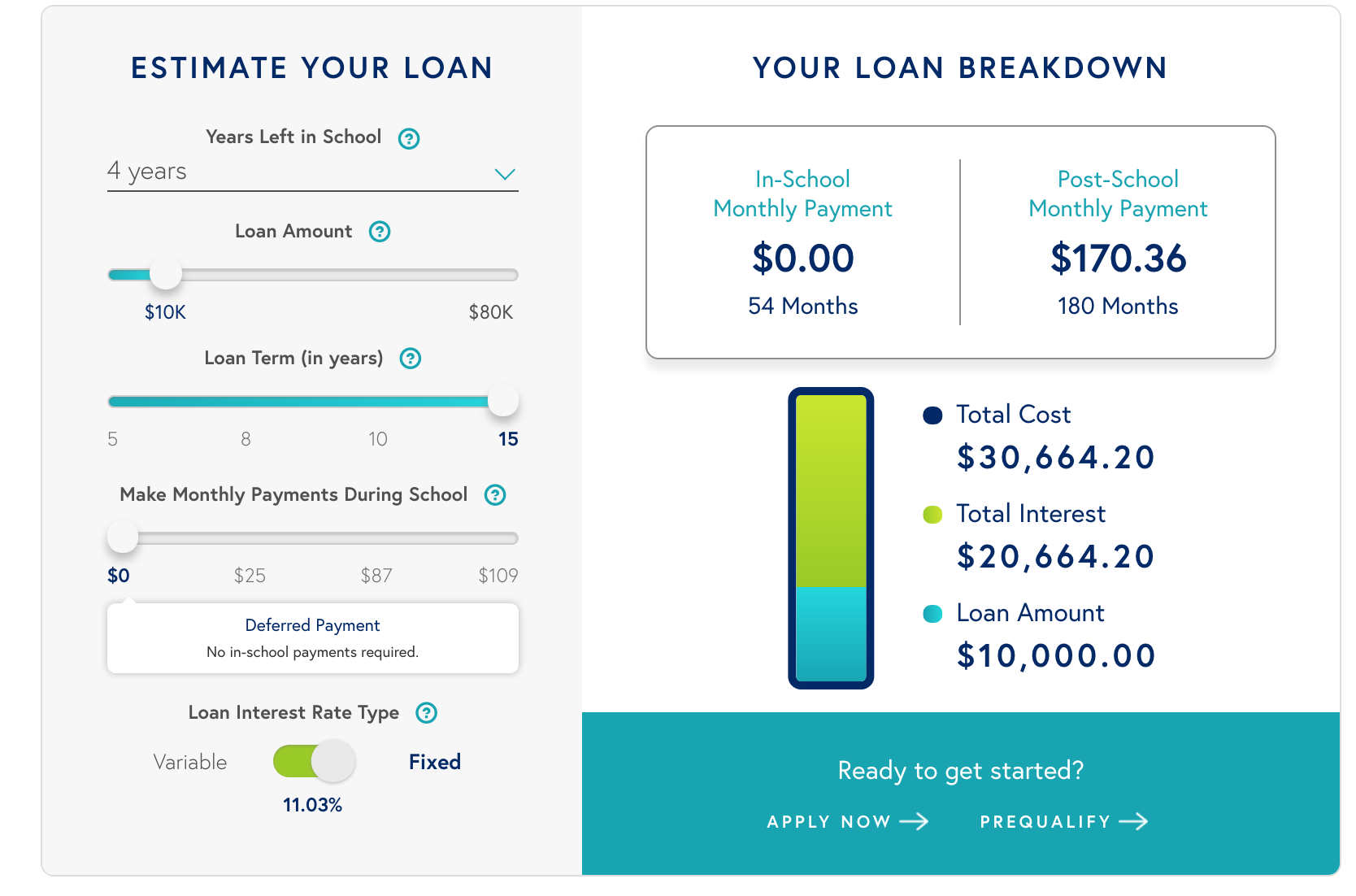 Thanks to compound interest, that $10,000 loan will actually wind up costing you $30,664 total… with more than $20,000 of that being interest alone. Ouch!
However, if you chose instead to pay $25 each month while in school, you could substantially reduce your overall debt burden.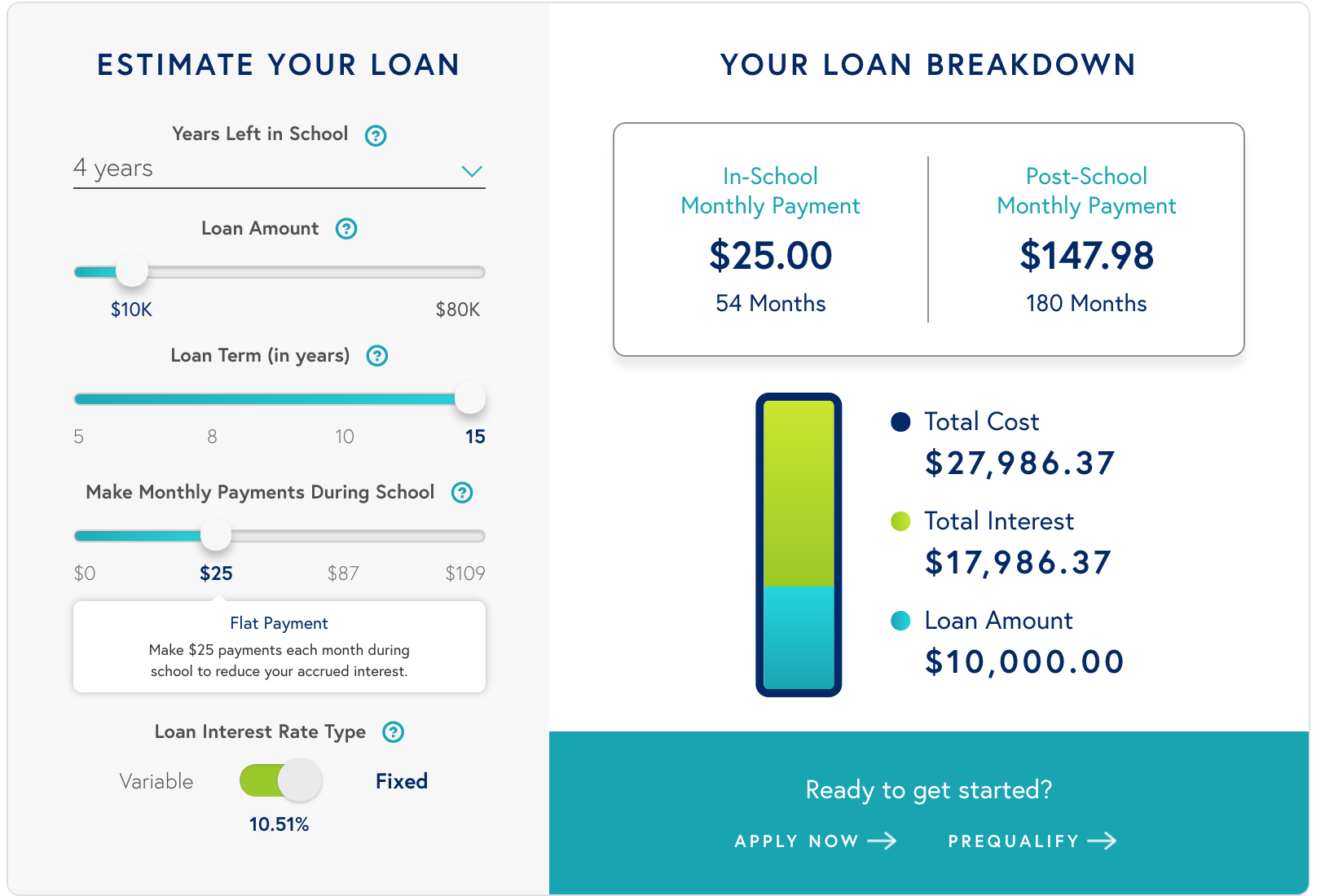 This small move would save you $2,677.83 over the life of the loan, for just the cost of one latte a week while in school. Bump that monthly contribution up to $87, and you would save yourself a whopping $6,183.20 over the life of that one loan.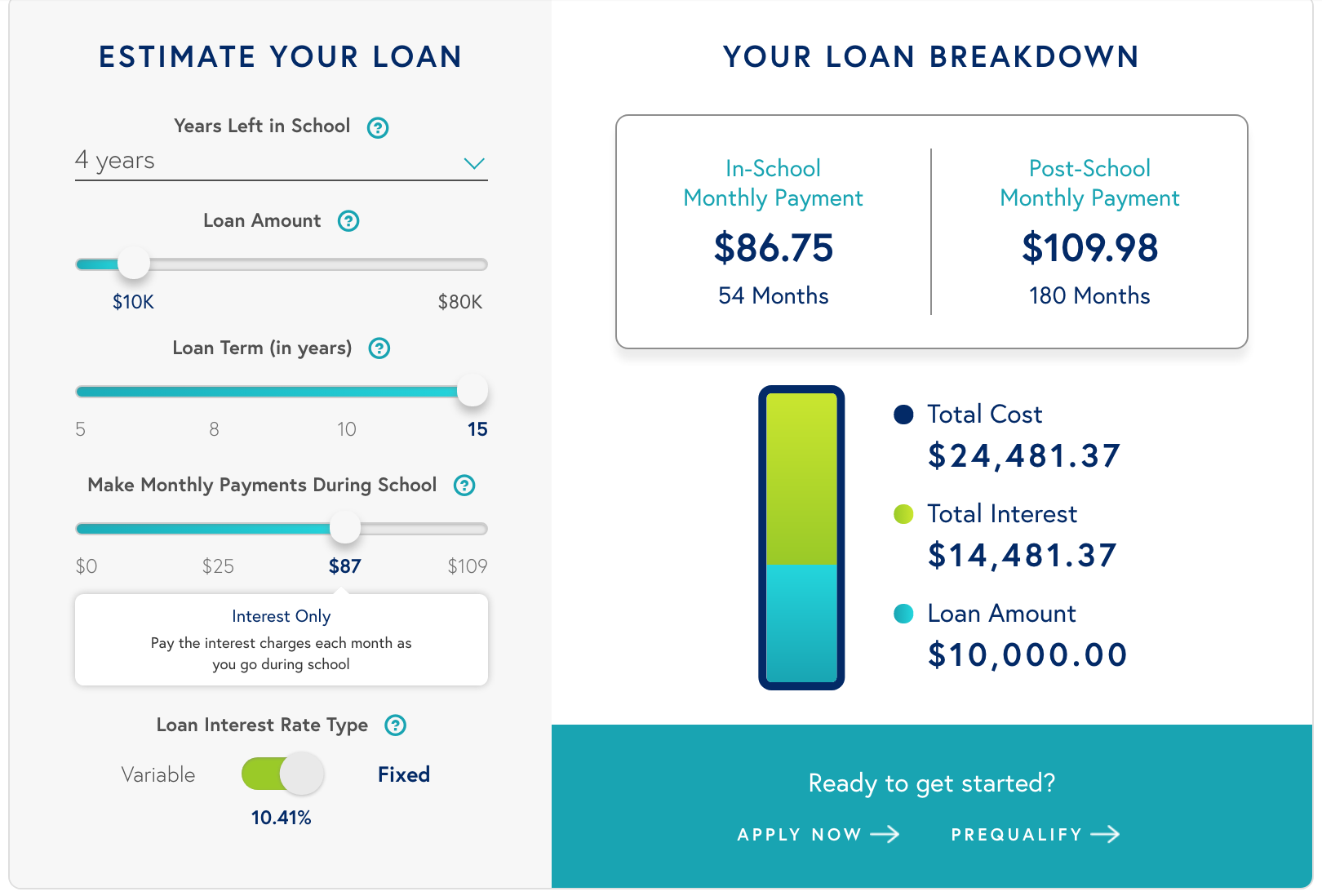 Of course, your actual savings will vary depending on the loan amount, interest rate, and whether you refinance after graduation. However, making even a small monthly contribution gives you a definite leg up on the repayment.
After Graduation Repayment
If you'd rather wait to pay off your loans until after graduation, that's also an option. You'll automatically be eligible to defer your payments for six months thanks to a grace period. However, after that, you'll be expected to start making a dent in the debt.
If you're struggling to make payments as scheduled, you might want to look into refinancing the debt. In many cases, this would allow you to drop your interest rate, lower your monthly payment, or both.
If you're enduring a hardship of some kind, forbearance might be an option for you. At College Ave, applications for forbearance are evaluated on a case-by-case basis, so be prepared to defend your request.
College Ave Interest Rates
One of the most important factors of any loan you take out is the interest rate. When you are talking about paying back tens of thousands of dollars — and often taking many years to do so — you want the absolute lowest rate possible.
College Ave offers some pretty solid rates, both to its private loan borrowers and its refinance loan borrowers. You can choose between fixed or variable rate loans, each with competitive interest rates.
Fixed Rate

Variable Rate

Private Loan Interest Rates

(current as of 9/24/20)
3.49 - 12.99% APR
1.24 - 11.98% APR
Refinance Interest Rates

(current as of 9/24/20)
3.74% - 8.49% APR
3.64 - 8.49% APR
The rates above include a 0.25% discount just for using auto-pay each month. If you don't plan to take advantage of this money-saving feature, the rates you're actually offered may be slightly higher.
As you can see, private student loans can bring with them substantially higher interest rates than their federal counterparts because private student loans are credit based. Refinancing at a lower rate after graduation may be your best bet, especially if private loans are part of your educational funding plan.
Benefits of Using College Ave
There are many reasons why you may choose to borrow with College Ave. Whether you're taking out private loans to fund your undergraduate or graduate studies — or refinancing the educational debt you've accumulated thus far — College Ave (and its many loan features) can help.
Borrow and/or Refinance
Many of the top student loan refinance companies exclusively service refi loans — they don't lend to students. Conversely, many of the top private loan lenders offer only educational loans — they don't offer refinancing options.
With College Ave, you get the best of both worlds. Whether you're looking to take out loans to pay for school or refinance your existing college debt, the company is ready to offer the financing you need at a competitive rate.
You can even take out loans with College Ave, then later refinance that debt for a lower interest rate and/or better terms.
Repayment Options
No matter how you want to manage your student loan debt, College Ave has an option for you. The lender offers a variety of repayment options, all intended to help you create a financial plan that works.
Undergraduate student loans are offered in five-, eight-, 10-, and 15-year terms. Refinances are offered in terms of anywhere from five to 20 years, depending on exactly what you need.
For undergrad loans, you have the option of deferring repayment until graduation, beginning your repayment right away, paying interest-only throughout school, or paying $25 each month toward your loan.
Refi loans are also offered with options to suit every borrower. Both fixed and variable rate loans are available, depending on how quickly you plan to pay off your debt. You can also opt for a refi repayment of anywhere between five and 20 years in length.
No Prepayment Penalty
If you want to repay your student loan(s) ahead of schedule, you can do so with College Ave… without penalty! In fact, College Ave actually encourages borrowers to repay their debt early and offers an online repayment calculator that lets you see just how much you'll save over the life of your loan by paying a little extra each month.
No Origination Fees
There are no application, origination, or other fees incurred when taking out a new loan with College Ave. (However, unlike some other lenders, College Ave does charge late fees. See below for more info.)
Available in All 50 States
Whether you're a first-time borrower or refinancing all of your educational debt, College Ave is there for you as long as you live in the U.S. It offers loan products to residents of all 50 states and the District of Columbia. (However, note that refinancing options are currently unavailable to residents of Maine.)
Where College Ave Falls Short
No lender is perfect, of course. Here are a few things to keep in mind about College Ave as you begin the loan shopping process.
No Official Forbearance Policy
If you find yourself struggling to make your monthly student loan payments as required, it may be time to look at options such as forbearance. This will allow you to temporarily reduce or suspend your payments until your hardship passes.
At College Ave, forbearance requests are considered on a case-by-case basis. The lender does not have an official policy dictating requirements or the forbearance period allowed.
Satisfactory Academic Progress (SAP) Is Required
In order to continue borrowing from College Ave as an active student, you'll need to demonstrate that you're putting forth the necessary effort required. This is done through a Satisfactory Academic Progress (SAP) verification.
College Ave doesn't define what "satisfactory progress" entails — instead, It leaves that up to your school. However, if you don't show forward progress in your educational journey, you may not be approved for additional funding.
Can't Hand Off Parent PLUS Loans
Many borrowers plan to refinance their student loans down the line, freeing their cosigner parent(s) from the debt altogether. However, if your educational debt includes Parent PLUS loans, you won't be able to do so through College Ave. However, a Parent PLUS loan can be refinanced if the person refinancing is either the primary or cosigner of the loan.
Accessibility
Whether you're seeking information, want to apply for a loan/refi, or need to reach customer service with questions about your account, College Ave makes it easy to do.
You can find a slew of information on the website, which also includes a live chat feature and easy email submission form. If talking to a real person is more your speed, representatives are available five days a week to help.
This is where it gets a little tricky. If you're looking to apply for a loan, you can reach a rep Monday through Friday, from 9 a.m. to 8 p.m. EST. If you're looking for help with an existing loan, you can reach someone Mon./Wed./Thurs./Fri. from 8 a.m. to 6 p.m., or Tuesdays from 8 a.m. to 7 p.m. EST.
The full website is also available on smartphones and tablets. Whether you want to find information, get approved for a loan, or chat live with someone, you can do so from your mobile device.
How Does College Ave Measure Up?
There are many student loan providers to choose from these days, each offering its own flavor of education lending. So just how well does College Ave do at keeping up with the competition?
As with many of the top lenders, College Ave offers both private student loans and loan refinancing. You can opt for loan repayment terms that suit you, whether you want to start repaying right away, wait until after graduation, or something in between. There is also no penalty for repaying your debt early if you want to save yourself time and money along the way.
Interest rates through College Ave are competitive, giving borrowers an opportunity to save money. This makes it a great choice for borrowers looking to pay less on their student loan debt, especially if they're interested in refinancing existing (high-interest) loans.
The Biggest Drawback
Of course, you can't have it all. There are a few things that College Ave lacks. The biggest downside might be that you can't refinance Parent PLUS loans through this lender. If you're interested in freeing your parents from your cosigned federal loans, you'll need to look elsewhere.
College Ave also doesn't have an official forbearance policy, which is important to note. While it does grant these on a case-by-case basis, it's hard to tell whether you'd be able to access the feature or what the terms would be.
If you think that forbearance is a feature you'd really like to have at your fingertips, College Ave might not be right for you.
Choosing to Borrow With College Ave
Choosing the right student loan lender for you is a very personal decision that depends largely on exactly what you need and how you plan to manage your debt over the years.
There are many reasons why College Ave might appeal to you: various repayment options, flexible loan terms, and competitive interest rates, among others. You can even get preapproved for your private student loan — or loan refi — online without any impact on your credit.
To learn more, get rates, or apply for your own student loan product, you can visit the College Ave website here.
Stephanie Colestock
Stephanie Colestock is a personal finance expert and writer who enjoys teaching people how to be financially independent and confident about their money choices, regardless of obstacles in their path (such as the crippling student loan debt she once held). Stephanie graduated from Baylor University, and is currently working toward her CFP certification. Her work can be seen on sites such as Forbes, Dough Roller, and Johnny Jet, among many others.