Interested in student loan aggregator Credible? Find out if this service is a good choice for you with our in-depth Credible student loans review below.
The process of rate-shopping is a complicated one, whether you're looking to buy a home, get a new car, or refinance your student loan debt.
You could easily spend hours searching for the lender that best meets your needs and offers the lowest possible rate on your loan.
But what if you could view rates from up to 10 lenders at once, without it impacting your credit whatsoever? And what if I told you that you'd get more than just interest rates from this seconds-long process, being able to also see pre-qualified offers and even total repayment costs?
That's exactly what the free service from Credible does. This student loan aggregator makes it easy to get pre-approvals from multiple lenders at one time, in an easy and intuitive online application process.
Let's take a look at what this company has to offer in the following Credible student loans review. By the end, you'll know exactly why you might want to consider Credible during your own student loan refinancing search.
What Is Credible?
Founded in California in 2012, Credible is a growing company with a wake of satisfied borrowers. It has an A+ rating from the Better Business Bureau, as well as a 9.5 out of 10 score on Trustpilot.
Credible originally started as a student loan refinancing platform. The company has since expanded into an aggregator for loans of all types, including mortgages, mortgage refinances, student loans, student loan refinances, personal loans, and even credit cards.
This marketplace offers borrowers an opportunity to shop around for rates and terms from a variety of lenders, with only a single click. The process is quick and requires you to enter your information only once. Getting rates won't impact your credit at all. Plus, there's no commitment involved!
While Credible aims to help borrowers with all sorts of financial loan needs, today we're going to focus on its student loan refinancing services only.

What Lenders Does Credible Use?
When searching for a new loan through Credible, you'll get results from a variety of possible lenders. For student loan refis, Credible will use your information and try to prequalify you through the following 10 companies:
Advantage Education Loans
Brazos
Citizens Bank
College Ave
EDvestinU
ELFI
MEFA
PenFed
RISLA
SoFi
It's unlikely that you'll get results from every single lender on that list, however. Some lenders may have minimum or maximum loan requirements that don't match your needs. Others may not be available in your state.
Many lenders also have requirements regarding your annual income, credit score, and debt-to-income ratio. If you don't meet any of the requirements for a particular lender, you won't see them in your Credible rate-search
results.
The Credible Student Loan Refinance Application Process
Regardless of the financial product you're trying to obtain through Credible, the process is essentially the same. Only a few pieces of personal information are required, and results are available in seconds.
To get your pre-approval and rate quotes, you'll need to provide your:
Name and email address
Date of birth
Current address
School from which you graduated
Annual income
Monthly mortgage/rent obligation
As you may have noticed, there's no need to enter your Social Security number, driver's license information, or similar. At least, not in this stage of the process.
After you've finished with the required information, Credible will search for available offers. You'll be told whether you're pre-qualified, and if any lenders were unable to pre-qualify you for borrowing.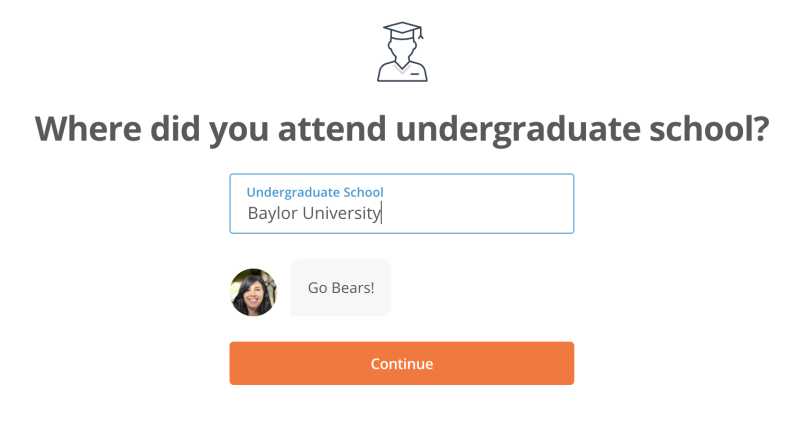 Your Results
You'll be given a list of lenders that conditionally approve your loan request, and what their proposed rates will be. Oh, and if you find a better rate, Credible will give you $200 thanks to its Best Rate Guarantee.
The page goes into more depth than that, though; you can enter your existing student loan information in the sidebar, and Credible will tell you exactly how much you would save with each and every lender in comparison.
You're able to compare loans against one another and sort your results by features such as total interest or loan repayment term. Once you find the loan that most piques your interest, you can select that lender and begin the actual application process.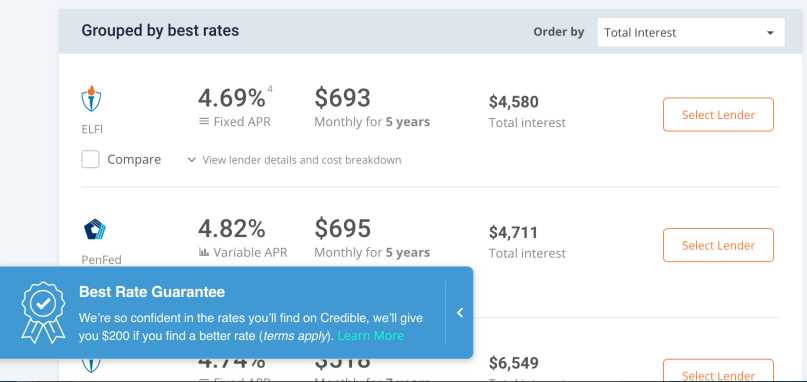 Approved vs Pre-Qualified
The search results that you'll receive from Credible are based on limited personal information. After all, you didn't need to provide your SSN or driver's license number, nor was a hard credit pull utilized.
These offers are considered pre-approvals… not loan approvals. There's always the chance that the specifics of these offers will change once you proceed to the actual application process. For example, you may receive a different interest rate once your credit is pulled.
However, in a chat with Credible, the company told us that roughly 95% of users end up with the same pre-approval rates.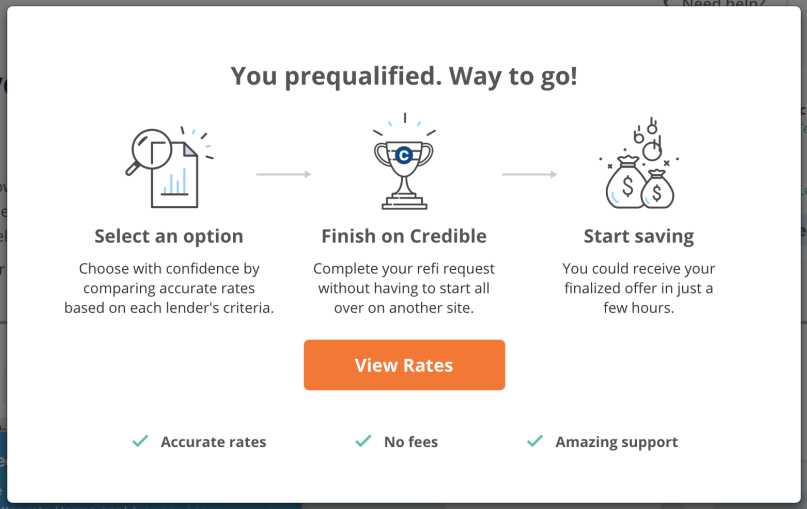 Student Loan Refinance Requirements
It's important to remember that Credible is not a lender, but an aggregator platform. It's designed to bring multiple different lenders together to offer quotes and pre-qualifications to borrowers who are shopping around.
With that said, you should note that each individual lender will have its own requirements. Some lenders offer services only in certain states or for loans within certain borrowing limits. Others may have very specific credit score or debt-to-income ratio thresholds, while others might require a co-signer for many borrowers.
In many cases, borrowers will be matched with multiple lenders for funding… but not all. If you want to learn more about why you couldn't be pre-qualified through a specific lender, your best bet would likely be to call the lender up directly and ask.

General Loan Refinance Requirements
There are a few general requirements that you'll likely come across in your student loan refinance search. These include:
Being at least 18 years-old
Having graduated from an approved Title IV school.
Meeting specific income requirements
Having a positive credit history with no bankruptcies or accounts recently in collection (many lenders have credit score minimum requirements, but these vary)
Having a low debt-to-income ratio
Some lenders will also have borrowing minimums and maximums. For example, you'll need to borrow at least $15,000 when refinancing through ELFI. Meanwhile, College Ave has a loan minimum of only $5,000. With CommonBond, you can borrow up to $500,000; at ELFI, there's no established maximum loan amount.
Of course, Credible will account for this when generating your search. If you need to borrow less than a lender's minimum or more than its maximum, that lender will not appear in the results.
Which Loans Can You Refinance With Credible?
No matter the composition of your student loan debt, Credible can help you find the right loan to refinance. This means that borrowers with parent-held loans, private loans, or even federal student loans will be able to search for the right refi for them.
Of course, there are many reasons why you may or may not want to refinance certain loan types:
You can refinance high-interest private loans to save on interest.
Refinancing makes it easy to remove parents and other co-borrowers from their obligation to your student loan debt.
You can use a refi as a way to adjust your monthly loan payments into an amount that works for your personal cash flow.
You may not want to refinance federal loans, since you would then lose certain benefits (such as forbearance and deferment options, or certain loan forgiveness programs).
You're also able to refinance debt from both undergraduate and graduate degree programs through all 10 of Credible's lending partners. Just be aware that each of them does require you to have already earned your degree.
Credible Interest Rates
With Credible, you're getting quotes from up to 10 lenders at a time. Because of this, you should expect a range of interest rates offered… and these are also subject to change at any time.
As of this writing (September 5, 2019), here's a look at the rates currently being offered by Credible's student loan refinance lenders: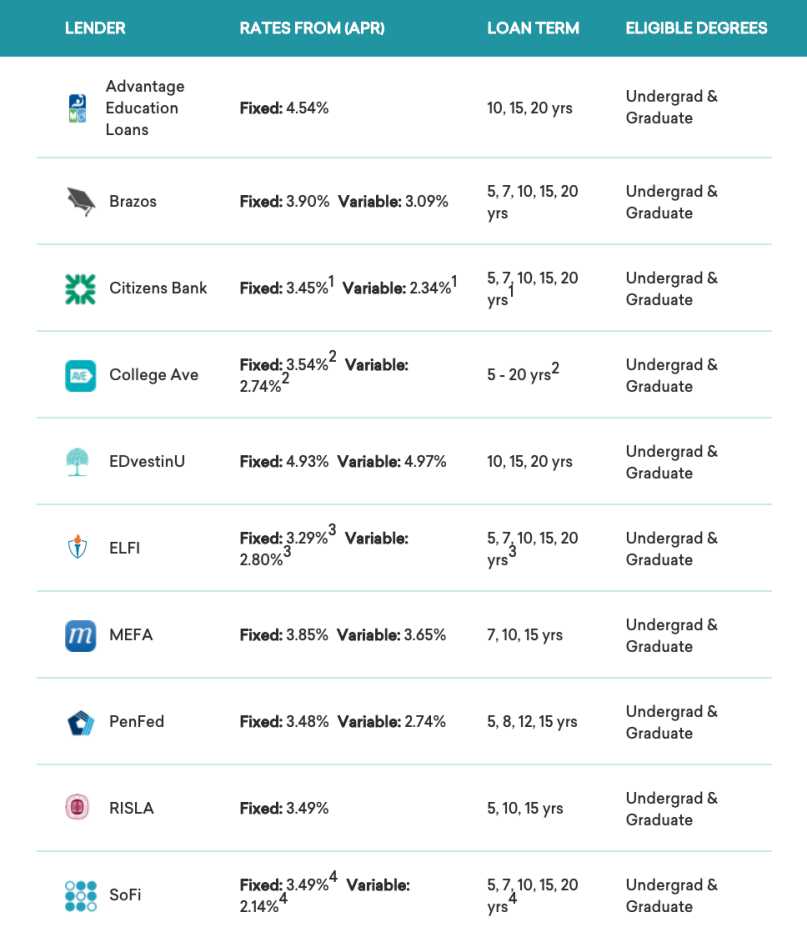 Variable rates start out as low as 2.14% (with an autopay discount included), but we don't see any rate caps that might exist with specific lenders. Fixed rates start as low as 3.29% APR.
Loan Terms
Each of the Credible lenders offers repayment terms as short as five years and as long as 20 years, with the exception of one. Advantage Education Loans is the only company with a starting term of 10 years.
Some of these lenders will require you to pick from a short list of terms, while others may allow you to completely customize your repayment experience. For example, with Earnest, you pick the monthly payment you want and then your term is calculated backwards from there. In many cases, this might mean you wind up with more of a "six year, four month" term, rather than a seven-year loan.
Benefits of Using Credible
There are many reasons why you'd want to turn to Credible first when beginning your student loan refinance search.
Saves Time and Energy
Gone are the days of finding lenders and then individually applying to each of them one-by-one. Instead, you can now use aggregators like Credible to save you time (and, ultimately, money) in your search.
This platform will take your information and send it to up to 10 partner lenders. These lenders will then come back with their refi offers (including rates and repayment terms) in mere seconds. Once you've made your selection, you can complete the application process through Credible directly.
No Impact to Your Credit
Getting pre-qualified for a refi loan through Credible is pain-free. You'll be asked to provide only a few pieces of personal information, which Credible will use to conduct a soft pull of your credit. This does not drop your credit score or impact your bureau reports whatsoever.
When you're ready to complete the application process with your lender of choice, a hard inquiry will be utilized. Until then, you won't harm your score in any way.
Best Rate Guarantee
Worried that the rates you get from an aggregator like Credible aren't the best around? Or are you concerned that you might get a better rate by applying through the lender directly?
You'll be happy to know that Credible offers a Best Rate Guarantee for this exact reason. If you find a better rate elsewhere (and close with the other lender), Credible will give you $200. It's a win-win either way!

No Origination or Application Fees
You won't encounter any fees throughout the initial loan process when using Credible. There are no application fees and no origination fees imposed by any of the lenders.
Available in All 50 States
Some of Credible's lenders have limits regarding the borrowers they will worth with. Not all lenders are available in all 50 states. However, among the 10 lenders on Credible's platform, there are refinance loan options available for residents across the entire country.
Where Credible Falls Short
It's hard to find fault with an entirely free platform that helps you save time and money, searches rates from 10 different lenders at once, and facilitates the application process with your lender of choice (all with a Best Rate Guarantee). That said, there are a few things that Credible might be able to improve upon.
No Max Rates Listed
When viewing the lender options and search results on Credible's website, you'll see each lender's minimum fixed and variable rates. You'll also (obviously) see the rate for which you are pre-qualified.
However, Credible won't show you the lenders' maximum rates. For that, you'll need to visit each lender's website directly or call to inquire.
Why is this important? If you're thinking about a variable rate loan, it's good to know if there's a rate cap or if you'd be subject to seemingly endless rate hikes.
Not All Lenders Are There
While Credible does offer quotes from up to 10 lenders, you may still need to shop around elsewhere. That's because some of the bigger names in student loan refinancing aren't shown on the platform, including CommonBond and Earnest.
You may find the absolute lowest rate possible by searching on Credible. However, there's always the chance that a non-participating lender can offer you something better. It's important to check all of your options.
Accessibility
You can submit your loan request easily through Credible's single form, whether on your computer or smart device. Offers are quick and simple to navigate, you can revisit your offers through their streamlined platform, and final applications are completed through Credible's own site.
If you need help, Credible is there for you. Both phone support and live chat are available seven days a week, and you can email the company at any time. Via email, you can often expect a response to be received that same business day.

How Does Credible Measure Up?
There are a few student loan refinance aggregators out there, but few are as comprehensive and easy to use as Credible.
Credible is a free service offering an application that typically takes two minutes or less (start to finish). Your results are displayed on the service's own clean, easy-to-navigate platform. You can even click through on Credible's own site if and when you're ready to proceed with a specific loan offer.
By comparison, many aggregators out there will collect your personal information, only to forward it along to individual lenders (or in some cases, sell it). Their offers are not immediate and will come via either email or phone. (I've tried one of these other aggregators before and got nonstop calls for days, starting within 20 seconds of pressing "Submit.")
Additionally, Credible offers a Best Rate Guarantee. If you happen to find a better deal elsewhere, let the company know and you'll earn yourself $200!
Lastly, there is no impact to your credit when using Credible. Since the service uses only soft inquiries, you won't see anything reported to the credit bureaus and your score won't drop. In fact, you don't even have to provide Credible with information such as your SSN in order to get results!
All in all, there really isn't a reason not to use Credible when searching for a student loan refinance offer. You may still want to shop around with lenders that aren't included on the platform, just to be sure you find exactly what you need.
Choosing to Borrow With Credible
If you've decided to refinance your student loan debt, Credible may be one of your first stops. By using this platform, you have an easy and painless way to get up to 10 refi loan quotes in seconds. There's no obligation to proceed with any of the lenders, and Credible will show you exactly how much you can save over the life of your repayment.
We hope this Credible student loans review has been helpful! To learn more about Credible's platform or to get rates for your own student loan refi, you can visit the Credible website here.
Stephanie Colestock
Stephanie Colestock is a personal finance expert and writer who enjoys teaching people how to be financially independent and confident about their money choices, regardless of obstacles in their path (such as the crippling student loan debt she once held). Stephanie graduated from Baylor University, and is currently working toward her CFP certification. Her work can be seen on sites such as Forbes, Dough Roller, and Johnny Jet, among many others.