Money Done Right may be compensated if you make a purchase after clicking on a link.
In our opinion, the easiest ways to make money from home are the best.
And thanks to technology, it's easier than ever to make quick cash at home.
Here are 17 ways to make easy money.
Keep in mind that there may be other, longer-term ways to make money that take more work, such as teaching English to Chinese students from your laptop or starting a blog, but the items below are ways to make money for those of us who prefer a more casual lifestyle.
1. Take online surveys for quick cash via Paypal.
Surveys are one of the easiest ways to make money online.  Yes, they take time, but they're super easy.
The trick is that there are only a few legit survey sites.  We recommend Survey Junkie.
It's 100% legit, and they do not send you spammy junk emails.
Their payouts are excellent, and they pay you in cash via PayPal.
Survey Junkie has an 8.9/10 rating on TrustPilot — the highest of any online survey company.
And they also have some really fun surveys.
For example, in the screenshot below you'll see a pretty awesome music review survey that I recently did.  I made $50 reviewing music!  ?

Click here to start making extra cash with Survey Junkie.
Now, I must tell you that not all surveys are this fun, and not all pay this well, but every once in a while you get a great one like this!
Also, it's satisfying knowing that companies will use my opinions and inputs to make decisions about not only music, but also food, restaurants, consumer products, movies, and a lot more.
Click here to start making extra cash with Survey Junkie.
2. Play a free slots app to win money.

Long Game (click here for 300 bonus coins) is a free app that basically gamifies and rewards you for your savings.
Here's how Long Game works:
(1) You deposit money into your Long Game account and earn interest on it. Note that this money belongs to you, just like it does in your bank account.Long Game does not collect any fees out of the money you put in, and you can withdraw it at any time.
(2) Long Game gives you coins depending on how much you have saved in your Long Game account.
(3) You use these coins to play slot games with prizes ranging from $100 to $1,000,000!
So while you do have to put money into the app to play, this money belongs to you, not the house!
How does Long Game make money to pay their employees as well as your winnings?
Easy. Long Game earns interest on the money you deposit, and it's out of this interest that it pays out the winnings.
Click here to collect your 300 bonus coins and start earning real cash with the Long Game app!
3. Get paid to have an app on your phone.
There's an app that will pay you just for having it on your phone.
You heard me right.  They will pay you $50 per year per device just for having your app on there!
Talk about the ultimate passive income opportunity!
If this sounds like something you're interested in, click here to sign up!
4. Get paid to watch videos.
Believe it or not, there is a company out there that will pay you to watch TV.  This company is called Swagbucks, and you can get a $5 sign-up bonus if you sign up through my Swagbucks $5 bonus link!
5. Get cash back on stuff you buy anyway.
There's a little-known app called Ibotta ($10 bonus if you click here) that literally gives you cash back on things you buy anyway, just for taking pictures of your shopping receipts!
To date, I have made $1,357.09 from this little app.


And yes, they pay you cash through Paypal!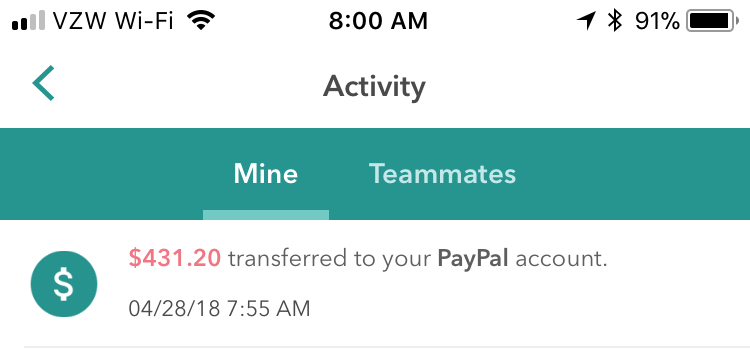 And oh yeah, if you sign up with Ibotta through our special $10 bonus link (click here), you'll get a $10 bonus when you submit your first receipt!
6. Share your Amazon purchase history.
If you're a regular Amazon shopper, you can earn money each month simply by letting a research company track your purchase history.
Shoptracker will instantly send you a free $3 Visa gift card, plus another $3 for every month you keep it installed.
It's not a fortune, but it adds up!
Also, they don't do anything weird with the information.  They simply want to help companies better understand what people are purchasing online these days so they can serve you better.
Click here to start earning monthly income with Shoptracker.
7. Use a free money-saving bot.
Sometimes the best way to make money is to save money.
Subscriptions, especially those that go unused, can add up over time.
Thankfully, there's a free money-saving bot called Cushion that will go through all your subscriptions, let you know how much you are paying for each of them every month, and cancel them with a simple text message if you'd like.
And Cushion not only keeps track of your subscriptions, but it also negotiates your monthly bills such as cable and Internet so you keep more money in your pocket.
Cushion users have saved over $8,000,000!  To learn other benefits that Cushion can offer you, check out our full-scale Cushion review.
Click here to start saving with Cushion!  It's 100% free!
8. Rent out your spare room for easy money.
Renting out lodging can be an incredible way to earn easy money.
I know some people making thousands of dollars a month, all by renting out an extra room to short-term guests.
Now, if you wanted to do this 10 years ago, you would've had to post an ad in the classifieds or on shady old Craigslist.
Gladly, those days are over.
You can now list your spare room on Airbnb and screen out prospective guests.  (Guests are rated by their hosts for things like cleanliness and communication.)
If you'd like to sign up to become an Airbnb host, check out my article How to Become an Airbnb Host.
9. Rent out your car.
If you don't need your car today, then renting it out while you're not using it could help you make money fast.
There is a website called Turo that acts as a private rental car listing-service.  When you rent your car through Turo, your car is protected against physical damage, up to its actual cash value, for collision and most "comprehensive" causes, including theft.  You are also covered by $1 million in liability insurance.
If this sounds like something you would be interested, click here to sign up to rent out your car at Turo.
10. Get paid every time you search the Internet.
Swagbucks will pay you to simply use its search engine.
They will also give you $5 if you sign up through our Swagbucks $5 bonus link.

So yup.  This is probably the easiest way to make money online.
Click here to sign up and get a $5 sign-up bonus!
11. Get paid to walk.
I just made $10 for walking, paid in cash via PayPal.  It's true!
There's a new app, Sweatcoin, that will pay you for every step you take.  It motivates me to go for more runs, take the stairs more often, and be an all-around more active person.
If you'd like to get paid to walk too, click here to sign up for Sweatcoin now!
And this isn't even the only way I'm making money by exercising.  I'm also getting paid $480 to lose weight!  Learn more in my article I'm Going to Get Paid to Lose Weight with HealthyWage!
12. Get paid to go to stores.
Did you know that you can earn gift cards simply by walking into stores?  It's true!  So whether you're a mall rat or just somebody who gets out every now and then, click here to download Shopkick (use promo code MDR for a $5 bonus), the app that gives you gift cards for just going into stores.
13. Sell your old phone.
About 50% of iPhone users and 40% of Android users upgrade their cell phone as soon as their wireless company allows (typically every two years).  If you're one of these folks, then you probably have at least one or two old smartphones laying around somewhere.
Well, guess what?  With each passing year, those old smartphones are losing market value as their technology becomes more and more obsolete.  So it is in your best interest to sell them immediately.
And you might as well do it in the next few months so you have extra Christmas cash!
Although you could list your phone yourself on eBay or Craigslist, this can prove to be quite a hassle.  When I was looking to get rid of my old smartphone, I sold it on Gazelle for cash.  This is probably the easiest way to do it.  If you'd like to get an extra $10 back on your trade-in, use my Gazelle $10 bonus link by clicking here.
Amazon also has a trade-in program for consumer electronics.  You can access the Amazon trade-in program by clicking here.
Another option is to bring your old phone to Best Buy, Walmart, or your wireless provider, to see what kind of trade-in value they will give you toward a new phone.
14. Invest in Private Real Estate Deals With Only $500
Real estate is one of the classic forms of passive income: you own property, and others pay you for using it.
The downside to traditional real estate, of course, is that you typically need a lot of cash to get started.
Not so anymore with the rise of private real estate investing platforms.
We personally invest in one of these platforms called Fundrise.
Fundrise lets everyday people invest in top deals across the nation — way better deals than most people could find on their own.
It also lets you diversify your real estate holdings.  For example, I am invested in deals in 10 different states!

And for the first 90 days of your investment, Fundrise will buy your investment back at the original investment amount if for any reason you are not satisfied.
Click here to sign up to see Fundrise's latest investment opportunities.
15. Lend money in $25 increments earning 4-6%.
Lending out money is one of the oldest ways to earn passive income.  It's essentially renting out your money for either people to use, and the rent you charge is known as the interest rate.
Now, in the old days, if you wanted to lend money to somebody in particular, you were taking on a pretty risky business, unless he or she put up some form of collateral.  But now, thanks to technology, you can spread out the risk by only lending your money in $25 increments.
How does this work?  Well, let's say Borrower A needs a $25,000 loan.  Instead of going to one entity, like a bank or rich person, to borrow the full $25,000 — which would be very risky to that one entity — he or she borrows $25 from 1,000 people.  This scenario presents much less risk because the most any single investor could lose is only $25.
Such an arrangement would have been administratively impossible just 15 years ago.  But thanks to the wonders of the Internet, it is now very possible, and the peer-to-peer lending industry, as it's known, is thriving for borrowers and investors alike.
Click here if you have $25 and you'd like to earn way more interest than the bank pays you.
16. Invest in dividend-paying stocks.
We love dividends here at Money Done Right.
When you invest in a dividend-paying stock, you are acquiring a portion of a company that somebody else built and that thousands of other people work for, and they are giving you a portion of their profits. Blows my mind!
There are plenty of great places to open up a stock-investing account, but the one that's getting us hot and bothered at the moment is Ally Invest.
Ally Invest is great because you can trade dividend stocks for as little as $3.95 per trade compared to $6.95 at E*TRADE and Charles Schwab.
Click here to sign up for Ally Invest to start investing in dividend stocks affordably!

Ally Invest has developed a pretty amazing platform, and no matter if the stock market goes up or done, we still get dividends deposited into our Ally Invest account every quarter!
Click here to sign up for Ally Invest to start investing in dividend stocks affordably!
17. Invest in cryptocurrencies like Bitcoin.
Many people have become unlikely millionaires by investing in cryptocurrencies, and the concept of cryptocurrencies is not without merit.
If you would like to receive a $10 bonus to start investing in Bitcoin and other cryptocurrencies, please click my Coinbase $10 Sign-Up Bonus Link to buy some right now (the markets are 24/7).
Related:[$10 Bonus] I Finally Bought Some Bitcoin.  Here's Why.
Earn. Save. Grow.
Sign up for updates on ways to make, save, and invest money.