You know how much we love Ibotta and how we sang its praises in our recent blog post Ibotta Review: Why You NEED This Money-Making App.  Well, for what Ibotta is for physical shopping, Ebates is for online shopping.  Read why below.
💵 May '17: we've made $269 using Ebates.
That's $269 back in our pockets, all from making a few clicks with our mouse!  And keep in mind that we do not really buy all that much online, so if you do, you'll get even more cash back!
The bottom line is that Ebates is simple and amazing, and you NEED to get it if you do any online shopping whatsoever!
Shoppers have earned more than $190,000,000 in cash back by using shopping online through Ebates, and you can get your piece of the pie today.  🍰  Also, if you sign up through my Ebates $10 Sign-Up Bonus Link, you'll receive a $10 sign-up bonus when you spend your first $25 through Ebates.  🙂
So in case you need any more convincing, we've put together a list below of 4 reasons you need Ebates.
💻 1. You're getting cash back on stuff you already buy online.
This isn't one of those sites where they only have a few, obscure stores where you can get cash back at.  We're talking Macy's, Walmart, Disney Store, JCPenney, Kohl's, New Balance, Old Navy, Banana Republic, Land's End, and a boatload of other stores.
This is stuff you buy online already, so might as well get additional cash back on every purchase, right?  As you can see, it really adds up!  We save $200 – $300 a month off eBates, which adds up to $2,000 – $3,000 per year!  Granted, we are pretty big online shoppers, but even an extra $500 a year would be worth it, right?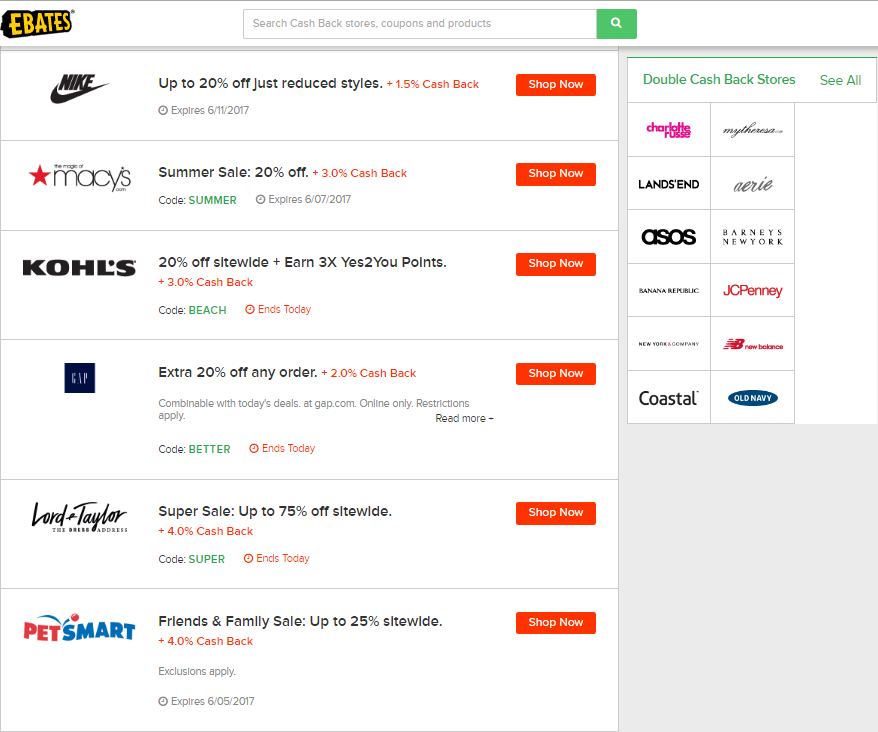 👌 2. It's super easy to use.
We had tried other online cash rebates sites in the past, and they were super confusing.  Ebates is extremely intuitive, and the cash back percentages are amazing.  Here's all you need to do to start earning cash back with Ebates when you shop online.
All you do is go to Ebates, search for the name of the store you want to shop at, click the link to that store, and shop as usual.  You will receive cash back ranging from 1% – 40% depending on the store.
That's it!  Nothing more!  All in all, it takes less than a minute, which is why we've been able to stick with it.
💵 3. You get paid in cash not gift cards.
Unlike other cash back sites where you may get some gift card to some obscure store that will sit in your purse or wallet for who knows how long, Ebates pays you out in cash, either via Paypal or a live check.
💻 4. Almost every store is on Ebates.
With so many online cash rebate sites, only a handful of stores are eligible.
Ebates, thankfully, isn't like this.  With Ebates, we get cash back almost every time we shop online.
Here are just a few of the stores that we routinely get cash back for using Ebates: Amazon, Ann Taylor, Bed Bath & Beyond, Disney Store, eBay, Expedia, Groupon, Kohl's, Macy's, Sephora, Starbucks, Under Armour, and more.
And yes, there are many more shops than these if you have more extravagant tastes, such as Adam & Eve and Omaha Steaks.
🤑 5. You get cash back on sale items too!
With some cash back sites, you don't get cash back on items that are on sale.  Not so with Ebates!  In fact, at the top of its homepage, Ebates lets you know about the great deals around the web that day!
It's very important to keep your eye out for these sales because they can sometimes double your weekly cash back.  🙂

I can't say it enough; this site is AMAZING.  It's basically free money as long as you just keep buying what you normally buy while going through Ebates first.
So go ahead and click on my Ebates $10 Sign-Up Bonus Link to receive a $10 sign-up bonus when you make your first $25 of purchases through Ebates!
Earn 💵 Save 💰 Grow
Sign up to get new posts about earning, saving, and growing money! 💯