FedLoan Servicing

Basics: FedLoan is the largest U.S. federal student loan servicer. The U.S. Department of Education might assign you to this company to manage your loans after you borrow or apply for Public Service Loan Forgiveness.
Pros: FedLoan's online resource center offers a wealth of information for borrowers.
Cons: If you're unhappy with FedLoan, the only way to move to another company is to refinance with a private lender.

Types of loans:

Federal student loan servicer

Offers PSLF:

Yes

Originates loans:

No
Student loans are not a new product by any means, nor are they a rarity. In fact, roughly one-sixth of Americans currently carry federal student loans. That's just over 43 million adults holding a combined total of $1.5 trillion in federal debt. Most of those loans are managed by a company called FedLoan Servicing.
While FedLoan Servicing manages the majority of federally-owned student loan debt,
What Is FedLoan?
While the U.S. Department of Education originates all federal loans, they don't directly collect on loan payments after the fact. For that, they contract with three for-profit loan servicer companies: Navient, Nelnet, and FedLoan.
Of those, FedLoan is the largest, handling around 31% of all federal student loans. This makes it very likely that you will deal with the servicer at some point in your debt repayment journey.
If you also have private loans, or choose to refinance your educational debt at some point through a private lender, your loan(s) will be serviced by a different company.
What FedLoan Does
As an extension of PHEAA — the Pennsylvania Higher Education Assistance Agency — FedLoan's job is to service federal loans for the majority of borrowers. But what does this actually mean?
A loan servicer's job is to handle all of the day-to-day tasks related to a borrower's loan. This includes
accepting and applying payments
keeping track of the principal balance and any interest paid
managing escrow accounts (when applicable)
responding to borrower inquiries
In the case of federal loans, the lender and servicer are two entirely separate entities. However, you may find that many of your private loans are serviced by the lender directly.
Additionally, FedLoan is also the only servicer responsible for handling Public Service Loan Forgiveness (PSLF) applications. So if you plan to utilize public service in order to have a portion of your student loans forgiven, you will absolutely deal with FedLoan at some point in the process.
Where FedLoan Really Shines
You will have many options for managing your student loan debt through FedLoan Servicing. The features offered to borrowers make it easy to not only track loan balances, but also utilize auto-pay options and adjust the repayment structure altogether.
Manage with FedLoan
FedLoan makes it easy to manage and track your debt, even from day one.
For example, FedLoan automatically enrolls borrowers in a 10-year repayment plan. This could be quite helpful for borrowers who want to get out of debt sooner, especially those who don't take a proactive approach to managing their loans' repayment.
If you decide that you need to adjust your monthly payment amount, though, FedLoan makes the process fairly simple. They offer options such as graduated repayment, extended fixed repayment, extended graduated repayment, income sensitive repayment, and income-driven repayment (IDR) plans.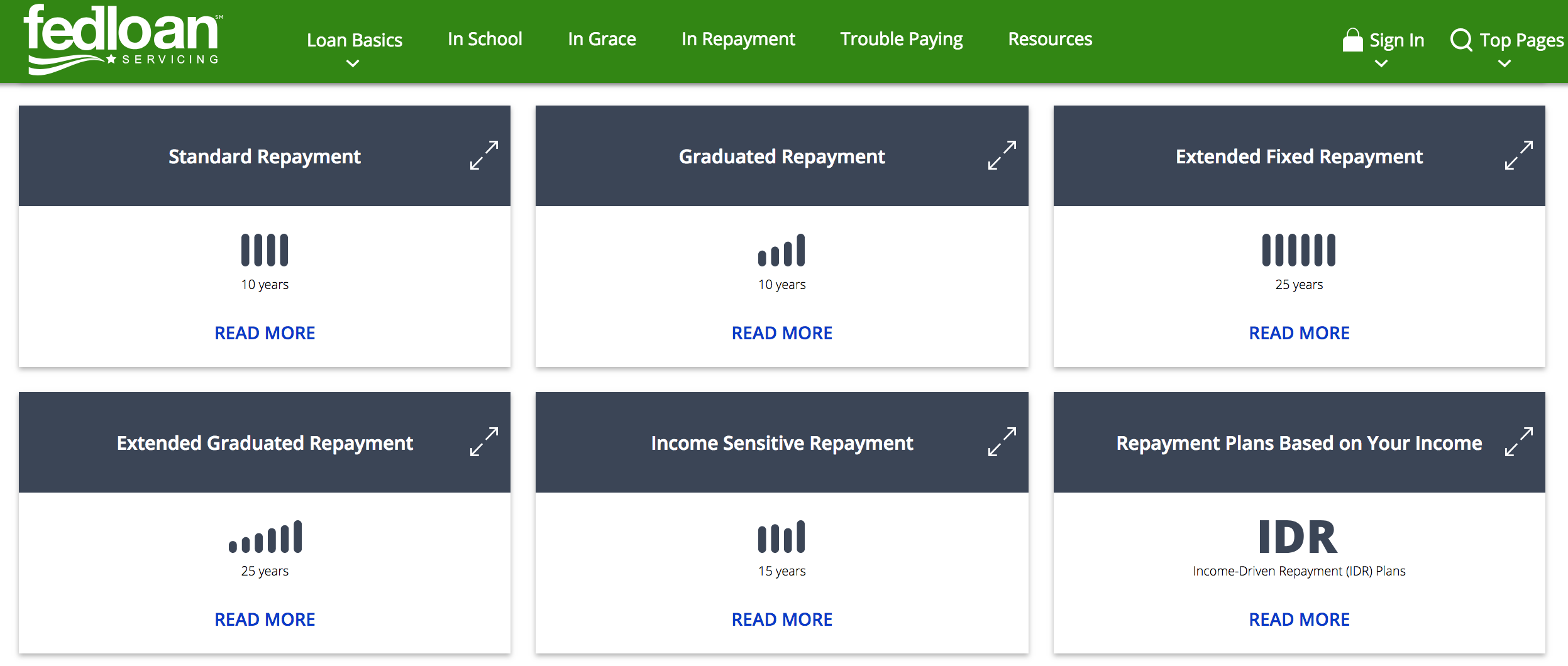 These repayment options range from 10-25 years. Some even include loan balance forgiveness at the end of the term.
FedLoan also makes the monthly payment process simple. You can quickly and easily sign up for direct debit (automatic payments) as well as go paperless, by signing up online or giving customer service a call. With some loans, you can even earn an interest reduction by enrolling in online statements!
Learn with FedLoan
If you want to learn more about federal student loans, your repayment and consolidation options, or even loan forgiveness programs, FedLoan's online resource center is a wealth of information.
There, you can find things such as a helpful
General financial aid terms glossary
Loan forgiveness quiz
Interest savings calculator
Payment strategy/estimate calculator
Loan consolidation quiz
Library of loan management-related videos, to walk you through every question you may have
Just how valuable is all of this information? Well, it has the potential to save you hundreds (or even thousands), as well as ensure that you are as informed as possible when it comes to your loans. Using these tools, you can determine whether or not you're on the right path, or if you need to consider an alternative like refinancing.
If you want to see your estimated monthly payment on any of these plans, FedLoan's Manage Repayment tool will allow you to do so easily. This will help you budget for repayment, as well as choose the plan that best fits your financial situation.
You can use their online tool to figure out your fastest repayment method. This will enable you to get out of debt in the quickest way possible, opening your cash flow for things like retirement savings or buying a home.
They offer a consolidation quiz to help you decide if consolidating your federal student loans is the right path. Additionally, their online interest savings calculator will show you exactly how much your debt will cost in the long run, helping you decide which repayment path is the right choice.
Forgive Debt with FedLoan
As mentioned, FedLoan is the chosen servicer for all PSLF program applications. So if you are planning to apply for any public service-based debt forgiveness, you are guaranteed to deal with the company.
As one would probably assume, the process of getting the government to forgive you of a debt is likely an arduous one. So it's no surprise that many borrowers' experience through FedLoan comes with mixed reviews.
"Mostly, my experience has been positive with FedLoan," says Travis Price, a state employee using FedLoan to discharge his student loans. "The biggest pain point that I have is verifying my job and income status for IBR and getting my credits for PSLF. I've had to submit the same form 3-4 times in order to get it approved because I've been told one thing by one agent over the phone, and then another thing by a different agent."
To ensure that he meets the 120-monthly-payment requirement and to ease the process, Travis utilizes FedLoan's monthly auto-pay system. And even though he's experienced a few hiccups regarding paperwork verifications, he still considers the hassle of FedLoan to be justifiable. "While frustrating at times, 40+k forgiveness without a tax penalty is worth the effort."
Where FedLoan Falls Short
Even though FedLoan services the majority of federal student loans — as well as all public service loan forgiveness program applications — they don't exactly have the best reputation in the industry.
FedLoan Complaints
As of this writing there have been 544 complaints filed against FedLoan with the Better Business Bureau. And that number is only from the last three years.
Of course, it's important to take that with a grain of salt. After all, when is the last time you went online to write a positive review for a government agency or even your bank? It stands to reason, then, that there could be a large majority of borrowers who are perfectly content with their FedLoan experience.
With that said, you won't struggle to find many, many voiced frustrations over the loan servicer.
Most borrowers complain that the customer service is lacking at FedLoan, with agents being either impolite or not knowledgeable enough to help with their inquiries. Others have had issues with billing, monthly payments, or even miscalculations within the PSLF program.
Questionable Advice
Take the negative FedLoan experience of Dr. Rachel Levenson, a psychiatrist with Clarity Health. Rachel has eight loans with the servicer, all of which were acquired in graduate school.
"I feel that the organization and people who work for it are criminals," she says. "Twice I've been duped with misinformation into changing from one repayment plan to another, which led to capitalization of interest… My loan has ballooned because of this, and I have no recourse."
This might be surprising to hear, given the number of resources that FedLoan provides, all seemingly aimed at educating borrowers. "You think they're being helpful/guiding you towards something good for you, only to later find out that they've led you into a payment plan that is good for them and bad for you," Dr. Levenson continues. "My loans are now so far beyond what I could afford monthly. I'm overwhelmed with debt and feel I have no options."
Of course, everyone's experience will vary, but unfortunately her story isn't all that uncommon.
Extra Principal Payments
One of the best things you can do when paying off any interest-bearing loan is to make additional payments toward your principal balance. This will reduce the interest that you pay over the life of your loan. It will also help you pay off the balance sooner.
With FedLoan, though, you'll find that the process isn't as straightforward as with other lenders and servicers.
Let's say you pay $100 extra to FedLoan one month, with the intent of that cash going toward the balance owed. With most lenders/servicers, this would be the case, reducing your principal by $100.
With FedLoan, however, that overpayment would first go toward the next month's interest, then the next month's principal payment. Essentially, you would just be paying the next month's payment a little early, rather than notably reducing your principal balance. Adding insult to injury is the fact that the overpayment gets applied to interest first.
Of course, this does reduce the total interest charged over the life of your loan. That's because you're still paying early and missing a few days' interest. However, the impact is not nearly as substantial as if you were allowed to make a principal-only payment.
FedLoan will then reduce the following month's payment amount, somewhat negating the overpayment practice entirely.
If you want to maximize your prepayment efforts, and aren't worried about losing your federal loan benefits, a refinance might be the best option for your student loan debt.
What to Do If You're Fed Up with FedLoan
For many borrowers, FedLoan Servicing is just another company that they are forced to deal with throughout their debt repayment journey. For others, though, having FedLoan service their student loan debt is too much to bear.
If you're working toward loan forgiveness through the PSLF program, I'm sorry to say but FedLoan is a necessary evil. They are the only servicer designated to handle public service forgiveness, and taking your loans elsewhere would nullify the benefit for you.
For many, leaving federal loans untouched is a wise decision. Oftentimes, they offer lower (and fixed) interest rates that protect borrowers from APR spikes. You can also call on benefits such as income-drive repayment (IDR) plans, forbearance, and deferment as needed.
However, if you're anything like me, you may decide that the federal benefits — and possible headaches with FedLoan — aren't worth the trouble. In that case, a refinance is often the best financial choice you could make.
Opting to Refinance
By refinancing your student loans, you have the opportunity to adjust monthly payments without an income requirement. You may also snag a lower interest rate, depending on the economy and your own credit history.
A federal student loan refinance would also be the only way to release co-borrowers from the debt. If your parents are trying to improve their credit — in order to, say, buy their dream retirement home (as mine were) — this move would be much appreciated.
Only you can determine whether private lender refinancing is the best move for your federal (and private) student loans. Additionally, it's up to you to decide if FedLoan is worth the headache that so many borrowers encounter.
While FedLoan isn't the only for-profit federal loan servicer, they are the most common. Odds are high that you'll deal with the company at least once in your student loan repayment journey. Whether you stick with them until the end is up to you.
Stephanie Colestock
Stephanie Colestock is a personal finance expert and writer who enjoys teaching people how to be financially independent and confident about their money choices, regardless of obstacles in their path (such as the crippling student loan debt she once held). Stephanie graduated from Baylor University, and is currently working toward her CFP certification. Her work can be seen on sites such as Forbes, Dough Roller, and Johnny Jet, among many others.