Gabi Insurance Review 2020: Shop Around for the Right Auto Policy
Auto Insurance
Gabi Insurance

Basics: Gabi is an online insurance aggregator that offers customers a way to get quotes from multiple auto policy providers at one time.
Pros: It's very easy to obtain quotes from Gabi, and the process takes just a few minutes. Importantly, Gabi won't sell your information to third parties. And the platform will suggest policies regardless of whether Gabi has an affiliate relationship with the provider.
Cons: Gabi asks for a five-year history of your driving record, which is longer than the typical insurer. We're concerned that this could negatively affect your rates. In addition, not all policies available are listed on the platform.
When was the last time you shopped around for auto insurance coverage?
It's definitely not the most interesting or easiest way to spend an afternoon. This is true whether you already have a policy or not. Between researching providers in your area, gathering information on your existing policy, and obtaining quotes, you could be looking at hours of price-shopping.
It's enough to make your head spin.
For most drivers, it's tempting to just stick with your current provider. It's easier than shopping around, many insurers offer loyalty benefits, and you may have other products such as homeowner's or renter's insurance that could give you additional discounts.
But sticking with the "easy" auto-renewal could cost you significantly more in the end.
Auto insurance platforms such as Gabi can make shopping for coverage a lot easier. With Gabi, you can get quotes from multiple providers in as soon as two minutes.
And to top it off, Gabi claims it can save you an average of $865 per year in premiums.
In this Gabi insurance review, I'll take a look at Gabi to see if it delivers on its promises.
What Is Gabi Insurance?
Gabi is an online insurance aggregator, offering customers a way to obtain quotes from multiple insurance providers at one time. The site helps you shop for a range of insurance products, including auto, homeowner's, renter's, condo, landlord, and umbrella coverage.
However, Gabi is different than many other aggregator tools out there. That's because you're able to directly link your existing policy (or policies) through the platform. You can do this by securely logging in with your current provider or uploading a PDF of your current coverage.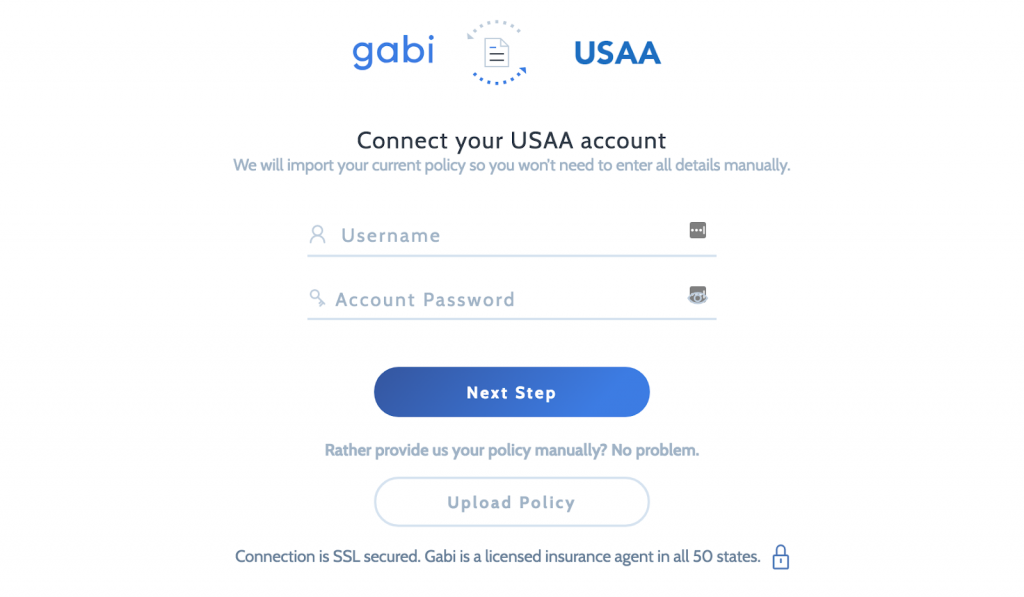 Why does this help? Rather than going back and forth and hand-selecting your coverage choices, Gabi will automatically search for insurance policies that match what you have already. This allows you to properly price-hunt and ensures that you're actually comparing apples to apples before making a switch.
If Gabi finds a better rate, it'll show you where you might be able to save on your auto insurance coverage, and which provider might better meet your needs. However, if you currently have the best rate available on a matching policy, Gabi will tell you that, too.
Gabi also prevents you from inadvertently eliminating coverage options you may want to keep. You might focus on roadside assistance or rental car coverage when shopping for a new policy, but Gabi will ensure you keep all of the features you already carry if and when you're ready to make the leap to a new policy.
What Gabi Isn't
It's important to note that Gabi is not an insurance provider. Instead, the platform is an aggregator that seeks to link drivers with leading insurance providers that can provide coverage and save them money.
Gabi Pricing
It's completely free to use Gabi's insurance aggregation service.
To make its money, the platform partners with many of its listed insurers. If you purchase a plan from one of these partners through its marketplace, that company will compensate Gabi.
However, I appreciate that Gabi won't just direct you to its best partner provider. The aggregator will let you know your actual best choice for insurance coverage, even if that provider isn't one of Gabi's partner companies.
Gabi Rates
Gabi is an insurance policy aggregator, rather than an insurance provider. So it doesn't determine the rates you'll find on the site.
The company claims to help seven out of 10 users save money, for an average savings of $825 a year. But Gabi will also inform you if you've already got the best deal. In fact, this was the case with me.
Reassuringly, I learned that my bundled package through USAA was actually the most affordable option for me. I've been with the company for 12 years, so I have a loyalty discount that saves me a fair amount. Additionally, USAA also carries my life insurance, homeowner's and landlord coverage, and personal property insurance. I get a significant discount for bundling.
I was glad to see that Gabi was honest in telling me that I already had the best deal, rather than trying to sell me on a partner's policy. However, I will be sure to check back with Gabi when it comes time to renew in six months to ensure that I'm always getting the best price available for my coverage options.
Gabi Policy Options
For auto insurance, Gabi runs your coverage options through more than 40 providers in order to obtain price quotes from up to 20 companies. These include (among others):
Travelers
Kemper
Progressive
Safeco
Mercury
Nationwide
National General
There are some insurers that Gabi doesn't include in the search process. It may be worth your time to obtain quotes through these providers directly, in case they're able to offer you better rates or coverage options.
Bundling
If you're looking to bundle different types of insurance — in order to simplify your coverage and hopefully save money in the process — you can do that through the platform too. All you'll need to do is upload your other insurance policies and Gabi will search for bundle options through its network of available providers.
Bundling can save you quite a bit of money along the way, too. By combining things like your home and auto insurance or landlord and umbrella coverage, you can qualify for great discounts that you wouldn't receive by purchasing only one policy.
Motorcycle and RV Coverage
If you drive a motorcycle or RV and are looking for auto insurance coverage, Gabi can still help. It'll just require a little extra time (and work).
When you sign up fo Gabi, you'll be connected with an advisor in a welcome email. Contact them directly for more information if you're looking to ensure either of these vehicle types.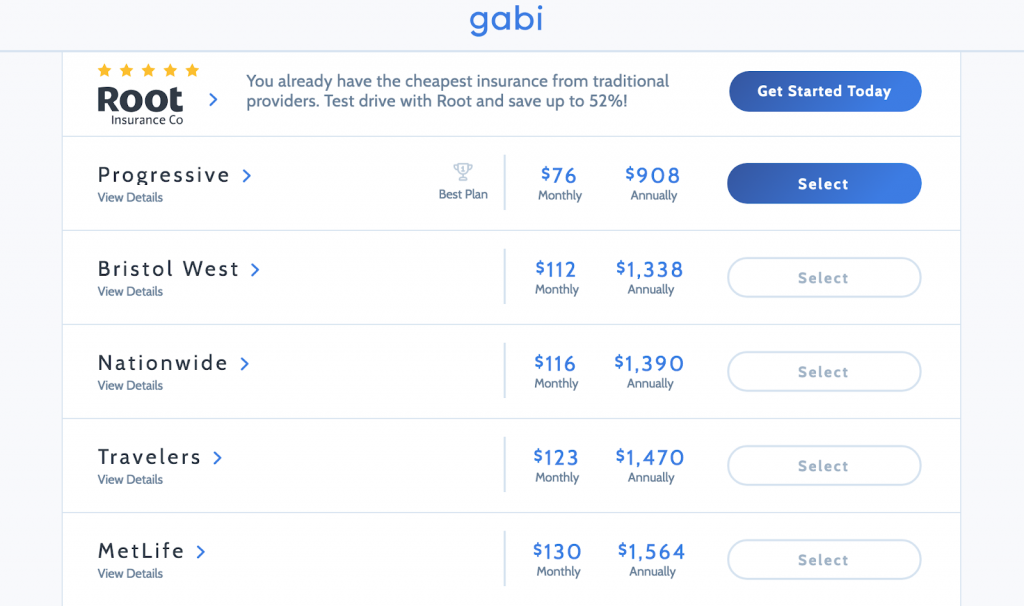 Gabi Signup Process
Signing up for Gabi and finding a policy is relatively easy and quick.
For some users, the process can take up to 48 hours. However, most policy-hunters will find that it takes around two minutes to complete the questionnaire, upload or link their existing policy, and get prices. In my case, it took a little bit less than two minutes, which was a nice surprise.
To begin, you'll need to provide Gabi with some key information. This includes your:
Existing insurance company (if applicable)
Name and birthday
Address
Email address
Cellphone number (you'll need to receive a verification code)
Social Security number
You'll then be asked to link your current policy with Gabi. This way, Gabi can automatically search for policies that exactly match your existing coverage options. That allows you to accurately shop around for the best price, without losing out on those important features you already carry.
You can do this by logging in to your account with your existing insurer through Gabi's SSL-secured platform. If you'd prefer, you can also just upload a PDF of your coverage options. (I chose to do the latter.)
Gabi will search for coverage options based on your existing specs to find you the best available prices. It will run your information against the 40-plus insurance companies available on the platform — even those that aren't Gabi partners — and compare quotes from up to 20 of them. As long as an insurance company provides coverage in your area, it will be an option in Gabi's search.
Gabi will then give you a list of policy providers and prices to choose from.
From there, you can either view more details about the insurer and coverage options or click through to get the ball rolling on your new policy. Results are automatically sorted according to price, so you know right away where to look.
Gabi and Your Driving History
When getting quotes from most insurance companies, you'll be asked to provide information on traffic citations and accidents from the last 36 months. While there are exceptions, few companies will take older incidents into account.
However, when shopping through Gabi, you'll be asked to provide information from incidents within the last five years. Whether this info is automatically shared with all insurance providers — or just the ones requiring 60 months' worth of information — is unclear. However, there's a chance that all insurers on the platform will get this additional (and potentially negative) information about you and your record.
Let's say you were in an at-fault accident four years ago. Automatically providing this information to an insurer through Gabi — when you would have been required to disclose only 36 months of history when applying through the company directly — could have a negative impact on your quote.
Gabi Accessibility
With only a few questions and a little information, you're on your way to quotes from Gabi in around two minutes. To make it even easier, you don't have to enter your coverage options or preferences. Gabi will fill this in automatically after you log in to your current coverage or upload a PDF.
I did find something to be confusing: Gabi is currently licensed in all 50 states. However, according to the website, not all insurance products are available in each of the states.
Gabi doesn't clarify which products are unavailable in which states, so just be aware that if you're planning to bundle services, you may encounter an issue depending on where you live and what you need.
However, as of yet, I haven't found a combination of products and services that were unavailable through the platform.
Gabi Security
I have used a few different aggregators over the years, to either refinance my student loans, shop around for insurance, or get a new auto loan. Many of these companies will share your information with their third-party partners, not only putting your personal info in the hands of unintended companies but also opening you up to solicitation.
An example: five years ago, I entered my information on a student loan refi aggregator's platform, searching for the best possible rates and terms.
About 30 seconds after clicking "Submit," my cellphone began ringing. It was a call from a "lender" whose name I didn't recognize, in very broken English, offering to refinance my loan for an unbelievable rate. The company wasn't one of those listed in my search results.
The whole thing felt very shady, so I hung up.
My phone continued to ring for days. I got calls from no fewer than 10 different banks — none of which I'd ever heard of before — from morning until night. It was an incredibly frustrating experience, but more concerning was the fact that my personal information was now in these aggressive callers' hands.
With Gabi, you don't have to worry about this happening. Not only is the site SSL-secured, but Gabi never shares or sells your information with third parties. Necessary information is shared between insurance providers on the platform in order to give you an accurate quote, but it goes nowhere else.
Gabi Customer Service
When you sign up for a Gabi account, you'll be connected with an insurance advisor. If you have any questions or concerns, you can shoot them an email. In addition, you can contact Gabi via live chat during business hours. There's no phone number to call for assistance.
Gabi Insurance Pros and Cons
So why would (or wouldn't) you want to use Gabi in your own insurance search? Here are a few of the pros and cons I found in my own experience of the platform.
Gabi Insurance Pros
Your information is never sold. Unlike some other aggregate sites, Gabi won't sell your personal information.
The process is easy. It takes just a few minutes to check your rates on the Gabi insurance platform.
Gabi is honest. I appreciate that Gabi will inform you of better rates from providers that aren't on its affiliate list.
Gabi Insurance Cons
Gabi asks about tickets and accidents from the last five years. This is longer than the industry standard and might have a negative effect on your rate.
Not all insurance companies are included. While Gabi does search through a large number of the top providers, the platform is not entirely comprehensive.
Gabi Insurance Review: The Bottom Line
Whether you need a brand-new policy, are curious about possibly saving money, or are perfectly happy with your current insurance provider, shopping around is always a smart idea. Doing so can help you find better rates through a company you may not have considered. Or it may reaffirm that you're already getting the best price around.
Sites like Gabi are not insurance providers, but aggregators. This means that they'll price-hunt for you, gathering quotes from multiple companies in a matter of seconds. That has the ability to save you tons of both time and energy.
Plus, Gabi's unique policy-linking process means you don't have to select your coverage options or fill out multiple information forms. The site will do all the work for you.
If Gabi finds you a better price — through its partner companies or otherwise — the platform will make it easy for you to complete the insurance-buying process. However, if your existing policy is actually the cheapest around, Gabi will let you know that, too. (Plus, here are some tricks you can use to lower your existing car insurance policy.)
You may be lucky enough to save $825 a year (Gabi users' average savings) on your insurance by shopping around on the platform. Regardless of how much you'll save, Gabi is free, easy, and safe to use, making it an important part of any insured customer's price-hunting process.
Stephanie Colestock
Stephanie Colestock is a personal finance expert and writer who enjoys teaching people how to be financially independent and confident about their money choices, regardless of obstacles in their path (such as the crippling student loan debt she once held). Stephanie graduated from Baylor University, and is currently working toward her CFP certification. Her work can be seen on sites such as Forbes, Dough Roller, and Johnny Jet, among many others.