Money Done Right may be compensated if you make a purchase after clicking on a link.
As of June 2019, the GetUpside Promo Code WFM8U will give you a 20¢/gallon bonus for the Upside gas app.
GetUpside is a free app that gives you free money back for gas up to 50¢/gallon.
If you drive a lot (or even if you don't), this can add up to a decent chunk of change!
What Is the GetUpside App?

GetUpside is a free mobile rewards app that does all this for you:
Gives you 25¢ cash back on every gas station receipt you submit
Lets you know where the cheapest gas is near you
Shows you the best gas station convenience store deals near you…some up to 50% off!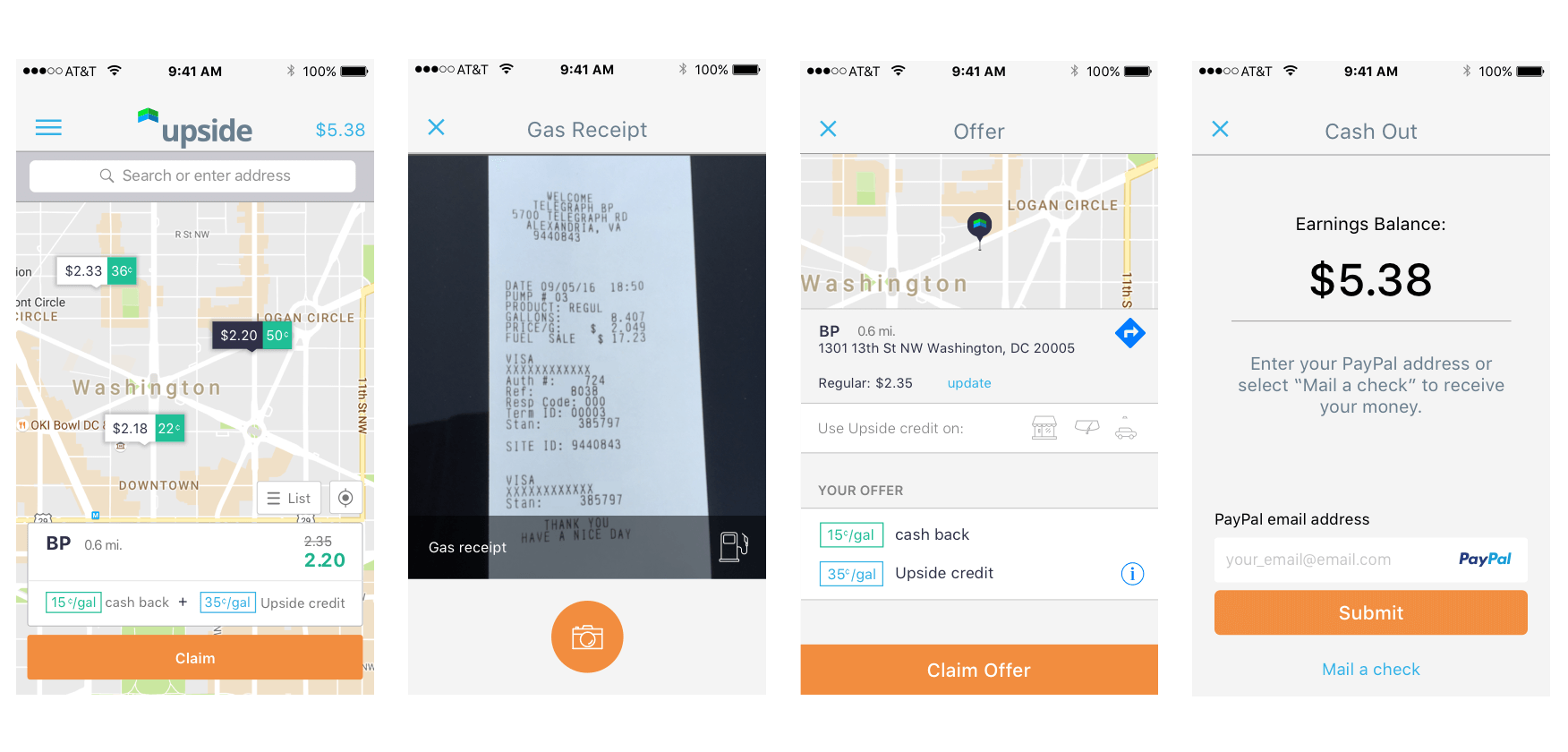 How Does the GetUpside App Work?

GetUpside is super simple.
Here are the steps:
Claim an offer at a gas station near you.
Fill your tank and pay with any debit or credit card.
Snap a picture of your receipt in the app.
Get paid!
That's it!  And there is no minimum withdrawal amount to your Paypal account!
How Much Can GetUpside Save You?
GetUpside can save American drivers quite a bit of money each year.
Let's consider the average American driver.
According to the U.S. Energy Information Administration, Americans used about 142 billion gallons of finished motor gasoline in 2018.
Dividing that 142 billion gallons of gasoline over the approximately 212 million licensed drivers in the United States yields an average of 670 gallons of gas used per American driver per year.
Of course, this number is probably skewed high if we're considering the "average American" because the 142 billion gallon figure we used for total gasoline consumption includes commercial use, so let's round down to 600 gallons of gas used per "average American" per year.
If the average driver used GetUpside for all of those 600 gallons at $0.25 saved per gallon, that would be an extra $150 in their pocket every year!
| | | |
| --- | --- | --- |
| Driver Classification | Gallons of Gas Used Per Year | Annual GetUpside Savings |
| Do you even own a car? | 100 |                                              $25 |
| Newly licensed | 200 |                                              $50 |
| Casual driver | 300 |                                              $75 |
| You must be retired | 400 |                                           $100 |
| Takes the bus sometimes | 500 |                                           $125 |
| Average driver | 600 |                                           $150 |
| Downtown commuter | 700 |                                           $175 |
| Road tripper | 800 |                                           $200 |
| Resident of Los Angeles | 900 |                                           $225 |
| Uber driver | 1000 |                                           $250 |
Can You Really Get Cash Back at Restaurants Too?

Yes, in certain locations, you can get up to 35% cash back at restaurants!
However, this feature is not in all locations yet, but hopefully it will be!
When Was GetUpside Founded?

GetUpside is actually super new. It was just founded in 2016.
That's why they're so generous with their 20¢/gallon sign-up bonus; they're trying to raise awareness about their app and platform.
So Should I Download GetUpside?

Heck yeah you should. It's a free app that gives you money. What's not to love?