I'm big on recycling.  Whenever I go on walks, I make sure to pick up any bottles or cans I see on the street and put them in our big recycle bin at home.  I also get paid for walking.  Click here to find out how I do it.
And almost every day at the train station I see bottles and cans laying around, so I'm sure to pick them up and put them in my bag.
So naturally every few months, having accumulated quite a bit of these bottles and cans, I go to the local recycling center, typically walking away with $30-$50.
💵 What To Do With Recycling Money
I used to see my recycling money as play money.  It's money that I don't really need, I wasn't really expecting, and I hadn't budgeted for, so I figured that I could just spend it on whatever.
But since becoming a bit more financially responsible, I decided that this isn't the best use of my recycling cash.
So now what I do?  I now take my recycling money and invest it in companies that are solving global challenges like renewable energy, clean water, and disease eradication through Swell Investing.
Intrigued?  Or just looking for a way to make the most out of your recycling?  Then read on.
🤔 What Exactly Is Swell Investing?
Swell Investing is a new online investing platform that aims to deliver profit as well as purpose.  They do the heavy lifting to identify companies that are both making an impact in the world and poised for growth so that anyone can invest in them.
Check out this 60-second video to learn more about Swell Investing.👇
💓 What We Love About Swell Investing
As Swell Investing users ourselves, we've gotten to know a lot about them, and we couldn't be more impressed! Below we have described what we like best about Swell Investing and why we invest with them.
💡 Swell Combines Investing Expertise With a Deep Passion for Impact.
Swell Investing analyzes global mega-trends to identify themes that offer high impact and potentially high returns.
Each portfolio is constructed with two important factors in mind—impact and performance—as Swell blends financial analysis with its proprietary Engaged Impact Criteria.
Swell starts by screening each company for a commitment to positive impact across multiple areas of business.
Then they research each company to determine how it derives revenue, making sure it actively delivers impact to the world.  Finally, they analyze each company's financial health and stock valuation.
We divided our Swell investment equally among companies in Green Tech, Zero Waste, Clean Water, Renewable Energy, Healthy Living, and Disease Eradication.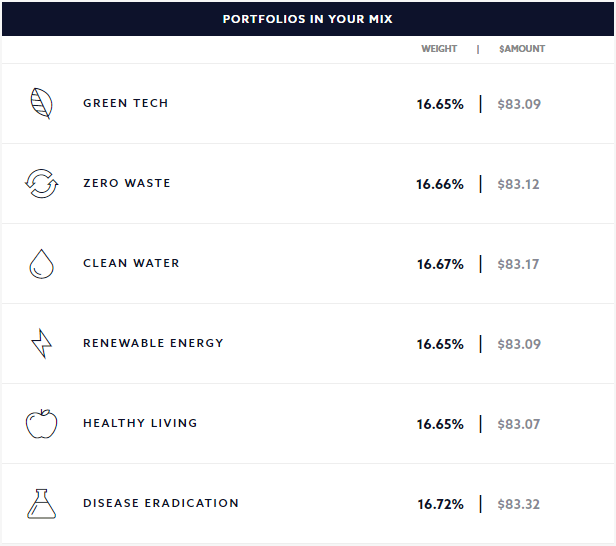 📈 Swell Optimizes Your Portfolio.
Swell Investing uses its institutional investing experience to determine company weightings and monitor ongoing performance.  They optimize each portfolio for risk and expected returns.
Your portfolio is also rebalanced on a quarterly basis such that any companies that aren't delivering based on Swell's strict criteria are removed.
And whatever they're doing behind the scenes, it's working!  Our Swell portfolio is up 5.35% since I first invested!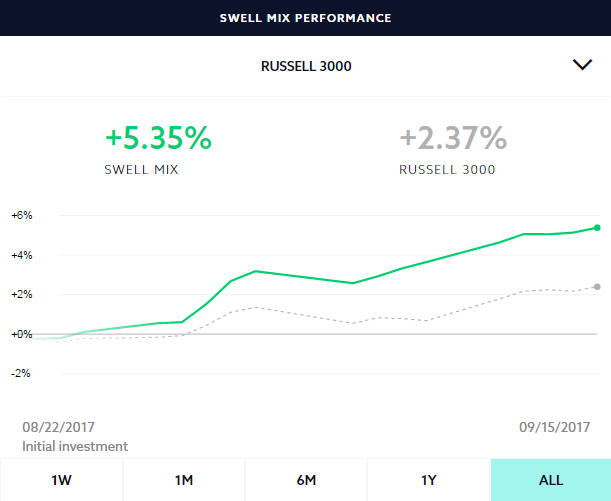 💰 Ready to Start Investing in Progress?
So are you ready to get started investing for profit and impact?  Then click here to head on over to Swell Investing and open your account!
I have a financial relationship with Swell Investing LLC and will be compensated if consumers apply for an account and/or fund an account with Swell through links in my content. However, the analysis and opinions expressed here are my own.
💰 $35,683 💰
That's how much money this blog made us last month. CLICK HERE FOR PROOF! Sign up below to learn how to create a blog!