Money Done Right may be compensated if you make a purchase after clicking on a link.
When it comes to making money from home or online, many people are confused.
With so many scams out there, it's hard to be be sure what's legit and what's not.
Thankfully, we have spent the last few months searching the Internet for the best ways to make money from home in 2019, and here are our results!
1. Teach English online.

If you have fluency in English, a Bachelors' degree, and at least some experience working with children, then you can make $14-$25 per hour teaching English from home with Gogokid.
By the way, don't let the "experience working with children" requirement scare you away. This could be simply be babysitting or caring for your own children!
Click here to apply to teach for Gogokid and get a $300 bonus after you teach your first three classes!
2. Play trivia.

What's the capital of Germany? Who was the first Beatle to get married? What year did Game of Thrones debut?
If you answered Berlin, John Lennon, and 2011 to the questions above, you may want to check out this new FREE trivia app that pays you huge cash prizes for your useless unique knowledge!
Today's prize is worth at least $1,000! Will you be the winner? Click here to download the free app and start winning cash!
Is this passive income? By our definition it is! It's making money without work!
Click here to start making money for trivia!
3. Become an Amazon Associate.

Did you know that Amazon foundyer Jeff Bezos recently overtook Bill Gates as the richest person in the world?
It's true. Amazon is taking over the (e-commerce) world!
And guess what? You can partner with Amazon as an Amazon Associate to make money without touching a single product.
You simply promote products that can be purchased on Amazon (which is just about anything imaginable) and receive a commission when somebody buys them.
Click here to learn how you can partner with Amazon.
4. Rent out your spare room.
Renting out lodging can be an incredible way to earn extra money between now and Christmas. I know some people making thousands of dollars a month, all by renting out an extra room to short-term guests.
Now, if you wanted to do this 10 years ago, you would've had to post an ad in the classifieds or on shady old Craigslist. Gladly, those days are over. You can now list your spare room on Airbnb and screen out prospective guests. (Guests are rated by their hosts for things like cleanliness and communication.)
If you'd like to sign up to become an Airbnb host, check out my article How to Become an Airbnb Host.
5. Start a drop shipping business.

You may have heard of people making six-figure income with drop shipping but aren't quite sure what exactly drop shipping is.
Let me break down the basic steps of a drop shipping business:
Find common household items that interest you.
Easily set up an online storefront on Shopify, Clickfunnels, or Amazon (takes less than an hour).
Connect your online storefront to a credit card processor and bank account (takes less than 30 minutes).
Drive traffic to your online storefront.
When people purchase from your online store, you purchase the item from a third party who ships it directly to the customer and collect the difference as profit.
You don't have to worry about storing inventory or packaging up products at the post office.
You are simply a facilitator for the transaction.
Click here to learn how to start your own drop shipping business with online entrepreneur Tai Lopez.
6. Write slogans.

Are you kinda witty? Then you may be able to make money just by thinking up slogans in your spare time.
Here's how it works:
Write a catchy slogan.
Upload it online here.
Get paid every time someone uses your slogan! Passive income!
Click here to learn more about earning passive income from slogans.
7. Keep the books for small businesses.

If you're somewhat decent with numbers, you can start an at-home bookkeeping business with absolutely no training in accounting or bookkeeping necessary!
What with so many small businesses forming every year, bookkeeping is an extremely in-demand skill set that doesn't require much training to learn.
In fact, Entrepreneur Magazine recently concluded that bookkeeping is the #1 most profitable small business. Here's what they had to say:
Finances are a part of everyone's lives, so here's an industry that will remain important no matter what. Not only that, but these types of businesses don't need to purchase or maintain any expensive equipment, thus have few overhead costs. — Entrepreneur Magazine
If this sounds like something that interests you, then click here to check out a FREE 3-part video series Bookkeeper Business Launch: How to Start Your Own Virtual Bookkeeping Business and Earn $80+/hr Without Going Into Debt.

8. Do voice over gigs.

Every day, there are literally thousands of pieces of content produced — from TV commercials, web presentations, radio jingles, and video game characters — that need voice over work.
And the majority of these content creators don't want to pay a Hollywood actor or actress thousands of dollars.
So they're willing to pay everyday people $100 for lending their voice for 10 to 180 minutes of voice over work.
But the trickiest part of the voice over job game is finding the right opportunities.

There are a few resources out there to help new voice over professionals land these opportunities, but the one we found to be the best is VO Genesis.
They've been around for a while and have several proprietary partnerships with large corporations looking for writers.
Click here to check out voice over job opportunities at VO Genesis!
9. Get paid to have an app on your phone.
There's an app that will pay you just for having it on your phone.
You heard me right. They will pay you $50 per year per device just for having your app on there!
Talk about the ultimate passive income opportunity!
If getting paid simply for having an app on your phone interests you, click here to learn more!
10. Take photos and sell them.

Are you good behind the camera? Then you can make a somewhat passive side income licensing your photos online for others to download.
For example, I get all my pictures for this blog from various stock photo sites on the Internet. And every time I download a photo, the photographer who uploaded it gets a royalty!
Licensing one picture that you take and upload now can give you cash flow forever as it's downloaded again and again!
Click here to learn how you can get paid for your photos from home.
11. Test video games.

This is one of those online business ideas where you get paid to do something you enjoy, so it's not really work at all.
With more and more video games being produced every year, more and more video game companies are looking for everyday gamers to review their products.
Click here to learn how you can make up to $49,063 a year as a video game tester.
12. Manage Facebook pages for small businesses.

In the business world today, social media is a must.
It's no longer optional like it was 10 years ago.
Either a business is on social media, or it will fail. And this reality is scaring older business owners out of their minds.
That's where Facebook, Pinterest, and Instagram-savvy you come in.
Click here to learn how you can make over $700 a week helping businesses with their social media accounts.
13. Wholesale real estate.

Did you know that you can make money in real estate with no money down?

Yes, you can! Here's how it works:
Find a motivated seller who needs to sell his or her house quickly and doesn't have time to go through a real estate agent
Negotiate with this seller and get his or her house under contract
Assign this contract to a cash buyer who wants to flip it or keep it as a rental
Confused? Don't be. There's a 21-year-old guy who makes over $1,000,000 a year doing this.
Click here to watch his 70-minute training video.
14. Write an eBook.

Publishing a book is a lot easier these days than it was even 20 years ago.
See, these days we have things like Amazon Kindle where practically anyone can self-publish their own books.
Click here to learn how to sell eBooks on Amazon Kindle.
15. Get Paid to Walk Into Stores
Have you heard of the new app Shopkick?
It literally pays you to walk into stores!  You don't even have to buy anything — you will get paid simply for entering stores!
Of course, you will earn more points for actually making a purchase, but even if you're just window shopping, you can still earn points.
Click here to read our full Shopkick review so you know what to expect!
16. Use a free money-saving bot.
Sometimes the best way to make money is to save money.
Subscriptions, especially those that go unused, can add up over time.
Thankfully, there's a free money-saving bot called Cushion that will go through all your subscriptions, let you know how much you are paying for each of them every month, and cancel them with a simple text message if you'd like.
And Cushion not only keeps track of your subscriptions, but it also negotiates your monthly bills such as cable and Internet so you keep more money in your pocket.
Cushion users have saved over $8,000,000! To learn other benefits that Cushion can offer you, check out our full-scale Cushion review.
Click here to start saving with Cushion! It's 100% free!
17. Invest $10 in small businesses and earn 5%.

Worthy Bonds is a company that provides bond funding to small businesses — and it's letting you get a piece of the action.
See, these small businesses (obviously) pay Worthy interest on these loans, and folks like you and me can buy bonds from Worthy that pay 5% interest.
This is far more interest than you could earn in a savings account at the bank.
You can buy bonds in $10 increments and / or link your debit or credit card and round up the spare change on your purchases to invest in bonds.
Click here to sign up for Worthy and start earning 5% interest by investing in American small business.
18. Invest in Private Real Estate Deals With Only $500.
Real estate is one of the classic forms of passive income: you own property, and others pay you for using it.
The downside to traditional real estate, of course, is that you typically need a lot of cash to get started.
Not so anymore with the rise of private real estate investing platforms.
We personally invest in one of these platforms called Fundrise.
Fundrise lets everyday people invest in top deals across the nation — way better deals than most people could find on their own.
It also lets you diversify your real estate holdings. For example, I am invested in deals in 10 different states!

And for the first 90 days of your investment, Fundrise will buy your investment back at the original investment amount if for any reason you are not satisfied.
Click here to sign up to see Fundrise's latest investment opportunities.
19. Lend money in $25 increments earning 4-6%.
Lending out money is one of the oldest ways to earn passive income. It's essentially renting out your money for either people to use, and the rent you charge is known as the interest rate.
Now, in the old days, if you wanted to lend money to somebody in particular, you were taking on a pretty risky business, unless he or she put up some form of collateral. But now, thanks to technology, you can spread out the risk by only lending your money in $25 increments.
How does this work? Well, let's say Borrower A needs a $25,000 loan. Instead of going to one entity, like a bank or rich person, to borrow the full $25,000 — which would be very risky to that one entity — he or she borrows $25 from 1,000 people. This scenario presents much less risk because the most any single investor could lose is only $25.
Such an arrangement would have been administratively impossible just 15 years ago. But thanks to the wonders of the Internet, it is now very possible, and the peer-to-peer lending industry, as it's known, is thriving for borrowers and investors alike.
Click here if you have $25 and you'd like to earn way more interest than the bank pays you.
20. Get cash back on stuff you buy anyway.
One way to create passive income with no money is to get paid for doing things you do anyway, like going shopping.
There's a little-known app called Ibotta ($10 bonus if you click here) that literally gives you cash back on things you buy anyway, just for taking pictures of your shopping receipts!
To date, I have made $1,357.09 from this little app.


And yes, they pay you cash through Paypal!
And oh yeah, if you sign up with Ibotta through our special $10 bonus link (click here), you'll get a $10 bonus when you submit your first receipt!
21. Get paid to shop on Amazon.
If you're a regular Amazon shopper, you can earn money each month simply by letting a research company track your purchase history.
Shoptracker will instantly send you a free $3 Visa gift card, plus another $3 for every month you keep it installed if you sign up through our link.
22. Rent out your car.
Do you simply drive to work and leave your car sitting in a parking lot all day? Or are you going on a vacation soon while your car will be left unused at home? If so, renting out your automobile while you're not using it could be an easy source of income for you.
There is a website called Turo that acts as a private rental car listing-service. When you rent your car through Turo, your car is protected against physical damage, up to its actual cash value, for collision and most "comprehensive" causes, including theft. You are also covered by $1 million in liability insurance.
If this sounds like something you would be interested, click here to sign up to rent out your car at Turo.
23. Start a blog.
Some passive income ideas require an investment of money, and others require an investment of time.
Blogging is definitely the latter. Rather than putting a lot of money in upfront, you put a lot of time in upfront and reap the passive income streams later.
In the span of little over a year, we have been able to grow this blog into a five-figure monthly passive revenue stream.
If you would like additional information about setting up your blog as well as making money from it (and more!), I recommend that you sign up for my free blogging e-course below.
24. Get paid to walk.
I just made $10 for walking, paid in cash via PayPal. It's true!
There's a new app, Sweatcoin, that will pay you for every step you take. It motivates me to go for more runs, take the stairs more often, and be an all-around more active person.
If you'd like to get paid to walk too, click here to sign up for Sweatcoin now!
And this isn't even the only way I'm making money by exercising. I'm also getting paid $480 to lose weight! Learn more in my article I'm Going to Get Paid to Lose Weight with HealthyWage!
25. Assemble products.

Did you know that over 250 companies are currently paying people to assemble their products from the comfort of their own home?
It's true! They need workers to assemble products from crafts to jewelry to direct mail packages and more!
The company will ship you the materials as well as step-by-step instructions, and then you get to work assembling the product!
It's kind of like LEGOs for adults, except you get paid for it!
Click here to learn how to get started with your product assembly business.
26. Start an import/export business.

Go pick up five random objects in your house.
I guarantee that at least one of them (if not all of them!) was manufactured overseas.
We don't think about it in everyday life, but there are people making big money importing products like these from other countries as well as exporting American-made products around the world.
Who knows? Maybe the next big import/export profiteer will be you!
Click here to learn how to start your own import/export business.
27. Become a virtual assistant.

Virtual assistants help people and businesses do things online.
All you have to do is know how to use the Internet!
Your tasks could be anything from proofreading articles to curating social media content to managing a calendar.
And there are dozens of other ways to make good money working from home as a virtual assistant.
Click here to grab your FREE list of over 150 services you can offer as a work-from-home virtual assistant!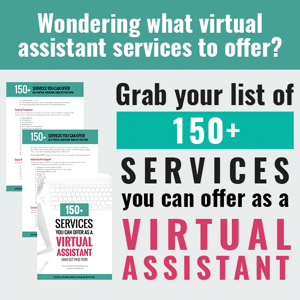 Click here to grab your FREE list of over 150 services you can offer as a work-from-home virtual assistant!
Earn. Save. Grow.
Sign up for updates on ways to make, save, and invest money.