BearX is a super cool ethereum-based NFT collection of 3,700 bears — and I'm the proud owner of eight of them!
The whitelist mint happened in the first week of November 2021, at a price of 0.05 ETH + gas (which is crazy right now), followed shortly by the public mint.
And not only does the art rock — I mean, look at that gorgeous ursine (he's mine and you can't have him) — but these babies also generate ROOTx token to the tune of 10 per day.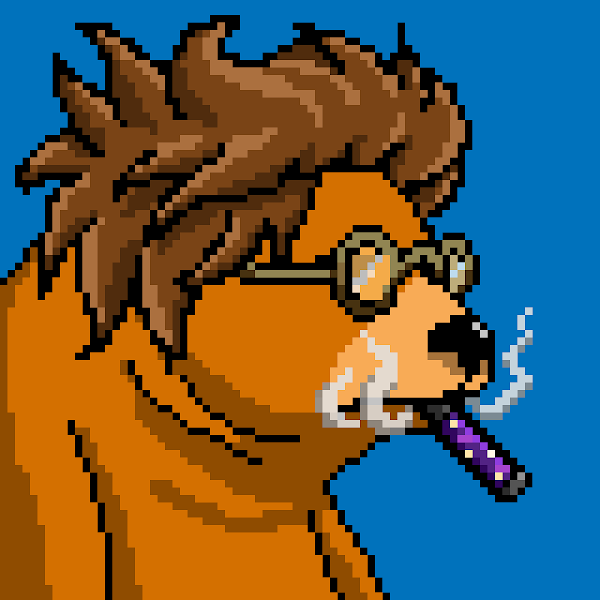 More on ROOTx later, but let's start with the basics for now.
Why I Like BearX
When it comes to evaluating an NFT project, I look for five things:
Art
Community
Leadership
Partnerships
Utility
BearX seemed like a solid project to me on all fronts, so I minted my two bears from the whitelist and purchased two more on OpenSea.
Art
This is obviously subjective, but the bears just look cool!
Obviously the community didn't know what they would all look like pre-reveal, but there were some sneak peaks revealed in the Discord that got me excited.
Community
BearX became insanely popular — with over 100,000 Discord members — despite not having spent a nickel on marketing or promotions and without any gimmicky invite contest.
That signaled to me that the community is strong, and that is obviously a prime ingredient for long-term NFT value.
This all said, the BearX team recently announced a major partnership that I believe will take BearX to the moon (more on that later in this article).
Leadership
And the strength of the BearX community — as well as its leadership — was proven in its response to a vicious Discord + Twitter hack and fake-mint scam attack that took place the last week of October.
Essentially, the BearX Discord and Twitter was taken over by hackers who claimed that the public mint had started.
These hackers then blasted out hundreds of announcements in the Discord with a scam website where victims were tricked into sending Ethereum to the scammer's wallet in hopes of minting a bear.
This was unfortunate, but the project's leadership — namely, the BearX creator Akeem Ojuko — stepped in and asked those of us on the whitelist if we would be OK with increasing the whitelist mint price from 0.035 ETH to 0.05 ETH with the difference going to compensating the victims of the scam.
I and the majority of individuals voted in favor of this idea, and I'm happy to say that I've started to see reports from the victims indicating that they have been compensated for their losses.
Big shout out to the @bearX_NFT project, I was a victim of the phishing scam/hack and they were able to pay me back today, so thankful, so grateful #nft #bearx_nft #greatful

— Christian Cinalli, NBC-HWC (@ChristanCinalli) November 7, 2021
The response to this scam wasn't just an awesome show of how strong the BearX community is in terms of coming together for the victims but also a testimony to the project's leadership — they didn't simply make an executive decision as to how to respond to the scam but left it up to the whitelist.
Also, they have beefed up security by automatically banning anyone who posts a link other than a GIF.
Partnerships
On November 16, BearX announced an absolutely face-melting partnership with Binance.
This partnership is HUGE, folks. This is Binance's first long-tail NFT partnership!
We are happy to announce the start of our partnership with @bearx_NFT! 🐻

To kick things off, you can find their one of a kind bear collectibles on the Binance NFT marketplace here! 👇https://t.co/7wMQAsIkNq

There's alot more to come, so watch this space 👀 pic.twitter.com/FgpnTKxvGR

— Binance NFT (@TheBinanceNFT) November 17, 2021
While the BearX-Binance relationship has just been born, here's what we know:
BearX has listed seven BearX NFTs on Binance. These NFTs can only be purchased on Binance; they are not available on OpenSea, though the purchaser of one could certainly list them on OpenSea if they choose. Buyers of BearX NFTs on the Binance exchange get unique perks!
There will be partnered marketing between BearX and Binance on various social media platforms.
There will be long-term opportunities with the BearX tokens, ROOTx and SROOT (more on that later in this article).
I'm super bullish on this partnership and in fact picked up three more BearX NFTs in response to this news because the floor was getting absolutely obliterated.
Utility
I am super pumped about the utility offered by holding BearX NFTs — especially multiple NFTs — in two ways:
Whitelist access to other NFT projects
The ROOTx token the bears generate.
Whitelist Access to Other Projects
On November 23, 2021, BearX announced that it is teaming up with other NFT projects to give BearX NFT holders — namely those who hold the BearX token ROOT — exclusive whitelist spots on other NFT projects.
Over the next week we will be rewarding ROOT holders with exclusive Whitelist spots from the hottest NFTs that have not launched yet 🎉

What do you need to do? Simple. Have ROOT in your wallet (that has already been claimed), and sit back and win.

!chomp 🐻

— BearX (@bearX_NFT) November 23, 2021
Getting on the whitelist for a project is huge because it often means you can purchase the NFT for a lower price than others have to pay in the public sale or on the secondary market, and you can also avoid gas wars.
With BearX itself, for example, I got on the whitelist and was able to mint two BearX NFTs for 0.05 ethereum each (plus gas) — significantly lower than the price I would have had to pay in the secondary market on OpenSea.
The table below shows some examples of whitelist opportunities provided to holders of the native BearX token, ROOTx.
BearX NFT Partnerships

| Partner | Giveaway | Requirements |
| --- | --- | --- |
| Nanopass | 70 whitelist spots | Must hold 100 ROOTx in wallet |
| OverCloudz | 45 whitelist spots | Must hold 100 ROOTx in wallet |
ROOTx Token
The other major utility of the BearX NFT project is its native token, ROOTx.
Speaking of which…
The BearX ROOTx Token
On November 14, 2021, BearX NFT holders started earning 10 ROOTx tokens per day for each BearX NFT they own, redeemable through the BearX website and tradable on Uniswap. You can also check out the ROOTx chart on DEXTools.
While all the details about the ROOTx token haven't been released by the BearX team yet, here's what we know so far:
ROOTx is on the Ethereum chain.
The purpose of ROOTx is to reward long-term ROOTx holders and BearX holders.
Those who own at least two BearX NFTs can pay 1,000 ROOTx to produce a MiniBearX (these have not yet launched).
ROOTx will be used to create challenges for ROOTx holders to earn valuable prizes as well as give them exclusive access to certain events, including potential future NFT drops.
Later in November, a special token called Super Root $SROOT will be earned daily by holders of the 1/1 BearX NFTs that were auctioned off shortly after the mint as well as those who hold at least five BearX NFTs. $SROOT holders will get a unique NFT for every $SROOT they own.
If you'd like to learn more about the ROOTx token, check out this Medium post by the BearX team.
Note that the rollout of ROOTx was delayed a bit post-mint, and some in the BearX community have gotten a little impatient waiting for more official details about ROOTx.
According to the BearX team, however, this delayed rollout of ROOTx post-mint was intentional to ensure that "everyone really really gets insane value from this."
Whatever the BearX team has planned with ROOTx, I'm here for it!
How to Buy BearX NFT
Currently, there are two ways to purchase BearX NFTs: on OpenSea or on Binance.
The floor price hovered around 0.3 ETH before the announcement of the Binance partnership, but the floor is closing in at 0.5 ETH in the wake of more details being released about ROOTx as well as the Binance partnership.
Note that there are a few fake BearX profiles on OpenSea; any BearX profile other than the one linked to above is a scam; do not interact with them.
Why I'm HODLing My Eight Bears
When I first found out I had been whitelisted for BearX, my initial plan was to utilize the typical strategy of selling one post-mint to recoup my cost basis while letting the other one ride.
But after getting more involved with the community on Discord and learning more about ROOTx, I've decided that I want to be a long-term BearX HODLER!
Is BearX NFT a Scam?
No, BearX NFT is not a scam.
Unfortunately, as stated previously, some members of the BearX community fell victim to a scam when a scammer hacked the Discord server, but the community has really rallied behind these folks and is compensating them for the ethereum they lost in the hack.
How to Get Involved With BearX
Want to learn more about BearX? Join the Discord and follow the project on Twitter!
!chomp
Want to Make Money With NFTs?
Degen Den is the brand-new exclusive NFT community that I founded.

In this community, you get access to:

• A private Discord community of likeminded NFT profiteers
• Whitelist opportunities to hyped NFT projects
• Early intel on what NFT projects I will be covering on my NFT-focused YouTube channel
• And a lot more!

I'll see you inside!
Author:
Logan Allec, CPA
Logan is a practicing CPA and founder of Choice Tax Relief and Money Done Right. After spending nearly a decade in the corporate world helping big businesses save money, he launched his blog with the goal of helping everyday Americans earn, save, and invest more money. Learn more about Logan.