C-01 NFT Has EPIC Art. Here Are My Thoughts + How to Get Whitelisted
Cryptocurrency
The C-01 NFT (to support the site, input my C-01 NFT referral code W44jODXrUi when joining the Discord — thank you!) is the next-in-line hyped NFT project to hit the market, benefitting from the high quality 3-D avatar trend. We're in the middle of a historic NFT bull run that feels like August 2021.
If you don't believe me, consider these facts:
The Bored Ape Yacht Club floor hit 72 ETH recently with celebrities like Eminem aping in.
We're seeing mega mutant serums selling for 1,542 ETH earlier this week, which at the time of sale was nearly $6,000,000 in fiat money.
We've seen secondary sales volumes of over multiple tens of millions of dollars for 3-D avatar projects thanks to Prime Ape Planet.
And now, dropping here at the beginning of the new year at the beginning of what appears to be a new bull run in the NFT space, we have the C-01 NFT.
C-01 NFT is a collection of 8,888 ethereum-based, 3-D avatars created by Gilberto Zaragoza.
It is looking to capitalize and be in the right place at the right time. This project exploded onto the scene with over 52,000 members in their Discord just 12 hours after their announcement post.
Now we have a project that was only announced on January 1, that still doesn't have a website, and has less than 10 tweets.
Is there any way we can find out more about this project with so little information publicly available?
Buckle up.
Who's Behind C-01 NFT?
This project has one my favorite things in the world to see — a fully doxxed, highly-capable team.
From the hands of Gilberto Zaragoza, lead 3D Designer at Warner Bros, in collaboration with Luis Monteiro, Fashion Designer from Louis Vuitton. We are proud to reveal the most 3D realistic NFT collection ever created.

This is day 0
Join our discord nowhttps://t.co/aRTRcqzsWJ pic.twitter.com/T0cNF4ObhC

— C-01 (@C_01_Project) January 1, 2022
I love how this initial tweet from the project sounds.
So who's behind this project?
Well, four accomplished individuals are on the C-01 team, all providing their unique value to the project.
Gilberto Zaragoza Vigil
The first member we have to talk about is Gilberto Zaragoza Vigil. Gilberto is the lead 3-D designer and has spent the last seven years working at Warner Bros.
Gilberto was directly involved in Avengers End Game and has worked alongside the best in the business for the better part of the last decade.
A deep dive into his Artstation portfolio provides a good sense of Gilberto's style and ability as an artist.

So, in my humble opinion, this looks good. But Zaragoza is not the only prominent member of this team.
Dr Kevid Haddad
Dr Kevid Haddad is a famous French plastic surgeon who carefully designed each face attribute across the four different ethnicities represented in the C-01 project.
The team spent over two months just on creating the facial expressions of their 3-D models to make them look as natural and as human as possible.
I mean, I think it's pretty interesting when you have a plastic surgeon on your team to ensure that the facts are hyper-realistic.
This project also has a very unique angle that differentiates it from other projects, but I'll dive deeper into that in just a second after we round out the rest of the team.
Luis Monteiro
The third team member is Luis Monteiro, a French model maker (C-01 refers to him as a "fashion designer", but I think this may be a stretch) who boasts over eight years of experience in his field.
Luis has worked with brands such as Yves Saint Laurnent, Chanel, and Chloè and even spent the last two years working alongside Virgil Abloh as a stylist.
Luis is a key part of this team, as he carefully designed all of the clothing, materials, and accessories for the collection. You'll see in just a moment why his contribution on the team may end up being the most important.
Important: Some individuals on Twitter have raised suspicions that Luis is fake since the only Luis Monteiro associated with the fashion industry that they can find is a fashion photographer who confirmed that he is unrelated to C-01. However, Luis Monteiro is a common name, so this isn't by any means crystal-clear proof that the Luis Monteiro claimed to be associated with C-01 is fake. However, I do think that C-01 may be hyping up his experience a bit by calling him a "fashion designer from Louis Vuitton). See the discussion in the comment thread at the bottom of this post!
Want to Make Money With NFTs?
Degen Den is the brand-new exclusive NFT community that I founded.

In this community, you get access to:

• A private Discord community of likeminded NFT profiteers
• Whitelist opportunities to hyped NFT projects
• Early intel on what NFT projects I will be covering on my NFT-focused YouTube channel
• And a lot more!

I'll see you inside!
Kevin Didelot
The fourth team member is Kevin Didelot.
Kevin is the backbone to the operations as the smart contract developer and security expert. And boy, does he have some proof to show that he knows what he's talking about.
Kevin has spent the last three years working for the National French Bank and creating a company called Metasafe, which specializes in smart contract auditing and infrastructure security.
So the bottom line is that the team checks all the boxes in terms of what I look for in an NFT project. They're 100% doxxed and masters in their respective fields.
Now, the team doesn't seem to have a dedicated NFT expert, so we'll have to dive deeper into their roadmap to see if they're just relying on their artistic chops or if there's going to be some exciting utility here.
Is the Art Good?
Before we dive into the roadmap, let's talk a bit more about the art. We just spent the time bragging about how good the team is, especially artistically, so let's talk about the art itself.
"Don't be into trends. Don't make fashion own you, but you decide what you are, what you want to express by the way you dress and the way to live." —Gianni Versace pic.twitter.com/XI1GE5v8j2

— C-01 (@C_01_Project) January 2, 2022
When I describe this project as a "hyper-realistic 3-D avatar project," that's about as on-the-nose as a description can get.
It fits in well with a very trendy style of great 3-D projects, so timing-wise this project couldn't have done a better job.
C-01 thoughtfully created their collection to be beautiful, with a certain runway model aesthetic, very intentionally.
This was very smart considering what their ultimate goal is with this project — but more on that later.
The avatars are extremely detailed, and a high level of effort was put into the clothing and accessories thanks to Luis Monteiro.
And I think Giancarlo highlighted a great point about this project on Twitter.
photorealistic NFTs are obviously next level but I do think you lose a lot of meme potential when you go this route

that said they already have 150k discord members and their first tweet was yesterday, the demand side in this space is off the charts https://t.co/SBKoQVcexu

— Giancarlo (@GiancarloChaux) January 2, 2022
"Photorealistic NFTs are obviously next level but I do think you lose a lot of meme potential when you go this route."
That is a legitimate issue because that's part of the fun of NFTs.
But the next thing he says is also true, so it may not matter.
"That said, they already have 150k Discord members and their first tweet was yesterday. The demand side in this space is off the charts."
When you break Discord because too many people are trying to join in a single day, you're doing something right.
We broke Discord for the second time. In an hour or so, new members will not be able to join our server. Please @discord ?❤ pic.twitter.com/fxZZX4lX42

— C-01 (@C_01_Project) January 4, 2022
How the C-01 NFT Works
I think this team came up with a genius and very unique concept with this project. The goal of their collection is to become the fashion models for fashion designers.
There's a reason big runway models get paid well. They make the clothing look great and people want to spend more on the clothing.
This team wants C-01 to be a collection of 8,888 models, so they can partner with metaverse fashion designers to show off their designs.
Time and time again on their Discord they mention partnering with luxury fashion brands to collaborate with and create an online and exclusive clothing line to be featured using their 3-D models.
The team can use their high quality fashion models to sell luxury fashion brands' high-end metaverse clothing and accessories. This is going to be a huge industry.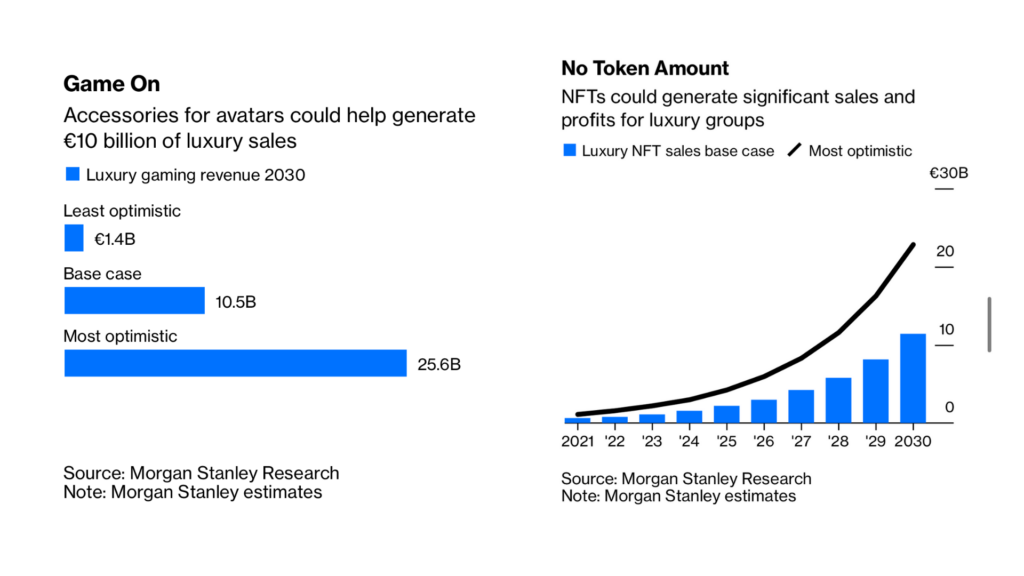 Their current Roadmap also dives into a metaverse play:
"After a few successful partnerships in Q1 2022, we will implement ourselves in the two most well-known metaverses available: Sandbox and Decentraland. We will purchase a consequent number of lands and create a virtual fashion show with all our partners that will be retransmitted live across social media."
Their ultimate goal is to create the digital version of well-known fashion parades. They can use this as a great marketing ploy to attract more luxury brand's to partner with them.
The number one way they are looking to reward their long-time holders of C-01 project is by creating exclusive digital collections with these luxury brands and reserving them exclusively for holders of the project.
How to Buy the C-01 NFT
C-01 is a collection of 8,888 NFTs that will be selling for 0.25 ETH.
Here's what you need to know if you want to buy the C-01 NFT.
Whitelist Pre-Sale
The whitelist pre-sale starts on January 14, 2022, at 9:00 AM Eastern Time with a limit set of two NFTs per wallet.
There will be a total of 2,000 whitelist spots and 4,000 NFTs available for the whitelist mint. Over 1,000 whitelist spots are already taken, so if you want early access — less than half are available.
In the #how-to-whitelist channel in the C-01 NFT Discord, the team gives these requirements to whitelist:
Invite at least 10 people to the Discord server. You will need to generate your own invite code by typing /create in the #check-invite Discord channel, and those you invite must input your referral code after joining the Discord through the generic Discord server invite link. If you'd like to help the site out so I can continue to create content like this, please input my C-01 NFT referral code W44jODXrUi when joining the Discord. Thank you!
"Vibe" enough in the Discord to reach Level 7 in the Discord.
Post a tweet about the project and tag C_01_Project. Then post proof of your tweet in the #tweet-proof channel.
There are also some more "subjective" ways to perhaps get handpicked for the C-01 NFT whitelist:

They also announced the start of an Art Contest Giveaway in Discord where winners will be receiving whitelist spots.

To stay up to date with new competitions and ways to get on the whitelist, join their Discord.
Public Sale
The C-01 NFT public sale will begin at 11:00 AM Eastern Time January 14, 2022, at a price of 0.25 ETH. Since the discord has exploded in the first few days of launching, I assume the public sale with sell out extremely quickly.
Also, C-01 is implementing a raffle system to mitigate gas fees as much as possible. The raffle registration opens on January 13, 2021, at 9:00 AM Eastern Time and closes at 9:00 PM on that same day.
Secondary Market
Of course, C-01 NFTs are available on the secondary market post launch. They haven't announced anything officially, but I assume they'll be available on OpenSea.
What I Like & Don't Like About C-01 NFT
This project has a lot going for it that makes me want to get in on this project. I've mentioned that it is definitely in the right place at the right time.
The 3-D avatar trend has exploded. Recently we saw the Prime Ape Planet launch very successfully with a very similar amount of hype and notoriety on the team.
That project also minted for 0.2 with a similar collection size and saw price action run up to almost a 3 ETH floor pre-reveal. Prime Ape Planet currently sits at a 1.40 ETH floor.


I am also a huge fan of their idea of being the fashion models for other luxury metaverse accessory plans. If they pull that off this project will be extremely successful.
The team is always a huge factor to me. Any project that's fully doxxed and as accomplished as this one automatically gets some extra brownie points.
The only things I don't like are the fact that they're doing an invite contest on their Discord and they're not owning their pricing of the NFT.
I don't like when projects try to pass off 0.25 ETH as cheap. That's not how this industry has ran.
The way they worded things was
"Concerning the mint price, we have received a lot of requests regarding a possible Dutch auction or a high mint price such as 0.4 ETH or 0.3 ETH. We believe that this will not be rewarding to our community, and we want to leave room for more growth for our future holders. That's why as a team we have decided to fix the minting price at 0.25 ETH."
I really would love to see them just own it and say something like "We believe that our project is of the highest quality and deserves to be priced on the higher side of NFT mints."
I would be 100% okay with them saying that but don't try to convince us that this is a "cheap" mint price and you're pricing it at 0.25 ETH for our benefit.
My Strategy for the C-01 NFT
Giancarlo really highlighted the only thing that matters with this project: "The demand in our space for this type of art is off the charts."
This project has a recipe that has proven to be successful. I have no doubts that with this public team, all the hype already, and the art style of C-01 there is a ton of profit to be had in this project.
The way I'm playing this project is by first trying to get on the whitelist and mint two C-01's. If I can't get on the whitelist, I'll be at that public mint on January 14th.
I'd like to accumulate multiples of this project because I expect a significant run. Even if I miss out on mint, I will be picking some up off the secondary market just like I did with Prime Ape Planet.
I didn't win the raffle to mint Prime Ape Planet at 0.25 ETH, so I picked two up off the floor at 0.93 ETH because I saw great volume. I then flipped them both around 2.4 ETH pre-reveal as I've seen most projects pump into reveal.
I'm expecting similar price action for C-01's, so as long as the volume looks great this seems to be a great opportunity for a profitable flip.
I plan to mint one or two C-01 NFTs because I think the best way to play this project is as a flip.
If I can remove my cost basis from only selling one C-01 NFT, I may hold the other long-term as a lottery ticket to see if they can pull off their roadmap of becoming the metaverse's fashion models.
That's just my opinion. Feel free to disagree. Let me know your thoughts in the comments!
Want to Make Money With NFTs?
Degen Den is the brand-new exclusive NFT community that I founded.

In this community, you get access to:

• A private Discord community of likeminded NFT profiteers
• Whitelist opportunities to hyped NFT projects
• Early intel on what NFT projects I will be covering on my NFT-focused YouTube channel
• And a lot more!

I'll see you inside!
Author:
Logan Allec, CPA
Logan is a practicing CPA and founder of Choice Tax Relief and Money Done Right. After spending nearly a decade in the corporate world helping big businesses save money, he launched his blog with the goal of helping everyday Americans earn, save, and invest more money. Learn more about Logan.