HAPEBEAST NFT: Another Bored Ape PFP Knockoff or Something More?
Cryptocurrency
HAPEBEAST is an ethereum-based PFP NFT project consisting of 8,192 digital apes that is launching in December 2021.
This project has gained a lot of hype in the past few weeks, with its Discord membership over 164,000 and counting — and this is after the mod team weeded out 180,000 bots.
The mint price has not been announced yet, but there are still whitelist spots up for grabs — and in this article I'm going to tell you how to have a shot at it as well as my own gameplan with HAPEBEAST.
Is HAPEBEAST Just Another BAYC Knockoff?
Many of you are looking at this project's art, and I know what you're thinking. You're thinking, "Uh, another profile-pic ape NFT trying to piggyback off the success of Bored Ape Yacht Club."
And to that, I say, yes, that's exactly what's going on here!
The dev team behind HAPEBEAST is not being shy about it either. Check out the HAPE below in white — the ink above his upper lip says "HAPE BAYC".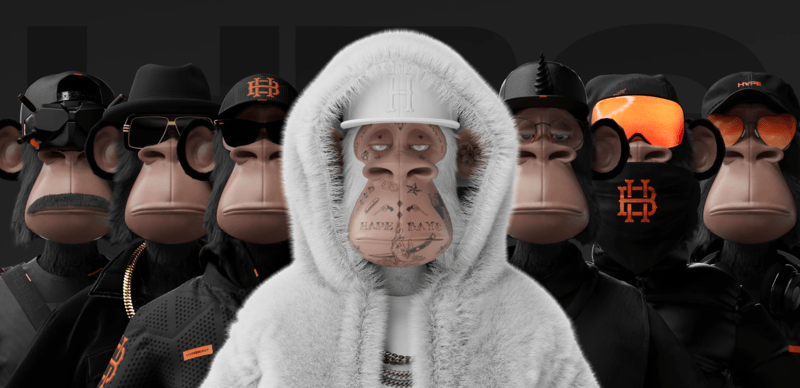 That said, folks, the NFT space is largely built on hype, and we've seen over and over again how collectors (or, probably more accurately, speculators) are more than willing to ape into projects that are clearly derivative insofar as those projects have a lot of hype.
And HAPEBEAST is certainly not low on hype. Beyond its Discord numbers, the project already has nearly 100,000 Twitter followers with whitelist giveaways like the one below fetching over 10,000 retweets.
?10 HAPELIST roles up for grabs in our Discord.?

To enter:
1. Follow @HAPEBEASTGANG
and join the server: https://t.co/nIIBqe5Dl7

2. Like, RT and tag your friends

10 winners will be picked in 72 hours.

STAY HAPE

???™️ pic.twitter.com/NqqnOaLlGl

— HAPE (@HAPEBEASTGANG) November 28, 2021
How to Get on the HAPEBEAST Whitelist A.K.A. HAPELIST
The thing you have to know about the HAPEBEAST whitelist is that the team has said that the traditional "grinding" that sometimes guarantees people a whitelist spot in many NFT projects won't really fly here.
Organic Community
The team has said in the Discord:
"Spamming the chat won't help; [they] don't have ranks and don't want to create artificial communication. We're building a community. Talk to each other because you want to talk, to meet other apes, to share your excitement about the project or anything else, to be part of this — not because you want something."
So HAPEBEAST's focus is on cultivating an organic community rather than a forced one that rewards the things that make the NFT space so gross sometimes like invite contests and rankings based on how many messages one sends in a project's Discord server.
One interesting thing that HAPEBEAST has done in the Discord is create a lot of off-topic channels such as:
General Wellness
Body
Mental Health
Spirit
Inspirational
Nature
Parents
Photography
Career Advice
Hobbies
Book Club
Travel
Cars
Show Your Pets
Show Your Food
And these channels aren't dead either!
So the HAPEBEAST Discord has quite a different feel from your typical NFT discord, and this is frankly refreshing.
Want to Make Money With NFTs?
Degen Den is the brand-new exclusive NFT community that I founded.

In this community, you get access to:

• A private Discord community of likeminded NFT profiteers
• Whitelist opportunities to hyped NFT projects
• Early intel on what NFT projects I will be covering on my NFT-focused YouTube channel
• And a lot more!

I'll see you inside!
No Grinding Allowed
HAPBEAST also does a good job of addressing the elephant in the room, namely that not everybody who's really been a part of the HAPEBEAST community is going to get a HAPE.
Check this out from the HAPEBEAST announcements channel in the Discord:
"We are making 8,192 HAPES and there are two hundred thousand of you. Inevitably that means a large number of people will miss out, including some who've spent time making beautiful things for us and others who've spent countless hours on our server. We've always emphasised that you shouldn't grind here, why there's no reward for that — that HAPE should be part of your life, not your whole life. Just as in real life, it sort of doesn't matter what the short-term goal is: As long as you're building relationships, learning new skills, making connections, having a good time, then your time isn't wasted whatever happens."
That is an incredible perspective because I think in the NFT space it's really easy to make it all about the grind — all about getting on whitelists and all about making money — but life is more than that, and arguably NFT life should be more than that as well.
The HAPELIST
That said, earlier this month, HAPEBEAST did announce the whitelist methodology in the project's Discord.
There are 1,024 "OG" spots that will be able to mint two HAPES each. As of ten days ago, 892 of these OG roles had been assigned, so chances are pretty slim that if you're just hearing about HAPEBEAST now that you're going to get an OG spot.
So that leaves the rest of us to fend for one of the 4,906 spots on the main HAPEBEAST whitelist (called the "HAPELIST"), which will let those on it mint one HAPEBEAST.
The HAPEBEAST team has said that spots on the HAPELIST will be given out in a similar way as the OG role i.e. for contributions to the community, in whatever form that might take. They say, "This could be one message or a thousand, a piece of art or a moment of kindness."
So how this works practically is if a moderator spots something or someone they think is worthy of getting on the HAPELIST, they discuss it in a private group with other members of the HAPEBEAST team.
An individual in the senior moderator team then makes the final approval if they think that individual is worthy of HAPELIST.
I know this can sound frustrating for some people because the whitelist project here is so subjective, but I think there's merit to this. On the other hand, some people will inevitably feel like they got looked over if someone else got HAPELIST but they didn't — but that's just the way life is sometimes.
There are other ways to get on this project's whitelist — for example, 1,024 spots are going to other communities that have not yet been announced, and some moderators and those who hold "GENESIS HAPES" are getting spots as well — but again, if you're just hearing about this now, you're probably not going to get one of these spots and getting on the HAPELIST is your best shot at this project.
My HAPEBEAST Strategy
My goal with most NFT projects is to get on the whitelist, and the way to do that with HAPEBEAST is not by grinding, sending invites, and constantly messaging in the Discord chats.
The way to get on the HAPELIST is to actually do meaningful things for the community. While the team has not stated this explicitly, it certainly seems that they're more interested in the quality of contributions rather than the mere quantity of contributions.
So what's my strategy here?
Become Part of the HAPEBEAST Community
I plan to get more involved in the HAPEBEAST community but not force interaction.
If I like participating in the HAPEBEAST Discord and am getting and sharing value out of it — irrespective of a whitelist spot — I'll make time for it everyday and who knows? Maybe I'll make the HAPELIST.
But if I don't like it — if I'm not enjoying myself in the HAPEBEAST Discord — I'm not going to force it just to try for a shot at the HAPELIST.
There are tons of other NFT projects out there that I could find whose communities are more of a fit for me, and there's no need to force myself into one that isn't.
So that's my initial HAPEBEAST strategy.
The question of course is, "OK, Logan, if you don't get HAPELIST, would you buy this NFT on the secondary market?"
What If I Don't Make HAPELIST?
Whether I would buy HAPEBEAST on the secondary market obviously depends on the price — and since mint price itself hasn't even been announced yet, it's almost impossible to estimate the secondary market price at this time.
My decision also depends on the utility of this project.
I know that HAPEBEAST's founder, Digimental, is an artist, and obviously the HAPEBEAST art is quite beautiful in my opinion.
So my initial thoughts are that with this project — like a lot of NFT projects and like a lot of profile picture NFT projects in particular — the art is really driving the ship.
That said, I see that others on the HAPEBEAST team have other talents as well — for example, Trouvelot is a game designer.
So it seems that the team is building some utility into this project beyond the art, but until I know more, I'm not going to ape into this on the secondary market if I have to throw more than something like one ethereum at it *unless* the floor is just getting demolished and I could do a quick flip.
So unless HAPEBEAST really knocks my socks off with utility — because if you know my long-term NFT investment strategy is focused on utility — I'm probably not buying on the secondary market if the price is expensive at all, and if I do, I may tend to just flip.
Of course, my thoughts could change depending on further announcements from the HAPEBEAST team.
Want to Make Money With NFTs?
Degen Den is the brand-new exclusive NFT community that I founded.

In this community, you get access to:

• A private Discord community of likeminded NFT profiteers
• Whitelist opportunities to hyped NFT projects
• Early intel on what NFT projects I will be covering on my NFT-focused YouTube channel
• And a lot more!

I'll see you inside!
Author:
Logan Allec, CPA
Logan is a practicing CPA and founder of Choice Tax Relief and Money Done Right. After spending nearly a decade in the corporate world helping big businesses save money, he launched his blog with the goal of helping everyday Americans earn, save, and invest more money. Learn more about Logan.