Updated
December 02, 2021
JRNY Crypto NFT: Here's What We Know So Far (Launch Date and More)
Cryptocurrency
If you're even marginally aware of crypto YouTube, you know Tony A.K.A. JRNY Crypto.
Apart from having pretty decent crypto price analysis, Tony also is pretty shrewd at picking NFTs.
Homie got in early on key NFT projects like CryptoPunks, Bored Ape Yacht Club, and Doge Pound…making millions along the way.
So, naturally, he's quite bullish on NFTs — and he's not private about that.
Acquire blue chip NFTs until the metaverse further develops and becomes mainstream and you will be set for life

— JRNY Crypto (@JRNYcrypto) October 13, 2021
Now Tony is launching his own NFT set — and he's said that he is "putting his life's work" into it. That's pretty big.
And on November 10, Tony shared from the JRNY Crypto Twitter account the links to his NFT project's Discord and website.
Note that the only website for this project is jrny.club; any other site claiming to be the official website of the JRNY Crypto NFT is a scam.
When this was announcement was made on Twitter, the website worked well enough, but the Discord was overloaded.
I was personally able to get on the server, but I was unable to verify the captcha since I kept getting an error.
A few minutes later, however, the JRNY Crypto team replaced the captcha verification with a simple emoji react verification, and I was able to get in.
How to Buy JRNY Crypto NFT
There are three ways to buy the JRNY Crypto NFT. The first way is via the whitelist, the second way is via the public mint, and the third is to purchase an NFT on the secondary market on OpenSea.
JRNY Crypto will also be doing giveaways of JRNY Crypto NFTs.
Whitelist Access
On November 20, whitelisted JRNY Crypto VIP Members (approximately 1,000 wallets) were allowed to early mint for one ethereum, and on November 21, whitelisted Doge Pound NFT holders (3,000 wallets) were allowed to mint for one ethereum.
I was personally able to mint on November 21 for one ethereum due to being one of the 3,000 Doge Pound holders chosen for the whitelist, and even though I could flip the JRNY NFT right now on OpenSea for a two-ethereum profit (over $8,000) since the floor price is currently three ethereum, I am HODLing!
Watch my YouTube video below to learn why.
Public Mint
The public mint of 5,000+ JRNY Crypto NFTs started today, Monday, November 22, at 8:00 AM Pacific Time.
The official public mint link is jrnyclubmint.io/dutch.
Do not believe anyone else telling you they have the JRNY Crypto NFT public mint link; the link provided in the previous paragraph is the only public mint link as can be seen in the tweet below from the verified JRNY Crypto Twitter account.
DUTCH AUCTION MINT IS NOW LIVEhttps://t.co/7kcNRUrs7a

— JRNY Crypto (@JRNYcrypto) November 22, 2021

The public mint is in "Dutch auction" format with the following parameters:
The public print auction price started at three ethereum and will decline by 0.028 ethereum every 10 minutes until the public mint is sold out or the one-ethereum floor is met. This means that at 8:00 PM Pacific Time, assuming the public mint has not sold out, the one-ethereum floor will be reached.
The mint is limited to one per wallet until 12:00 PM Pacific Time today, November 22.
If and when the one-ethereum floor is reached, the price will stay at one ethereum for another 12 hours. So this means that the public mint will end when all of the NFTs are sold or at 8:00 AM Pacific Time tomorrow, November 23 — whichever comes first.
Keep in mind that the more people start minting, the higher the gas fees will be.
Good luck to all of you going for the public mint today!
OpenSea (Secondary Market)
Some whitelisted individuals have listed their JRNY Crypto NFT on OpenSea. The floor price was approximately three ethereum yesterday but today, concurrent with the public mint, has dropped to two ethereum or below.
One thing to be aware of is fake JRNY NFT collections on Opensea. Here is an example of a fake JRNY Crypto NFT profile on Opensea.
The NFT space is rife with spam, so it's important that you only get your information about any NFT project directly from the project's official Twitter account or announcements channel in its official Discord server.
Giveaways
500 NFTs are being reserved for giveaways and future contests, so if you aren't able to purchase via the whitelist or the public mint, keep following JRNY Crypto for giveaway opportunities.
How to Get on the JRNY Crypto NFT Whitelist
Unfortunately, at this point, the only ways to get on the JRNY NFT whitelist have passed.
For example, I got on the whitelist because I hold a Doge Pound NFT (the cute little fellow below).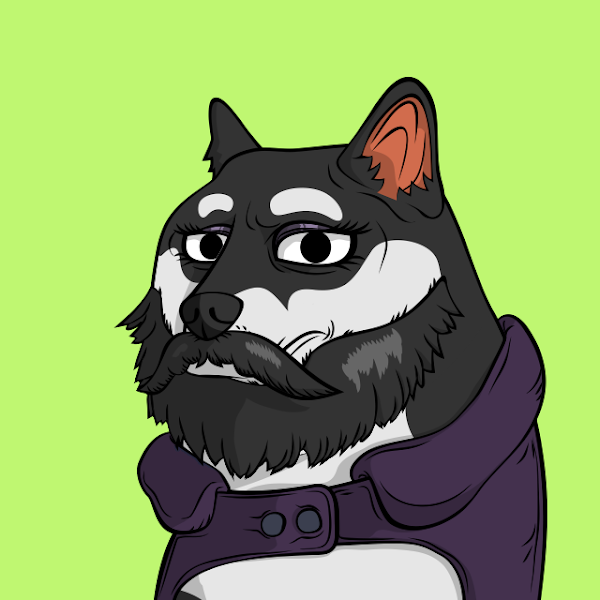 How Much Will the JRNY Crypto NFT Cost?
The whitelist mint price is one ethereum, and this is what those on the JRNY Crypto NFT whitelist paid.
Today's public mint will be in Dutch auction format per the parameters I previously mentioned.
If you purchase on the secondary market on OpenSea, expect to pay much more than the whitelist price. The OpenSea floor is currently approximately two ethereum.
NFTs Unlocked is the exclusive NFT community and training program I'm a member of.

I've found some of my most profitable NFT opportunities through this membership!

And for a limited time, you can immediately get a $200 discount off your membership with my promo code MDRNFT.

I'll see you inside!
The JRNY Crypto NFT Roadmap and Benefits
Tony has stated that holding this initial JRNY NFT — thereby becoming a "Voyager" (as opposed to an "Earthling") — will open the door for future JRNY NFT sets, announcements, a private community chat, exclusive NFT videos, early access to partner NFT projects, and more.
In fact, Tony has already stated that the JRNY NFT team is working on two additional NFT sets, and holders of this original JRNY NFT set will get a free mint for each NFT they hold.
We don't know much about these future JRNY NFT sets other than in a YouTube video from November 11, Tony said that the second set will be a "meme set."
Assuming that Tony and the JRNY crypto team do a good job on this project — and I have every reason to believe they will — buying this initial JRNY Crypto NFT could be a huge boon for one's NFT portfolio.
Not only do I believe that this original NFT likely go up in value, but I believe that it will also create more value in generating free additional JRNY Crypto NFTs in the future and even more utility beyond that…hence why I am HODLing my JRNY Crypto NFT and not selling even though I could today for a $9,000 profit.
Note as well that this initial JRNY Crypto NFT set will not have rarities, as confirmed by Tony himself.
The first set wont have rarities, but it gives access to free mint on the next 2 sets that will

— JRNY Crypto (@JRNYcrypto) November 11, 2021
How to Get Involved With the JRNY Crypto NFT
If you're interested in following along with all of the latest updates for this exciting NFT project, be sure to follow the official JRNY Crypto Twitter account, the official JRNY Crypto NFT Twitter account as well as join the Discord.
You May Also Like:
Author:
Logan Allec, CPA
Logan is a practicing CPA, Certified Student Loan Professional, and founder of Money Done Right, which he launched in 2017. After spending nearly a decade in the corporate world helping big businesses save money, he launched his blog with the goal of helping everyday Americans earn, save, and invest more money. Learn more about Logan.