Mech Identity Protocol (MIP) NFT: How to Get in on This Free Mint
Cryptocurrency
FREE giant customizable robots, anyone?
Mech Identity Protocol (MIP) is a dynamic NFT collection of 10,000 customizable Mech Heads and their drivers on the Ethereum blockchain dropping January 28, which is next Friday.
Mech Bodies will be released later down the line so Mech Head holders can assemble a Full Mech.
Find out what big plans this free NFT has in store for the future.
Who's Behind the Mech Identity Protocol NFT?
MIP is an entirely un-doxxed team. I couldn't find any information about the project or team members on their website, Twitter, or Discord.
And judging by some of their grammar on their website, it doesn't seem like English is their first language.
I am always extremely cautious working with an undoxxed team, but I'm not too concerned in the case of MIP since this is a free mint (plus gas of course).
So since there's no information about the team — at least not that I could find — let's talk about the art!
Is the Art Good?
The art looks great.
It has a clean animated style and gives me Wreck-it-Ralph meets Transformers vibes.
We are randomly giving out 10 Whitelist spots among the next 100 users that join our Discordhttps://t.co/QphERlLrHJ#NFTs #NFTGiveaway #nftart pic.twitter.com/rxHSRnBgRR

— MIP (Mech Identity Protocol) (@MIP_project) November 29, 2021
Their website is filled with animations showing how talented the team is.
gm kings and queens ?beautiful day here in the Metaverse. Say it back !#NFTs #NFTGiveaway #NFTCommmunity pic.twitter.com/486RFQAJMB

— MIP (Mech Identity Protocol) (@MIP_project) November 23, 2021
I like the art style and have been wanting to see a new mech style NFT since I missed out on Mekaverse.
They've only released the heads, but I like what I'm seeing so far.
Have you joined us already ???

?[??????? ????]? https://t.co/XO6KpDWkft

We are running weekly and monthly giveaways, expect surprise drops once in a while#NFTs #NFTGame #NFTGiveaway pic.twitter.com/oPoK3SG4Ps

— MIP (Mech Identity Protocol) (@MIP_project) November 28, 2021
What makes the art even more unique is that attributes are customizable and interchangeable.
Here's how the team explains it in their Discord:
Everything about MIPS is Modular and can be swapped (including the driver's features). Everything will be done through a section named "The Garage," where you shall be able to break down your MIPs into modular pieces and swap them around to create your own customized MIP.
Imagine if you could customize each attribute your NFT has to make it more rare and valuable!
This caught my attention.
Want to Make Money With NFTs?
Degen Den is the brand-new exclusive NFT community that I founded.

In this community, you get access to:

• A private Discord community of likeminded NFT profiteers
• Whitelist opportunities to hyped NFT projects
• Early intel on what NFT projects I will be covering on my NFT-focused YouTube channel
• And a lot more!

I'll see you inside!
How the Mech Identity Protocol NFT Works
Mech Identity Protocol doesn't want to be another NFT project built around a lottery minting system. Instead, they want to showcase their artists' unique designs while providing their community with more value.
So how are they going to do that?
MIPs
First, they need the Mech Identity Protocol NFTs. MIP will release 10,000 Mech Heads + Drivers on January 28th for their free mint. Mech Bodies will be released "later down the line." We don't know when and we don't know if it'll be another free mint.
A Driver, Mech Head, and Mech Body are needed to form a complete Mech. Once you have a full mech, you can enhance your NFT in your Garage.
Garage
The Garage is your own MIP customization station.
??????? ???: ???? ???????????? ????????? ???????.

The Garage will allow you to Switch and Customize your owned modules to create rarer and more valuable combinations

x10 W/L Giveaway:?

RETWEET for a chance of winning #NFT #NFTs pic.twitter.com/YMqt9aRn8I

— MIP (Mech Identity Protocol) (@MIP_project) December 20, 2021
Its remodeling service gives you the ability to express yourself via Mech designs.
In the Garage, you'll be able to break down your MIPs into parts and reforge them with new attributes, creating your custom MIP.
MIP holders will be able to decompose the MIPs under their ownership and combine the modular components of the Mech as they please to form their own self-made MIP.
MIP holders will be able to customize the color and attributes of their Mech Heads and Bodies.
The purpose of this dynamic functionality is for holders to join a faction decided by a color scheme.
Some factions and color combinations increase the rarity of your MIP and have additional perks, but more on that later.
The team plans for users to be able to keep the spare parts in the Garage. You can keep spare parts for yourself or sell them on their secondary market.
The thought of customizing and collecting attributes via spare parts seemed unique to me. I like the idea of increasing my NFTs rarity post reveal.
The team hasn't announced an official date the MIP Garage will be live, but they're hoping it'll be live shortly after the reveal.
The way they're talking about it on their site, it won't be fully functional and customizable until a complete Mech is formed.
Golden Tickets
If you want to guarantee yourself a Complete Mech (Mech Head + Body), a Golden Ticket is your best option.
MIP created 500 Golden Tickets, which are essentially VIP for the season one drop Mechs, and auctioned them off for 0.2 ETH.
? SPECIAL GIVEAWAY ?

To Celebrate The Selling Out Of All VIP Tickets. A Team MIP Member Is Giving Away Its Very Own Ticket.

X1 GOLD VIP TICKET

How To Win ?
-FOLLOW. RETWEET. TAG 3 friends

1 Winner in 48 hours.

⚠️Genesis Auction (6 hours to go) ?https://t.co/VhtUZEgbIc pic.twitter.com/xWjTC8X8tz

— MIP (Mech Identity Protocol) (@MIP_project) December 29, 2021
If you want one now, you'll have to win it in a giveaway or purchase it on their OpenSea account, and it isn't cheap. The floor price is nearly 1 ETH, and there are hardly any listed.
So what makes this VIP Pass so valuable if the mint is free?
Here's what the Golden Ticket pass gets you:
5 Free NFTs: 3 Free MIP Heads + Drivers and 2 Free MIP Bodies.
Prime Whitelist: Access to the first round of minting for both Mech heads and bodies.
Increased Mint Limit: Mint limit is three compared to the normal two per wallet.
Preferred Drop Slots: Guaranteed access to all future MIP drops and collections.
VIP Access: Perks and privileges on all future MIP development.
Essentially, you get two complete Mechs and can purchase more Mech Heads and Bodies during the public mint if you'd like.
They advertise the Golden Ticket pass as getting one NFT for the price of two. So I'm assuming that people will have to pay to mint Mech Bodies.
The Golden Ticket offers many significant benefits, but at 0.9 ETH, I'll take my chances minting at the free drop.
Factions
Their website states that the disbandment of the sole and monopolistic organization MECHCORP created the eight main factions.
The names of each Faction create an acronym of MECHCORP.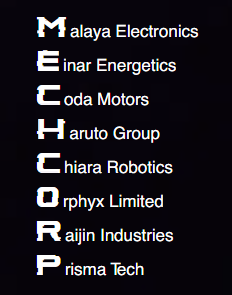 However, if you dive deep, you'll find there are nine factions if you include the unreleased legendary Faction known as the Nameless.
Your Mech's color variations depict factions. Each Faction has two variations of colors.
You can see all of the Factions' colors here.
Here's an example of the Haruto, Chiara, and Orphyx Faction's color schemes.

Again, some factions and colors are rarer than others, but that information is yet to be released.
Here's what we know so far:
If you were ever able to customize your MIP so that it's composed of all the specific colored modules of the same Faction, not only will you be the proud owner of a rare MIP in its own right, but you will be eligible to enter the Legendary "Nameless" MIP Giveaways. 33 Nameless MIPs will be given away during Q1 and Q2 of 2022 ONLY to those that have MIPs that have a Faction Title, meaning their MIPs belong to a faction.
They clearly want to encourage players to join factions by dropping an ultra-rare collection of 33 Nameless MIPs.
If you can form a complete Mech, it's in your best interest to get in the Garage and find a way to join a Faction, so you have a chance to win a Nameless MIP.
We don't know precisely what factions will do as of now, but they directly affect the rarity and value of the NFT.
Mech Identity Protocol Roadmap
Overall, I think the project has been very well planned out, especially for a free mint.
The complimentary mint for the Mech Heads and Drivers is a great way to gain traction, build a community, and get secure buyers for the collection of Mech Bodies (if it's a paid mint) later down the line.
The Mech Identity Protocol Roadmap consists of them delivering on most of the things I in the last section.
However, I'll give you a quick run-through because there is one section I'd like to cover.
Here's the order of operations:
First, they want to launch the Mech Heads and Drivers, then open the Garage. After that, the Mech Bodies will be released.
Once the Mech Bodies are released, the team will focus on the Full Remodel Launch so holders can completely customize their Complete Mech in the Garage.
Once that is complete, they will launch the Tertiary Market.
The Tertiary Market is where spare parts can be sold when not used. An internal database will track spare parts to ensure holders don't lose value.
One way to make sure parts don't go to waste is by selling them on the Tertiary Market, thus creating a whole new secondary market for their NFT specifically.
After the Tertiary Market is built, they'll focus on the future development of MIP. They mention they may create a DAO, short animated series, and a play-to-earn game in the roadmap.
The Mechs look like they are built for gaming. Depending on what they have in store, a play-to-earn MIP game would be entertaining.
They haven't released any details around the game, but it's something they might develop in the future.
That being said, I'm taking this NFT for what is right now, not for what they have planned in future development.
How to Buy the Mech Identity Protocol NFT
Mech Identity Protocol is minting January 28th, 2022. It's a free mint that's exclusive to Whitelist members.
Whitelist Public Sale
If you want to be a part of this Free mint, you'll need to get on the Whitelist.
So how do you do that?
Users can gain Whitelist access by engaging in Discord, creating fan art, and winning a spot via giveaway.
?MIP GIVEAWAY #38?

We are giving away
– 5 W/L spots
– 1 MIP Head NFT
Results in 48hours

How To Win ?
-FOLLOW. RETWEET. TAG 3 friends

1 Winner in 48 hours

(NFT will be a random Mint with Custom Title and Description)
⚠️Rare Genesis https://t.co/aJp7yvjQY5 pic.twitter.com/4vyoYnpFvu

— MIP (Mech Identity Protocol) (@MIP_project) January 18, 2022
They don't have a specific rulebook to gain whitelist. Instead, they're taking a more organic approach and want to whitelist people who engage with and promote the project naturally.
If you're creative, fan art is an easy way to get whitelisted without having to grind.
Unfortunately, they haven't announced how many whitelist spots there are or how many are left.
If you check their #whitelist Discord channel, you see they're still giving them out.
Secondary Market
Since there isn't a public sale, you'll have to pick up this project on the secondary market. However, the mint price is free, so I'm sure you'll be able to get in for a fair price.
My Strategy
Undoxxed teams are usually a huge red flag, but I do like this project.
They probably wouldn't be minting for free if it was a rug pull.
I like the art and their plans for the roadmap.
I will be trying to get a whitelist spot for this project. If I don't, I'll monitor the secondary market to see if I can buy at a reasonable price.
Assuming this isn't a rug, then I would want to hold a Mech Head + Driver for a chance to complete a Full Mech. That said, I don't think I'll be ponying up the 1 ETH for a Golden Ticket, even if it does lock me in two complete Mechs.
That's my opinion; given what we know about this project right now, I'm bullish, but that could change as more information comes out. Feel free to disagree. Let me know your thoughts in the comments, and follow me on Twitter.
Want to Make Money With NFTs?
Degen Den is the brand-new exclusive NFT community that I founded.

In this community, you get access to:

• A private Discord community of likeminded NFT profiteers
• Whitelist opportunities to hyped NFT projects
• Early intel on what NFT projects I will be covering on my NFT-focused YouTube channel
• And a lot more!

I'll see you inside!
Author:
Logan Allec, CPA
Logan is a practicing CPA and founder of Choice Tax Relief and Money Done Right. After spending nearly a decade in the corporate world helping big businesses save money, he launched his blog with the goal of helping everyday Americans earn, save, and invest more money. Learn more about Logan.