MTG NFT: Mint Date CONFIRMED | How to Get Whitelist | My Strategy
Cryptocurrency
The MTG NFT (More Than Gamers NFT) is an ethereum-based NFT project consisting of 10,000 gamers.
According to the website:
More Than Gamers will be the most explosive, most interesting, and most fun community for gamers playing in the NFT space. MTG will offer significant value to our holders across a number of different avenues.
Here's a link to the project's trailer on YouTube.
So obviously this is a metaverse play where your NFT or NFTs are your playable characters in the metaverse.
And this metaverse is going to be called The Gamers Metaverse.
The trailer doesn't reveal a whole lot about the project, but I'm going to get into what we do know about the MTG NFT project.
Who's Behind MTG NFT?
MTG NFT has a solid team well-versed in social media and other aspects of modern marketing.
Aaron "Kirsh" Kirshenberg
The founder of the MTG NFT is Aaron "Kirsh" Kirshenberg.
He's very young but very successful at a young age. He just graduated from high school in 2014, so I imagine he's around 25 years old give or take a year or so.
Careerwise, he's done stuff in insurance and investment analysis, but with two others he started his own company in the e-sports industry last June called "Team New Age, Inc." Its website is tnagaming.com.
I'm not a gamer, but it sounds like their gaming team or teams have had some success especially in Fortnite competitions.
And they have their own gaming mansion, which I'm sure smells incredible.
So obviously this guy is a gamer himself. He owns a gaming company. And he knows how the "game" works.
TFG
TFG or The Fortnite Guy is one of the owners at More Than Gamers.
He's also one of the directors at Ape Kids Club who handles all the marketing for that project.
And he's also driving a lot of the hype for MTG as well, especially on Twitter.
You 10000% gotta check out @NFTMTG!?

Fastest growing project by far!?

Check out our fire trailer!? pic.twitter.com/qNMQvRDfjw

— TFG (@TFGmykL) December 18, 2021

And the project has blown up on Twitter. Their first Tweet was last week on December 13, 2021. But they already have over 80,000 followers and will certainly cross 100,000 in the next few days.
And if anything, when a project has hype, that means in general that if anything it's going to be a good flip.
And if you're new to NFTs, this is one way for you to start stacking that ethereum.
My personal NFT investment philosophy is in general to get in a project early — whitelisted if possible — buying multiple NFTs in the project and then flipping some of them to the extent I can get my cost basis out so that I can hold the remaining item or items for infinite ROI.
Somebody just getting started though who wants to increase their ETH bags may simply just want to flip as much as possible and get as much realized gains as possible.
It's somewhat akin to flipping land vs. holding land for appreciation. I didn't use rental properties as an example there because for the most part, NFTs are not cash-flowing assets.
MTG NFT Art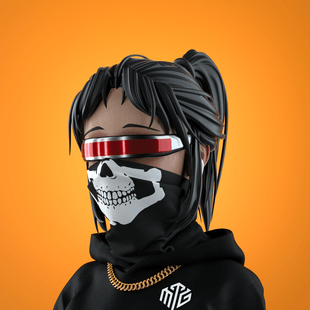 The MTG NFT art looks pretty cool. It's maybe not the best and kind of reminds me a little too much of Clone X, but I think it gets the job done.
They are generative 3D side profile characters.
The artist is Aalasady from The Netherlands.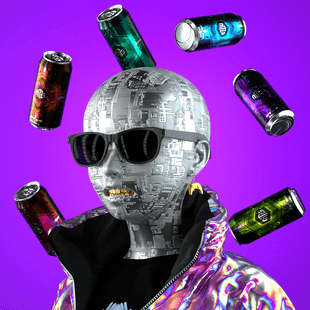 There's obviously a futuristic, almost robotic — or maybe cyborg — element here.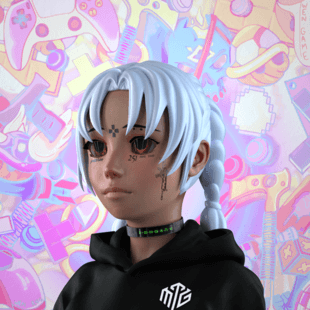 Some of the characters look more human than others.
And it's interesting that — just from what I've seen in the sneak peeks in the Discord — the more human-looking characters tend to have various markings on them.
For example, this one has tattoos of "251" and "PAUSE START" and an image of a gun.
She also has a necklet that almost looks like a monitoring piece as though she's under house arrest or something.
Want to Make Money With NFTs?
Degen Den is the brand-new exclusive NFT community that I founded.

In this community, you get access to:

• A private Discord community of likeminded NFT profiteers
• Whitelist opportunities to hyped NFT projects
• Early intel on what NFT projects I will be covering on my NFT-focused YouTube channel
• And a lot more!

I'll see you inside!
How the MTG NFT Works
And this futuristic, slightly disturbing art obviously plays into the story line for the project itself.
MTG NFT Lore and Origin Story
According to the MTG NFT website, the gamers are living in a dystopian society. It says:
"The world as they know it is long gone. The rise of an elite royalty class has sent the rest of society into turmoil. Economic inequality, hate, and division have become the norm."
MTG NFT Tokens
And then we get into the in-game tokens — and yes, that's tokens (plural) — of The Gamers Metaverse. Here's what the website says:
"Gamers must now battle across the metaverse to earn $Arcada to survive and precious $lifeline tokens to avoid an early demise. $Arcada rules the game and $lifeline rules their unfortunate reality. Which is more important? Society class is determined by how much $Arcada one holds. The more one plays, the more $Arcada they earn. $Arcada is needed to purchase all essential items. The length of one's life is predicated on how much $lifeline one can collect. Don't run out… However, a rumor has been spreading… Collect enough $Arcada and you may be able to break out of the constraints of your economic class. Are the elite truly satisfied or are they also under the secret control of a higher power? But that is just the beginning of the journey…"
This is obviously very cryptic, but what it sounds like to me is that, in summary, $lifeline is more of a health token in the game, while $Arcada is what you accumulate to advance in the game.
So based on some other elements of the roadmap, it sounds like you may first have to stake your More Than Gamer NFT to earn these tokens and once you have accumulated at least 1,000 $Arcada tokens you will be able to battle the royal elites. I'll talk more about that later.
The team hasn't really given us any more information than this on these tokens or their tokenomics, so we'll have to wait and see.
MTG NFT Roadmap
After this week's launch is completed, the first event that will happen.
MTG Battle Station Game
The first in-metaverse event is the MTG Battle Station Game, which MTG says should kick off toward the end of the year, so I imagine that this will start shortly after minting is completed.
And it's in this MTG Battle Station Game that you will be able to stake your NFTs to earn tokens and to accumulate that 1,000 minimum $Arcada token threshold in order to battle the elites.
And also, by staking your NFT within the MTG Battle Station and earning at least 1,000 $Arcada tokens, you also have a 25% chance of winning a 1/100 rare NFT.
MTG Merchandise
The MTG team also says that, "Figurine manufacturing will be available starting in mid-2022."
Something a little bit concerning here is that they state that, "MTG's merch will be a significant component of our success and help lead our team and community into the forefront of the NFT space. Creating our own exclusive brand is a near term goal and will provide our community with an interactive means for them to participate in the MTG world, its growth and success while building excitement in the community."
I get it. This project obviously has a lot of hype. It's been able to build a large social media following in a matter of days.
But to go this hard on merchandise so early — as early as say six months after game launch — that could be tough.
And I don't necessarily like how they're saying the merch will be a "significant component" of the project's success.
I get that they want to encourage those who are invested in the project to continue to be invested and buy the merch, but this is a little strange to me so early.
But then again, they could knock it out of the park because obviously merchandise and figurines and all that is an extremely lucrative space to be in for established brands.
Is MTG pulling the trigger on merch too early here? Time will tell, and obviously it will be driven by the success (or non-success) of the game itself.
Gaming Events
The roadmap also talks about holding "several major gaming events annually" with large prizes such as rare NFTs and ethereum will be given away.
It sounds like these events will not necessarily be competitive but open to all gamers.
Television
The team is also hinting at a television series. They say:
"Already MTG has established connections with a number of TV studios to turn the More Than Gamers world into a limited series. That next step, bringing our MTG characters to life, will help MTG achieve a level of success in the space not yet seen and will continue our players attachment to MTG."
Again, it's just words at this point. There's no specific details here of a who, when, or how, but that's something to keep your eye on.
It's obvious here that this project has high ambitions with not only releasing a metaverse game but also physical products and potentially a T.V. series.
And I applaud that, but on the other hand, it's important that a project doesn't bite off more than it can chew.
So now I'm going to talk about how to purchase the MTG NFT and then I'll talk about what I like about the project and what I don't like and my personal investment strategy with the MTG NFT project.
Other Things
Somewhat haphazardly and without any further elaboration, MTG also has these things on their roadmap:
10% of secondary sales to charity
Land in Decentraland
Full IP rights to holders
How to Buy the MTG NFT
The MTG NFT launched this week. Here are the important details you need to know if you want to buy into this project.
Whitelist Pre-Sale
The 5,000 wallets who made it onto the MTG NFT whitelist were able to mint at 1:00 PM Eastern Time on December 23, 2021, at a price of 0.2 ETH.
During the first four hours so from 1:00 PM to 5:00 PM Eastern Time, those on the whitelist were able to mint 1 MTG per wallet.
If any remained after 5:00 PM Eastern Time, then each whitelisted wallet was able to mint an additional MTG until the whitelist allocation was sold out or 9:00 PM Eastern Time, whichever came earlier.
And then after 9:00 PM Eastern Time, it was the same thing — each whitelisted wallet could mint an additional MTG until the whitelist allocation of 5,000 was sold or until another four hours passed.
MTG was giving away a lot of whitelist spots on social media, especially Twitter.
The official More Than Gamers site is LIVE!?

To celebrate we are giving away 50 whitelist spots on this post!?

To enter?
-Follow us
-Like & RT
-Visit our sitehttps://t.co/jPWVVVI0IM pic.twitter.com/6UoLyu9PNu

— More Than Gamers (@NFTMTG) December 20, 2021
The Fortnite Guy was also giving away whitelist spots as well.
I am giving 10 whitelist spots for @NFTMTG! We have some big news coming soon about mint information!

To enter
-Follow me & @NFTMTG
-Like & RT
-Tag someone who has not seen our project, but need to

— TFG (@TFGmykL) December 17, 2021
There were also other ways to get whitelisted, such as submitting a video of a special talent you have in the #talent channel in the Discord.
And of course just being active in the Discord community went a long way toward whitelist.
Public Sale
The MTG NFT public sale will begin at 1:00 PM Eastern Time today (December 24, 2021) at a price of 0.2 ETH.
I anticipate this public sale going extremely quickly, so be sure to refresh the minting page quickly and be willing to pay more in gas to have a chance at minting on the public sale.
Secondary Market
Of course, MTG NFTs are available on the secondary market on OpenSea as well.
What I Like About MTG NFT
Here's what I like about the More Than Gamers NFT project.
Massive Social Media and Community Growth
Obviously it's a good sign when a project has massive social media and community growth, and this is the case with MTG as well.
And I love that they're striking when the iron is hot. There's a lot of hype about this project last week and this week, and they announced recently that they're going to be minting this week right before Christmas in the middle of all this hype.
I think that's a great move.
Collaborations With Other Projects
One good sign when it comes to NFT projects are that they're collaborating with more established projects.
And MTG is doing just that. For example, they did a giveaway with Ape Kids Club.
We have partnered with @NFTMTG to giveaway 500 Whitelist spots for their upcoming mint!

We're giving away 100 spots on this post and 400 to current AKC holders!

To enter?
-Follow us & @NFTMTG
-Like & RT
-Tag 5 friends pic.twitter.com/exeUEoybRy

— Ape Kids Club (@ApeKidsClub) December 17, 2021
High Ambitions
I like that this project has high ambitions. It wants to be different. It wants to differentiate itself from being just another new metaverse gaming NFT project.
Obviously overambition can get projects in trouble if they try to do too many things at once, but MTG has enough hype being it right now that it just might be able to pull these ambitions off.
Will they be able to keep the hype up into 2022 to match their ambitions? Time will tell.
What I Don't Like About MTG NFT
There are, however, some things I don't like about the MTG NFT project.
Dependance on Merchandise
This could just be bad phrasing, but I don't like how the project said that, "MTG's merch will be a significant component of our success."
This just sounds like overdependence on something — i.e. figurines — that is generally more of a later-stage revenue stream.
I could be wrong here, and I could be misinterpreting what is meant by this, of course.
Too Much Hype, Too Fast?
Although the massive traction that the MTG NFT project has gotten recently is definitely a plus from a price movement perspective, sometimes projects get themselves in trouble for hyping themselves up so much but then not being able to deliver on the backend.
Or maybe they do deliver, but they don't deliver fast enough to keep the hype and momentum going, especially right now when we have one of the largest holidays of the year coming up.
Or they give away all these whitelist spots on Twitter to people who are just jumping on the hype train for a quick flip who don't really care about the project.
Rushed Roadmap?
Another thing that rubbed me the wrong way is how in the "TL;DR" section of their roadmap, they mention, for example, the identification and acquisition of land in Decentraland with absolutely no elaboration.
This seems like a major component of the project, so I'm wondering if perhaps the roadmap and website was rushed to either get this project out before Christmas or possibly to ride on the coattails of the Nike RTFKT acquisition given how aesthetically MTG looks a lot like RTFKT's CloneX.
My MTG NFT Strategy
Personally, I would love to make it on the MTG NFT whitelist.
I don't have a ton of hours in the day to grind and be active in the Discord and all that, but if you do, go for it.
I think this would be a great one to grind for.
Personally, I'm going to continue to hope I get lucky and participate in as many MTG NFT Twitter whitelist giveaways as possible and continue to check on the Discord for other whitelist opportunities.
If I do get whitelist and am lucky enough to mint multiple, I'll probably utilize my traditional strategy of flipping one to get my cost basis out and holding at least one.
I'm fairly confident that in this scenario, I will be able to get my cost basis out while still holding at least one because the hype meter for this project is very high right now.
And if you've been in NFTs for any length of time, you know that chances of flipping success are directly correlated with hype.
If I'm only able to mint one, I'll probably keep an eye on the volume and sell it on the high volume and hope to get in perhaps on the post-reveal drop if there is one at a lower price.
And it's the same thing if I'm not whitelisted. I don't want to deal with the gas war on the public mint, so I'll probably look to get in on the post-reveal drop because I'm not betting on the art blowing anybody anyway given that it kind of looks a lot like Clone X.
Want to Make Money With NFTs?
Degen Den is the brand-new exclusive NFT community that I founded.

In this community, you get access to:

• A private Discord community of likeminded NFT profiteers
• Whitelist opportunities to hyped NFT projects
• Early intel on what NFT projects I will be covering on my NFT-focused YouTube channel
• And a lot more!

I'll see you inside!
Author:
Logan Allec, CPA
Logan is a practicing CPA and founder of Choice Tax Relief and Money Done Right. After spending nearly a decade in the corporate world helping big businesses save money, he launched his blog with the goal of helping everyday Americans earn, save, and invest more money. Learn more about Logan.