Updated
December 24, 2021
OverCloudz NFT: Is This Pixel-Art NFT and Its $CLOUD Token Worth It?
Cryptocurrency
OverCloudz is an ethereum-based pixel-art NFT project consisting of 7,777 unique cloudz.
I personally got whitelist access as a result of my engagement with the BearX NFT project.
Read on to learn what the OverCloudz NFT is all about as well as what I play to do with my cloudz.
Do you want constant NFT updates, from news to giveaways to whitelist opportunities? Then follow me on Twitter and subscribe to me on YouTube!
The OverCloudz NFT Roadmap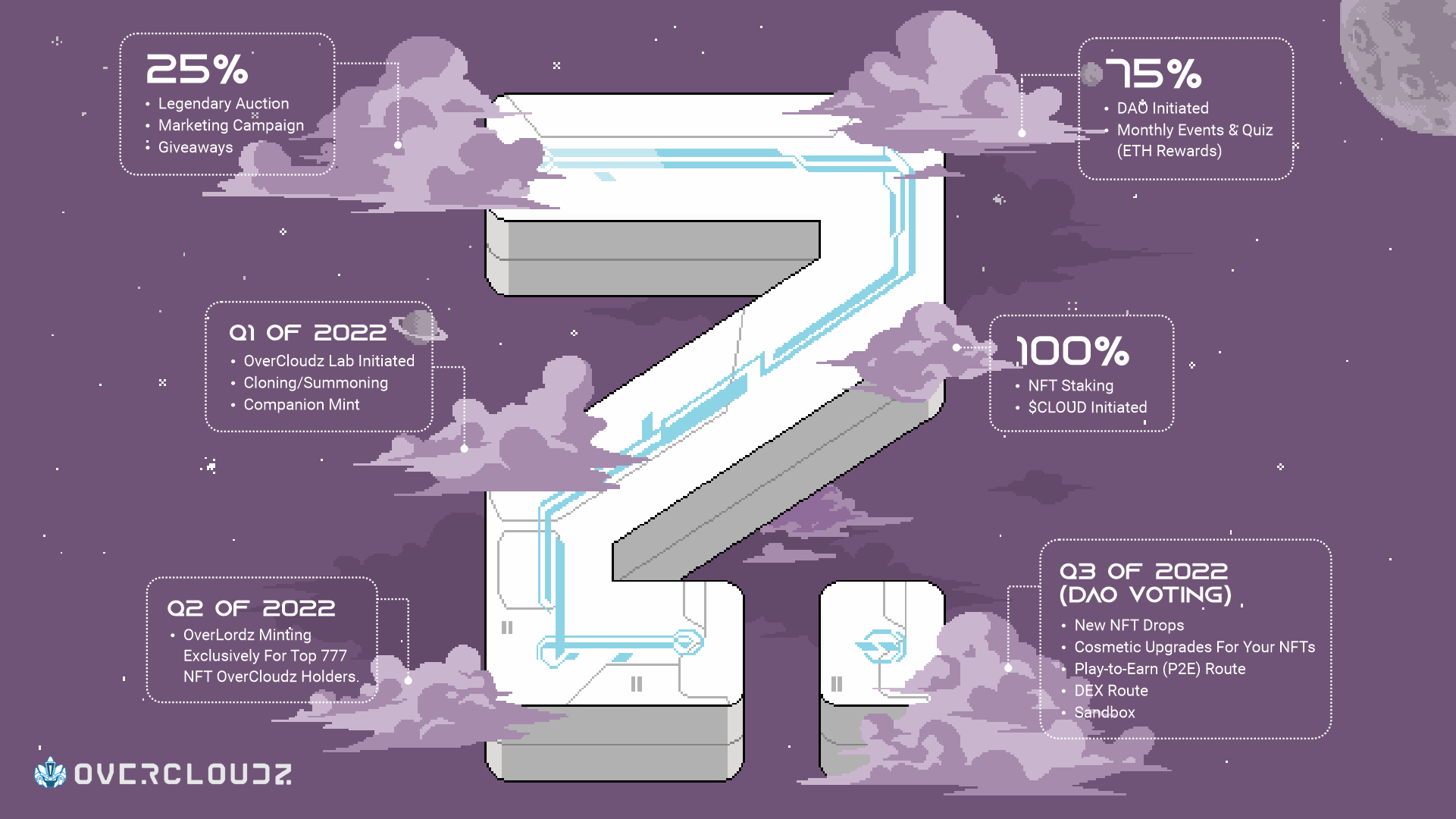 Right now, OverCloudz is still in the early stages.
The first thing on the roadmap is the legendary auctions, which will commence tomorrow.
Giveaways have been underway throughout November 2021, but I have not seen very much in terms of marketing efforts yet.
So this is still a very early project.
The team has said that it first wants to focus on "community-driven growth" and ensuring that "Clouderz" will be a part of the decision-making process going forward and will then introduce the Cloudz Dao.
The Cloudz DAO
DAO stands for "decentralized autonomous organization."
So the OverCloudz project will be setting up a DAO that puts the future of the project in the hands of the NFT owners.
It looks like there will be a community wallet component as well and of course via the DAO those who hold OverCloudz NFTs will determine what is done with this community wallet.
OverCloudz $CLOUD Token
In Q1 2022, the $CLOUD token will launch, and those who own an OverCloudz NFT can stake it to earn more $CLOUD token.
Similar to other NFT projects, those who hold the $CLOUD token will be able to use it for events and to gain access to other NFTs.
And this is really where I find value in many of the NFT projects I'm in — getting access or even whitelist, presale access to other NFT projects as a result of holding some other NFT or that NFT's token.
Personally, I was able to get on the OverCloudz whitelist because I held $ROOT token generated by my BearX NFTs.
However, it's difficult to say at this time what the long-term value of this aspect of the OverCloudz NFT project is because they haven't really announced any of their partners yet.
OverLordz Mint
Also in 2022, OverCloudz looks like it will be releasing another NFT set called OverLordz which the 777 wallets with the most OverCloudz NFTs will be able to mint.
Oftentimes with these secondary sets, people tend to sell them on the secondary market to help toward recouping their initial cost basis in the project, or of course others HODL them if they truly believe in the long-term vision of the project.
Other Plans
OverCloudz also says that it has other possibilities in mind, including a play-to-earn function.
However, this all seems to be hypothetical at this point because the OverCloudz team has said that the future of the project will be based entirely on the DAO.
OverCloudz NFT Drop
The OverCloudz NFT project will drop from December 3 through December 7, 2021.
OverCloudz Legendary Auctions
Out of the 7,777 cloudz in the collection, seven are "legendary."
Of these seven, three will be included in the mint pool, one will be reserved for a future event, and three will be auctioned off between December 3, 2021, and December 7, 2021.
OverCloudz Whitelist Mint
If you are able to get on the whitelist (more on that later), the private sale will be on Sunday, December 5, 2021.
The minting price will be 0.07 ethereum + gas and will apparently be the same for both the whitelist mint and the public mint.
OverCloudz Public Mint
The public mint will be on Monday, December 6, 2021.
Putting this all together, I imagine that the OverCloudz drop calendar will look like this:
December 3: Legendary Auction #1
December 4: Legendary Auction #2
December 5: Whitelist Mint
December 6: Public Mint
December 7: Legendary Auction #3
The exact timing of the legendary auctions are my own speculation.
How to Get on the OverCloudz Whitelist
There are two OverCloudz whitelist roles:
Field Marshal: one whitelist spot
5-Star General: two whitelist spots
As of November 25, 2021, all of the 5-Star General roles have been assigned, so now your only shot at getting on the OverCloudz whitelist is to get the Field Marshal role.
Here are the ways to get the Field Marshal role:
Be an active member in the OverCloudz Discord.
Win a giveaway in the Giveaways channel in the Discord.
Submit fan art and memes in the Your-Art and Memes channels, respectively, in the Discord.
OverCloudz formerly held an invite contest to give the top 300 people with the most invites to the Discord server the Field Marshal role, but this contest ended on November 18, 2021.
One Thing I Don't Like About OverCloudz
One thing I don't like about OverCloudz is that the team is not doxxed, meaning that it is completely anonymous.
There are three team members listed on the website:
Jacob (Developer and Discord Hack)
Caesar (Lead Developer and Founder)
M1LKT3A (Artist and Conceptor)
While Caesar does have a Twitter account, it is private and only has 313 followers, meaning that it appears that he does not let very many people follow him.
I would typically be very wary of associating with an anonymously-created NFT, but since OverCloudz had a partnership with BearX (which I trust), I decided to take a risk here and partake in the OverCloudz NFT project.

My OverCloudz NFT Strategy
With most NFT projects I pursue, my goal is to get on the whitelist, which I have been able to do with OverCloudz through winning a BearX raffle.
Since the current mint price is only 0.07 ETH — a little over $300 at today's ethereum prices — I do plan to mint during the whitelist presale.
If I can at least triple my money pre-reveal, I will likely sell my OverCloudz on the secondary market on OpenSea at that point and possibly buy back in at a lower price during the anticipated post-reveal drop as long as I am able to "cash out" on my initial investment of 0.07 ETH + gas.
In this way, I can get infinite ROI.
Of course, this is all speculation — I have no idea if I will be able to triple my investment pre-reveal, and I have no idea if there will be a pre-reveal drop (though I suspect there will be).
Keep in mind that I am approaching this NFT project as somebody who, as a business owner and a parent of young children, does not have time in the day to keep tabs on very many NFT projects at once.
I have what I believe are my blue-chip utility NFTs — JRNY Crypto, the Doge Pound, and I believe BearX as well — and keeping track of what's going on in all those Discords is enough for me.
If you have more time to spend on more NFT projects, HODLing and accumulating OverCloudz could in fact be a better bet.
Do you want constant NFT updates, from news to giveaways to whitelist opportunities? Then follow me on Twitter and subscribe to me on YouTube!
Author:
Logan Allec, CPA
Logan is a practicing CPA and founder of Choice Tax Relief and Money Done Right. After spending nearly a decade in the corporate world helping big businesses save money, he launched his blog with the goal of helping everyday Americans earn, save, and invest more money. Learn more about Logan.