Updated
February 08, 2022
Slotie NFT: This Passive Income NFT Project Lets You Co-Own Casinos
Cryptocurrency
Slotie NFT is an ethereum-based NFT project created by Elia Software that generates passive income for holders by giving them 80% of the commissions that Slotie earns on Slotie-themed slot games in crypto casinos.
ƒnfts
10,000 Slotie NFTs will be minted on December 7, 2021.
Slotie is actually a project that some viewers in my YouTube audience alerted me to in the comment section about my video about the BearX NFT project.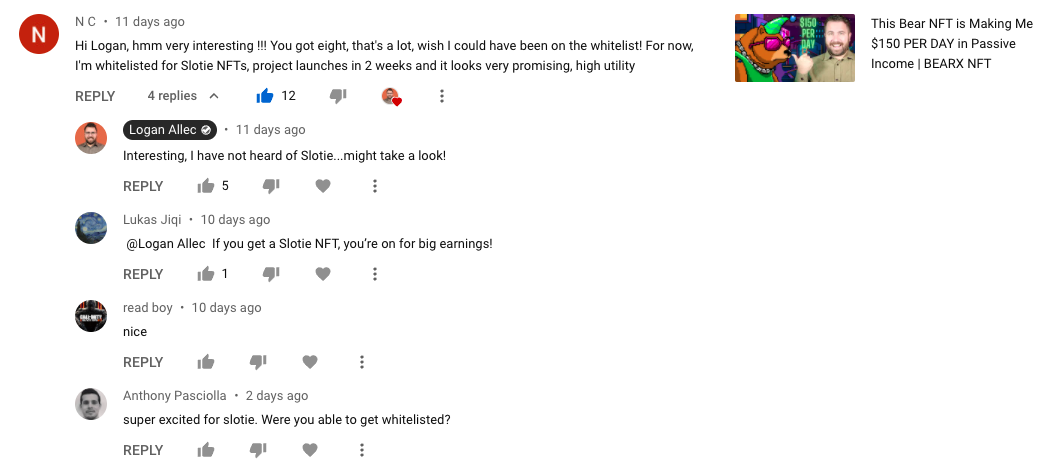 In this article, I'm going to, based on the Slotie website, Discord, and whitepaper as well as some of my own research tell you:
Who's Behind the Slotie NFT Project
How the Slotie NFT Works
How to Buy the Slotie NFT
What I Like About the Slotie NFT
What I Don't Like About the Slotie NFT
The Big Thing We Don't Know About the Slotie NFT Project
My Personal Strategy With the Slotie NFT
IMPORTANT: The Slotie Jr collection is minting on February 10, 2022! So today (February 8) and tomorrow (February 9), I am giving away SLOTIE JR whitelist spots on my Twitter! See my tweet below for how to enter!
🤖 𝟮𝗫 𝗦𝗟𝗢𝗧𝗜𝗘 𝗝𝗥 𝗪𝗛𝗜𝗧𝗘𝗟𝗜𝗦𝗧 𝗚𝗜𝗩𝗘𝗔𝗪𝗔𝗬 🤖

Rules:

1️⃣ Follow @loganallec, @DegenGrandpa, and @SlotieNft ✅

2️⃣ Like and Retweet ❤️

3️⃣ Tag 3 Friends 🙏

ENDS IN 24 HOURS! ⏰

MORE SLOTIE JR WL SPOTS WILL BE GIVEN IN MY PRIVATE DISCORD! 🔥

GOOD LUCK! 🚀 pic.twitter.com/qvJ7m87SwL

— Logan Allec (@loganallec) February 8, 2022
Slotie NFT Team
Before I get into the mechanics of the Slotie NFT and how that sweet, sweet casino passive income works, I want to talk about the Slotie NFT team.
One of the most important things you want to know about an NFT project is who is behind it because all too often, an NFT project is nothing more than a giant rug pull.
For example, in October 2021, the anonymous creator — known only as Evil Ape — of the Evolved Ape project disappeared after collecting $2.7 million worth of ethereum from those who wanted to purchase Evolved Ape NFTs.
Obviously, rug pulls are a lot easier to pull off if the culprit is anonymous.
So when you have a fully-doxed — meaning non-anonymous team — the chances of a project being a scam are very, very low.
And thankfully, the Slotie NFT / Elia Software team is fully doxxed:
Note that obviously the existence of names and LinkedIn profiles for a team does not prevent against rug pulls; anybody can create fake LinkedIn profiles with fake headshots and profiles, so I decided to do a little bit of Googling about these people.
Most of the team is in Malta, which made it difficult for me to really research them, but one of the team members, Brianna Quintero, is in the United States.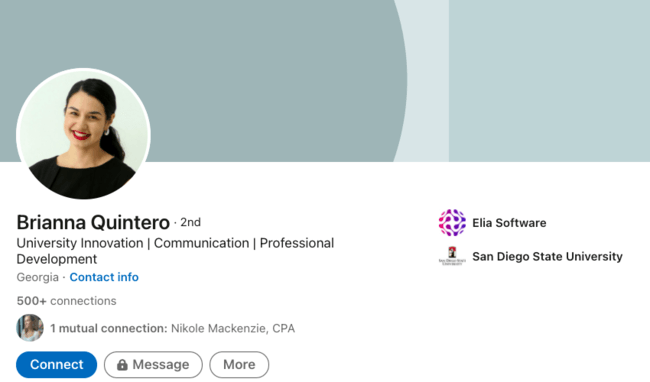 Her LinkedIn profile that mentions Elia Software looks legitimate for the following reasons:
Networks like LinkedIn are getting better and better at weeding out fake profiles, and it would be a pretty elaborate scheme for scammers to create all these fake profiles under LinkedIn's radar that communicate with Brianna Quintero's profile, and in my experience, typically fake profile scammers aren't this good.
This is definitely the kind of research you want to do before putting your money into any project to avoid getting rugged.
Don't just look at the company's website and look at their media mentions and assume that it is legitimate; oftentimes those media mentions are nothing more than self-created press releases.
How the Slotie NFT Works
Casinos make big money because not only do they combine fun and bright colors with giving people the opportunity to get rich quick, but they also have math in their favor — in the long run, casinos will always make money on the games they offer because they are mathematically guaranteed to do so.
And the same is true of online casinos, which obviously do not have a lot of the overhead that physical casinos have (free drinks, anyone?). And as more and more of our lives are lived online — especially in the wake of COVID — I believe that online gambling will only grow even bigger from where it is today.
The Slotie NFT project is incorporating smart contracts and decentralization into the world of online gambling by letting NFT holders become, essentially, co-owners of online casinos.
Decentralized Protocols and Online Gambling
I don't know about you, but whenever I hear a story about a casino refusing to pay out money to a player due to a "glitch" in the system, I get livid. Who's to say that the machine "glitched"? Conveniently, it's the casino itself.
And the same is true with online casinos as well. Here's a story of a woman who was playing an online roulette game that told her she won millions of dollars, but when she went to collect in-person, the casino told her, "Sorry, you actually didn't win. There was 'a glitch in the system.'"
Well guess what? With blockchain and smart contracts and decentralized protocols, that's a thing of the past.
According to the Slotie whitepaper:
"The introduction of decentralized protocols into the online gambling industry translates into transparency of all the games and their respective win probabilities since the game specifics are implemented in open-source code for everyone to see. The innovation also allows for seamless user experience and most importantly, unprecedented opportunity for casino ownership to gamblers, players and other interested parties."
I think this is really cool, and I think that Slotie is on the cutting edge here when it comes to NFT integration into the very lucrative world of online casinos.
Exclusive Holder Rewards
The focal point of the Slotie ecosystem are the Exclusive Holder Rewards (EHRs).
Here's how the process works:
Slotie-themed slot games are integrated into online crypto casinos.
Slotie receives 12% commissions on the revenue from these games.
Of this 12% commission that Slotie receives, 80% goes to Slotie NFT holders in the form of WATTs, which can be exchanged for ETH. These rewards are paid out on a monthly basis.
So at a high level, for every $100 that gamblers spend at a Slotie slot machine:
$0.88 is kept by the online crypto casino.
$9.60 goes to the Slotie NFT holders, spread among them based on the rarity of the Slotie NFT(s) they hold.
$2.40 goes to the Slotie NFT team.
Partner Casinos

Of course, the passive income aspect of the Slotie NFT project is only as good as the number of crypto casinos its slot games are integrated into.
The more crypto casinos using Slotie slot games, the more passive income Slotie NFT holders will earn; the fewer crypto casinos using Slotie slot games, the less passive income Slotie NFT holders will earn.
As of right now, the team has created more than 30 online slot games and has partnered with over 150 online casinos.
Who are these casinos? Well, the Slotie NFT project says that you can check them out at eliasoftware.com, but I was only able to find the four whose logos appear on the Slotie website.
Staking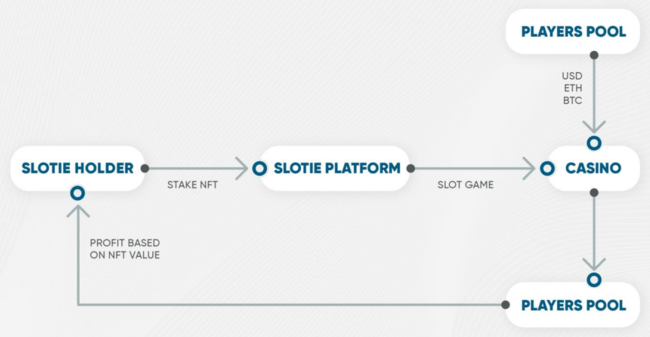 Beyond the Exclusive Holder Rewards generated by simply owning a Slotie NFT, holding a Slotie NFT also allows you to stake your Slotie NFT or any other NFT on a slot game for even more rewards, and the higher the value of the NFT you stake, the higher your potential returns.
This means that the player of the slot game could possibly win your NFT from you, so there is certainly risk here.
This risk is mitigated by the fact that if an NFT is lost in a slot game, the former owner is "reimbursed" by an amount that he agreed to upon staking the NFT originally.
That said, for NFT enthusiasts, this is a pretty interesting way to get more money into the Slotie ecosystem. Many NFT enthusiasts are already degenerate gamblers, so why not gamble your ETH for a chance at winning some high-ticket NFT that an equally degenerate Slotie NFT holder has staked on a game?
Note that staking NFTs on Slotie slot games is completely optional and does not affect your ability to enjoy the casino revenue share generated by simply holding a Slotie NFT.
Benefits for Owner-Players
Beyond the rewards enjoyed by holding and staking Slotie NFTs, owners also receive the following benefits at partner casinos:
VIP membership
20% rakeback, meaning that Slotie NFT owners will be reimbursed 20% of all their lost bets at partner casinos
Junior Sloties and Breeding
At some point after the mint, Slotie will also roll out a breeding mechanism to create new Slotie NFTs called Junior Sloties, which will be capped at 10,000 total with 5,000 of these reserved for breeding and 5,000 for minting.
Junior Sloties can be bred by those who hold two original Sloties and 1800 WATT token (see below for more on WATT).
And these Junior Sloties aren't just decorative, like many secondary collections; Junior Sloties will have the same functionality of original Sloties, and new slot games will be created just for them to integrate them into the Sloties revenue sharing ecosystem.
WATT Token
WATT is the token of the Slotie NFT ecosystem.
Although it will be tradeable for ethereum, the intent of the WATT token — just like with many NFT tokens — is not their tradability, but their utility.
So how do Slotie NFT holders earn Watt?
First, each Slotie NFT generates for its owner 10 WATT per day.
Second, the revenue share from the Slotie slots is paid in WATT.
Slotie Lottery
In step with the gambling theme and functionality of this project, Slotie also allows Slotie owners to purchase weekly lottery tickets for 50 WATT each.
The prizes for these weekly lotteries will include:
WATT
Free spins in partner casinos
Cash prizes
NFTs
Want to Make Money With NFTs?
Degen Den is the brand-new exclusive NFT community that I founded.

In this community, you get access to:

• A private Discord community of likeminded NFT profiteers
• Whitelist opportunities to hyped NFT projects
• Early intel on what NFT projects I will be covering on my NFT-focused YouTube channel
• And a lot more!

I'll see you inside!
How to Buy Slotie NFT
Slotie NFTs will be available for sale beginning on December 7, 2021 in three forms:
Presale for whitelisted wallets
Public sale
Secondary market on OpenSea
Presale
2,500 Slotie NFTs will be minted on presale beginning at 11:00 AM Pacific Time / 2:00 PM Eastern Time on Tuesday, December 7, 2021, at a price of 0.08 ETH (plus gas).
The presale is open to Discord members who have turned off their direct messages and either:
Invite 15 verified friends through an invite link generated in Discord — at least five of whom must reach at least Level 3 in the Slotie NFT Discord — and reach Level 10 themselves. Note that levels are reached in the Slotie NFT Discord by chatting with other members in the Discord server itself.
Invite 40 verified friends through an invite link generated in Discord — at least ten of whom must reach at least Level 3 in the Slotie NFT Discord.
React to announcements and sneak peeks in the Discord and be selected by a moderator.
Submit a meme in the Discord that is selected by a moderator.
Help new members in the Discord and be selected by a moderator.
Win a challenge in the Discord. Challenges have mostly included participating in Twitter raids and leaving the best comment or comments as determined by the Slotie team.
Whitelisted wallets will be able to mint a maximum of three Slotie NFTs on the presale.
Although I learned about this project over a week ago, I slept on it and did not get on the whitelist, and at this point it seems rather late to do so.
Public Sale
7,000 Slotie NFTs will be minted in the public sale at 12:00 PM Pacific Time / 3:00 PM Eastern Time on Tuesday, December 7, 2021, at a price of 0.16 ETH (plus gas).
Wallets can mint 10 Slotie NFTs each on the public sale.
Secondary Market
After minting begins, Slotie NFT holders can choose to list their Slotie NFTs for sale on the secondary market on OpenSea for purchase by others.
Here is a link to Slotie's official OpenSea page.
Giveaways
Note that Slotie is reserving 500 NFTs for giveaways, so be sure to join the Slotie Discord server to stay up to date on the latest giveaways.
My Strategy With the Slotie NFT
Now, one significant unknown here in the Slotie NFT calculus is the answer to the question, "How much money do or will these Slotie NFT slot games generate per day or per month or per year?"
The team has not answered this question. I asked this question in the Discord and was told that what is in the whitepaper concerning revenue is all that has been released to the public.
And the whitepaper only talks about percentages, not about actual revenue numbers, so it's difficult to know at this point when a Slotie NFT you pay 0.16 ETH for will pay itself back if it ever will at all.
So this lack of disclosure about current or projected revenue numbers — including lack of disclosure about these 150 partner casinos — is certainly a risk factor here.
That said, at least initially, NFT projects pump on things like having a well-developed roadmap, passive income opportunities, and a lot of hype, and Slotie certainly has all of that.
So I fully expect this project to sell out during the public mint, and although I am not on the whitelist, I do intend to buy as many Slotie NFTs as I can on the public sale and then take profits one at a time as the floor rises on the secondary market before the reveal until I've recovered my cost basis.
If I am able to mint the maximum of 10, I expect my cost basis to be approximately 1.63 ETH (1.6 ETH each x 10 minted = 1.6 ETH + estimated 0.03 ETH gas), and I may list one at 0.25 ETH, one at 0.3 ETH, two at 0.35 ETH, and one at 0.4 ETH.
In this way, I will have recovered 1.65 ETH, which will recover my cost basis and give me infinite ROI on the Slotie NFT project.
And if it turns out that Slotie NFT project cannot make good on its promises, I will have lost nothing because I recovered my cost basis.
And in general, since I believe that NFT projects are highly speculative, I prefer to take my cost basis out as quickly as possible so that if the project fails, I'm no poorer for it.
Want to Make Money With NFTs?
Degen Den is the brand-new exclusive NFT community that I founded.

In this community, you get access to:

• A private Discord community of likeminded NFT profiteers
• Whitelist opportunities to hyped NFT projects
• Early intel on what NFT projects I will be covering on my NFT-focused YouTube channel
• And a lot more!

I'll see you inside!
Author:
Logan Allec, CPA
Logan is a practicing CPA and founder of Choice Tax Relief and Money Done Right. After spending nearly a decade in the corporate world helping big businesses save money, he launched his blog with the goal of helping everyday Americans earn, save, and invest more money. Learn more about Logan.