Stoner Ape Club NFT: I Won Whitelist, But I'm Cautious With This One
Cryptocurrency
Stoner Ape Club is an Ethereum-based NFT project minting 6,666 NFTs launching in a couple weeks with the whitelist pre-sale on January 29 and the public sale on January 30 at a mint price of 0.08 ETH.
The project was first announced in early December and had a pretty unique marketing tactic of only revealing 10% of what their NFT would look like for every 1,000 Discord members that they would gain.
This is obviously another derivative project based on the popular Bored Ape Yacht Club, so it's very important for us to do our research regarding these projects.
These projects historically have been very polarizing. Either they pump very hard post-launch because it's an ape derivative, or it's a low-effort rug that tanks.
We need to look at this project through a very critical lens so let's take a closer look.
But before we get into this, let me just preface that one, I am whitelisted for this project — I won whitelist in a Twitter giveaway — and two, despite being whitelisted for this project and having a vested interest in seeing it succeed, I have my reservations.
That said, there's a lot of hype behind this project, and as we've seen in the NFT space, hype can go a long ways, especially for flips.
So I can't tell you if it's going to moon or whatever — all I can tell you is what I'm seeing so you can make your own determination as to what you want to do with this project.
Who's Behind the Stoner Ape Club NFT?
The team behind the Stoner Ape Club is a doxxed team of NFT influencers who call themselves The NFTers.
Kreo, a professional gamer known for playing Fortnite for @TheCartelEsport, is the owner of The Stoner Ape Club. He's supported by the co-founders of eRa Eternity – Truls Aandal, Alex Arteaga, and Brandon Delgados.
At first, I didn't think this was a doxxed team because each team member created a new Twitter account for the project, and I originally indicated in this blog post that the team was undoxxed. But Brandon sent me a Twitter message identifying the team.
So I found out that Truls is @TrulsSAC, Alex is @AlexxSAC, and Brandon is @BrandonnSAC. In my defense, though, it wasn't entirely obvious that this was the case for these Twitter profiles, and I'm not sure that somebody who just stumbled upon the project would have known that.
But as far as their "The NFTers" accounts go, it seems like most of them generated a following for their new Stoner Ape Club (SAC) accounts by running promos and giveaways for other NFT projects. If you check some of the team members accounts, you'll see what I mean.
Shoutout to the whole team for killing it, Ill be giving away 10 WL spots to people who LIKE/RT this tweet & follow the team 👇@BrandonnSAC@TrulsSAC@LoveTheDonut @KreoFN @AlecoNFT@Willhire

We have some more dope things coming 👀

— Aleex.eth (@AlexxSAC) January 11, 2022
Here's one of Brandonn's recent tweets.
If you are a project and looking for promotion dm me now or ASAP!! My own project is in the works and eventually thats gonna take my full marketing time.

— Brandonn.eth (@BrandonnSAC) December 4, 2021
At first when I didn't think they were doxxed, this made me very cautious. but after finding out a doxxed team was behind these accounts I was less worried.
However, one thing that seems a bit off is that Alex is concurrently launching the @Squiggles project at the same time as Stoner Ape Club.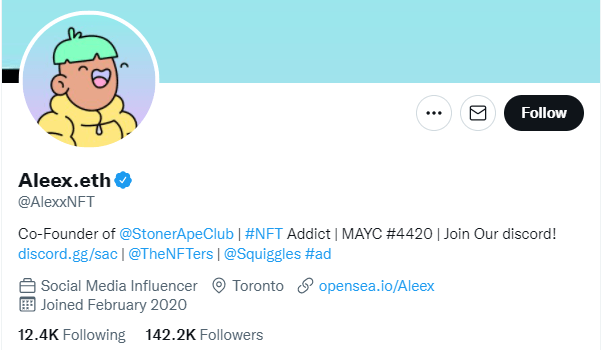 The fact that he's running two projects, both of them just derivatives of other projects which require the least amount of effort, is something that might raise eyebrows.
I'm not drawing any conclusions from that; I just want to point it out for consideration. And obviously Squiggles — which I will be publishing a video about — has a lot of hype behind it as well, so I don't want to FUD or anything, but I just want to point this out. That's all.
The team behind Stoner Ape Club is mostly professional gamers and avid NFT collectors who created a project without a particular goal. At the time they were just trying to create a community to come together around their love for NFTs.
And yes, some of them are verified on Twitter and have a strong following.
Want to Make Money With NFTs?
Degen Den is the brand-new exclusive NFT community that I founded.

In this community, you get access to:

• A private Discord community of likeminded NFT profiteers
• Whitelist opportunities to hyped NFT projects
• Early intel on what NFT projects I will be covering on my NFT-focused YouTube channel
• And a lot more!

I'll see you inside!
Is the Art Good?
You might pick up on a critical tone from me throughout this article, but that's because in contrast to a lot of the hype content out there, I just want to keep it real, and frankly in my opinion, the art on this project is nothing special.
— Stoner Ape Club (@StonerApeClub) January 1, 2022
Like I mentioned at the beginning of this article, it is yet again another derivative of the Bored Ape Yacht Club. It is not a better version; it is not a 3D version; it is not a mash up.
Realistically it's just, in my opinion, a low-effort version of old art in the space.
That's just my opinion; appreciation of art is very subjective; feel free to disagree.
How the Stoner Ape Club NFT Works
Let's discuss the roadmap and see if there's any utility here that can really make this project stand out.
They don't have a website up yet so you have to get all the information in Discord.
I haven't been a huge fan of the art or most of the team's technical background, so I was hoping Stoner Ape Club would redeem themselves with their roadmap and utility.
The project has over 90,000 Twitter followers and 46,000 members on the Discord, so there has to be something that sets this project apart, right? One would think.
The Roadmap has two phases, with the first phase consisting of six highlights.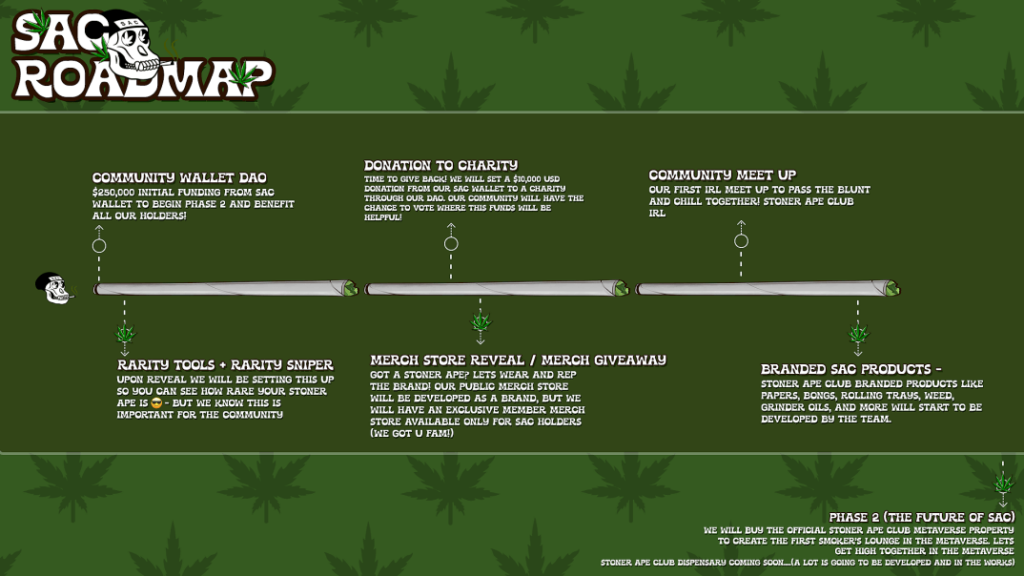 Phase One
The Stoner Ape Club team wants to start by funding the Community Wallet DAO with $250,000 of initial funding from the team's wallet to begin phase 2 and benefit all of the holders.
Part 2 is making sure they set the rarity of each trait and Stoner Ape Club NFT properly and getting listed with Rarity.tools and Rarity sniper.
In Part 3 the Community DAO will decide which charity the team should donate $10,000 USD to.
Part 4 is the launch of the Stoner Ape Club merch store. Everyone will be able to rep the brand through the exclusive member merch store.
The final two parts of Phase 1 consist of a community meet up and Branded SAC products being created like papers, rolling trays, bongs and more.
That's Phase 1.
Phase Two
In Phase 2, A.K.A the future of the Stoner Ape Club, the team will purchase property in the metaverse and possibly open their own dispensary there — that's indicated when they say, "We will buy the official Stoner Ape Club metaverse property to create the first smoker's lounge in the metaverse."
If you're into that, that sounds cool, but at this point, nothing from Phase 2 is set in stone or at least not publicly.
There's not an easy way to say this without sounding critical, but it just seems like a very low-effort roadmap.
A lot of the components seem to be more opportunities for the founding team to make money from the community via merch, branded products, and their own dispensary being opened up.
How to Buy the Stoner Ape Club NFT
So the whitelist presale mint is on Saturday, January 29, 2022, for 4,000 whitelist spots at — you guessed it — 4:20 PM Eastern Time.
The public sale for the remaining 2,666 spots happens 24 hours later on Sunday, January 30, 2022, for 2,666 whitelist spots at 4:20 PM Eastern Time.
The mint price for both the whitelist mint and the public sale is 6,666.
Now let's talk about the whitelist.
If you go into their "roles" channel on their Discord you can pick whatever style fits you best for your chance of joining the whitelist.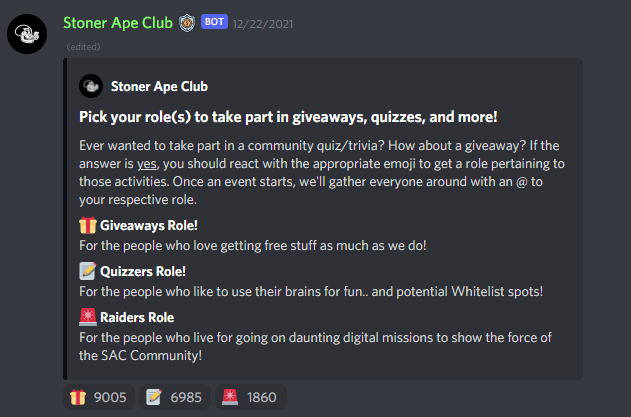 There are three main ways to get whitelist access for the Stoner Ape Club NFT:
Giveaways
Quizzers
Raiders
To claim your role, you need to react to the message with the related emoji.
Giveaways
If you want to do the least amount of work and win a spot by chance, the Giveaways role is probably best.
Everyone on the team runs routine giveaways for whitelist spots, so follow them if you want to increase your chances.
The team runs multiple mini-tweet contests a day where they grant Whitelist access to winners.
I was lucky enough to win a whitelist spot myself.
Winners 🏆
• @brainlesss__NL
• @loganallec
• @NONANT_DC

— Brandonn.eth (@BrandonnSAC) December 19, 2021
Quizzers
People in the Quizzers role will have to battle it out in Trivia or Scavenger Hunts for their chances at joining the whitelist.
Raiders
Lastly, we have the Raiders role who actively go promote the project by shilling underneath popular posts on Twitter.
If you help promote the project organically, odds are you'll get whitelist access. With 4,000 spots available, I'm sure the founding team won't be shy giving them out.
If you're an artist yourself, creating your own fan art is an easy to get whitelist access.
What I Like and Don't Like About Stoner Ape Club NFT
This is the section where I normally debate myself by going back and forth saying what I do and do not like about the NFT project. The section doesn't need to be nearly as long for this particular article.
I'm not a huge fan of this project long-term just based on the art and the roadmap.
With hundreds of new projects coming into the space daily, I want to see something unique. This project feels a bit low-effort where the founders saw a great opportunity to make some money.
Don't get me wrong; there's a time and a place for derivative projects. I'm going to be releasing content about Imaginary Ones, for example, which is quite derivative of Imaginary Friends. But it's different; I like Imaginary Ones.
I'm fine and even enjoy derivative projects when they improve on the art or add something unique to the utility of the project. Stoner Ape Club has done neither of those things in my opinion.
I feel like most of their followers on Twitter and Discord are from the team running so many promotions and giveaways, not from organic traffic.
I am on the whitelist, so I do plan on minting; I wouldn't be surprised if this one sells out; but unless there are more specifics about the when and how of Phase 2 of the roadmap or additional utility involved here, I might not be holding for very long.
That being said, anything can happen in the NFT space. Some projects go to the moon for unexplainable reasons — maybe Snoop likes this project and tweets it out and it goes to Mars — but just based on what I can see today with the art and the roadmap, I'm not very bullish on this project long-term.
That's just my opinion. Feel free to disagree. Let me know your thoughts in the comments, and be sure to follow me (and my dad, the Degen Grandpa — potential collab coming soon!) on Twitter!
Want to Make Money With NFTs?
Degen Den is the brand-new exclusive NFT community that I founded.

In this community, you get access to:

• A private Discord community of likeminded NFT profiteers
• Whitelist opportunities to hyped NFT projects
• Early intel on what NFT projects I will be covering on my NFT-focused YouTube channel
• And a lot more!

I'll see you inside!
Author:
Logan Allec, CPA
Logan is a practicing CPA and founder of Choice Tax Relief and Money Done Right. After spending nearly a decade in the corporate world helping big businesses save money, he launched his blog with the goal of helping everyday Americans earn, save, and invest more money. Learn more about Logan.