Updated
December 02, 2021
The Doge Pound NFT: Why I Believe It's Truly a Blue-Chip NFT
Cryptocurrency
The Doge Pound is a new ethereum-based NFT consisting of 10,000 doges that launched in the summer of 2021.
The project was founded by three friends known pseudonymously as Crypto Babe, John Lemon, and White Fang.
Why I Like The Doge Pound
There's a lot to love about The Doge Pound NFT project.
I mean, the doges are so handsome.
Just look at my little guy: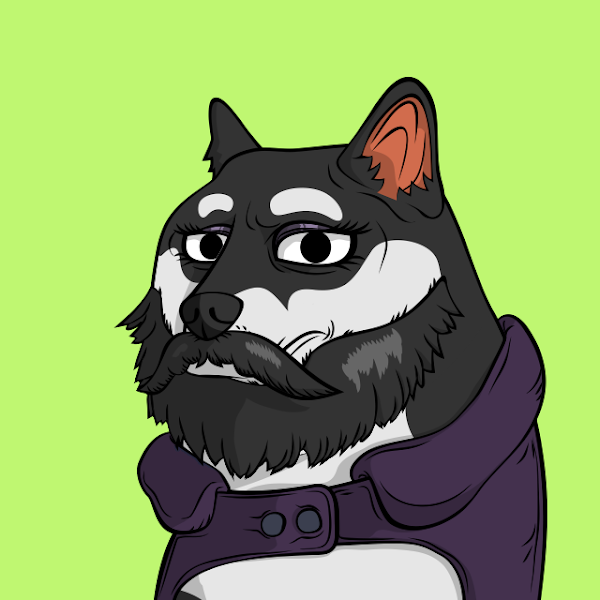 But it doesn't cut it anymore for an NFT to just be about the — as the naysayers would say — pixels on the screen.
There has to be something beyond good art for an NFT project to be successful and to hold its value in the long run, and The Doge Pound overdelivers on that front.
Early Access to Other NFT Projects
Perhaps the greatest thing about owning a doge — that is, an adult doge — is that doing so gives you early (and often whitelist) access to other NFT projects.
Anyone who's into NFTs knows that this is an immense benefit since:
Getting on an anticipated NFT project's whitelist can often allow you to mint the NFT at a lower price than one would have to pay on the secondary market.
Buying a project early can allow you to get it on it at a lower price than later buyers.
Here is a list of the other NFT projects that doge holders had or will have early access to:
Signed Floyd Mayweather NFTs
Divine Anarchy (300 whitelist spots)
Kobe Bryant NFTs
Wolf of Wall Street
Players Only — NBA
JRNY Crypto (at least 3,000 whitelist spots — more on this later in this article)
So holding a doge is, in effect, something of a golden ticket to other opportunities in the NFT space.
If that doesn't scream "blue chip," I don't know what does!
$20,000 Donation Fund
The Doge Pound team has committed to setting aside $20,000 for a donation fund to go to a charity that will be decided with the help of the community.
It seems that this fund will ideally be given to some kind of dog-related charity.
$30,000 Community Grant Fund
This idea is really cool; it's essentially a fund that fosters creativity within The Doge Pound's community.
For example, if someone has an idea to make the project and its community even better, they can apply for a grant from this fund.
NFTs Unlocked is the exclusive NFT community and training program I'm a member of.

I've found some of my most profitable NFT opportunities through this membership!

And for a limited time, you can immediately get a $200 discount off your membership with my promo code MDRNFT.

I'll see you inside!
How to Buy Doge Pound NFT
The only way to officially buy a Doge Pound NFT is on OpenSea here.
Recently, the floor price has been between 2.5 – 3.0 ETH.
Here is the link to the official page on OpenSea. You will need ethereum in your MetaMask wallet that you connect to OpenSea in order to purchase.
The Doge Pound is a verified on OpenSea, so any profiles claiming to be The Doge Pound that don't have the checkmark are fake.
My Plan With The Doge Pound
When it comes to NFT investing, I'm a HODLer, and The Doge Pound makes it easy.
If The Doge Pound team was able to come up with such incredibly utility and partnerships in its first few months, I can only imagine that it will be able to do in the next few months and even years to come.
I have my doge, and he's definitely not for sale. Nor is my doge puppy.
P.S. Keep your eyes out for The Doge Pound Christmas collection!
The puppies are making their return for the Christmas collection! 🐶

— The Doge Pound (@TheDogePoundNFT) November 16, 2021
How to Get Involved With The Doge Pound
Want to learn more about The Doge Pound? Join the Discord and follow the project on Twitter!
You May Also Like:
Author:
Logan Allec, CPA
Logan is a practicing CPA, Certified Student Loan Professional, and founder of Money Done Right, which he launched in 2017. After spending nearly a decade in the corporate world helping big businesses save money, he launched his blog with the goal of helping everyday Americans earn, save, and invest more money. Learn more about Logan.