We've seen the hype anime-style projects like Azuki have gotten. We've seen women collections take the metaverse storm with World of Women leading the pack.
And now we have a project taking the best of both worlds to create an all-female anime collection — the Tsuki NFT.
Tsuki NFT is a collection of 9,999 brave Waifus living within the Tsuki universe.
Here's what you need to know about this hyped collection.
Who's Behind Tsuki NFT?
A small team of four founders created Tsuki NFT. They're a semi-doxxed team with two members who reveal their true identities.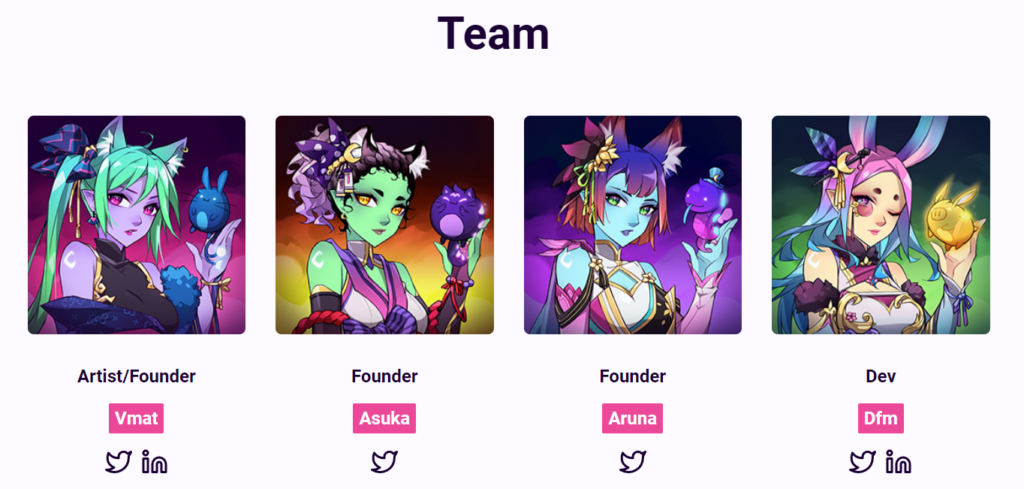 Vmat, also known as Viviane Matsukuma, is the lead artist for Tsuki NFT. She's a freelance illustrator and game artist based out of Brazil.
If you check out her Art Station profile, you can tell she specializes in female anime characters.
Asuka and Aruna are the two un-doxxed members of Tsuki NFT. They link to Twitter accounts, but I'm considering them un-doxxed since they don't provide any honest info about themselves.
Daniel Mastukuma, or DFM on Twitter, is the head developer for Tsuki NFT. He's worked as a developer in Brazil for the past six years and is expanding to the Metaverse.
Typically, I'm cautious investing in projects that aren't completely doxxed, but it's more reassuring with half the team doxxed.
Now that we know a bit about the team, let's talk about an essential piece of the project, the art.
Want to Make Money With NFTs?
Degen Den is the brand-new exclusive NFT community that I founded.

In this community, you get access to:

• A private Discord community of likeminded NFT profiteers
• Whitelist opportunities to hyped NFT projects
• Early intel on what NFT projects I will be covering on my NFT-focused YouTube channel
• And a lot more!

I'll see you inside!
Is the Art Good?
The art has many things going for it.
It's an all-female collection, which has been a hot trend in the NFT market lately, and it's an anime-style art project which is always beloved.
We are pleased to showcase our Fifth official sneak peek to the community!

Rt and Like for a chance at WL? pic.twitter.com/JmYQLN8Nhr

— Tsuki 月 (@TsukiNFT) February 10, 2022
Tsuki NFT uses bright colors and darker backgrounds to make their NFTs pop.
I think the art is good.
I wouldn't say it's at the same level as other anime projects like ON1 Force or Azuki, but it has a more 3-D look than those projects do.
The team has kept a lot of the art behind closed doors and has only revealed seven Tsuki NFTs.
You can find all the sneak peeks in the Tsuki Discord. Here's one of my favorites from Twitter.
Our Third Official Sneak Peek! ?

Like & RT For WL 🙂 pic.twitter.com/hJRMox8VLy

— Tsuki 月 (@TsukiNFT) February 6, 2022
How the Tsuki NFT Works
The Tsuki NFT is a collection of 9,999 brave Waifus living within the Tsuki universe.
Tsuki's are on a mission to defeat the evil spirit that plagues their universe and better the lives around them.
However, they can't fight off the evil spirit alone. They will need help from their trusted companions.
Each Tsuki NFT will receive a companion NFT called Momon. Once the Tsuki and Momon NFT are bonded, a moon symbol will appear on each of the NFTs, symbolizing their bond for life.
The Momon are small creatures. Some look like bunnies, and others are small pigs or bats.
The team hasn't said if the companions will be a separate drop, but judging by the sneak peeks they've shared on Twitter, each Tsuki has already bonded with a Momon.
Our Second Official Sneak peek! ?

like, rt, and follow we are giving 5 WL Spots away on this post! pic.twitter.com/G6i4WUniQx

— Tsuki 月 (@TsukiNFT) February 4, 2022
Some Momons look rarer than others, but most compliment their Tsuki's colors.
sneak peek 4 🙂 we hope you all enjoy the sneak peek! Website coming today!

like and rt for WL ? pic.twitter.com/Pw0TVPcelc

— Tsuki 月 (@TsukiNFT) February 8, 2022
Tsuki NFT Roadmap
The Tsuki NFT roadmap is broken up into three separate phases.
Phase 1
The Tsuki Team set three milestones for phase one of the roadmap.
First, they want to create a community vault to help support the community and project long-term. 10% of royalties from the Tsuki will be reserved to grow the project.
Second, the Tsuki Merch Store will be introduced. Once the merch store is open, Tsuki t-shirts, hats, posters, and more will be available for the community to purchase.
The final milestone of phase one is creating 3-D Tsuki collectibles. They aren't creating one for each NFT; there will be a limited supply.
The community will vote to decide which Tsukis from the collection should transform into 3-D collectibles.
Phase one of the roadmap is pretty basic. We've seen many projects create a community vault and merch store. Unfortunately, I think merch stores are more of a cash grab than an actual benefit for holders.
I would've liked to see more from the roadmap out the gates, but I understand that the team probably wants to focus on the drop at hand.
Phase 2
Phase two of the roadmap is where the utility starts to kick in. The team set another three milestones for phase two.
The first plan for phase two is purchasing land in the Metaverse to call their own. Tsuki wants to buy land to host events for holders and explore the Metaverse alongside their community.
Once Tsuki's have found a place to call home in the Metaverse, they'll start to deploy their utility. First, the team wants to collaborate with hyped NFT launches to secure whitelist spots for Tsuki holders. Then, the Tsuki community will vote for which projects to collaborate with.
The last milestone of stage two is deploying even more utility by giving holders access to claim free companions.
This phase is a bit more engaging than phase one, but the utility behind the project doesn't excite me too much.
Phase 3
Phase three is the last phase of the Tsuki NFT roadmap and has four milestones.
The first milestone is to get the community together in real life with IRL community events. They haven't announced the location or details about the events yet. However, I'm assuming they'll put the location to a vote once they know where a majority of their community is from.
Next, they want to show their appreciation for their O.G. Members by giving them all posters of their Tsuki NFT. Tsuki holders who aren't O.G. Members will be able to purchase a Tsuki poster from the merch store.
The third milestone of phase three is probably the most intriguing yet. The team plans to create an anime series by capturing all the action in the Metaverse.
While I love anime and know a lot of NFT followers do, we haven't seen a project successfully release an anime series yet. So it'll be interesting to see how they develop the concept.
The last milestone for their roadmap is to send three lucky Tsuki NFT holders on a seven-day trip to Japan. They will randomly pick the winners during a Discord stream and give them one extra ticket each to take a friend.
The team will provide airfare, a place to stay, and even some spending money!
The vacation giveaway is my favorite part of this roadmap phase because I've always wanted to see what Japan is like.
If you want to take part in this roadmap, you'll have to purchase a Tsuki NFT.
How to Buy the Tsuki NFT
The Tsuki NFT collection of 9,999 Waifus will be released on the Ethereum blockchain on February 20th, 2022, at 9 AM EST.
Users will be able to mint directly on the Tsuki NFT website.
The reveal for Tsuki NFT will be five days after mint on February 25th, 2022, at 9 PM EST.
Whitelist Pre-sale
There are 3,000 whitelist spots available for access to the Tsuki pre-sale. Whitelist members will be allowed to mint a maximum of 2 Tsuki NFTs per wallet but will only have a 12-hour window to claim their NFT.
Additionally, whitelist members will pay a lower mint price of 0.1 ETH and mint with an optimized low gas contract.
As far as how to get a whitelist spot, Tsuki doesn't have any set guidelines. Instead, they encourage people to be active in the community and give out whitelist spots as they see fit.
Users can stand out in Discord by creating and sharing fanart or memes of Tsuki NFT.
If you don't want to get involved in Discord but still want a chance to win a whitelist spot, the team encourages you to follow them on Twitter, where they routinely run whitelist giveaways.
Welcome the 7th Member of Tsuki?

Launch ETA: 4 Days…

RT and Like for a Chance of Whitelist! pic.twitter.com/ZiILZfc8xJ

— Tsuki 月 (@TsukiNFT) February 16, 2022
Public Sale
With each of the 3,000 whitelist members allowed to mint 2 Tsuki NFTs per wallet, at least 3,999 Tsuki's will be available during the public sale.
The Tsuki NFT public sale starts at 9 PM EST on February 20th, 12 hours after the whitelist pre-sale.
More Tsuki's will be available if some whitelist members miss the mint or only mint one.
The Tsuki NFT public sale begins 12 hours after the whitelist pre-sale. Each Tsuki NFT will cost 0.15 ETH during the public mint, 0.05 ETH more than whitelist members spent.
People minting during the public sale should expect higher gas fees as people flood the market.
Secondary Market
If you aren't lucky enough to mint a Tsuki NFT during the pre-sale or public sale, you'll have to buy one on the secondary market via OpenSea.
My Strategy
Tsuki will be an interesting drop. I'm not sure if I want to mint it or stay on the sidelines to see how this project unfolds.
Tsuki NFT has gained a ton of hype leading up to their launch, as most anime and female NFT collections have done.
With over 145,000 followers on Twitter, I expect the project to sell out fairly quickly.
However, the lack of utility and dull roadmap makes me hesitant to invest in the project long-term.
If I can get one of the last whitelist spots available and mint at a cheaper price, I will mint one.
While I'm unsure about the project long-term, there is an opportunity to make money short-term; Especially leading up to reveal.
Hyped projects always see a run leading up to reveal. So if I can purchase a Tsuki NFT on the secondary market at a reasonable price, I will buy and sell the NFT the day before the reveal for a small profit.
That strategy might not be for everyone. I'm a conservative investor and want to protect my capital. So I'm content with selling for a small profit consistently, even though I may miss out on a few moon shots.
Tsuki NFT could be a collection that moons. We'll have to wait and see.
That's just my opinion. Feel free to disagree. Let me know your thoughts in the comments, and follow me on Twitter.
Want to Make Money With NFTs?
Degen Den is the brand-new exclusive NFT community that I founded.

In this community, you get access to:

• A private Discord community of likeminded NFT profiteers
• Whitelist opportunities to hyped NFT projects
• Early intel on what NFT projects I will be covering on my NFT-focused YouTube channel
• And a lot more!

I'll see you inside!
Author:
Logan Allec, CPA
Logan is a practicing CPA and founder of Choice Tax Relief and Money Done Right. After spending nearly a decade in the corporate world helping big businesses save money, he launched his blog with the goal of helping everyday Americans earn, save, and invest more money. Learn more about Logan.