Wulfz NFT: Is Pixel Art With Breeding Mechanics Overdone?
Cryptocurrency
Stop me if you've heard this one before: "So we have a pixel art project that introduces its own token and will have a breeding mechanic."
We've definitely seen a project or two lately with this kind of roadmap promise, and the Wulfz NFT project is one of them.
Wulfz is a collection of 5,555 ERC-721 NFTs on the Ethereum blockchain.
But is the pixel-art-with-breeding-mechanic trend over? Is it even worth it to take a deeper look into what Wulfz is all about? You'd be surprised by my answer, so let's dive in.
Who's Behind Wulfz NFT?
I think the key to this project is actually the art.
But to understand the art, we need to understand the artist and the team behind the project.
Wulfz has an undoxxed team of three, consisting of Slide (the founder), Snooow (the Artist), and Hiro (the developer).

Since the team isn't doxxed, take their credentials with a grain of salt. While I don't see this as a rug pull, we've all seen our fair share of deception in the NFT space. So I can't guarantee any of the credentials they're claiming.
Slide and Hiro claim to have the typical credentials you'd see in a founder and a blockchain dev. Slide claims to have a background as an entrepreneur and a marketer, and Hiro claims to have been in DeFi as a full-stack dev for multiple years.
The team member I want to focus on here is the artist — Snooow. He claims his background is actually as a UI designer and that he's been a pixel artist for over six years. However, during my research I couldn't find any of his past artworks, which is a bit of a red flag for me.
Our very talented artists name is Snooow! ?️

Snooow is a Chinese based artist, and is a professional UI designer. He has a passion outside his job of making pixel art. He loves all kinds of games, literature, and manga. ?

He hopes you enjoy the Wulfz! ?

— Wulfz (@wulfznft) November 2, 2021
We're at the point in the NFT space where we see hundreds of new projects dropping every single day. Often we see the same marketing tactics, the same styles especially with derivative projects, and similar utility in roadmaps.
The thing that interests me most on this project is that even in a sea of sameness that is the pixel art meta of the NFT space, the Wulfz art is actually better in my opinion than a lot of what we're seeing lately.
Another thing that really impressed me about this team is the strong feeling that this isn't just a cash grab for them.
I started following this project at the end of October and they came out of the gates with a ton of hype.
They could have moved up their launch date to when this style of NFT project was doing amazing and could have 100% sold out their launch.
But they chose the opposite.
The team chose to push back their launch to the end of December because they wanted to make sure everything was of the highest quality regarding the launch.
While hearing this type of action from the founders makes you want to buy in to a project, I'm always extra hesitant investing in projects with undoxxed teams.
That said, even though the team is anonymous, it has shown interest in protecting the longevity of the project by the way they're handling their whitelist and their launch, but more on that in a bit.
Want to Make Money With NFTs?
Degen Den is the brand-new exclusive NFT community that I founded.

In this community, you get access to:

• A private Discord community of likeminded NFT profiteers
• Whitelist opportunities to hyped NFT projects
• Early intel on what NFT projects I will be covering on my NFT-focused YouTube channel
• And a lot more!

I'll see you inside!
How Good is the Art?
Snooow definitely has his inspirations as a Chinese-based artist, you can tell how much of a fan he is of Manga and Anime.
Just looking at their 10 Legendary Wulfz, you can see tons of anime-inspired characters. You see Kakashi, KCM Naruto, Hisoka, and even Agatsuma Zenitsu from Demon Slayer.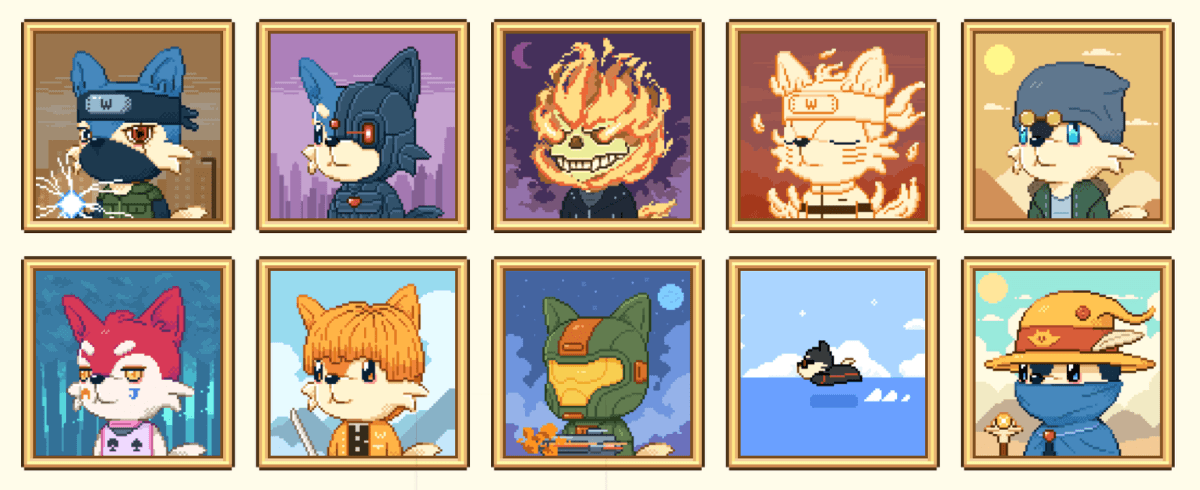 The pixel style may be getting a little stale within the community, but there's something fun and differentiated here.
Even their announcement tweet gives me Sonic the Hedgehog mixed with Tails vibes.
Hi Twitter ?

We have just opened the Wulfz NFT Discord server, hop in and say hello.? Whitelist Information will be shared in the upcoming days. ?https://t.co/LfzSMzVKbm pic.twitter.com/K9zS0AtL6Y

— Wulfz (@wulfznft) October 29, 2021
Wulfz NFT Utility
I spent hours diving through their Discord Server and Whitepaper so you don't have to because even if we think the art is really solid, what else is Wulfz offering their community?
To start, they have the $AWOO token, which is the native token of the Wulfz ecosystem.
By owning and then staking your Wulfz NFT inside the "Wulfz Hub" you will earn 10 $AWOO each day for each Wulfz NFT that you've staked.
AWOO INFO ?

– Total Supply 200,000,000 AWOO
– Wulfz Generate 10 AWOO per day.
– Pupz Generate 5 AWOO per day.
– 1 Wulfz + 600 AWOO needed to adopt a Pupz
– 50 AWOO for Name Change
– 100 AWOO for Lore Change
– 1500 AWOO + Burn a Wolf for Alpha Wulf

— Wulfz (@wulfznft) December 14, 2021
This token can then be used for things like changing the name of your Wulf (for 50 $AWOO), adopting a Pupz (for 600 $AWOO), and eventually even burning your Wolf and spending 1,500 $AWOO for an Alpha Wulf.
The Roadmap
The Wulfz roadmap is broken up into three phases.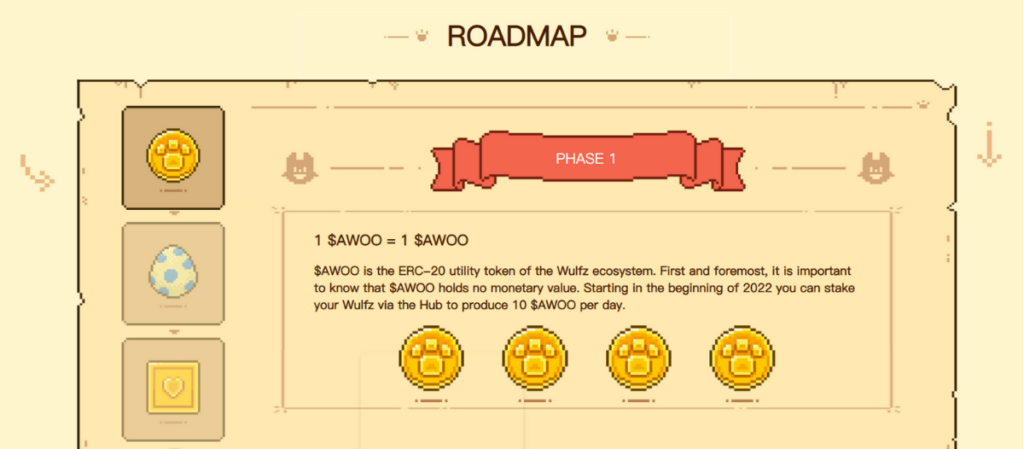 Phase 1 is all about creating the Wulfz Hub to allow you to stake your Wulfz NFT in exchange for $AWOO.
The Wulfz Hub is the central point of the entire project and where you will go for Phase 2 and Phase 3 of their roadmap.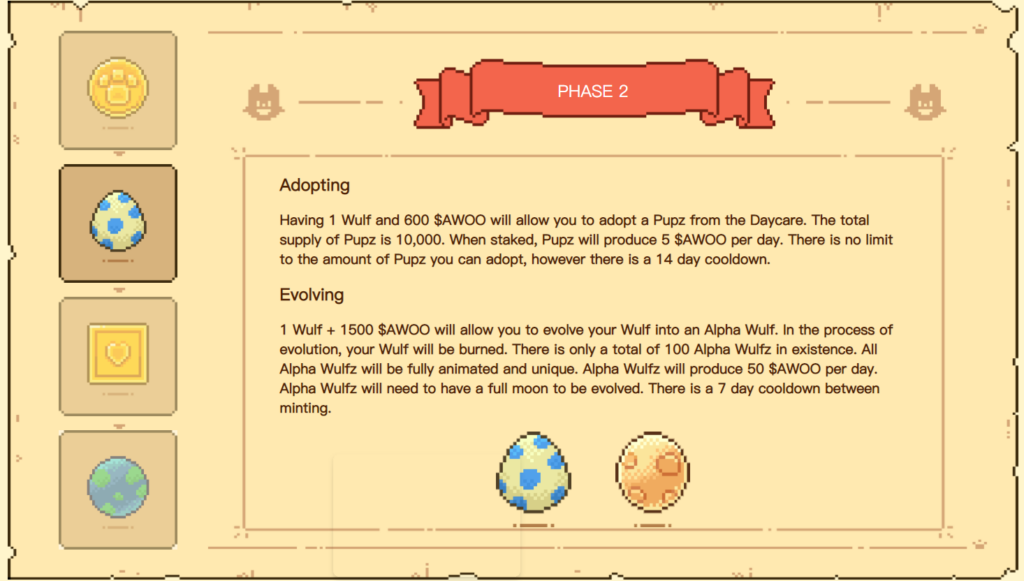 Phase 2 is the Daycare, which is in the in-game breeding mechanic. In exchange for 600 $AWOO you will get a second NFT, your Wulf Pup or Pupz. The Wulfz team has kept everything hush hush on these Pupz. (Get it, hush puppy? Hushkies? Sounded a lot funnier in my head).
Pupz can also be staked inside the Wulfz Hub in exchange for $AWOO tokens, but at a lower reward rate.
Instead of earning 10 $AWOO each day like the original Wulfz, the staked Pupz will reward the holder with 5 $AWOO each day. There will be a limited supply of 10,000 possible Pupz, and your NFT will have a 7-14 day cooldown for adopting more Pupz.
The only thing the team has said about Pupz is that, "Pupz are the baby version of the Wulfz and will be the future leaders of the Wulf Pack." I don't have much speculation on what that means, so I'm just going to sit back and see how it all plays out.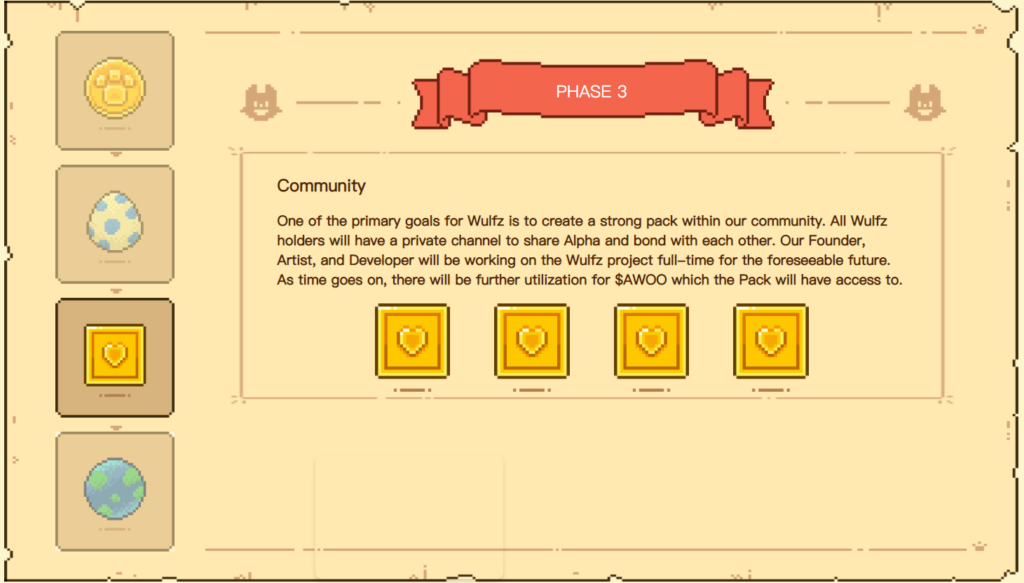 Phase 3 is where the fun begins with the Full Moon. In phase 3 you can upgrade your Wulf to an Alpha Wulf by burning your original NFT plus 1,500 $AWOO.
All Alpha Wulfz will be fully animated and will come equipped with a special utility.
We don't have any hints at what that special utility will be from these Alpha Wulfz or even what they're going to look like.
There's a risk to these Alpha Wulfz, however, that I'm going to talk about just a bit later.
How To Buy The Wulfz NFT?
Wulfz NFT is dropping this week, and here is every important detail you need to know.
Wulfz Launch Information
The important numbers you need to know about the Wulfz official release are these:
Total Supply: 5,555
Mint Price: 0.08 ETH
Whitelist
I love the way the Wulfz team has handled their whitelist process heading into their launch.
They have been very cognizant of the reality of the NFT market all around them, and the fact that we are currently in a flipper's market.
Many projects are either minting out and then dropping in price before reveal and then completely dumping post reveal, or just not selling out at all.
Wulfz is trying to bring longevity to their project by hand picking their whitelist.

They are spending a lot of time by manually picking people in their Discord whom they believe will be the best long-term holders rather than quick flippers and giving them whitelist spots.
The team is also preparing to have a vast majority of their holders come from the whitelist while severely limiting the public sale.
Wulfz NFT will technically only be dropping 5,500 NFTs as the team will be holding 55 Wulfz for promotional purposes.
Presale for the Whitelist
At 12:00 PM Eastern Time on December 27, 2021, the Wulfz whitelist presale will begin.
During the 24 hours of presale you will be allowed to mint one Wulf per wallet.
The Wulfz team has reserved 5,000 spots on their Discord for Whitelist members.
The team also has some whitelist partnerships and have already collected their wallet information, so the true number of whitelist spots may be closer to 5,200 – 5,300.
Public Sale
This only leaves 200 – 300 NFTs left for a public sale if everyone on the whitelist decides to mint.
The Public Sale will be 24 hours after the presale, starting at 12:00 PM Eastern Time on December 28, 2021.
The Public Sale will be held on the official Wulfz website.
This is an Ethereum project of course, so you can find their collection on the secondary market on OpenSea as well.
When Is the Reveal?
The Wulfz NFT reveal will be 24 hours after the public sale begins, so it will happen at 12:00 PM Eastern Time on December 29, 2021.
My Wulfz NFT Strategy
I'm a big fan of the Wulfz art. It adds its own unique twist to the pixel art meta from past months.
However, while the art is an extremely important piece of a project, there are additional factors I'm looking at before I completely buy in. And unfortunately for Wulfz, there are some things I'm not a huge fan of.
At the onset of this article you immediately recognized that another pixel project with a breeding mechanic is quite far from original.
We've seen a decline in NFT investors flocking toward these sorts of projects, so the biggest potential risk to Wulfz is the current state of the NFT market.
We're in a flipper's market, but the Alpha Wulfz need time before they even arrive in community members' wallets
The team has to finalize Phase 2 and 3 of the Roadmap, and NFT holders will have to accumulate 1,500 $AWOO for these Alphas, which will require time.
The market we're in combined with the shortsightedness of the NFT space scares me when investing in a project that such a key component of buying is far away.
I'm not on the Wulfz NFT whitelist, so the way I'm playing this opportunity is by keeping my eye on the secondary market.
We'll learn a lot about this project in the 24 hours of presale and get a feel for how many flippers are there to turn a quick profit and run.
If it's very flip heavy, I'm avoiding the project altogether. If it feels like people are in this project for the long haul I will try to get in on either the public sale (gas price depending) or wait for the post-reveal drop that every project seems to run into.
Since the team is undoxxed, I'd say the state of the market will be my biggest indicator of being in this project or not.
That's just my opinion. Feel free to disagree. Let me know your thoughts in the comments, and be sure to follow me on Twitter.
Want to Make Money With NFTs?
Degen Den is the brand-new exclusive NFT community that I founded.

In this community, you get access to:

• A private Discord community of likeminded NFT profiteers
• Whitelist opportunities to hyped NFT projects
• Early intel on what NFT projects I will be covering on my NFT-focused YouTube channel
• And a lot more!

I'll see you inside!
Author:
Logan Allec, CPA
Logan is a practicing CPA and founder of Choice Tax Relief and Money Done Right. After spending nearly a decade in the corporate world helping big businesses save money, he launched his blog with the goal of helping everyday Americans earn, save, and invest more money. Learn more about Logan.