Nearly 70% of today's college graduates will walk the stage saddled with student loan debt. Sure, these loans make it possible for many students to achieve their educational and career dreams, but they come at a price — namely, high interest rates and lengthy loan terms.
Considering a student loan refinance, or refi, down the line is a wise decision for the majority of these borrowers. No matter how much debt you carry or what type of loans you've taken out, the right refi lender can save you both time and money over the course of your loan repayment.
By loan shopping through a platform like Splash Financial, you can find competitive loans that offer unique features. You'll also get preapproved for some of the lowest interest rates around, all without dinging your credit.
What is Splash Financial?
Founded in 2013, Splash Financial is a student loan refinance aggregator that operates in all 50 states. The company not only provides refinance loan quotes in as little as three minutes online, but also offers interest rates that are very competitive.
If you're looking to refinance your student debt, Splash Financial is probably worth a look. Their lender partners' refi loans will allow you to reduce the interest rate you'll pay on your debt, while also combining multiple loans into one easy-to-manage account.
What Makes Splash Financial Different?
There are many student loan refinance lenders out there today, so picking the right one for your and your educational debt can be confusing.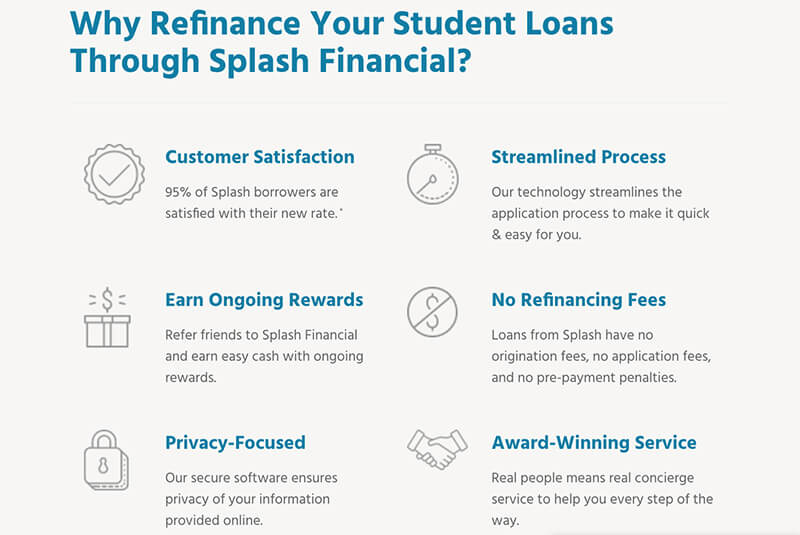 Splash Financial is different than many companies, however. For instance, they are one of the few lenders that will allow married couples to refinance their educational debt together.
Most lenders will allow couples to co-sign on one another's refinancing, but not combine the debt.
Splash Financial is also different in that you are able to refinance your student loans even if you've filed for bankruptcy in the past. You'll simply need a co-signer who has not filed for bankruptcy, and will both need to meet minimum credit score requirements.
Which Loans Can You Refinance?
With Splash Financial, you're able to refinance whichever student loans you currently hold. They accept private, federal, and Parent PLUS loans, combining them into one easy-to-manage account.
Student Loan Refinance Options
When you refinance educational debt through Splash Financial, you'll have a few options.
During the pre-approval process, you're able to choose the loan term that best suits you (and see the accompanying interest rate to match). Refi loans are available in 5-, 7-, 8-, 10-, 12-, 15-, 20-, and 25-year terms.
You'll also be able to opt for either a fixed or variable APR over the life of that new loan. As of this writing (November 5, 2019), interest for fixed-rate loans was between 3.48-7.27% APR and variable-rate loans ranged from 2.25-7.41% APR.
However, the rate you'll personally see will depend on the loan term you choose and your personal credit history.
Here are the interest ranges for each rate type and loan repayment term through Splash Financial, as of November 5, 2019:
| | 5 Years | 7 Years | 8 Years | 10 Years | 12 Years | 15 Years | 20 Years | 25 Years |
| --- | --- | --- | --- | --- | --- | --- | --- | --- |
| Fixed Rate | 3.48 - 5.80% | 4.25 - 6.25% | 3.70 - 5.43% | 4.45 - 6.65% | 4.18 - 5.56% | 4.39 - 7.05% | 4.66 - 7.27% | Not available |
| Variable Rate | 2.50 - 6.30% | 4.00 - 6.35% | 3.50 - 5.53% | 4.25 - 6.40% | 4.28 - 6.17% | 4.50 - 7.41% | 4.75 - 6.90% | 5.25 - 6.32% |
Keep in mind that both loan types also allow for a rate discount of 0.25%, as long as you sign up for autopay.
How Much Your Refi Loan will Cost
There are no origination fees, no application fees, and no early prepayment fees on loans through Splash Financial. Your loan will only cost you the principal balance plus interest (at the rate for which you qualify) until the debt is repaid.
The Splash Financial Application Process
Applying for a refinance loan through Splash Financial is pretty straightforward, and only takes a few minutes of your time.
First, you'll need to provide some basic personal information. This includes things like your:
Name
Address
Email address
Monthly income
Student loan debt (or at least, whatever you want to refinance)
Housing status
Citizenship
Once you're done submitting your basic information, you'll be asked to enter your Social Security Number and agree to a soft credit pull. This will allow Splash Financial to determine whether you're pre-approved and what sort of rates you might qualify for with your loan, but it won't negatively affect your credit.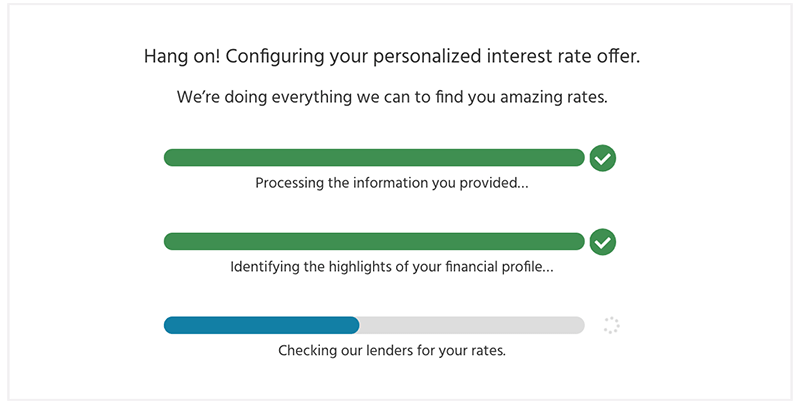 The platform will then compare this information against their lender partners to see which loan options best suit you and the rates you'll be offered.
You won't see which lender these offers are through, initially. Instead, you'll be able to see the loan term, monthly payment, and interest rate options available to you.
You can choose the one that works best for you, at which time you'll proceed with an actual application.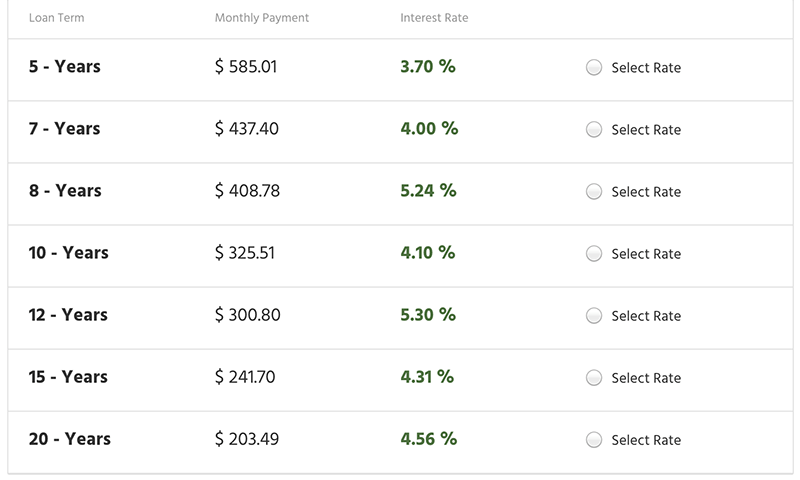 Keep in mind that these rates are not yet set in stone. Your final loan terms will be determined by the financial information you provide to the lender, and the results of the hard credit inquiry that will come next.
However, these are a great place to start and let you know approximately what you can expect from your refinance loan.
This is a good place to mention that while I regularly write reviews like this, I don't actually apply for the loan… usually. I will get rates and walk through the process, but stop short of applying. However, it's been a couple years since I refinanced my educational debt, and Splash Financial's rates would save me money, so I went ahead with an application.
Once you choose the loan term combo you like best, you'll be asked a few more yes/no questions.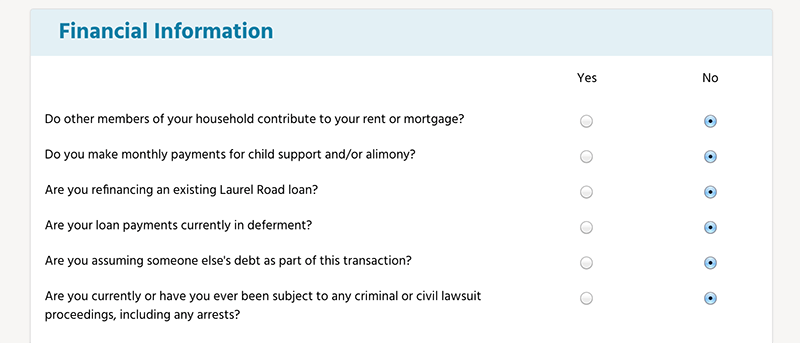 You'll also see which lender will be servicing your refinance loan at this point. (For me, it was Laurel Road.) You'll be asked to agree to their terms and conditions, and will be sent over to the servicer's website for the rest of the application process.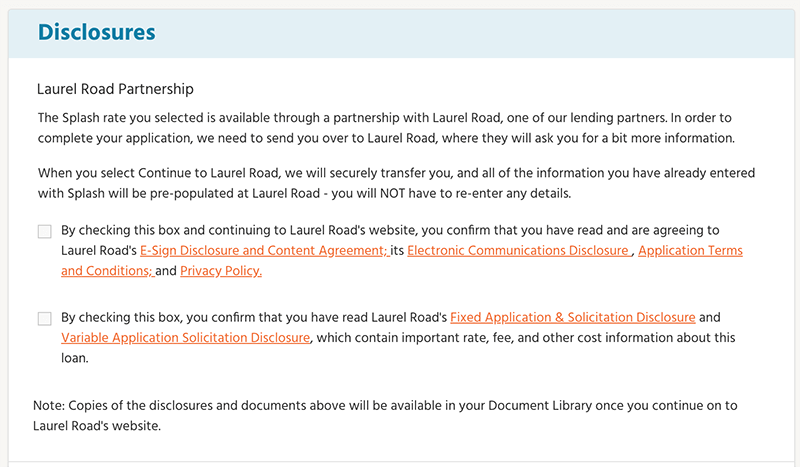 Don't worry, you're almost done!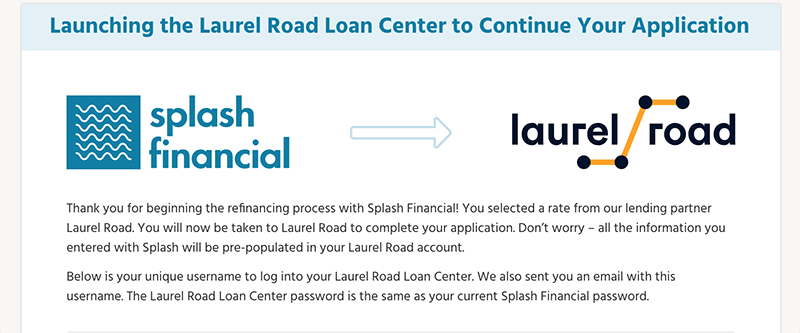 Now, you'll reach the point where you'll need to provide supporting documentation in order to finalize your loan offer. The required documentation may vary, but can include things like:
A copy of your driver's license or other government-issued ID
Your two most recent pay stubs
Other supporting income documentation, such as 1099s, W-2s, or even client contracts outlining your pay agreement
A copy of your final transcript or diploma, showing your graduation date
Existing loan payoff quotes

This information is then reviewed and verified. If the preferred lender would like to move forward, you'll be given a final loan offer (your original APR and monthly payment amount may or may not change at this time).
Then, you can sign your final loan agreement and officially close on your educational refinance.
My Experience
Now, my application involved Laurel Road, so I can't speak to how it compares with other lenders that Splash Financial may refer borrowers to, such as PenFed and U-Fi. However, I thought it was important to note that my Laurel Road application took an exceptionally long time to process.
While I have refinanced with NaviRefi in the past (this took about 2 days, start to finish), the underwriting process with Laurel Road seemed endless. Documents were rejected, only to be uploaded again and accepted the second time around.
More and more and more information was requested, such as my husband's pay stubs (even though I more-than-qualify on my own and he won't be a cosigner) and even copies of formal writing contracts with my clients.
After browsing some online reviews, I found that this sort of thing was commonly reported among other borrowers.
Your experience may differ, but had I known that the process would be so lengthy and arduous, I might have thought twice before formally applying.
Splash Financial Student Loan Refi Requirements
There are a few requirements you'll need to keep in mind as you apply for a refi loan through Splash Financial.
Regarding the actual refinance, you'll be required to take out a minimum loan of $5,000. However, there is no loan maximum at this time, so Splash Financial is even a great option for those with six-digit professional degree debt.
As a borrower, there are a few stipulations you'll need to meet:
You'll need a minimum credit score of 700, if borrowing alone, or 670 if you're adding a co-signer.
You are able to refinance if you've filed for bankruptcy in the past, you'll just need to add a co-signer to the loan who has not filed.
You'll need to be a U.S. citizen or permanent resident.
Refinancing is only available if you A) have already graduated and B) attended a Title IV eligible school. (The exception to this rule is if you are a parent refinancing loans that you took out to fund your child's student loan debt. In that case, they do not need to have graduated in order for you to refi.)
Even if you meet all of the requirements above, though, there's always the chance that you do not qualify for your refinance loan. This could be due to negative reports on your credit history, a too-high debt-to-income ratio, etc.
Your lender may request additional documentation and proof of income in order to approve your application. If you are denied, you may want to consider providing proof of income from a second wage earner in the home (they will not be added as a cosigner), or having someone creditworthy co-sign on your loan.
Why You Should Be Refinancing Your Loans
A student loan refi is a great idea for most borrowers over the course of their repayment.
Through refinancing, you can potentially lower your overall interest rate. This could save you thousands on your student loans and make it easier to pay balances down over time.
Student loan refinancing can also reduce the repayment term of your loan(s). While many private and federal loans are on 10+-year repayment schedules, you can potentially reduce this to as little as five years.
The sooner your student loans are repaid, the sooner you're able to be out of debt!
Lastly, student loan refinancing can simplify your life. Rather than juggling multiple loan servicers, due dates, and scheduled payments, you'll only have to keep track of one loan, one due date, and one payment amount.
Why You May Want to Reconsider a Refi
Of course, refinancing student loans isn't for everyone.
With federal student loans, for example, you'll typically have access to deferment and/or forbearance features. However, a private refinance would eliminate these, limiting your options if you find yourself in a bind down the road.
If you're considering student loan forgiveness on your educational debt, you'll also forfeit your options by refinancing with a private lender.
Splash Financial: Pros
1. Low Interest Rates
Through its partner lenders, Splash Financial connects borrowers with refinance loans that offer very competitive interest rates. If you're looking to reduce the total cost of your existing educational debt, this is a great place to start your search.
2. Married Couples Can Refinance Together
Many refi lenders will allow spouses to cosign on student loan balances. It's very rare to find a lender allowing spouses to actually combine their education debt into one loan, however.
At Splash Financial, spouses can do just that. Together, you can refinance all of your student loan debt together, simplifying your household expenses while also cosigning on each other's debt. This has the potential to unlock more competitive interest rates for you both, too.
3. …Or Take Over One Another's Loans
Through Splash Financial, one spouse can even take over the other's student loan debt. This is especially helpful if the prior student has a low credit score or negative report, like a bankruptcy, which would impact the interest rate for which they qualify.
If one spouse takes over the other's student loans, they will need to also sign an affidavit acknowledging this transfer of debt.
4. Flexible Loan Terms
There are seven term length options for fixed rate loans, and eight for variable rate loans. With so many options, you're able to choose the repayment schedule and monthly payment amount that best suits your finances.
5. Get a Rate Without Affecting Your Credit
You can get preapproved for a refinance loan — and also get a preliminary rate quote — with only a soft credit pull. This won't impact your credit at all, and gives you an idea of whether Splash Financial is the right choice for you before committing to a hard inquiry.
6. Available in All States
Splash Financial is available to borrowers in all 50 states.
7. You Can Refi Even After a Bankruptcy
Many refi lenders will turn down borrowers who have had a bankruptcy in the past. Here, you can still get approved for a student loan refinance even if you have a bankruptcy on your credit history… you'll just need a creditworthy cosigner who hasn't filed.
Splash Financial: Cons
Of course, there are a few things to keep in mind if you are considering a student loan refi through Splash Financial.
1. No Deferment or Forbearance Available
With most private student loan lenders, you forfeit your access to deferment and forbearance programs when you refinance. If you think this is a feature you will need in the future, you may want to consider sticking with your existing federal loans; Splash Financial's lenders do not all offer these options.
2. Minimum Credit Score
If you're looking to take out a refinance loan through one of Splash Financial's lenders, you'll need to have the credit score necessary to qualify. This means a minimum of 670 if you're applying with an eligible co-signer, or a minimum of 700 if you're planning to apply alone.
3. You May Need to Join a Credit Union
Some of Splash Financial's loan servicers are credit unions, meaning that you would need to join in order to finalize your refinance loan. This is usually a simple process, but one to be aware of… you won't know which lender is servicing your loan until you choose a term and rate option and move forward with the official application process.
4. Rates Can Change After Pre-Approval
The initial pre-approval, loan terms, and rate options offered to you on Splash Financial's website are not final. You will be forwarded to the actual servicer's website to complete the loan, at which time you'll be given a concrete offer.
Depending on your credit report results once that lender pulls a hard inquiry — as well as the submission of any requested documentation — you may see your rate go up before the loan is finalized.
Choosing to Refinance with Splash Financial
Whether you're thinking of refinancing your student loan debt for the first time or the fifth, you'll want to go with a lender that offers flexible loan terms, low interest rates, and will pre-approve you without any credit impact. At Splash Financial, you'll get all of the above!
Additionally, Splash Financial is a great choice for borrowers who have had a past bankruptcy, want to consolidate student loans with their spouse, or even want to take over their spouse's educational debt… all features that you don't often find with refi lenders.
Interest rates are very competitive, and you'll have access to a number of lender partners who are willing to offer you the loan you need, no matter where you are in the U.S. Whether you're refinancing $5,000 or $500,000, Splash Financial is worth a look when you begin your search.
Stephanie Colestock
Stephanie Colestock is a personal finance expert and writer who enjoys teaching people how to be financially independent and confident about their money choices, regardless of obstacles in their path (such as the crippling student loan debt she once held). Stephanie graduated from Baylor University, and is currently working toward her CFP certification. Her work can be seen on sites such as Forbes, Dough Roller, and Johnny Jet, among many others.