G.O.P. Hating on Stimulus + Superman Trump
COVID-19
This is my stimulus update for Sunday, October 11.
Before we get into stimulus, I just want to mention one thing that I read in the New York Times that made me almost fall out of my chair.  So we all know that Trump tested positive for COVID-19, he was admitted to Walter Reed Medical Center two Fridays ago, and last Monday, he was released.  According to the New York Times, upon being released from Walter Reed, I'm not making this up, this was in the New York Times yesterday, upon being released from Walter Reed Medical Center, Trump wanted to first appear frail when people saw him, but then he wanted to surprise everybody by ripping open his shirt to reveal a Superman T-shirt.
I mean, what a time to be alive, right?  It kind of gives me Palpatine vibes, like in Revenge of the Sith when Palpatine becomes all disfigured and he says, "I'm too weak," and then he shocks Mace Windu out the window, that's what came to mind.
Don't want to read? Watch the video here!
Alright, enough fun and games, now let's talk about the very not-funny state of stimulus.  Just to catch you up where we're at, Pelosi has held strong at $2.2 trillion in terms of a top-line stimulus proposal for several weeks now, two days ago Mnuchin offered 1.8 trillion dollars with a package that includes things like $1000 stimulus checks for dependent children in addition to CARES Act-like $1200 stimulus checks for adults non-dependents.
Pelosi rejected that offer, I told you yesterday in my stimulus update what is in the new White House proposal and what Pelosi said about it as she rejected it, and frankly, Pelosi can hold out here as long as she wants, I'm saying it's right for her to hold out, I'm just stating that the Republicans are the ones looking desperate here for stimulus, but when I say Republicans, of course, I'm only referring to the White House.
The White House, Trump, Mnuchin, etc., they really want stimulus.  Trump is desperate for stimulus right now.
But Republican senators?  Not so much, there are a handful of Republican senators like Joni Ernst whom I told you about yesterday who are up for reelection and they're going to have a tough race, they want stimulus, but by and large, as we've said for months now, Republican senators don't see the need to pump another one, $2 trillion into the economy.
Yesterday morning Treasury Secretary Steven Mnuchin and White House Chief of Staff Mark Meadows were discussing the Republicans' latest $1.8 trillion proposal in a conference call with Republican senators.  Several anonymous sources who were on the call told the Washington Post that multiple Republican senators sternly criticized the proposal, saying that $1.8 trillion is too much, individual components of it were criticized as well in addition to the top line.
Reportedly, Mark Meadows told the group, "You all will have to come to my funeral," because he would have to tell Trump what these Republican senators think of the White House's proposal, implying, "Look, guys, Trump is going to be so angry at this that you guys don't like this deal that he's going to wring my neck."
In terms of specific criticisms, Senator Lamar Alexander of Tennessee told the White House negotiations, Mnuchin and Meadows, that Republicans don't really want to spend $300 billion on state and local assistance.
Rick Scott of Florida said of the proposal, "I don't get it," Senator Marsha Blackburn of Tennessee said advancing this 1.8-trillion-dollar proposal in the Senate would be the "death knell" of the Republican majority, and Senator Mike Lee of Utah said considering this proposal in the Senate could hurt the timeline of Judge Amy Coney Barrett's Supreme Court hearings and confirmation as well as hurt Republicans in the election because the Supreme Court process would take the back seat to stimulus.
Also, many Republican senators criticized the move in Mnuchin's proposal for some undocumented immigrants to receive stimulus checks along with support for the Affordable Care Act found in the new proposal, Senator John Barrasso of Wyoming calls it "an enormous betrayal."
Reportedly, however, Senator Susan Collins of Maine, who is up for reelection in a tough race this year, did call for more stimulus, though not necessarily the specific 1.8 trillion dollar deal that Mnuchin proposed to Pelosi on Friday.  Despite their overall distaste for Mnuchin's latest package, the Washington Post is reporting that many Republican senators on the call still want Mnuchin and Pelosi to keep talking.
But why?  I don't know, I don't get it, I have a feeling that many of these senators just aren't that interested in stimulus so they're not really following what's going on here, that there's no point to Mnuchin to keep talking with Pelosi if Republican senators aren't even going to back $1.8 trillion.
So how's this going to work?  Pelosi's not budging, Trump has given her all the leverage here with his childishness this week, and the president can't even seem to muster his own party behind his stimulus desires.
He can tweet all he wants that he wants big stimulus, he can tell people like Rush Limbaugh all he wants how big a stimulus he wants, but it doesn't make a difference to people like Lamar Alexander and John Barrasso, it just doesn't.
Trump's going to be talking to Maria Bartiromo on Fox Business in about half an hour, we'll see what he says, but quite frankly at this point, what Trump says about stimulus is largely irrelevant at least when it comes to what will get through the House and the Senate.  Maybe he will try to do his own thing out of desperation, as we've said here on the channel before I would not put that beyond him, but the reality is there's no world before November 3 in which he could convince Pelosi to go lower than what she wants, he can say whatever he wants about stimulus, it doesn't matter, he's not convincing people like John Barrasso, and with the Dems, Pelosi has the power here with stimulus negotiations before the election, Trump has given it to hear.
And I fear that if Biden wins the election, there will still be two and a half months with Trump as a lame duck president, and I have a sneaking suspicion that stimulus will not be Donald's priority over those two and a half months.
On unemployment, Kansas has paid one week so far, just one week, but still that qualifies them for a purple on my map, hope the remaining payments get out soon.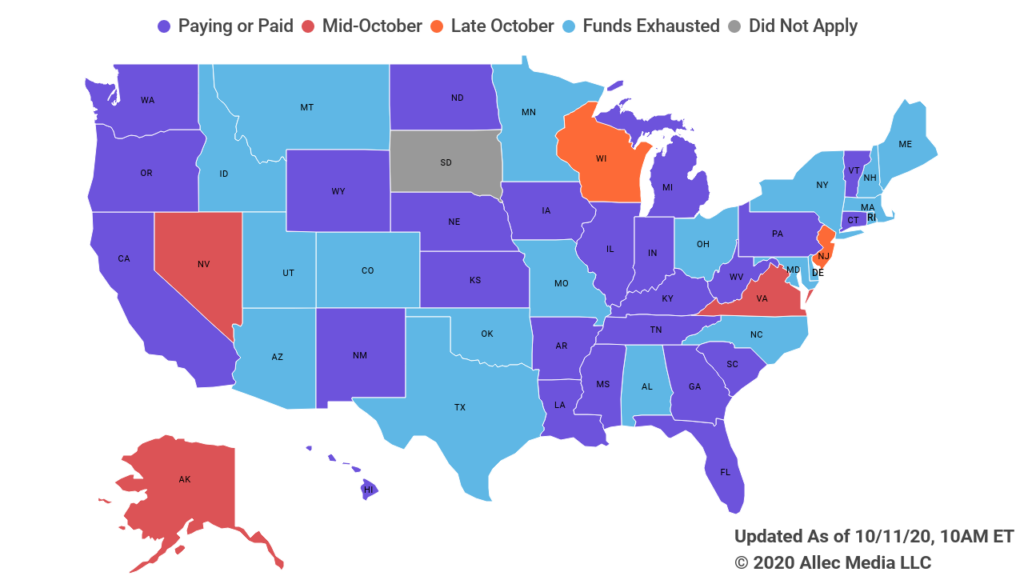 New Jersey Department of Labor has updated its website to say that eighteen hundred dollars, six weeks of three hundred dollar payments, will be deposit in a lump sum the week of October 19.  Virginia still hoping for by October 15.
Logan Allec, CPA
Logan is a practicing CPA, Certified Student Loan Professional, and founder of Money Done Right, which he launched in July 2017. After spending nearly a decade in the corporate world helping big businesses save money, he launched his blog with the goal of helping everyday Americans earn, save, and invest more money. Learn more about Logan.