McConnell Wants Senate Vote on PPP Money
COVID-19
McConnell Wants Senate Vote on PPP Money
This is my stimulus update for Tuesday, October 13.
This morning Trump tweeted, "STIMULUS!  Go big or go home,"

Yesterday on Fox and Friends, White House Press Secretary Kayleigh McEnany basically echoed Larry Kudlow and said of a big stimulus bill, "I believe Senate Republicans would ultimately come along with what the president wants."
Don't want to read? Watch the video here!
I don't believe that one bit, I told you over the weekend what Republican Senators said about stimulus on a conference call three days ago with Meadows and Meadows.
But of course this kind of messaging that McEnany is putting forth has to be the message from the White House right now, they're not going to say the opposite, they're not going to say, "These Republicans suck and the president is becoming increasingly irrelevant to them," they're not going to say that, they have to make it look like Trump can influence his party's members in the Senate.
And then yesterday Trump tweeted, "The Republicans are giving the Democrats a great deal of time, which is not mandated, to make their self serving statements relative to our great new future Supreme Court Justice.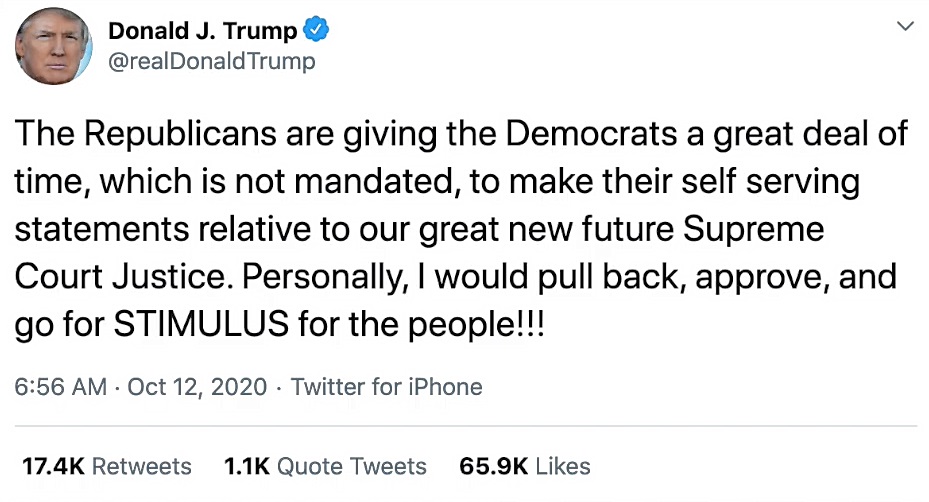 Personally, I would pull back, approve, and go for STIMULUS for the people!!!".  It's like, no one's listening to you, Donald.
This isn't a good look about three weeks before the election.
Yesterday I told you about the letter from White House Chief of Staff Mark Meadows and Treasury Secretary Steven Mnuchin to Congress asking them to pass legislation to spend the over $130 billion of unused PPP money, and today Mitch McConnell put out a press release saying, "Secretary Mnuchin and Chief of Staff Meadows are right: There is no excuse for Democrats to keep blocking job-saving funding for the Paycheck Protection Program while other conversations continue.  When the full Senate returns on October Nineteenth, our first order of business will be voting again on targeted relief for American workers, including new funding for the PPP. Unless Democrats block this aid for workers, we will have time to pass it before we proceed as planned to the pending Supreme Court nomination as soon as it is reported by the Judiciary Committee.  Republicans do not agree that nothing is better than something for working families.  The American people need Democrats to stop blocking bipartisan funding and let us replenish the PPP before more Americans lose their jobs needlessly."
So Mitch hasn't abandoned the idea of stimulus, and of course I'm using the word "stimulus" broadly here, I don't think Mitch would be thrilled about having to rally G.O.P. senators behind a massive stimulus bill, but at least he wants to do something, even putting it before Judge Amy Coney Barrett's vote, remember, right now, the Senate Judiciary Committee is holding her confirmation hearings, once the Judiciary Committee votes on her nomination and sends its recommendation to the full Senate, then the full Senate will debate her nomination, and due to the nuclear option, all they need is 51 votes to end debate and prevent a filibuster and they need a simple majority of Senators present and voting for the nominee to be confirmed, and Republicans are confident that they have the votes.  But of course even if Republicans pass this PPP legislation, House Dems would kill it.
And how are stimulus negotiations between Treasury Secretary Steven Mnuchin and Speaker of the House Nancy Pelosi going?
Well, this morning Nancy released yet another Dear Colleague Letter stating how much she hates the Republicans' latest stimulus offer, she says, "As you know, last week, the President suspended negotiations that had been proceeding on our Heroes Act.  As you further know, following his tweet, the stock market went down and so did he in the polls.  Subsequently, Secretary Mnuchin came back to the negotiating table, and this weekend, the Administration issued a proposal that amounted to one step forward, two steps back.  In fact, in some instances, it makes matters worse. A fly on the wall or wherever else it might land in the Oval Office tells me that the President only wants his name on a check to go out before Election Day and for the market to go up," she goes on to call Trump's attitude shameful and the Republicans' latest offer falling short, as well as links to her Committee Chairs on what they think of the latest Republican bill.
Pelosi specifically points out shortcomings in terms of state and local government funding, a national testing program, Child Tax Credit and Earned Income Tax Credit, rental assistance, workers' protections and child care, small businesses, elections, and the census.  And even that list isn't exhaustive according to Pelosi.
This letter by Pelosi is probably partially in response to one of the most progressive members of her House, Democratic Congressman Ro Khanna, tweeting, as I told you yesterday, urging Pelosi to take the deal and put the ball in McConnell's court.
Now, why am I singling Ro Khanna?  Because he is extremely progressive, he was one of the guys who wanted $2000 a month stimulus checks.  And so far he's been the only member of the progressive wing of House Democrats to call on Pelosi to take the White House's offer.
Yesterday Khanna spoke to Roll Call and said that quite a few members of the House feel this way as well, including at least ten other more progressive members of House Democrats.  He said he doesn't know how many of them will be vocal, but they're hearing that people in their districts are suffering.
So my read is that Pelosi put out yet another Dear Colleague letter this morning showing unity among her Committee Chairs to kind of counter this mumbling in the ranks.  So that's where are stimulus negotiations are at, we don't have any news of new offers by either party, they seem to be at a standstill as of right now, but neither side has said, "We're done, talks are over."
But of course the only one super excited about stimulus right now is Trump, the Senate looks pretty impotent, and the House looks unmotivated.
Logan Allec, CPA
Logan is a practicing CPA, Certified Student Loan Professional, and founder of Money Done Right, which he launched in July 2017. After spending nearly a decade in the corporate world helping big businesses save money, he launched his blog with the goal of helping everyday Americans earn, save, and invest more money. Learn more about Logan.