Updated
November 04, 2020
Neither Side Feeling Pre-Election Stimulus
COVID-19
Neither Side Feeling Pre-Election Stimulus
This is my stimulus update for Saturday, October 24.
With stimulus news, a deal was not reached this week, no surprise there, Mnuchin said yesterday that Democrats "dug in" on key issues today and there are still "significant differences," Kudlow said the ball is not moving much right now, Trump Press Secretary Kayleigh McEnany said Democrats are "fundamentally unserious."
Don't want to read? Watch the video here!
Pelosi meanwhile was on MSNBC yesterday talking to Craig Melvin, and she said she's optimistic, she's been using that word a lot recently, she said there are some differences remaining, but they've put pen to paper, meaning that at least in some aspects the two sides have gone beyond mere talk to actually exchanging language and that as they're writing the next stimulus bill hopefully they'll be able to resolve some of the other differences.
And she said that this could get done before the election if the President wants to, seems like a tall order with the election eleven days away from yesterday when Pelosi said this, ten days away from today.  So she's putting the onus and blame here on Trump if a deal doesn't get done before Election Day.
Drew Hammill, Pelosi's spokesperson, tweeted yesterday that Pelosi thinks an agreement with the White House can be reached soon and that committees and staff will continue to work through the weekend likely working on language, perhaps exchanging language and things like that.  He said that Pelosi and Mnuchin will speak again once additional progress is made.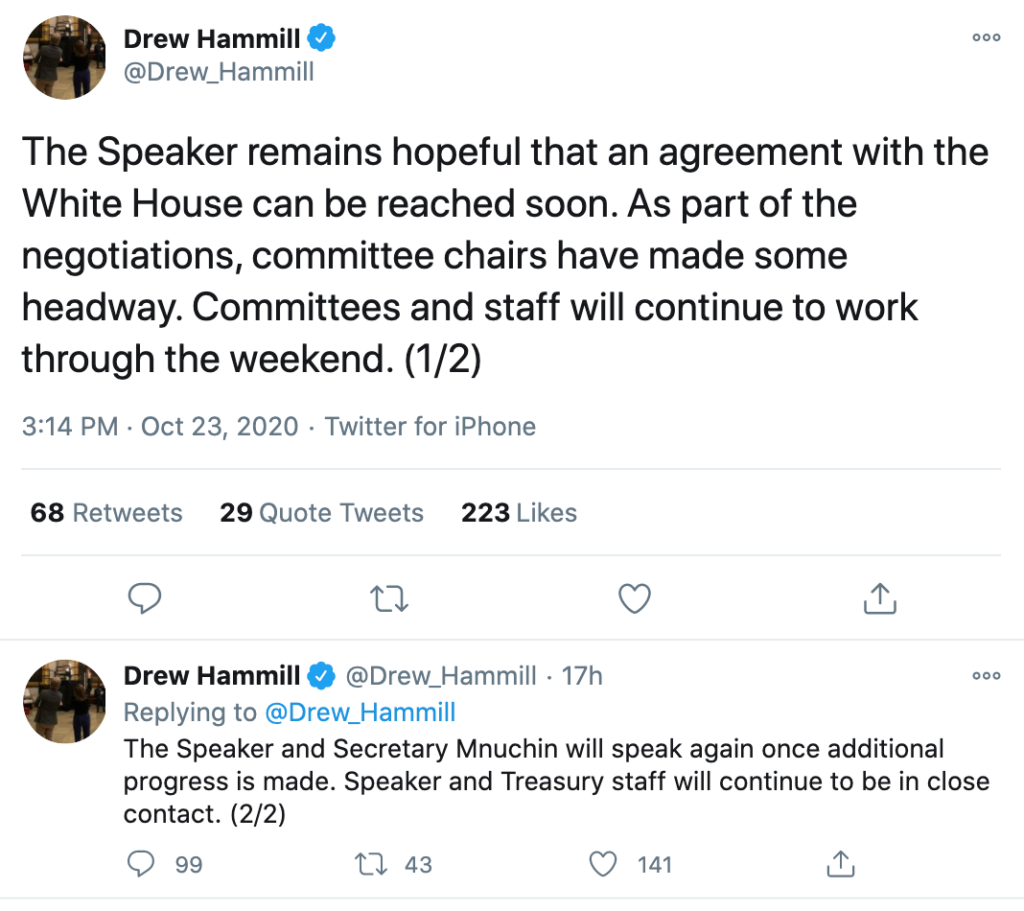 But to be frank, when members of Congress on both sides of the aisle talk about stimulus, they're not really hopeful that it's going to happen before the election.  For example, the number three Democrat in the House, Jim Clynburn of South Carolina, said, "The election is less than two weeks away, and I believe we'll be back in Washington a week or two after the elections and we can do something [referring to stimulus] there.  At least elections will be behind us."
So he's kind of viewing it as a foregone conclusion that if there is stimulus it'll happen after Election Day.  And what about Republicans?
The Senate plans to vote on Judge Amy Coney Barrett's confirmation to the Supreme Court this coming Monday, October 26.  And Senate Appropriations Chairman Richard Shelby, Republican Senator from Alabama, said here's the deal with the Senate.
He said, "I think it's a very doubtful, slim chance that we'll get any type of stimulus before the election.  Anything can happen around here, but we're scheduled to leave here Monday" after the Barrett vote.
He went on to say, "I think at this point in time, Friday before the Monday we're scheduled to leave, it'd take a colossal get-together, just a huge get-together to put a stimulus package together, and I don't see it happening.  That doesn't mean it couldn't happen. Probability, no. Possibility, very very slim."
John Thune, the number two Republican in the Senate, said yesterday that "there could be an agreement, and I wouldn't say that's outside the realm of possibility, but I think in terms of trying to process it mechanically across the floor of the House and the Senate and get it passed, I'd say the odds would be long of that."
Moreover, it's reported that the Senate Finance Committee, which is controlled by Republicans, and the House Ways and Means Committee, which is controlled by Democrats, aren't really even talking to each other yet at this point on stimulus.
So no one get their hopes up about a deal before the Election.  Now, in my view, a post-Election stimulus deal is definitely not ideal because as I've said before depending on how the elections turn out we could have a lot of Republican senators who nominally supported stimulus before the election with a view to the election itself, but then possibly they get voted out in November, and all of a sudden they're not too interested in stimulus anymore during their lame duck session through November and December.
Now, something else that I know is probably of interest to some of you.  A group of Ohio landlords yesterday file a lawsuit against the CDC and the Department of Health and Human Services claiming that the CDC and the department overstepped its authority with the eviction ban.
One of the attorneys for the landlords claimed that the CDC's eviction moratorium is a sweeping expansion of federal power over the rights of property owners nationwide and that Congress never gave the CDC such authority and the CDC is not allowed to make up the law as it goes.  So we'll see what happens with this.
Logan Allec, CPA
Logan is a practicing CPA, Certified Student Loan Professional, and founder of Money Done Right, which he launched in July 2017. After spending nearly a decade in the corporate world helping big businesses save money, he launched his blog with the goal of helping everyday Americans earn, save, and invest more money. Learn more about Logan.