Senate Fails to Advance Republican Stimulus Bill
COVID-19
Senate Fails to Advance Republican Stimulus Bill
This is my stimulus update for Thursday, September 10.
Don't want to read? Watch the video here!
Austrians Getting American Stimulus Checks?
Before we get into the heavier stimulus news, I thought you might be interested in the fact that some random Austrians got American stimulus checks for no apparent reason.
No social security number, no U.S. tax return, how does this happen, I don't know.
Senate Fails to Advance Republican Stimulus Bill
Well, the G.O.P. messaging bill I went over yesterday was brought to the Senate floor today and failed to achieve the sixty votes required for cloture, just as predicted by the #2 Senate Republican John Thune, as I told you yesterday.
Votes were fifty-two to forty-seven, so one hand McConnell got at least fifty-one Republican senators to vote for this bill, in fact every Republican senator except for Rand Paul of Kentucky voted for it.  And no Democratic senators supported the bill.
So now the bill could be up for debate endlessly with the potential for a Democratic filibuster, but really whatever happens, it's not going anywhere.  As we've been expecting here on the channel, this new G.O.P. "skinny" bill is simply a messaging bill, it's just for optics, it's the G.O.P.'s counterpart to the HEROES Act so they can say they voted on another stimulus relief bill with the elections coming up in less than eight weeks.
They say, "Oh, this is the floor for negotiations, but it's really just to get the Republicans together and say, hey, we agree at least on something," because the stimulus negotiators are from the White House, and the White House is open to way more stimulus than Republican senators as a whole.  Republican senators support this skinny bill that would cost a net of $300-some billion, while White House would be willing to go as high as $1.3 trillion, $1.5 trillion, maybe even higher.
So where does this leave us?  Well, looking on the bright side, what we can gather from this is that every single Republican senator at least supports some more stimulus spending, however meager it is, this is a far cry than what we were seeing a month ago, two months ago, when we had many Republican senators saying they don't want to spend another nickel.  So that's a good thing, we see that Republicans support some more relief, it's just that Democrats have to get on board with a slimmed-down relief package.
In response to the failed vote, Nancy Pelosi said, "The needs must be met.  We need every penny in order to stop this."  But of course the top Democratic brass like Pelosi and Senate Minority Leader Chuck Schumer have no interest in pursuing a stimulus relief bill without Republican agreeing to their two-point-two-trillion-dollar top-line proposal.
Of the Republican bill, Chuck Schumer said it was "a fairly transparent attempt to show the Republicans are doing something when, in fact, they want to do nothing in reality."
Schumer went on to say, "I still have some hope once this bill is defeated, if past is prologue, there's actually a significant chance that the public heat on many Republican senators as they go back home will have them come to their senses, and they'll start negotiating with us in a serious way."
Where Does We Go From Here?
Well, frankly, it sounds like Congress is going to be a dud for stimulus at least in the short-term.  They have to approve the continuing resolutions to ensure the government remains funded, we've discussed this before, and that seems to be the only thing of note that they will be doing.
At this point with the way things are looking, I think our best hope is the not-so-great approach of Trump pursuing more executive actions.  We know that the White House is open to it, if you saw my September 5 update, I showed you when Trump said there was a theory out there that he has authority to issue stimulus checks out of this unused money sitting in an account, we know White House could also be interested in executive actions for airlines, for fixing the payroll tax deferral, unemployment, and frankly it could make Trump look like a hero with the election less than eight weeks away, I told you that cynically speaking, perhaps this is the Republican plan all along for Trump to come flying in like a hero shortly before the presidential elections with more stimulus money.
Is it legal?  Who knows?
But what are Democrats going to do, weeks before the election?  Say, Trump, I'm sorry, but you can't do this, we're going to present a legal challenge to you in an attempt to stop you from doling out more stimulus.
Bottom line, Republican bill, not going anywhere, just as we've predicted, stimulus negotiations still stalled, perhaps our best hope at the moment is more executive action from the Donald Trump.
Unemployment Update
In terms of unemployment, 884,000 new jobless claims last week, not including the 839,000 applications for PUA, and yesterday FEMA approved Nebraska for the grant, today is the last day to apply, the only state that has not applied is South Dakota, which has stated it will not apply, and the only state still awaiting approval is Nevada.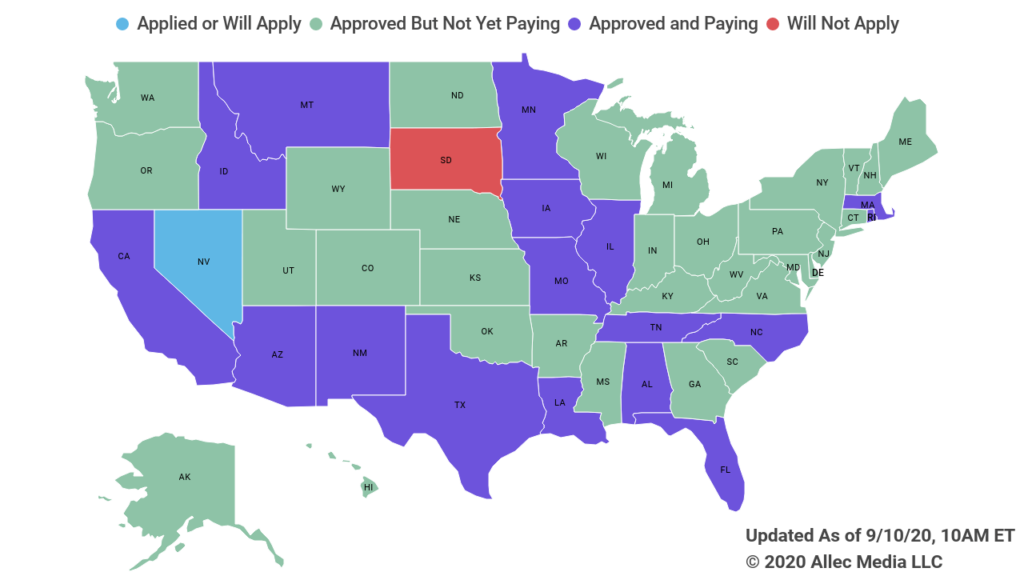 Texas, New Mexico, Iowa, and Montana have said that they are ending their Lost Wages Assistance Program, though FEMA has essentially guaranteed that every state that has applied will get six weeks' worth of funding for $300 a week beginning the week ending August 1, so that's for the weeks ending August 1, August 8, August 15, August 22, August 29, and September 5.
Most of those payments are coming as a lump sum retroactively, but there are some states like California that appear to be doing things piecemeal.
Logan Allec, CPA
Logan is a practicing CPA, Certified Student Loan Professional, and founder of Money Done Right, which he launched in July 2017. After spending nearly a decade in the corporate world helping big businesses save money, he launched his blog with the goal of helping everyday Americans earn, save, and invest more money. Learn more about Logan.