Terrible Way of Doing Things (Congress)
COVID-19
Terrible Way of Doing Things (Congress)
This is my stimulus update for Friday, September 11.  It has been nineteen years since two thousand, nine hundred and seventy-seven individuals were killed in four coordinated terrorist attacks.
And our country really came together after that, didn't it?  Probably in a way, though, that we'll never see again, unfortunately.
Don't want to read? Watch the full video here!
First Stimulus Update
In terms of first stimulus news the IRS has announced that later this month it will be sending letters to approximately nine million non-filers encouraging them to use the non-filers tool by October 15 in order to receive their stimulus payment.
This letter will be known as IRS Notice 1444-A, and it will have information on it in both English and Spanish.
Second Stimulus Update
In terms of second stimulus, the situation is becoming increasingly frustrating and again it's simply both sides, Democrats and Republicans, waiting for the other side to cave.
We saw this in the statement from the top Senate Democrat, Chuck Schumer, when he said that he hopes that Republicans will come to their senses and start seriously negotiating with Democrats.
Roger Wicker, Republican Senator from Mississippi, said, "When Speaker Pelosi's troops get back into town next Monday, we'll see if there's a frustration among enough of her troops and marginal districts to get us back to the negotiating table."
Chris Murphy, Democratic Senator from Connecticut, said, "I still think we'll get there. I just don't think that Republicans will go back without having passed something."
This is a pretty crappy way of doing things, frankly.  It's like when you get in an argument with your significant other or a friend or somebody, and you've both made your points, and you've both criticized each other, and then you just wait, wait for the other person to cave in and say they were wrong and that they're sorry.
That's what's going on here, and it sucks, and neither side wants to appear weak going into the election and people are paying for it.
And frankly, these senators, I think a lot of them are clueless as well.  Because these common man, common woman senators, and even more so in the House, they're not the ones making the decisions here.  Of course they want to sound hopeful for their constituents, but congressional stimulus will only happen when the top brass in both parties want it to happen and come to an agreement on how it should happen, that's just the honest truth.
You know that, I know that, but of course the voters in many of these senatorial races that we're going to have here in November, they don't know that, if their incumbent senator can come in and say, "Ah, well, we Republicans, all of us except for one voted to extend your unemployment through the end of the year, we voted to give you struggling small businesses more Paycheck Protection Program money, it's those scoundrels on the other side that got in our way," and the Democrats can say the same thing with their HEROES Act, if their man or their woman comes home and goes to these town halls and parades that line, that's good enough for a lot of voters out there, and that's the whole purpose of things like this Republican skinny bill, it's not really to help anybody, but it's to help Mitch McConnell maintain a Republican majority in the Senate so he can retain his position as Senate Majority Leader, but the harsh reality is that this is a top-down thing, these senators can sound as hopeful as they want, but unless there's an agreement from on high, further congressional stimulus isn't happening.
Personally, I think that the Democrats are in a better position right now with respect to congressional control, it would be a complete long shot for them to lose the House, and as for the Senate, McConnell himself has said he thinks it's a 50-50 shot as to whether Republicans retain control of the Senate with these elections coming up, that is what Mitch McConnell said yesterday.
But then what do Republicans, or whom do Republicans have in their pocket?  Donald Trump.
A guy who would probably be totally willing to really push the envelope when it comes to presidential power and authority and perhaps do something that friends would call unconventional and perhaps enemies would call unconstitutional for the good of the people to help his election chances.  I am of course referring to further executive actions from 1600 Pennsylvania Avenue.
Point is, with the indications we can see at this point in time, it doesn't look like Congress is going to do more stimulus any time soon, because both parties have really dug their heels in at this point and have said the same thing for the past few weeks, blaming the other side.
I'm sorry, but that's just what's going on, and unless there is some capitulation from on-high in a significant way, we can't rely on Congress for more stimulus before the election because in three weeks the House leaves until after Election Day, because everybody in the House is up for reelection every two years, so they have to go back and talk and rally and get votes, and they're not scheduled to return until the third week of November.
Unemployment Update
Here's the updated map.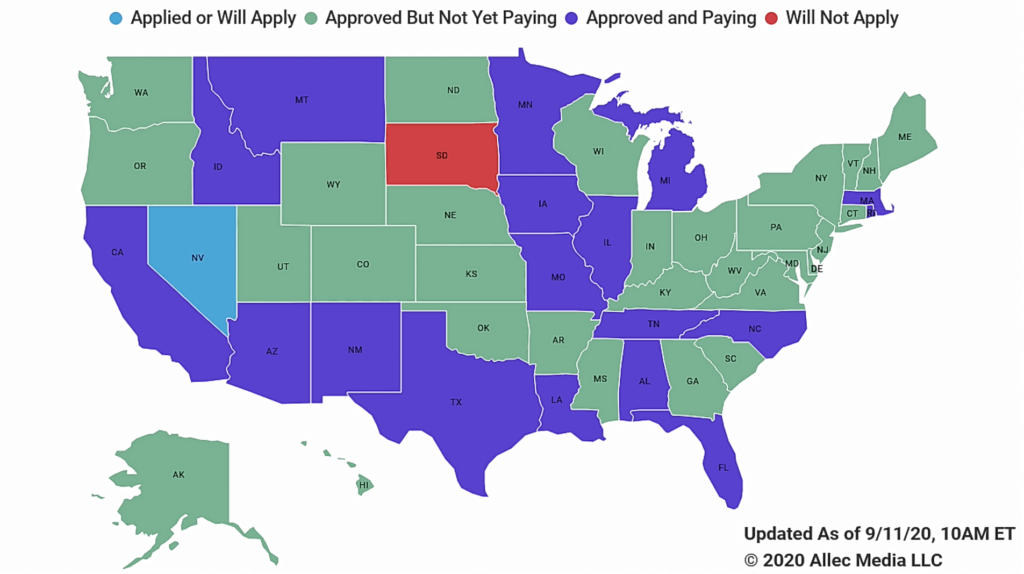 Like I told you yesterday, FEMA has guaranteed six weeks of payments to those states that applied by yesterday's deadline, which are all states except South Dakota.  I've seen a lot of you asking about New York State.  The New York Department of Labor twitter account said next week.
Logan Allec, CPA
Logan is a practicing CPA, Certified Student Loan Professional, and founder of Money Done Right, which he launched in July 2017. After spending nearly a decade in the corporate world helping big businesses save money, he launched his blog with the goal of helping everyday Americans earn, save, and invest more money. Learn more about Logan.