Senate Talks LOBSTER ROLLS While America Starves
COVID-19
Senate Talks LOBSTER ROLLS While America Starves
This is my stimulus update for Saturday, September 12.
Don't want to read? Watch the video here!
What the Senate Did AFTER Rejecting Stimulus (Lobsters, Etc.)
It really irks me that the Senate this week right after failing to pass another stimulus bill went on with business as usual, proceeded to do something almost farcical.  Do you know what they did right after that failed stimulus vote was taken?
Did they deal with other pressing matters?
Did they try to at least do something, anything, else that benefits we the people?  No.  Right after stimulus bill failed to pass, they decided that we need a National Lobster Day, and they proceeded to declare September 25 National Lobster Day, that is what McConnell brought to the floor.
I am not making this up, and to prove it, here was the Senate Floor schedule for this past Thursday, you can see Senate Resolution 178, that's the stimulus bill, I know it looks like a human rights bill about Uighurs, but they basically rewrote that bill to skip some procedural steps and filled it with stimulus, but right after that, what do you see?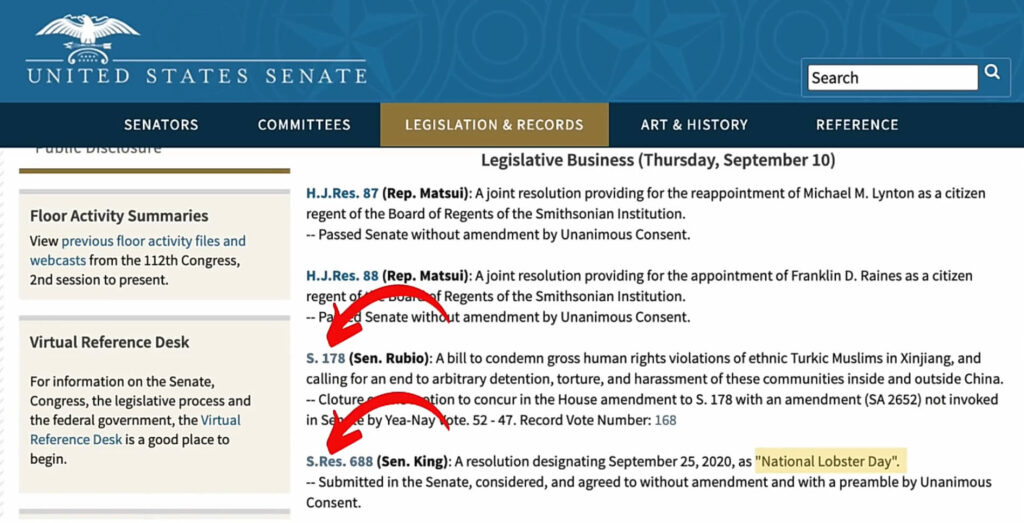 You see Senate Resolution 688, "Submitted in the Senate, considered, and agreed to without amendment and with a preamble by Unanimous Consent," and here are some excerpts for you from this incredibly important piece of Senate business that naturally made sense to bring up after yet another feeble, failed at stimulus, here are some extracts from this incredibly important piece of Senate business:
"Whereas historical lore notes that lobster likely joined turkey on the table at the very first Thanksgiving feast in 1621, and lobster continues to be a mainstay during many other holiday traditions; Whereas lobster is an excellent, versatile source of lean protein that is low in saturated fat and high in vitamin B12; Whereas lobster is continually incorporated into trending recipes such as pho, gnocchi, hummus, and fried lobster and waffles; Whereas the peak of the lobstering season in the United States occurs in late summer; Whereas countless people in the United States enjoy lobster rolls to celebrate summer, from beaches to backyards and from fine dining restaurants to lobster shacks; Whereas lobsters inspire children's books and characters in television shows in the United States; Whereas lobsters have inspired artists in the United States and throughout the world for hundreds of years; Whereas lobsters have been, and continue to be, used as mascots for sports teams; Resolved, That the Senate designates September 25, 2020, as 'National Lobster Day'; and encourages the people of the United States to observe the day with appropriate ceremonies and activities."
So no stimulus checks, FEMA unemployment drying up, and you all want us to celebrate National Lobster Day in a couple weeks with appropriate ceremonies and activities.  This is what your Congress is doing, talking about lobster rolls and lobster pho, while you starve.
Anyway, look, I was really hoping for more of a showdown in Congress this month for stimulus, that they would do something before the election, but it doesn't look like it.  We've been in this holding pattern for over a month now, it has been over a month since stimulus negotiations broke down, and little progress has been made since then, apart from the fact that yes, Republicans and Democrats are now "only" nine hundred billion dollars apart.
McConnell Pessimistic, Pelosi Optimistic
But you didn't hear it from me, you heard it from Mitch McConnell, who yesterday said, "I wish I could tell you we were going to get another package but it doesn't look that good right now."
Doesn't look good, definitely not as good as fried lobster and waffles, that's for sure.  Nevertheless, interestingly enough, Pelosi expressed some optimism yesterday when asked if Congress will pass stimulus before the election.
She said, "I'm optimistic. I do think that we should have an agreement.  That's what we all want."
What I'm Looking For Next Week
But I'm not holding my breath, if I had been holding my breath this whole time since August 8 when negotiations broke down, I would be blue in the face, so what am I looking at going into next week, I'm keeping an eye more so on the White House than on Congress, quite frankly, despite the fact the House comes back next week, because here's what the White House is doing right now.
Have you ever like really needed cash and then you go through all your couch cushions and in the little crevices of your car and junk drawers and that kind of thing to look for some extra money?
That's exactly what the White House is doing right now.  They're looking for money in accounts, combing the books, money that's already been appropriated by Congress that they can use for more stimulus.
At this point, the White House is our best bet unless something radical shifts in Congress.  It's not ideal, but think of it.
Like him or not, as a result of Trump's actions, people are getting $300 a week, and people are not being kicked out of their homes right now.
Are Trump's executive orders ideal?  No.  Six weeks of unemployment, it's not ideal, it's watered-down, but it's something.
$300/Week Unemployment Update
Speaking of unemployment, yesterday FEMA did approve Nevada for the grant, that means all states have been approved by FEMA for the $300 weekly boost except of course for South Dakota, which did not apply.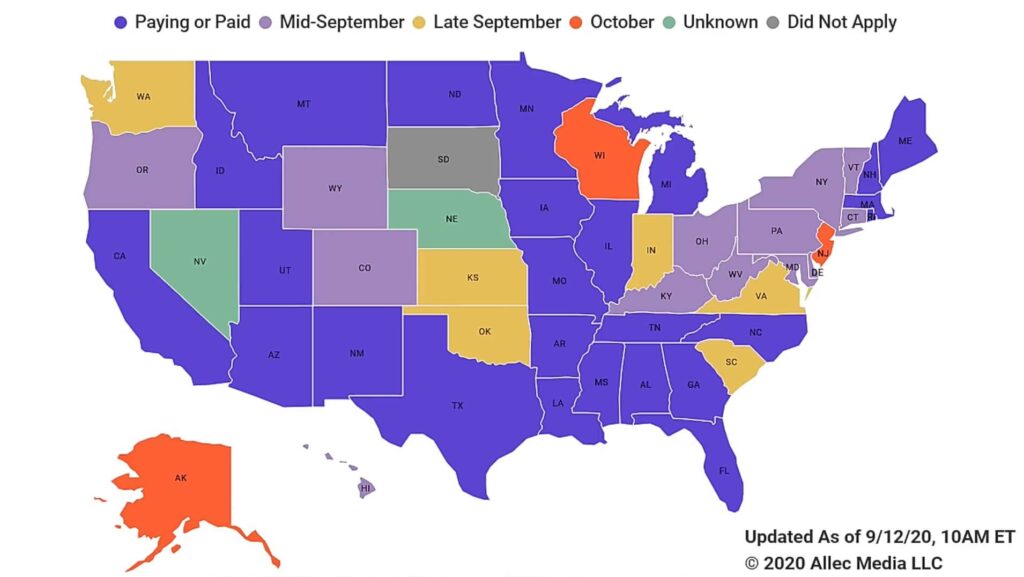 Now that all states have been approved, I've added some new colors to the map here indicating that for approved states that have not starting paying yet when you might expect the state to start paying, so the states in light purple are expected to pay in mid-September, that could be as early as now or possibly as late as late next week, the states in yellow are late September, and the states in orange are projected to pay in October.
As we know, states don't always keep their promises, so this is just a guestimate.
Logan Allec, CPA
Logan is a practicing CPA, Certified Student Loan Professional, and founder of Money Done Right, which he launched in July 2017. After spending nearly a decade in the corporate world helping big businesses save money, he launched his blog with the goal of helping everyday Americans earn, save, and invest more money. Learn more about Logan.