New Bipartisan Stimulus Plan To Be Released This Week
COVID-19
New Bipartisan Stimulus Plan To Be Released This Week
This is my stimulus update for Monday, September 14.
First I will go over second stimulus news and I will give the latest on state-by-state unemployment news for the $300 or $400 a week retroactive unemployment.
Don't want to read? Watch the video here!
New Bipartisan Stimulus Proposal from Problem Solvers Caucus
I didn't do a stimulus update yesterday because frankly there wasn't much to talk about.  I did still create a video yesterday on GDP and the 32.9% annualized drop that we saw last quarter.
So in my August 16 update — almost a month ago — I told you about the bipartisan Problem Solvers Caucus, which is a coalition of fifty members of the House of Representatives.  Twenty-five Republicans and twenty-five Democrats, the Wikipedia page says there's forty-eight members, that's wrong, there are fifty, so if any of you all are into updating Wikipedia, update that.
So what's their deal?  Well, as their name implies, their mission is to solve problems, namely find bipartisan solutions to partisan problems such as failed stimulus relief negotiations and legislation.  And these fifty members of the House, these congressmen and congresswomen within this Problem Solvers Caucus, they have promised to vote together, all of them, for any piece of legislation that gets at least 75% support from the Problem Solvers Caucus as a whole and gets at least 51% support from the Republican members of the caucus and gets at least 51% support from the Democratic members of the caucus.
And according to Treasury Secretary Steven Mnuchin this morning on CNBC the Problem Solvers Caucus is going to release — wait for it — their own stimulus plan today.  Will it happen today, not sure, but I'm curious what these "problem solvers" will come up with.  Will Pelosi like what they're coming up with, will some of the Republican fiscal hawks in the Senate like what they come up with, I don't know, but this proposal — whatever it is — is significant because it will be the first truly bipartisan stimulus proposal we've seen since the CARES Act, excluding of course things like the bill that extended the PPP.  Is this Problem Solvers' proposal going to be our stimulus savior, I kinda doubt it, but the fact that we're finally going to see something bipartisan is hopeful.  That said, it could just be another bill whose purpose is as members of the House, many members within this caucus are relatively young and new, so many the purpose is just to put something together so they can tell their constituents, "Hey, I really tried my darndest to do something, but it was the old brass in both parties, Pelosi and Mitch who have been in D.C. way too long, they're the ones to blame, not me."
Mnuchin Suspects Pelosi Is Playing Politics With Stimulus
Anyway, Mnuchin also said that he is fearful that Nancy Pelosi is letting politics get in the way here because she doesn't want to help people before the election.  But he did say that he and Pelosi will be talking this week about the government funding bills, the continuing resolutions that we've spoken about previously on the channel.
Unemployment Update
Like I said last week, all forty-nine states that applied, as well as the District of Columbia, have been approved by FEMA for the grants, the ones in dark purple have paid or are paying at least in some respects, some states they might only be paying PUA recipients right now and everybody else is going to get it later, but the dark purple states are the ones that have paid or are currently paying.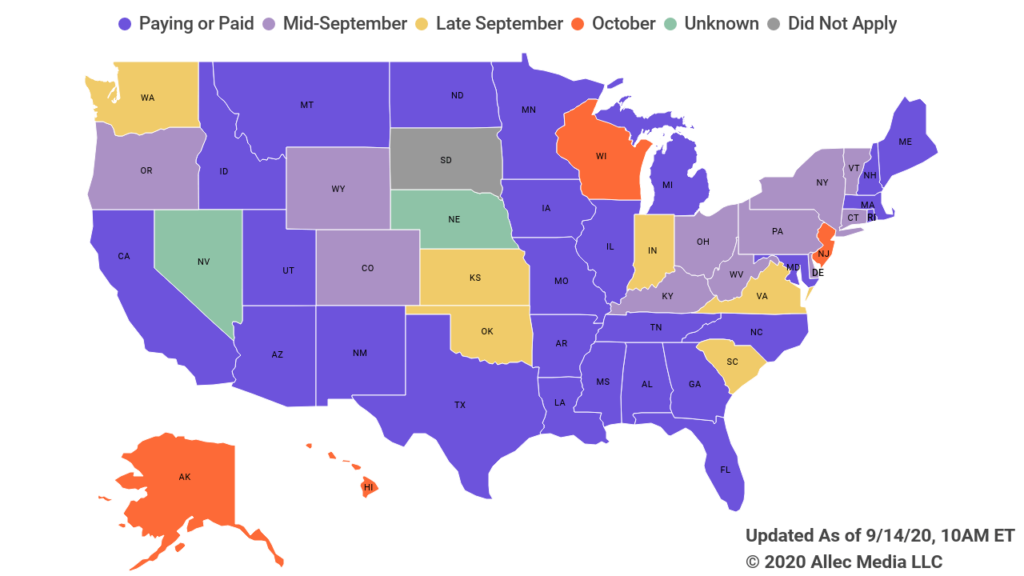 The ones in light purple I expect to pay or start to pay hopefully this week.  Colorado expected September 17, Connecticut has said mid-September, Delaware is reportedly starting to issue payments today, New York said they would roll out payments this week, Pennsylvania has said payments will start today, Ohio expected this week, Kentucky supposedly paying now or later this week.
The ones in yellow are expected to pay in late September.  Indiana has said week of September 21, that's next week, Washington week of September 21 as well, Virginia said it hopes to pay by September 30.
And the ones in orange I don't expect to pay until October.  Hawaii, for example, is now saying they will start processing payments in October.
Nevada and Nebraska were the last two states to be approved by FEMA for the grants, and we haven't really heard anything yet as to when they plan to pay.
Logan Allec, CPA
Logan is a practicing CPA, Certified Student Loan Professional, and founder of Money Done Right, which he launched in July 2017. After spending nearly a decade in the corporate world helping big businesses save money, he launched his blog with the goal of helping everyday Americans earn, save, and invest more money. Learn more about Logan.