If you like this article,

please Pin this image 

👇
I saw an article yesterday that was pretty revealing about the sorry state of American financial habits.  The gist of it was that since this year some I.R.S. refund checks will be delayed, big-box retailers are bracing for diminished pre-Super Bowl T.V. purchases.
Wow.
So let me get this straight, America.  You're up to your necks in credit card debt, you have over $1.2 trillion student debt outstanding, and nearly half of you have no retirement savings accounts at all.
And the first thing you do with a little bit of extra cash in your pocket is spend it on a television set in anticipation of the big game.
And Corporate America milks it.  


When you get a big tax refund, there's a temptation for you to spend those surprise hundreds or even thousands of dollars on stuff you don't need or even want.  If you really wanted it, you would have disciplined yourself to save up for it over time rather than splurging on it after an unexpected windfall.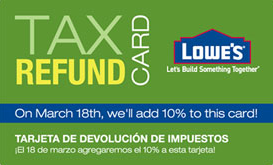 But wait.  There's an even bigger reason why getting a big tax refund isn't so great.  If you get a big tax refund, that means that you essentially gave the government an interest-free loan on every paycheck.  Instead of you getting that extra money every two weeks, you had to wait up to a year to get it back.  This is money that you could have put to work for you rather than for Uncle Sam.
And how, you ask, can you put your money to work for you?  Find out next time.  🙂
Featured image was taken by Franklie Leon and is used under Creative Commons (CC BY 2.0).
Earn 💵 Save 💰 Grow
Sign up to get new posts about earning, saving, and growing money! 💯