Most online survey companies are trash. However, I have painstakingly gone through pretty much every survey company online and narrowed them down to the top 5 survey sites based on criteria like survey payout, frequency of surveys, etc.
Remember to always be honest and truthful with your answers.
Happy earnings! 💰
UPDATED OCTOBER 2017
There are a lot of spammy survey companies out there — believe me, I've tried pretty much every survey site on the Internet — but Swagbucks, Vindale Research, Survey Junkie, Survey Voices, and American Opinion are 100% legit and not spammy. Their payouts are excellent, and they pay you in cash via PayPal.
You can take surveys in your spare time or while watching TV. You can even take them from your phone while on the bus or waiting in line at the store. The earnings possibilities are endless!
Members receive $5 just for joining and earn up to $35 per survey! Swagbucks is known for giving out fun, top-paying surveys.  And you can also get paid to play games and watch TV!
And yes, you are paid in cash via PayPal!  So if you'd like to start taking Swagbucks surveys for cash, click here to grab your $5 sign-up bonus and get going!
Members receive $2 just for joining and earn up to $50 per survey!  Vindale Research partners with companies like Disney, Amazon, Netflix, and Starbucks to give them consumers' input on the products they use everyday.
If you'd like to make your voice known about products you use and how you believe they can be made better, then click here to sign up for Vindale Research and get a $2 bonus just for joining!  Also, with Vindale Research, you receive your earnings instantly via PayPal or paper check.


Survey Junkie's interface is super smooth and intuitive (unlike the majority of survey company websites that look like they were built in 1997), and members are paid in cash via Paypal.  Oh, and Survey Junkie also has an 8.9/10 rating on TrustPilot — the highest of any online survey company.  Click here to start earning money with Survey Junkie.
Another great thing about Survey Junkie is that they tell you exactly how much you can expect to earn in what amount of time per survey.  For example, before I even begin, I know the survey below will make me 125 points (which equals $1.25) for 8 minutes of my time.  Not too shabby!  If you'd like to start making extra cash with Survey Junkie, click here now.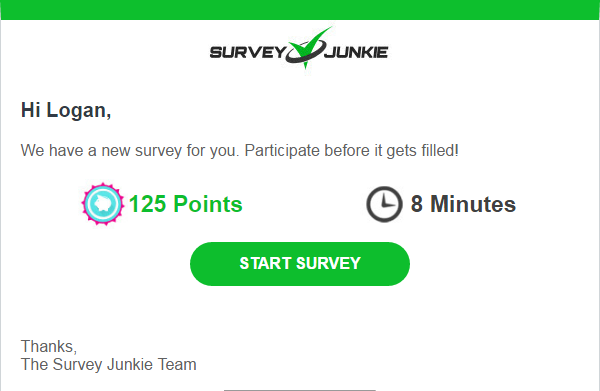 You can make over $300 just for sharing your opinion! Survey Voices really puts in the work to make sure that only the top paid survey offers are presented to their users. Click here to start earning with Survey Voices.


Over $30,000,000 paid out to date! American Consumer Opinion is a huge survey network with over 7,000,000 members. It's super legit, not spammy, and accredited by the Better Business Bureau. How 'bout that? Click here to start earning money with American Consumer Opinion.
Earn 💵 Save 💰 Grow
Sign up to get new posts about earning, saving, and growing money! 💯