Basics: Gentreo is an estate planning document service that seamlessly integrates your estate into your digital life.
Pros: You can prepare documents in less than 30 minutes and store them safely for when you need them.
Cons: There are some less expensive options out there that have a lot of the same features. No trust version is currently available.

FEES

• $49.99/year basic
• $129.99/year Basic+
• $249.99/year Gold (not currently available
• $399.99/year Platinum (not currently available)

REFUND POLICY

Gentreo does not list a refund policy on its site. It also automatically renews in a year if you don't cancel it.

TIME REQUIRED

• 20 minutes to draft will and read explanations, plus time to review the completed documents
• 5 minutes to complete other documents.
The Gentreo homepage discusses how the product came about: the co-founder of Gentreo, Renee Fry, took her parents to an estate planning lawyer who charged them $10,000 to prepare what she believed were standard documents that the lawyer had provided to other clients. She thought: There has to be a better way. And Gentreo was born.
It makes sense to have a more affordable alternative, especially if you are only get recycled estate planning documents. However, the Gentreo site does disclaim that it is "not a law firm or a substitute for a law firm" and that it simply provides self-help services.
With this in mind, this product may be a perfect fit for some clients while not being appropriate for others.
In this Gentreo review, I will give you an overview of what Gentreo has to offer and its pros and cons so you can decide if it is a good fit for you.
Related: Get free life insurance quotes in minutes from Prudential, AIG, Mutual of Omaha, Principal, and more! No contact information required — it's free and easy.
Gentreo Overview
Here are the basics behind the Gentreo platform and products.
What Is Gentreo?
Gentreo "provides self-help services at your specific direction." It is a platform that allows you to prepare a will and several other estate planning documents based on your answers to questions and the information that you input.
Additionally, you can upload and store important documents in the digital vault.
How Gentreo Works
Much like with a tax planning program, you answer a series of questions and type in information specific to your situation.
The information that you input replaces the underlined portions in the estate planning documents that are generated. The remainder of the document includes standard boilerplate language that is common on similar documents.
Gentreo describes this as a simple three-step process:
Step 1: Protect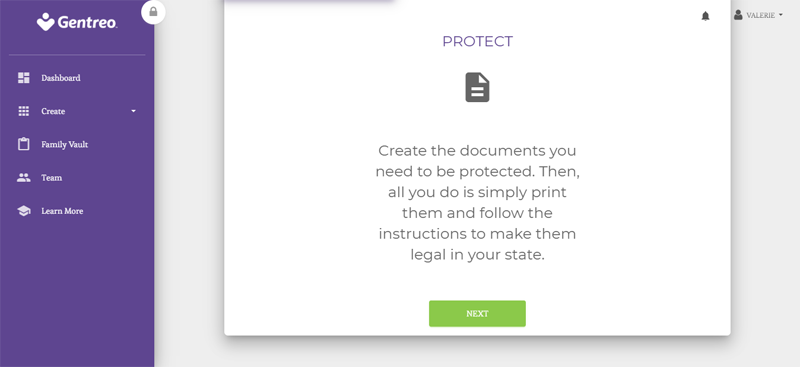 Step 2: Share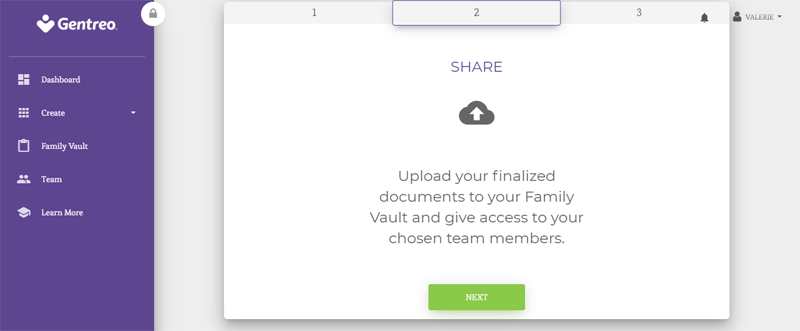 Step 3: Relax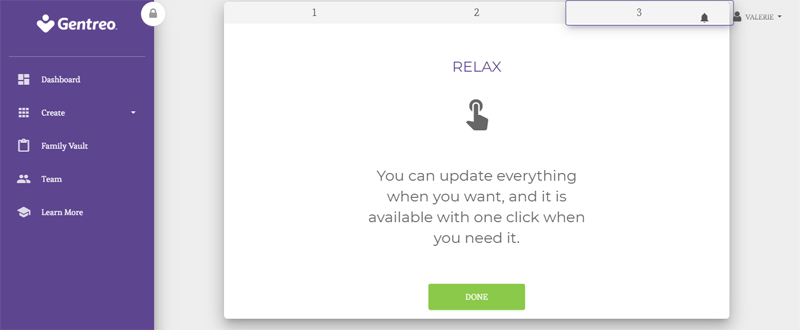 Gentreo vs. an Attorney
You can have your estate planning documents drafted with Gentreo through a simple question-and-answer format. It provides a good template for basic wills and allows you to input successor beneficiaries for your property as well as specific gifts of tangible property, intangible property, and cash.
You can exclude certain beneficiaries if you wish. If you do, it provides clear language stating that this is your wish. It also allows you to name successor guardians and personal representatives and backups for those, too.
Gentreo also allows you to draft other estate planning documents other than your will, including powers of attorney and medical documents. It also stores your documents safely online.
As stated above, Gentreo is not a lawyer and you do not have attorney/client privilege by using the site. Attorneys who provide estate planning services are generally much more expensive than Gentreo.
If you have specific concerns or estate planning needs, an attorney would be better equipped to address them and create safeguards. Additionally, attorneys can take steps to make the process easier on your witnesses, such as including a self-proving affidavit, which is not available with Gentreo.
Gentreo does not currently provide trusts, while many estate planning attorneys — as well as other do-it-yourself estate planning websites — do.
If you have special instructions to leave about how your property is managed, a trust might be better. Trusts are helpful because you can transfer property to them and avoid probate.
If you own any property at the time of your death, your estate will usually have to go through probate. Gentreo plans to offer trusts in the future with its Gold Plan.
What You Get with Gentreo
You can create several estate planning documents with Gentreo. Additionally, you can store and upload documents through its digital vault. You can also share this information with trusted people.
The current and upcoming plans include:
Basic
The basic plan is $49.99/year before any discounts. It includes the following documents:
Health Care Proxy: Nominate someone to make medical decisions for you.
Living Will: Explain your wishes for life-sustaining treatment and ongoing medical care if you become terminally ill or permanently unconscious.
HIPAA Authorization: Give a trusted person the right to access your private medical records.
Power of Attorney: Designate a person to handle your financial affairs for a limited time or if you become disabled.
Emergency Card: Provide your emergency contact information, current list of medications, a person who has access to your estate planning documents, your health insurance provider and number, your blood type, your medical conditions, your allergies and whether you are a blood donor in case of an emergency.
Family Vault: Provide access to your documents to upload, store and share your documents.
Unlimited Sharing: Share your documents with as many people as you would like, as many times as you would like.
Basic+
Basic+ offers all of the same access and features as the Basic plan, but it also allows you to draft a simple will and pet documents. The annual cost of Basic+ is $129.99.
Gold
The Gold plan is not currently available. Its projected price is $249.99/year and includes everything from the Basic+ plan but will allow you to include a trust.
Platinum
The Platinum plan is not currently available. Its projected price is $399.99/year and includes everything from the Gold plan but will allow you to include guardianship and conservatorship documents.
Features Available for All Plans
For all Gentreo plans, you can download information and documents shared with you and can create a family vault to share with other members of your family.
You can also invite friends and family to join your team and choose which documents to share with specific individuals. You receive alerts when there are changes in your state's estate planning laws.
Additionally, you can input important information, upload documents and share information with others, including contact information, legal and business contacts, medical information, financial information, real estate, and critical assets and digital accounts to streamline your information and keep it in one convenient place.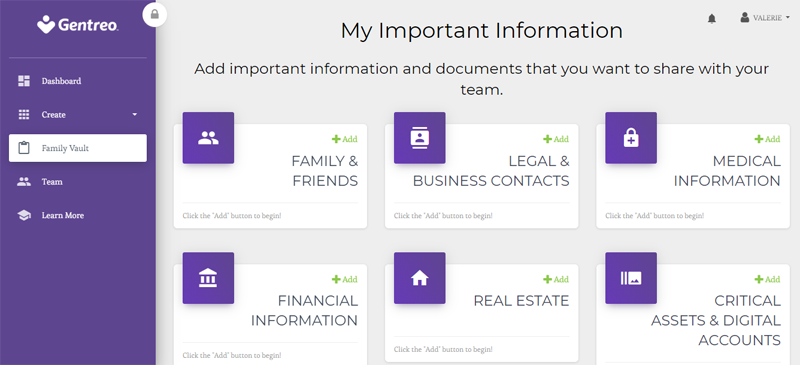 Ongoing Planning
Gentreo allows you to make unlimited changes to your estate plan for one year at no additional cost.
The model is subscription-based, and you are charged annually. It renews annually at the non-discounted price.
If you like the idea of having your entire estate plan stored digitally, Gentreo may be the option for you.
Who Gentreo Is Good For
People who would likely get the most out of Gentreo include:
People Who Want to Share Information with Others
Gentreo is ideal for people who want one repository to store all of their important documents, including their estate plan.
People Who Have Pets
Gentreo asks whether the customer has pets and allows you to leave a separate designation for a pet agent and a pet caretaker.
People with Basic Estate Planning Needs
Gentreo can generate legally binding documents that contain standard provisions and who do not need truly customized documents.
Who Gentreo Isn't Good For
While Gentreo offers several attractive features, it is not ideal for everyone, such as:
People with Real Property
Gentreo did not specifically ask about real property when drafting the will. While the residue of estate provision states that this property should be divided along with any personal property, it does not provide an explanation of the real property or its legal description.
This can make it more difficult for your family to identify the property.
People who Want to Leave Detailed Instructions
Likewise, Gentreo did not allow you to make designations regarding your real property, such as allowing your children to live on the property during their lifetime or for one child to receive the real property and the other child to receive your personal property.
Currently, Gentreo does not offer the ability to draft a trust, which usually provides you with greater flexibility to manage your assets if you become incapacitated or pass away.
People Who Are Vulnerable to Abuse
The biggest problem that I have with this product is the ability to create an extremely broad power of attorney without any limitations or safeguards. I have worked on many elder abuse cases during my legal career and just don't think this is a good idea.
There is no option to customize anything in the power of attorney document other than making it for a limited amount of time and naming your agent.
Also, the Gentreo will states that the parent of a minor will hold any inheritance you leave for them. While this will probably work out fine in most cases, some customers might wish to keep the property in trust or designate another person to manage the property if the parent has a history of poor money management.
How to Create Your Plan with Gentreo
Gentreo provides a simple interface and helpful suggestions along the way that don't require you to have a law degree to use.
Create Your Account
There are several "Get Started" buttons on the home page, under "Pricing" and under "Family Plan."
You will input your name and email address and then verify your account. Prepare an account by answering the questions and inputting the relevant information.
Select the Document You Want to Create
Click on the "Start" button beside the document you want to create.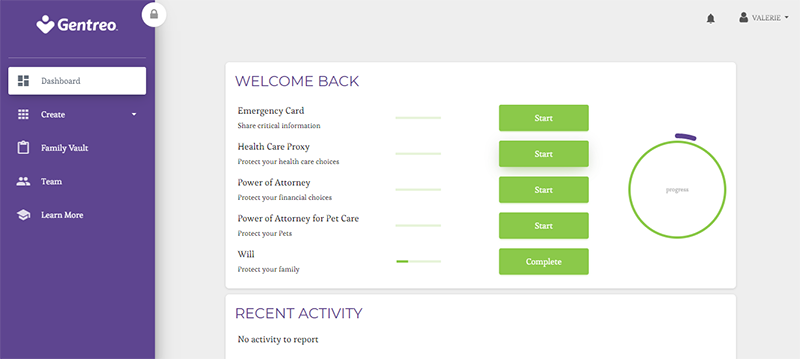 Read the Description
Read the description for the document you click on.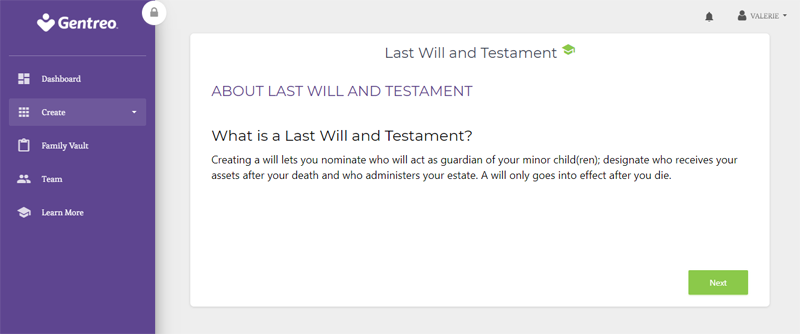 Answer the Questions
Some questions you will click on "yes" or "no" while others you will input information.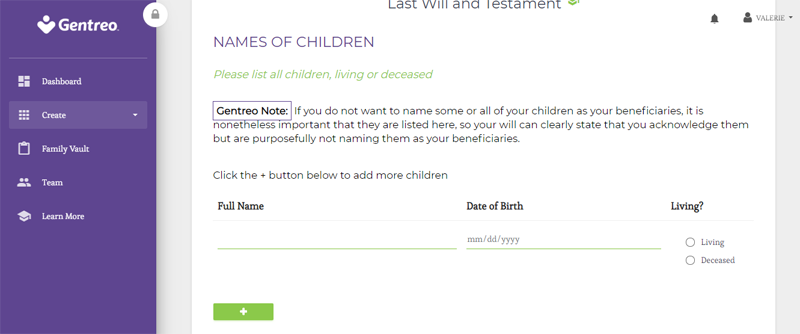 Read the helpful hints as you go along that appear with a "Gentreo Note."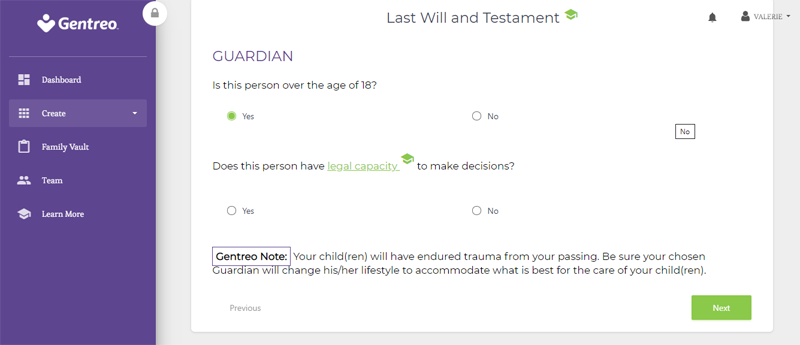 Read the Descriptions on Each Page
Depending on the answers you provide, you may come across longer descriptions. Read through this information and make sure you understand it.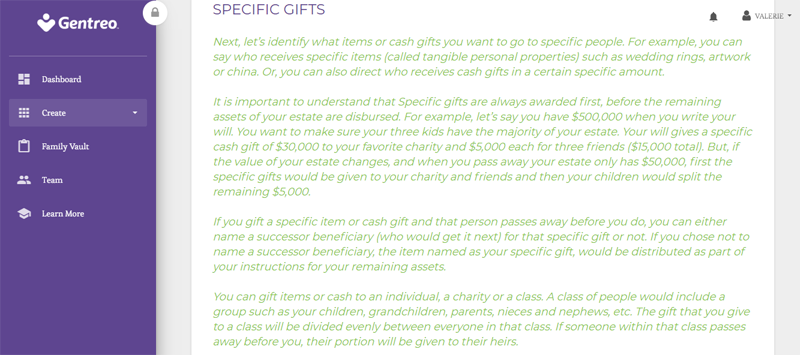 Make Decisions
You will need to make some decisions along the way, such as what specific gifts to leave to people, who to nominate as the guardian of your minor child, and whom to appoint as your personal representative.
Print Your Documents
When you finish, you can download your documents. Then you can print them.
Read the Finalization Instructions
Gentreo provides you with helpful tips on how to make your documents official, such as having them witnessed and notarized. It also gives you instructions on how to share your documents with others.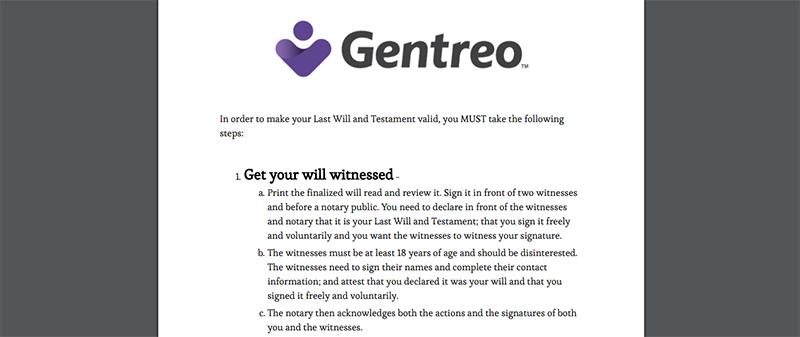 Return to Your Dashboard and Prepare another Document
Return to your dashboard and prepare the next document of your choosing. There is a helpful progress bar on the right side of your screen to show where you are at in the process.
It will also remind you to upload your finalized documents.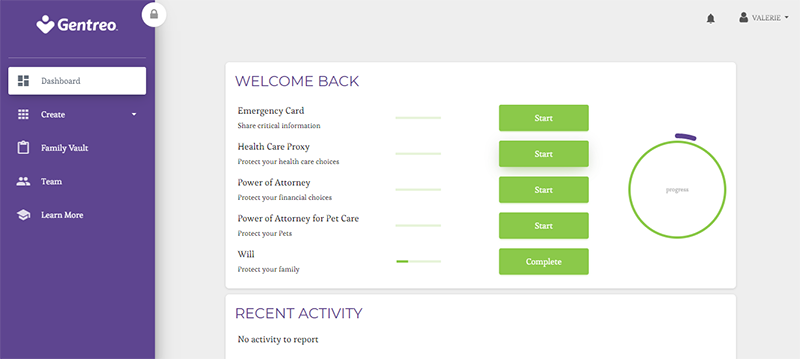 Upload Other Documents
You can also store external documents and upload documents to your digital vault.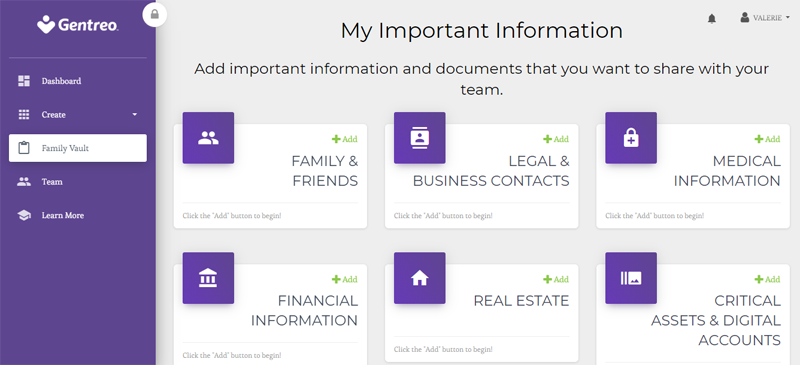 Gentreo Consumer Reviews
Better Business Bureau
Gentreo does not currently have a Better Business Bureau rating.
User Reviews
Users like how quickly they can get their estate planning documents in order and being able to immediately download them. They also feel peace of mind of knowing that the documents are safely stored, including family archives like important documents and photos.
Customer Support
Gentreo includes a "contact us" link on its site and a phone number to reach customer support.
However, customer support may be limited given Gentreo's disclaimer that states it cannot provide any kind of legal advice, explanation, opinion or recommendations. Also, there are no options to get more information from a human during the drafting process like there are with other estate planning documents.
Revisions
Included with membership
Gentreo Pros and Cons
Gentreo Pros
Affordable. The cost to create a will is much more affordable than hiring a lawyer. You can also create a number of other estate planning documents for less than $50.
User friendly. The program is easy to use and the site uses layman's terms. You can draft a will within 20 minutes and other estate planning documents in as little as 5 minutes.
Instant download. Once finished, you can instantly download your documents and take the next steps to make them legally binding.
Detailed directions. When your documents are ready, a letter details your next steps to make them legally binding and provides suggestions about to whom to give your documents and how to store them.
Gentreo Cons
Lack of customization. Gentreo only allows you a few options for dividing your estate in a will and does not yet offer the ability to make a trust.
Limited ability to leave instructions. You cannot leave detailed instructions on how your property should be managed because you cannot make a trust and the power of attorney provides broad powers with no option to remove certain powers. However, the health care power of attorney provides greater flexibility for detailed instructions.
Annual charge. Gentreo automatically renews your membership each year unless you cancel and you must continue to pay if you want continued access to your documents.
Lack of customer support throughout the process. While Gentreo does provide some useful hints as you go through the process, if you have a question, there is no chat support function or other option to instantly connect with customer service.
Gentreo Frequently Asked Questions
Can I change my documents at a later date?

Yes. You can make changes any time while you have an active membership.

How secure is Gentreo?

Gentreo allows you to safely secure your documents and uses encryption.

Are the documents state-specific?
Alternatives to Gentreo
Gentreo

Trust & Will

Quicken WillMaker Plus

US Legal Wills

Best
For

People who want to share important documents with loved ones

People who want peace of mind of having a basic estate plan in place

People who want more control over their documents and their creation

People who want to make a simple will for cheap or have a lawyer review their will for a low price

Cost
for
Will
Cost
for
Trust

$249.99/year projected price for Gold option

Lawyer
Involvement

Gentreo has a lawyer on its team who helped develop the forms, but it specifically states that it "cannot provide any kind of legal advice, explanation opinion or recommendations."

Trust & Will hired a team of lawyers to draft the documents to be compliant in all states, but there is no current option to receive advice from a lawyer while preparing your documents.

For complex questions, you can use the "find a lawyer" option to find a licensed lawyer in your area, but you would need to pay for his or her services separately.

You can pay $69 to have your will reviewed by a lawyer.

Digital
Download

Yes. You can immediately download a PDF of your documents.

Once you print them, sign them, have them witnessed and notarized, you can upload the official version to your digital vault.

You can view a PDF of your documents, but they have "draft" in the background. You need to wait for the official documents to ship to you.

Yes. You download the program to use it and can then print your documents after you draft them.

Yes. You can download the documents after you draft them.

Free
Revisions

Yes, during the time of your membership

Other
Documents
Available

HIPAA authorization, health care proxy, living will, emergency card power of attorney, power of attorney for pets, digital vault

Pour-over will, HIPAA authorization, living will, guardianship nomination, power of attorney

Living will, health care power of attorney, durable power of attorney for finances, final arrangements plan

Living will, power of attorney

Customer
Support

You can call or email support.

You can chat with support while you are drafting your documents.

Online technical support is available to registered customers throughout the year that they purchased the product.

The service provides a "knowledge base" for FAQs and offers customer service through phone, email, mail and a customer support portal
Author:
Valerie Keene, J.D.
Valerie graduated magna cum laude from the University of Arkansas School of Law where she also participated in Moot Court and the Arkansas Law Review. She practices law in Arkansas, focusing primarily on estate planning and elder law. She has prepared countless estate planning documents and has participated in a number of guardianship cases since she was admitted to the bar. She is a regular contributor to Nolo.