Basics: Rakuten, formerly Ebates, is a well-established service that helps you get cash back on online and in-store purchases just about anywhere you shop.
Pros: The service is free and works in 2,500+ stores, including travel sites, as well as 10,000+ restaurants.
Cons: Cash back payments are made on a rigid quarterly schedule with no exceptions, and customer service may be slow to resolve problems.
What Is Rakuten?
Rakuten acquired Ebates, one of the top U.S. cash-back sites, in 2014.
While it kept using the Ebates name for a few years, in 2019 it switched over to Rakuten branding.
Fortunately, the transition hasn't impacted its status as a popular way to earn cash back online.
Rakuten still offers the same kind of deals at roughly 2,500 stores in a wide range of categories including clothing and accessories, travel and vacation, health and beauty, and more.
If you'd like to watch a review of Rakuten, check out my YouTube video below!
Rakuten Features: How To Earn Cash Back Using Rakuten
Here are the features of Rakuten that help you earn cash back.
Search and Find Deals at Places You Already Shop
The easiest way to get cash back is to search for stores that you were going to buy from anyway.
Here you can see the Rakuten homepage, which displays featured deals, limited-time offers, etc.
Categories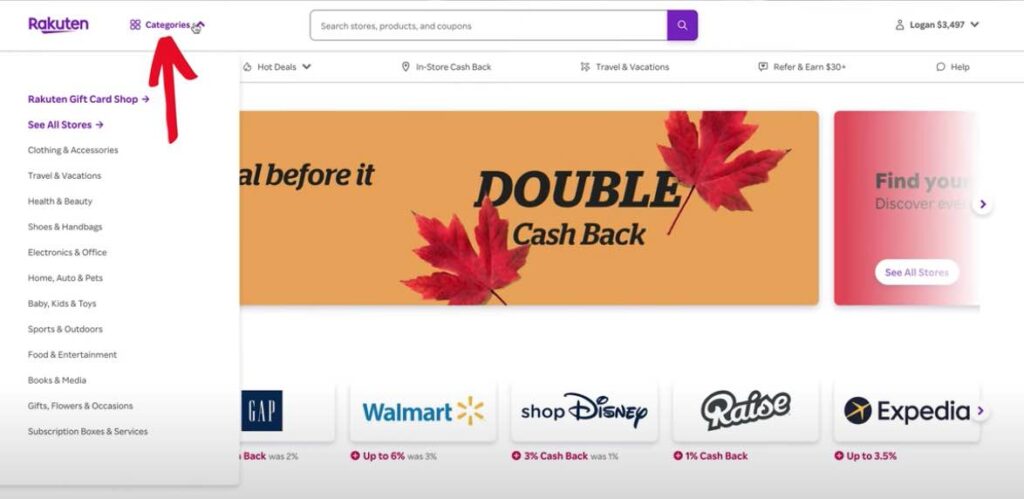 If you click "Categories", you'll be able to see the various categories of stores that you can shop at to get cash back through Rakuten.
Search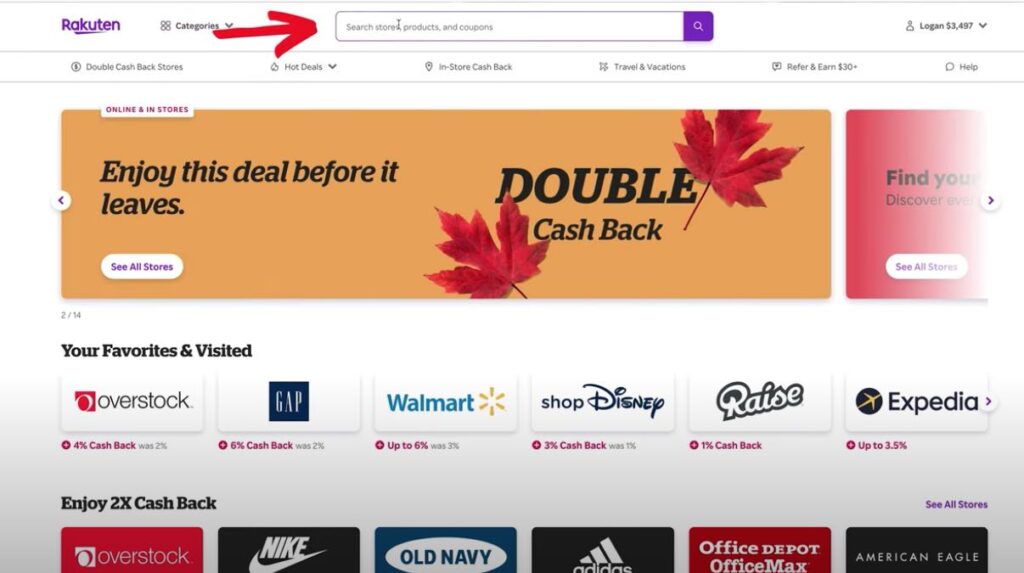 Using the search bar at the top of the page, you can search for specific stores to earn cash back at.
Rakuten Coupon Magic
When you're shopping online at participating stores using the Rakuten browser extension, Rakuten's Coupon Magic feature finds the best offer codes and/or coupons to apply to your purchase.
When you're checking out, an "Apply Coupon" alert will appear in your shopping cart. Click it, and Coupon Magic automatically gives you the best discounts.
Extra Cash-Back Events
Rakuten partners with retailers to offer more cash back than usual for a limited time.
Keep an eye out for these offers on the Rakuten site or app. One of the most popular is Double Cash Back.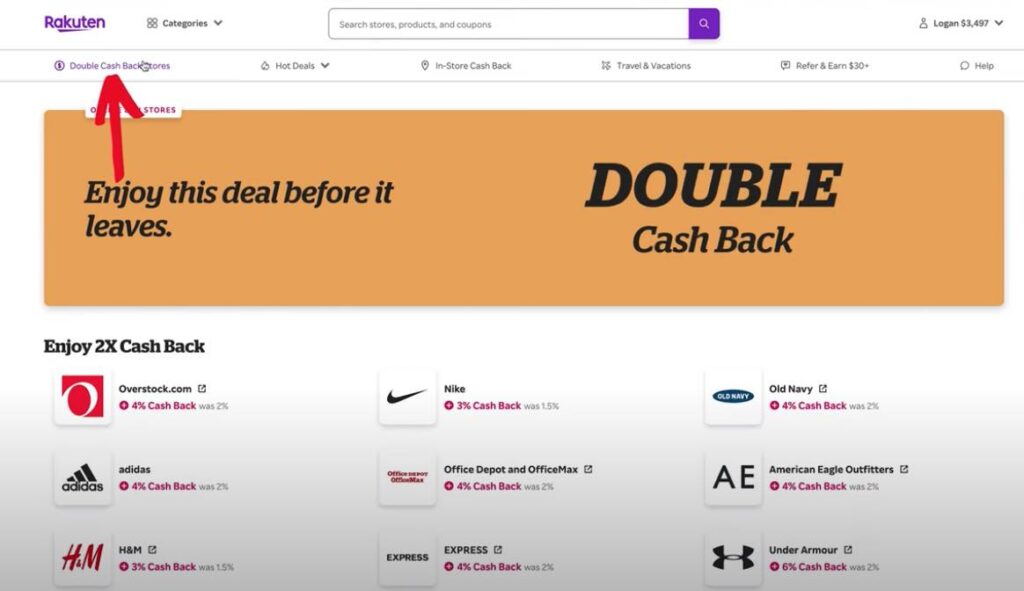 Under "Double Cash Back Stores", you can view all the stores temporarily offering double cash back through Rakuten.
In-Store Cash Back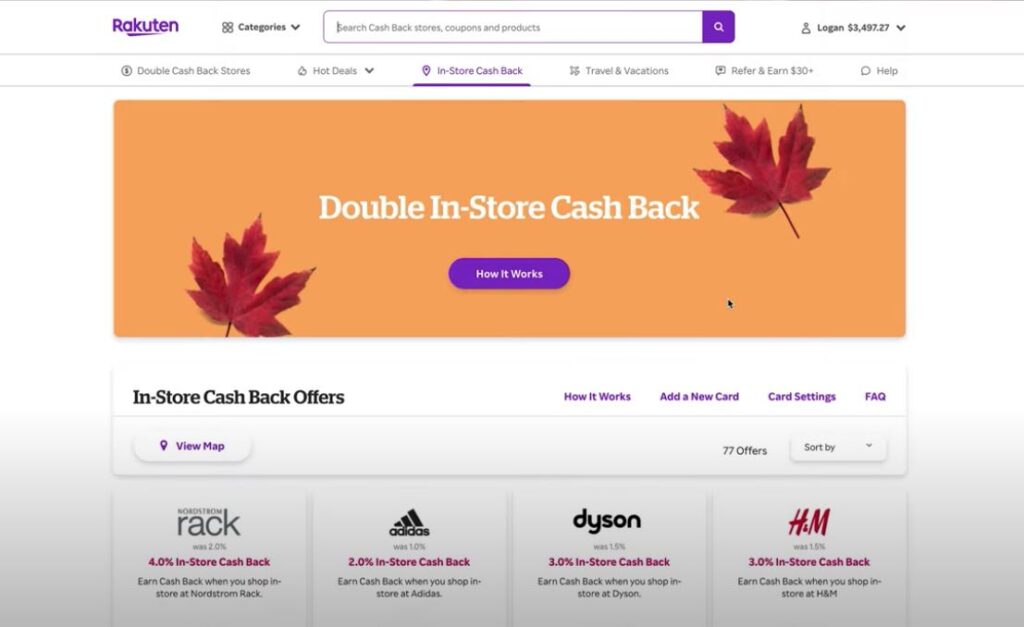 Under "In-store cash back", you can get cash back on in-store purchases by selecting an offer at a particular store, clicking "Link Offer", and then making your purchase using a linked credit or debit card.
Note that you must click "Link Offer" before each purchase to get cash back on that purchase, so if you forget something at a store and have to go back for it, you'll have to click "Link Offer" again to get any cash back.
At the store, you simply pay with the linked credit card, and the cash back will appear in your account the next day.
There's no need to show the Rakuten app at the store, or submit a receipt.
This is a big advantage over other cash-back sites. Many others, such as Receipt Hog, require you to take the time to photograph and submit a receipt for every purchase. Rakuten's process is seamless.
Warning: Cash back is usually substantially higher for online purchases than for in-store purchases.
For example, on a recent shopping trip, Macy's was offering 6% cash back for online purchases but only 1% for items bought in the store.
Travel & Vacations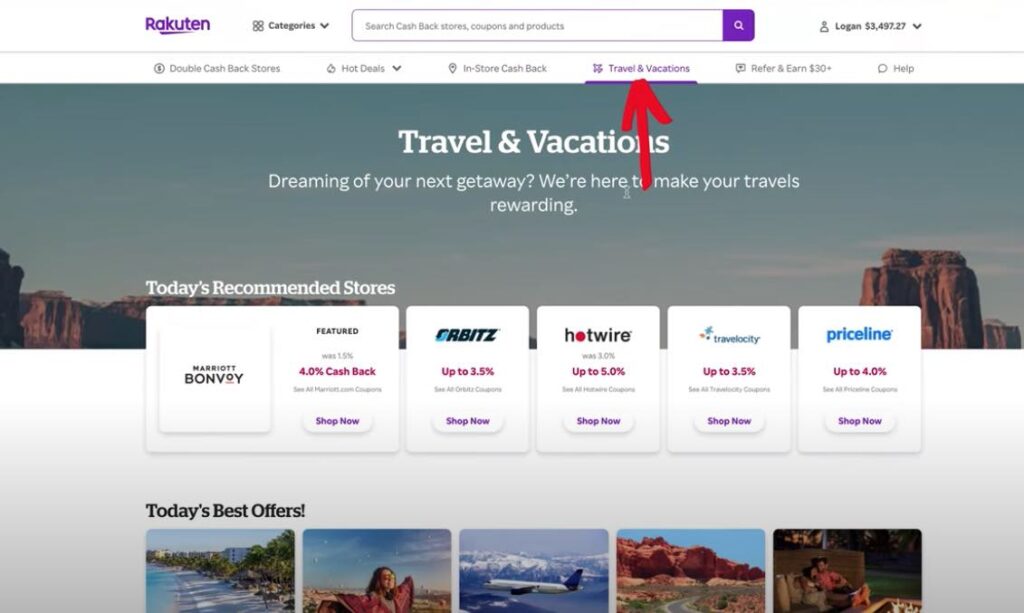 Under "Travel & Vacations", you can view the travel site offers available through Rakuten.
Rakuten offers cash back on a variety of travel-related purchases including flights, lodging, rental cars, cruises, and vacation packages.
Referral Program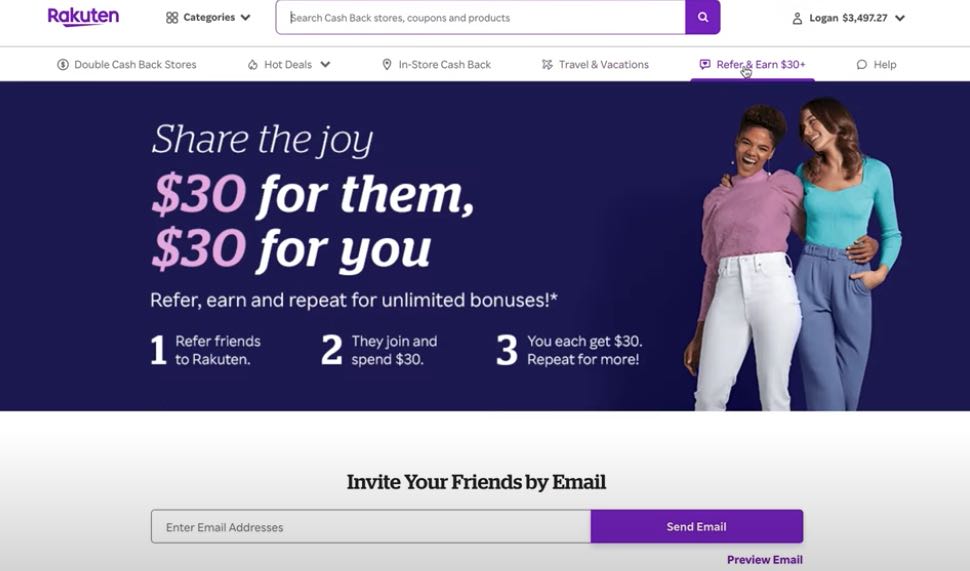 Under "Refer & Earn $30", you can get your personal referral link to invite friends to Rakuten for a bonus.
This bonus is subject to change, but currently, if someone uses your link and then makes a purchase of at least $30 through Rakuten in their first 90 days, both you and they will get a $30 bonus.
Rakuten Cash Back Visa Credit Card
The Rakuten Cash Back Visa credit card provides decent benefits and matches up well against many other rewards credit cards.
There's no annual fee, and you'll receive a $10 bonus after your first purchase.
Using the card earns an extra 3% cash back on most Rakuten purchases, on top of any other cash-back offer.
But only purchases that qualify for a cash-back offer get you an extra 3% with the Rakuten Cash Back Visa; all others earn 1% cash back.
Say you buy pet food and cleaning supplies from Target, but only the pet food has a qualifying cash-back offer from the store.
Paying with the Rakuten Cash Back Visa will get you an additional 3% cash back on the pet food, but just 1% cash back on the cleaning supplies.
There are other exceptions to the 3% cash back. You'll only get 1% purchases made through:
Rakuten Dining
Giftcardmail.com
Raise.com
Giftcards.com
These and non-Rakuten purchases earn 1% cash back. There's no limit on how much you can earn.
Other cards may get you more
While the Rakuten card offers decent rewards on qualifying Rakuten purchases, it may not always be your best option for other purposes.
For example, it comes with a 3% foreign transaction fee, so it's not the best card for traveling.
Additionally, for those purchases that only get 1% cash back with the Rakuten card, you can earn 2% with the Citi Double Cash and 1.5% with the Chase Freedom Unlimited.
Check it out: Best Cash-Back Credit Cards
Rakuten Payoff Options
You have several options for getting your cash back delivered to you. There are no fees for cashing out.
Your Big Fat Check
The classic method is what Rakuten likes to call a Big Fat Check, which will be mailed to you.
Paypal
You can also have payments sent to your PayPal account.
PayPal payments will be made to the PayPal account associated with the email address you specify in your Rakuten Account.
Whether you choose a Big Fat Check or PayPal, you'll need to add a valid mailing address to your Rakuten account for either payment method.
American Express Rewards
If you have an American Express card that's part of the Membership Rewards program, you can also choose to get your Rakuten cash back through the American Express Membership Rewards.
According to Rakuten, you can get 1 American Express Membership Rewards point per dollar for each percent of cash back you earn through Rakuten.
For example, if you spent $100 through Rakuten on a 5% cash back offer, you could either get $5 by redeeming your cash back normally or 500 points by redeeming it through the American Express Membership Rewards.
When you redeem points through the Amex platform itself, each point is worth a maximum of a single cent, meaning your rewards would be no more than you would get by redeeming your cash back normally.
On the other hand, if you transfer your Membership Rewards points to the right travel partners, you can get a value of more than a penny per point, making this a slightly more lucrative way to redeem your points.
However, getting a better value on your cash back by redeeming through the American Express Membership Rewards can be difficult and time-consuming.
So if you're looking for a simple way to redeem your cash back, you're probably better off just cashing out via check or PayPal.
Cash-Back Earnings
To view your cash-back earnings from Rakuten, you can hover over your name in the top right and then click on "Cash Back Balance".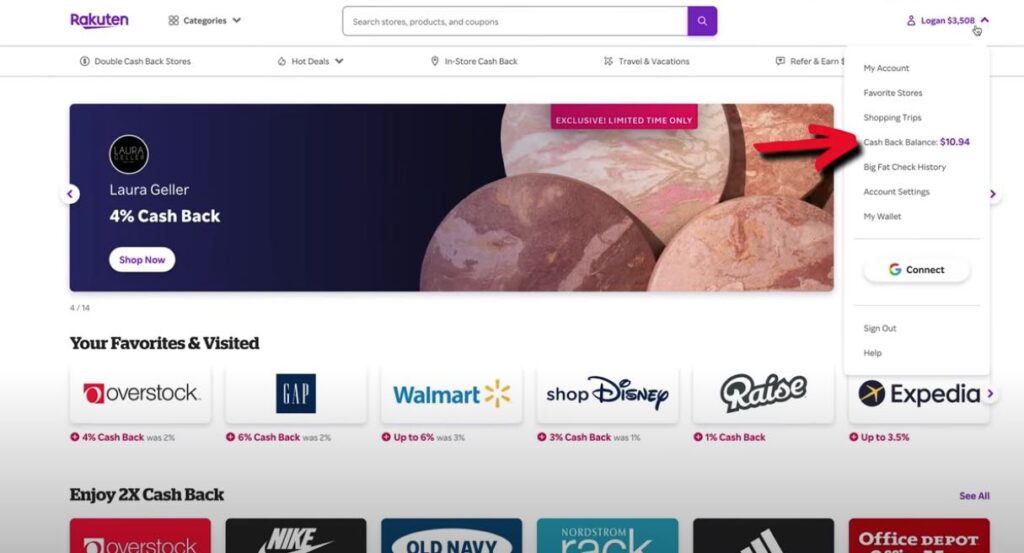 On this screen, you can see your specific transactions and the cash back you earned from them.
For example, this screen shows my Overstock purchase of $23.55 and my cash-back earnings for that purchase.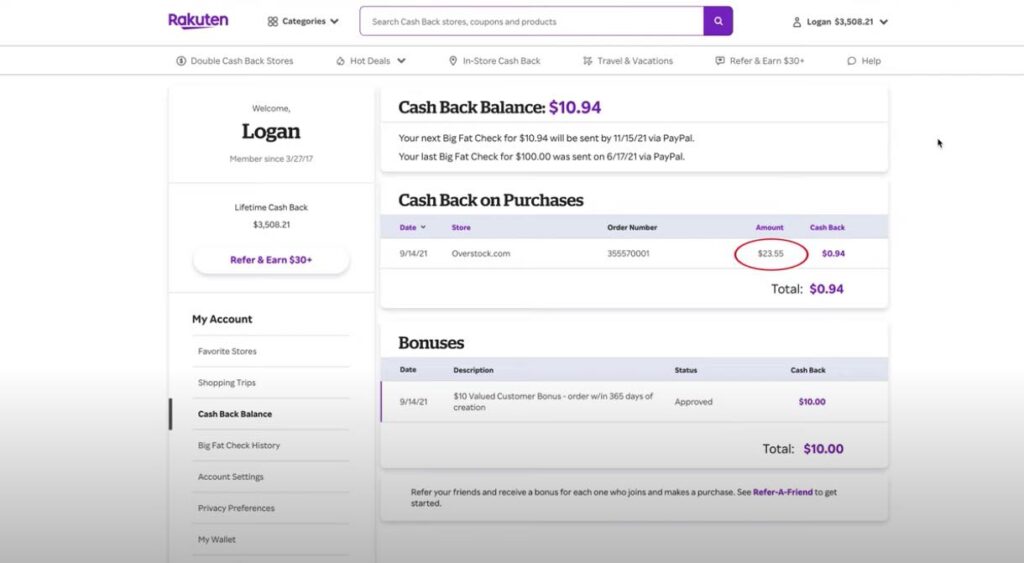 Rakuten's Payout Schedule
Unlike apps that let you cash out immediately or as soon as you have a certain minimum balance, Rakuten pays out quarterly on a set schedule.
You'll only get your quarterly payment if you have a balance of at least $5.
Balances of less than $5 are rolled over to the next quarter, meaning you'll have to wait another three months for a chance to cash out.
Rakuten Payment Schedule

| Purchase Period | Payment Date |
| --- | --- |
| January - March | May 15 |
| April - June | August 15 |
| July - September | November 15 |
| October - December | February 15 |
Payout Consistency
I've never had any problems with the consistency or accuracy of payouts from Rakuten, having always been paid the right amount.
According to Rakuten, my last payout of $100 was paid on June 17, which my PayPal records confirm.
Sign Up Bonus
As of January 2022, Rakuten offers a $10 welcome bonus. The bonus is for new members only. To get the bonus, you have to spend at least $25 through Rakuten within 90 days of joining.
This is a fairly standard bonus — other cash-back sites like BeFrugal, ShopAtHome, and TopCashBack offer a $10 welcome bonus too.
Rakuten, formerly Ebates, is a well-established service that helps you get cash back on online and in-store purchases just about anywhere you shop.
How Does Rakuten Work?
Rakuten gets commissions from retailers for directing you to their stores, then splits those commissions with you. You won't pay any fees for using the service or cashing out.
You can shop through the:
Rakuten website
Rakuten mobile app for iOS or Android
Rakuten web browser extension
Clicking on a store through any of these platforms starts a Rakuten "Shopping Trip," or order for that store, that will stay active for three months.
You're not obligated to complete a Shopping Trip that you've started, but only purchases made through Shopping Trips are eligible for cash back.
Rakuten Website
Visit Rakuten.com on any browser and sign up with your email or Google or Facebook account.
You'll get a $10 sign up bonus after you spend $25 on eligible purchases. If you have a referral code be sure to enter it.
How to Purchase Items Through Rakuten.com
To make a purchase through the Rakuten website, you can start by either searching for the store you want in the search bar at the top or clicking one of the featured offers elsewhere on the site.
I wanted to buy a little Halloween decor, so I used the search bar to search for "overstock.com".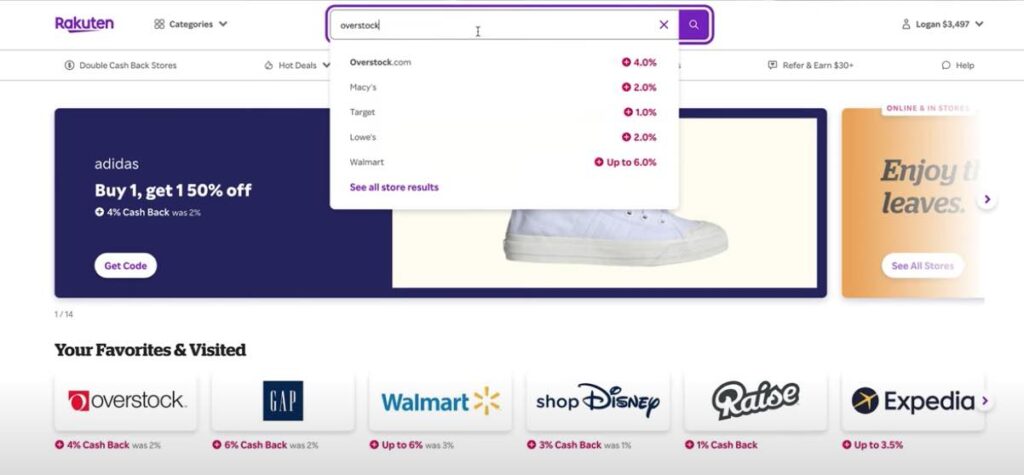 Terms
After you select an offer, you can view the terms, categories, and exclusions on cash back at that particular store.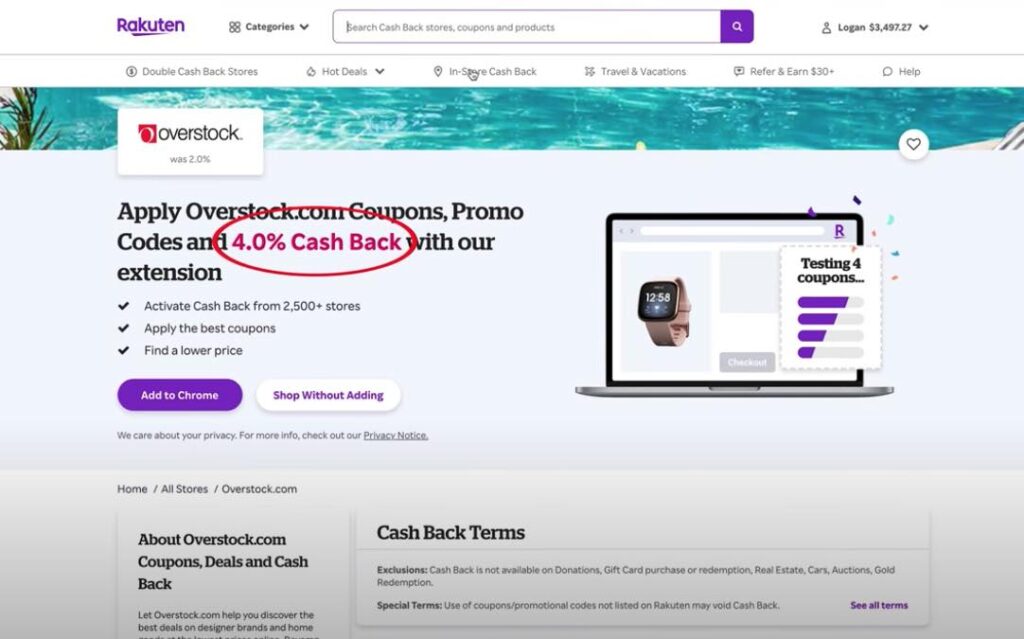 At Overstock, for example, Rakuten was offering 4% back with exclusions on certain items like real estate, cars, donations, etc.
Coupons and Promotional Codes
According to Rakuten's cash back terms for most stores, using a coupon or promotional code to make a purchase could void your cash back.
Why?
Essentially, Rakuten and other cash-back sites earn their money by receiving an affiliate commission when you make a purchase through them.
They then give you a portion of the affiliate commission they receive.
For example, if I made a purchase from Overstock through Rakuten, Rakuten would receive a commission from Overstock.
Rakuten would then give me a portion of that commission to incentivize me to continue shopping through Rakuten.
However, if I were to use a different coupon or promotional code for Overstock, another affiliate might get credit for my purchase, meaning that Rakuten would receive no affiliate commission and, by extension, I would get no cash back.
Therefore, if you use a coupon or promotional code to make a purchase through Rakuten, you may end up losing your cash back.
On the Site
Once you read the terms and decide that an offer is right for you, you can carry out your purchase on the store's website as normal after clicking "Shop Now".
After shopping on Overstock for a while, I decided to purchase a "Lighted Fall Harvest Glass Dome Decoration".
I completed my transaction as normal and then returned to Rakuten.
Rakuten Browser Extension
The Rakuten browser extension, also called the Rakuten Cash Back Button, is another tool for staying up to date on the latest Rakuten offers. It's currently available for:
Chrome, versions 21+
Safari, versions 6+
Firefox, versions 15+
Edge, all versions
Internet Explorer, versions 11+
Rather than going through the Rakuten site every time you want to earn cash back, the extension will let you know if the site you're on has any active offers.
It also checks for coupon codes and lower prices at other sites to help you avoid spending more money than necessary.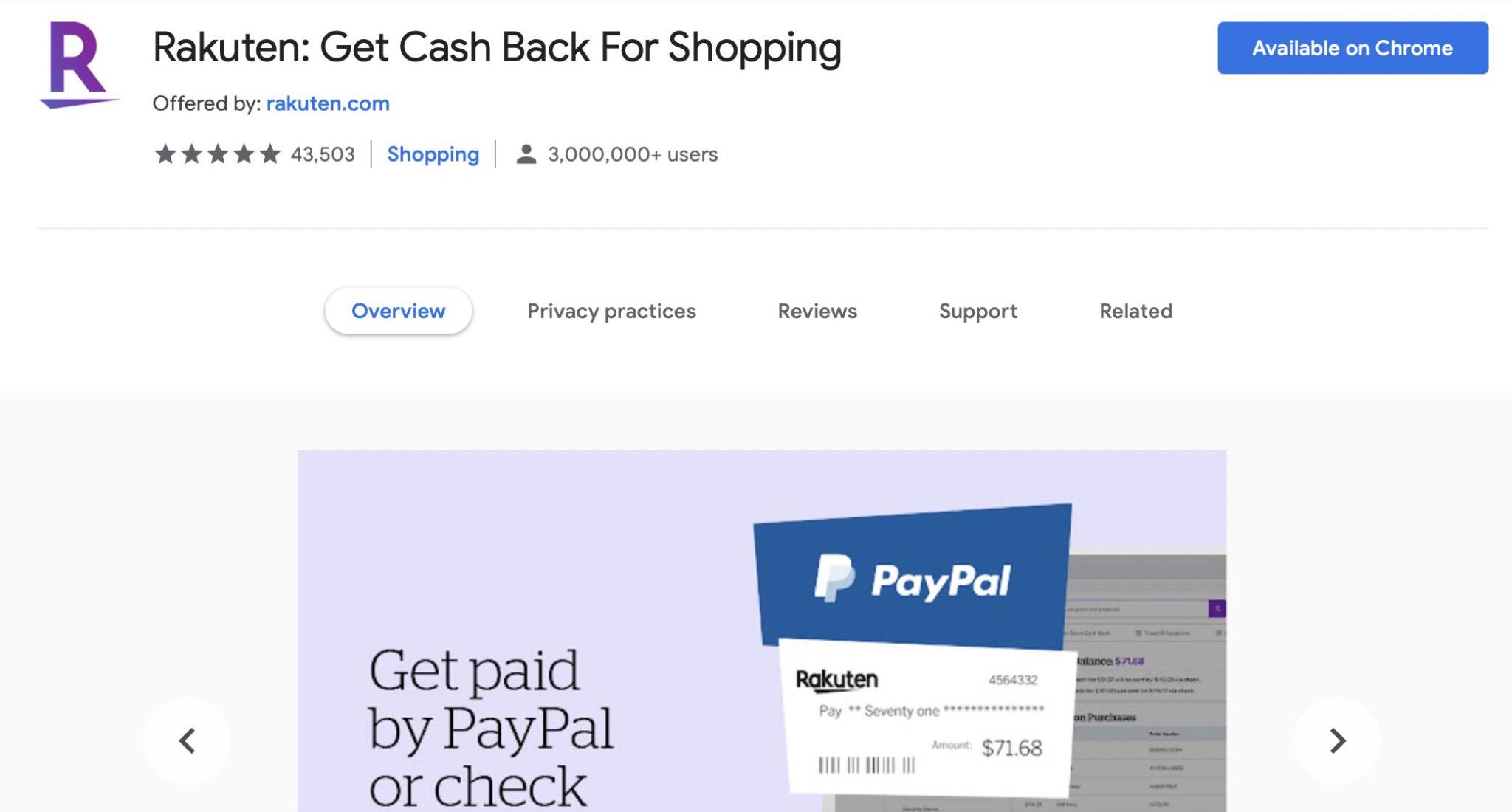 Rakuten's Chrome extension has a five-star rating on over 40,000 reviews, with more than three million total users.
It's the most convenient way to use Rakuten on desktops and laptops.
Rakuten Mobile App
Rakuten offers mobile apps for both iOS and Android.
You can download from the Apple App Store or Google Play, or go to the Rakuten website and have a download link sent to your phone.
The Rakuten iOS app is compatible with devices running iOS 10.0 or later, including:
The Rakuten Android app is compatible with devices running Android 5.0 and up.
App users gain access to exclusive coupons and flash sales that aren't available through the site or using the browser extension.
You'll receive a push notification for any deals.
Furthermore, the app's geo-push notifications track your location and let you know when you're close to a physical store that offers cash back through Rakuten.
Shopping In-Store With the Mobile App
Most in-store offers provide 1% to 5% cash back.
You can opt in to mobile push notifications for deals in your area.
Your rewards will be deposited into your account once the store confirms the purchase.
To get cash back on in-store purchases you first have to link a credit card to your Rakuten account.
This is necessary for Rakuten to coordinate with the store to confirm you've made an eligible purchase and what kind of cash back you have earned.
To get cash back on an in-store purchase:
Find an offer and select "Link offer."
Add a credit card, or choose one you've already added, to link to.
Then pay with the linked card. You won't need to submit a receipt.
You can link a debit card, too, but to get Rakuten cash back you must run the debit card as a credit card at the time of purchase.
That means signing instead of entering your PIN.
Cash Back on Lyft
Rakuten automatically connects with the Lyft app, allowing you to earn cash back on every ride.
Rakuten Mobile App Includes Restaurants
Finally, the Rakuten mobile app includes cash back at more than 10,000 restaurants through Rakuten Dining.
These offers aren't available through the site or extension.
To take advantage of cash back at restaurants:
Link your credit card to the app (if you haven't already)
Enable cash back at restaurants
Pay at participating restaurants with the linked card
Tips and Hacks for Using Rakuten
Here are some helpful hints and troubleshooting tips for using Rakuten.
Read the Fine Print to Make Sure You're Getting the Expected Rate
When using Rakuten or any cash-back portal, you should always make sure to read the fine print before making a purchase so that you know the exact terms of your rewards.
According to Rakuten's homepage, for example, you can earn up to 6% cash back on purchases at Walmart.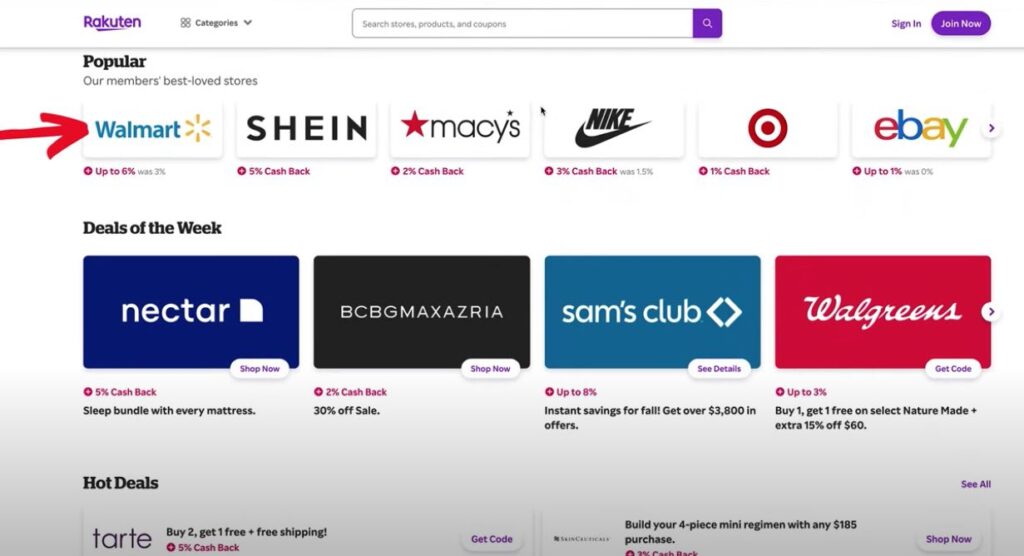 However, according to the "Cash Back Categories" on the Walmart-specific page, this 6% only applies to purchases at the Walmart Photo Center.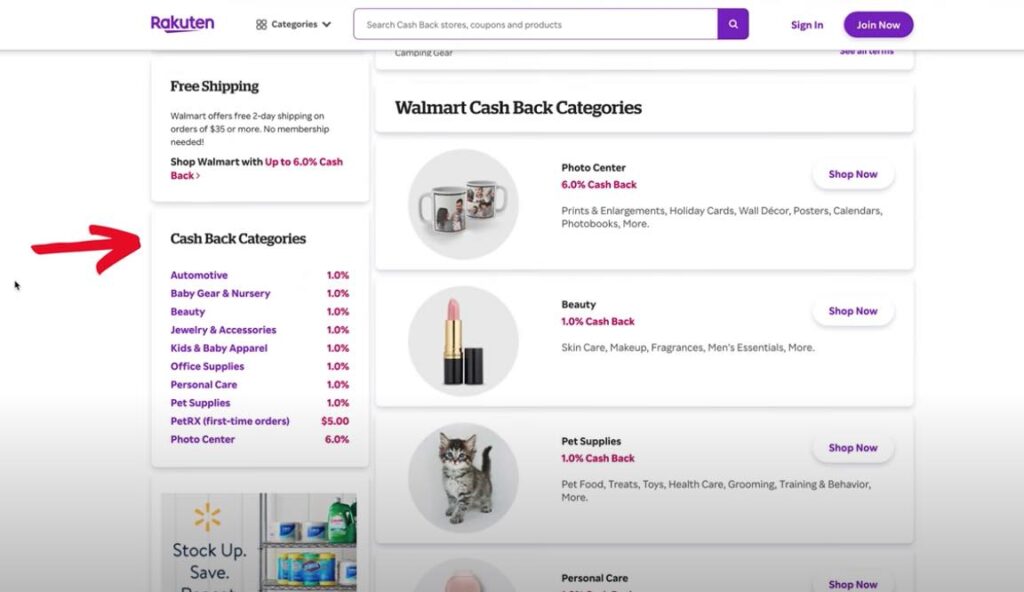 Purchases made in other categories come with much smaller amounts of cash back or no cash back whatsoever.
Because of this, you should always make sure you look at the "Cash Back Categories" before purchasing something to make sure that you'll actually get cash back on your purchase.
That being said, Rakuten does offer cash back on all purchases made at some stores, so your rewards won't always be limited to specific categories.
What To Do If Your Web Browser Prevents Cash-Back Tracking
In order to take advantage of Rakuten's cash-back and discount deals, it has to track your online shopping activity.
Some browsers prevent this kind of tracking as a way to protect your privacy.
If you're having trouble, check the store's page on Rakuten. Most stores have figured out a workaround for the tracking problem, but not all have.
If you run into this kind of problem, Rakuten recommends.
| If tracking is blocked by . . . | Try using . . . |
| --- | --- |
| Mobile browser | Mobile app |
| Mobile app | Chrome browser |
| Desktop browser | Chrome browser |
Always Check for Limited-Time Deals
Rakuten usually has some kind of limited-time deal available, like this one-day-only 12% cash-back offer that was good in 90 different stores.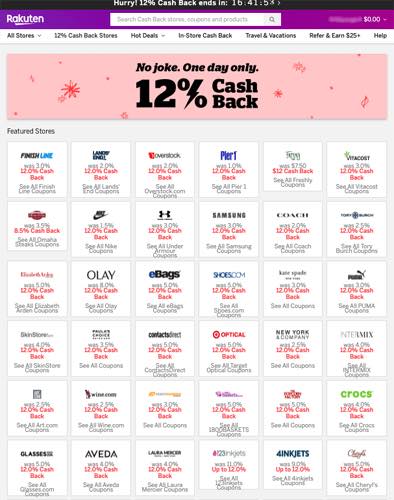 Military, First Responder, and Other Discounts
Active-duty military, first responders, and others are eligible for higher cash back from some retailers.
For example, as of November 2021, the mobile computing accessories retailer Targus was offering:
25% off for military veterans
25% off for college students
25% off for teachers
25% off certain items for military spouses
Rakuten Customer Support
Rakuten's app and website both have a Help Center that explains some of the service's main features and answers common questions.
Support is offered through a chatbot, but it can only respond to preset questions. If you need more help, you are offered a contact form that promises a human response.
Some reviewers complain that Rakuten customer service isn't very prompt. The company doesn't promise timely responses, and if you want quick answers you're probably better off reaching out through social media.
How Does Rakuten Make Money?
Rakuten gets commissions from retailers for directing you to their stores, then splits those commissions with you. You won't pay any fees for using the service or cashing out.
Is Rakuten Legit?
Based on my experience, app store ratings, and third-party services, Rakuten checks out as a legit operation.
The U.S. version of Rakuten launched as Ebates in 1999, so it's been around for more than 20 years, making it one of the oldest and best-established cash-back services.
According to the company, it's paid out more than $1 billion in cash back to 12 million members in the U.S. alone (there are also dedicated Rakuten sites for Canada, Japan, Korea, and France).
Rakuten does seem to have experienced some growing pains over the years, but considering its longevity, large membership, and reliable results, you can feel confident it's a legitimate way to earn cash back when you shop.
Member Reviews Are Solid
As of November 2021, Rakuten has more than 187,000 reviews on the App Store with an average rating of 4.8 out of 5, and has more than 70,000 reviews on Google Play, with an average rating of 4.2 out of 5.
While reviews are generally positive, both the iOS and Android version have a good number of negative reviews, with users reporting technical difficulties or problems with rewards that are not credited or that mysteriously disappear.
When members complain about lost rewards in the app store review section they are asked to email support for further help, so we don't know if those complaints are ever resolved.
It's a good idea to document all qualifying purchases, just in case. Take screenshots of online purchases and keep in-store receipts.
Is Rakuten Safe?
Your personal information would appear to be as safe with Rakuten as with any other online platform, based on reviews and third-party ratings.
For example, Rakuten has a good rating with the Better Business Bureau.
Rakuten provides a complete company profile on the BBB site, and with 375 complaints closed over the last three years and 401 user reviews averaging just under 4.5 out of 5, earns an "A" rating.
How To Sign Up For a Rakuten Account
To sign up for Rakuten on their website:
On the Rakuten.com home page, click Join Now.
In the pop-up box, enter your email address and create a password.
Once you access the site, choose whether or not to install the Rakuten browser extension.
Look for codes and deals from your favorite stores.
You can also sign up on the Rakuten app.
How Rakuten Is Different From Amazon
Amazon sells and ships products directly to customers.
Rakuten provides cash-back incentives on products purchased from other companies.
Rakuten and Amazon no longer have a partnership, and no discounts are available from Rakuten on Amazon purchases.
Popular Stores On Rakuten
Here are recent cash-back rates for the top 10 U.S. retail stores*.
Popular Stores on Rakuten

| Store | Listed Cash Back Rate** |
| --- | --- |
| Walmart | Up to 6% |
| Amazon.com | No discount |
| Kroger Supermarkets | 1% |
| Home Depot | No discount |
| Costco | Coupons only |
| Walgreens | Up to 3% |
| Target | 1% |
| CVS | Up to 5% |
| Lowe's | 2% |
| Albertsons | 1% |
*According to the National Retail Foundation list
**Information retrieved from Rakuten on 11/8/2021
Rakuten Fees
Rakuten is free to use. There are no fees for using the site, nor are you charged fees when you get your payout.
Rakuten Pros & Cons
Pros
Many stores participate. Rakuten offers cash back at over 2,500 stores, so you can get cash back through Rakuten at almost any major online retailer except Amazon.
Low redemption threshold. Rakuten has a redemption minimum of only five dollars, meaning that if you get an average of 4% cash back on your purchases, you only have to spend $125 to be able to redeem cash back from Rakuten.
User-friendly design. Rakuten's user interface is well-designed and easy to use; I personally found Rakuten the most user-friendly cash-back portal I've used.
Excellent referral program. Rakuten's referral program is extremely lucrative, giving both the person being referred and the person doing the referring a large bonus.
Cons
Rigid payment schedule. With most cash-back sites, you can cash out once you hit a certain threshold, but with Rakuten, your money is paid out on a quarterly schedule that you can't control.
No redemption bonuses. Unlike other cash-back sites like BeFrugal, Rakuten doesn't offer any direct redemption bonuses for redeeming through specific methods. While Rakuten does allow users to redeem cash back for American Express Membership Rewards points that could be redeemed for slightly more, Rakuten itself offers no redemption bonuses, and redeeming Amex points for more value can be complicated.
No guarantee you're getting the best deal. Rakuten might not always offer the highest cash back you could receive at a given store at a given time, so you might be able to get more cash back through a different platform. However, the same is true of all cash-back portals; you can't be sure that the one you're using has the highest offer for a given store at a given time.
Alternatives to Rakuten
Rakuten/Ebates

BeFrugal

TopCashBack

ShopAtHome

Number of Stores
Fees
Minimum Payout
Payout Timing

30-90 days after qualifying purchase

1-2 months after qualifying purchase

Payout Options

Zelle, ACH Direct Deposit, Venmo, PayPal, Gift Cards

ACH Direct Deposit, PayPal, eGift cards

Check, PayPal, Gift Cards

Payout Bonuses

1-6% if paid out as gift card

Mobile
App
Desktop Version
Browser Extension
In-Store
Cash Back

Yes, when you use a linked card

Yes, when you use a linked card

Coupons
Referral
Bonuses
Is Rakuten Worth It?
Rakuten rates pretty highly as a way to save a little extra money without doing too much work.
Who Rakuten Is Best For
Rakuten is a good fit for someone who is willing to give up a little time to save a few dollars.
My Overstock purchase took an extra minute or so through Rakuten and earned me 94 cents in cash back.
Extrapolated to an hourly wage, that equates to $56.40 per hour.
Given that this cash back is essentially a tax-free discount, this time-spent-to-rewards rate is pretty high, making Rakuten a good option for someone who is willing to spend a little extra time to maximize their rewards.
Who Rakuten Is Not For
On the other hand, Rakuten probably isn't a good fit for someone who doesn't care about making a few dollars here and there; like other cash-back portals, most of its cash-back percentages outside of holiday season are in the single digits.
Therefore, if the prospect of saving a few dollars a month doesn't excite you, Rakuten is probably not for you.
Rakuten, formerly Ebates, is a well-established service that helps you get cash back on online and in-store purchases just about anywhere you shop.
Frequently Asked Questions
Here are some short answers to basic questions people often have about Rakuten.
Is Rakuten a ripoff?

No, the site is not a ripoff. Rakuten has thousands of positive reviews on third-party sites.

I can personally attest that I've always been paid on-time.

What Is the downside of Rakuten?

The main downside is the time it takes to go through Rakuten compared to simply buying directly from the online store or site you want to use.

Is Rakuten membership free?

Yes, it's free to join Rakuten. You won't pay any fees for using the site or for redeeming your cash back.

Are Rakuten and Ebates the same thing?

Yes, they're the same. Rakuten bought Ebates in 2014, then changed the Ebates site name to Rakuten in 2019.

The Rakuten site looks and works just as it did when it was Ebates.

If you used Ebates before it became Rakuten, you should still have access to your account and any remaining cash back.

Can Rakuten be used in-store?

Yes, you can use Rakuten in stores.

To get cash back on an in-store purchase:

- Find an offer and select "Link offer."
- Add a credit or debit card, or choose one you've already added.
- Then pay with the card you added.

You don't need to show the app in-store or submit a receipt.

When does Rakuten have the best deals?

The best deals on Rakuten are usually during the holiday shopping season.

For example, in November 2021, Macy's upped their usual 2% cash back rate to 6%.

The rate at Nike shot up from 1.5% to 8%. Many other retailers also doubled or tripled their rates.

When was Rakuten started?

Rakuten was founded in Tokyo in 1997. The U.S. version of the site, formerly known as Ebates, started in 1999.

What stores does Rakuten use?

Rakuten partners with more than 2,500 stores.

Does Rakuten work with Amazon?

No, Rakuten does not work with Amazon.

Previously you could earn Rakuten cash back on Amazon purchases, but you can't anymore.

According to Rakuten: "Amazon is no longer affiliated with Rakuten and does not sponsor or endorse Rakuten services."
Author:
Logan Allec, CPA
Logan is a practicing CPA, Certified Student Loan Professional, and founder of Money Done Right, which he launched in 2017. After spending nearly a decade in the corporate world helping big businesses save money, he launched his blog with the goal of helping everyday Americans earn, save, and invest more money. Learn more about Logan.