Updated
September 29, 2021
Rakuten Review: This Ebates Update Is Still Tops for Cash Back
Cash Back
Basics: Rakuten, formerly Ebates, is a well-established service that helps you get cash back on online and in-store purchases just about anywhere you shop.
Pros: The service is free and works in 2,500+ stores, including travel sites, as well as 10,000+ restaurants.
Cons: Cash back payments are made on a rigid quarterly schedule with no exceptions, and customer service may be slow to resolve problems.
Ebates, one of the best-known cash back sites, was acquired by Rakuten in 2014. While it kept using the Ebates name for a few years, it recently switched over to Rakuten branding. Fortunately, the transition hasn't impacted its status as a popular way to earn cash back online.
The Rakuten site looks and works just as it did when it was Ebates. If you used Ebates before it became Rakuten, you should still have access to your account and any remaining cash back.
Similarly, Rakuten still offers the same kind of deals at roughly 2,500 stores in a wide range of categories including clothing and accessories, travel and vacation, health and beauty, and more.
Check it out: New users get $10 just for signing up
How Rakuten Works
Rakuten gets commissions from retailers for directing you to their stores, then splits those commissions with you. You won't pay any fees for using the service or cashing out.
Three Ways to Save
You can shop through the:
Rakuten website
Rakuten mobile app for iOS or Android
Rakuten web browser extension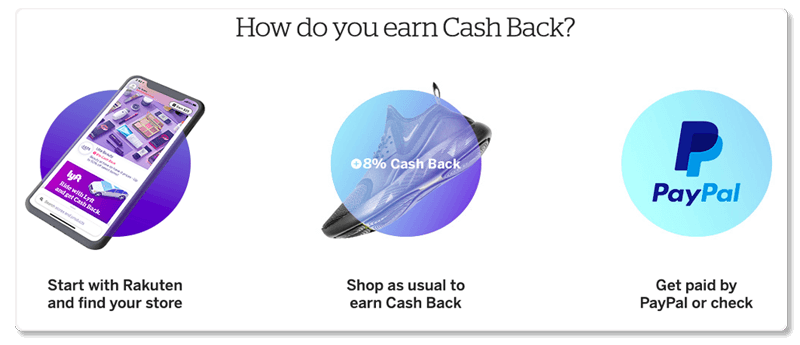 Start a Rakuten Shopping Trip
Clicking on a store through any of these platforms starts a Rakuten "Shopping Trip," or order for that store, that will stay active for three months.
You're not obligated to complete a Shopping Trip that you've started, but only purchases made through Shopping Trips are eligible for cash back.
How to Get Rakuten
Rakuten Website
Visit Rakuten.com on any browser and sign up with your email or Google or Facebook account.
You'll get a $10 sign up bonus after you spend $25 on eligible purchases. If you have a referral code be sure to enter it.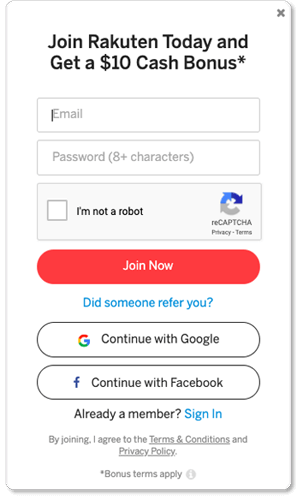 Rakuten Mobile App
Rakuten offers mobile apps for both iOS and Android. You can download from the Apple App Store or Google Play, or go to the Rakuten website and have a download link sent to your phone.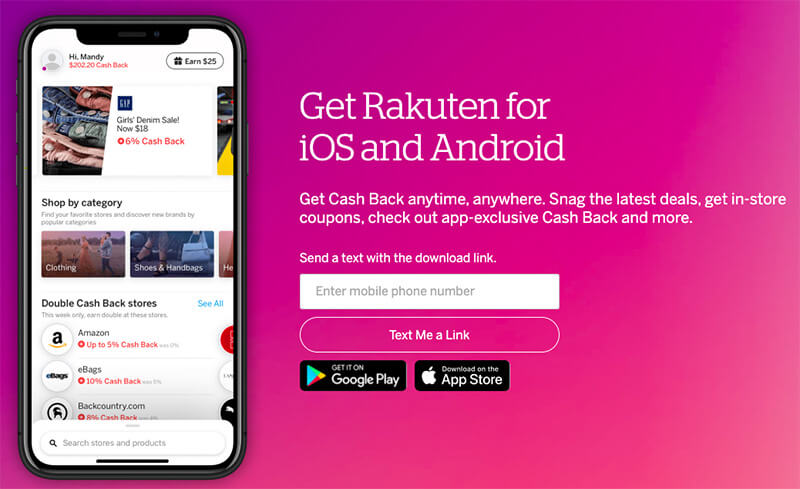 The iOS App
The Rakuten app is compatible with devices running iOS 10.0 or later, including:
The Android App
The Rakuten Android app is compatible with devices running Android 5.0 and up.
Benefits of the App
Mobile users gain access to exclusive coupons and flash sales that aren't available through the site or using the browser extension. You'll receive a push notification for any deals.

Furthermore, the app's geo-push notifications track your location and let you know when you're close to a physical store that offers cash back through Rakuten.
Cash Back on Lyft
Rakuten automatically connects with the Lyft app, allowing you to earn cash back on every ride.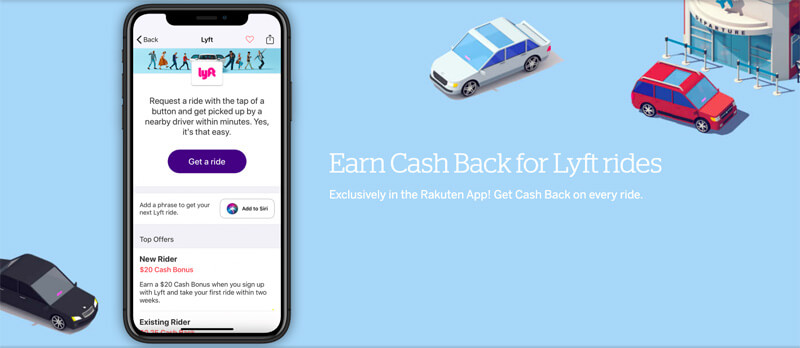 Rakuten Mobile App Includes Restaurants
Finally, the Rakuten mobile app includes cash back at more than 10,000 restaurants through Rakuten Dining. These offers aren't available through the site or extension.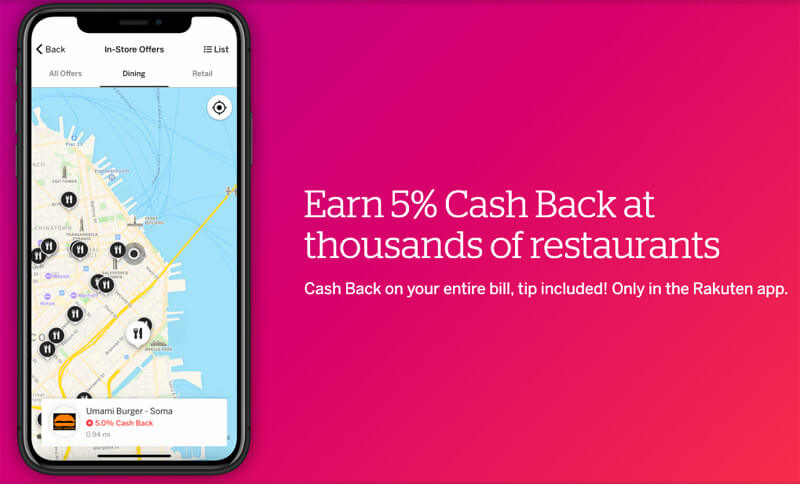 To take advantage of cash back at restaurants:
Link your credit card to the app (if you haven't already)
Enable cash back at restaurants
Pay at participating restaurants with the linked card
Rakuten Browser Extension
The Rakuten browser extension, AKA the Rakuten Cash Back Button, is another tool for staying up to date on the latest Rakuten offers. It's currently available for:
Chrome, versions 21+
Safari, versions 6+
Firefox, versions 15+
Edge, all versions
Internet Explorer, versions 11+
Rather than going through the Rakuten site every time you want to earn cash back, the extension will let you know if the site you're on has any active offers.
It also checks for coupon codes and lower prices at other sites to help you avoid spending more money than necessary.
Rakuten's Chrome extension has a five-star rating on over 40,000 reviews, with more than three million total users. It's the most convenient way to use Rakuten on desktops and laptops.
Some Browsers Prevent Cash Back Tracking
In order to take advantage of Rakuten's cash back and discount deals, it has to track your online shopping activity. Some browsers prevent this kind of tracking as a way to protect your privacy.
Check the Store's Page on Rakuten
Most stores have figured out a workaround for the tracking problem, but not all have. If there's a problem with any given store, you'll be notified when you go its Rakuten page.
Rakuten Offers Solutions
If you run into this kind of problem, Rakuten recommends:
| If tracking is blocked by . . . | Try using . . . |
| --- | --- |
| Mobile browser | Mobile app |
| Mobile app | Chrome browser |
| Desktop browser | Chrome browser |
How Rakuten Gets You Cash Back
Rakuten helps you get cash back whether you shop online or in-store.
How Rakuten Gets You Cash Back Online
Once you have an account, you're ready to earn cash back by shopping online. Rather than going directly to stores' own websites, start by going to Rakuten and looking for offers.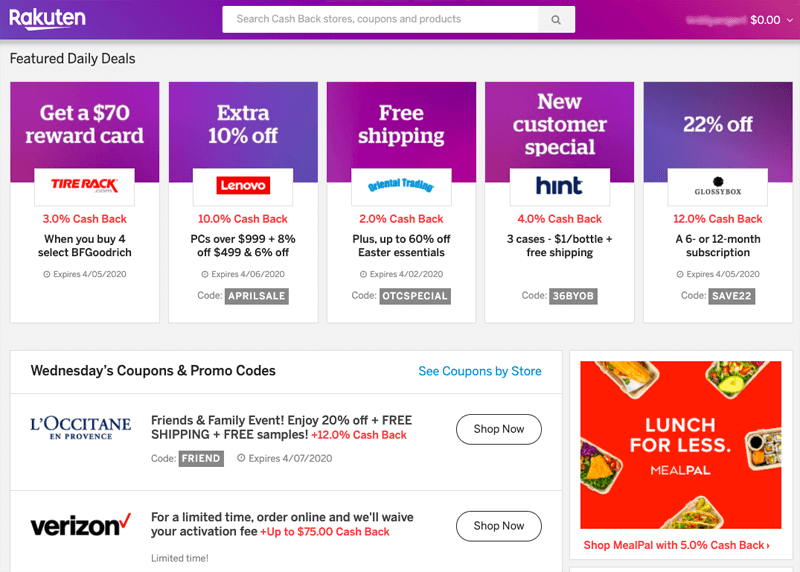 Hot Deals
The Rakuten app and website have a "Hot Deals" section that showcases special offers, some with coupons or promo codes.
Special Offers
Rakuten usually has some kind of limited-time deal available, like this one-day-only 12% cash back offer that was good in 90 different stores.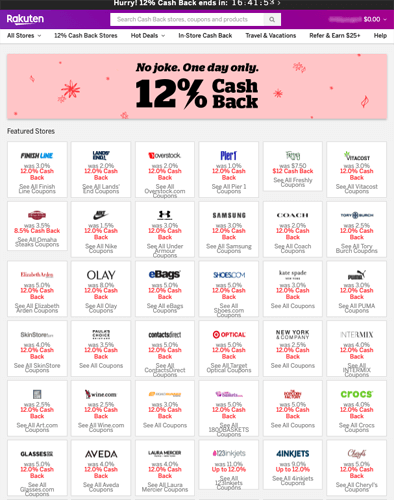 Cash Back on Travel
Rakuten offers cash back and discounts on flights, hotels, car rentals, and vacation packages. The website has a tab for travel deals, but in the app you have to search for sites (such as Expedia, VRBO, airlines, etc.) individually.
How Rakuten Gets You Cash Back In-Store
Most in-store offers provide 1% to 5% cash back. You can opt in to mobile push notifications for deals in your area. Your rewards will be deposited into your account once the store confirms the purchase.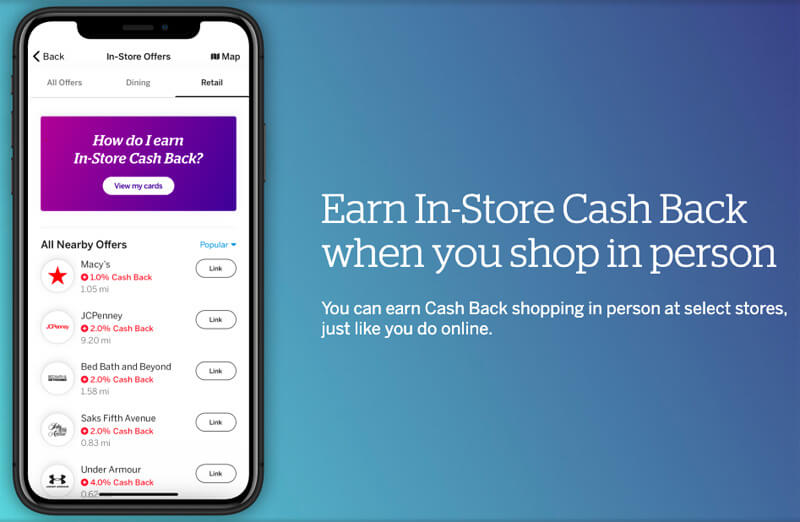 Linking a Credit Card
To get cash back on in-store purchases you first have to link a credit card to your Rakuten account. This is necessary for Rakuten to coordinate with the store to confirm you've made an eligible purchase and what kind of cash back you have earned.
To get cash back on an in-store purchase: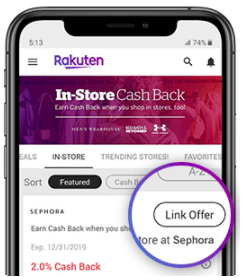 Find an offer and select "Link offer."
Add a credit card, or choose one you've already added, to link to.
Then pay with the linked card. You won't need to submit a receipt.
Debit Cards Work, Too
You can link a debit card, too, but to get Rakuten cash back you must run the debit card as a credit card at the time of purchase. That means signing instead of entering your PIN.
Rakuten Cash Back Visa Credit Card
The Rakuten Cash Back Visa credit card provides decent benefits and matches up well against many other rewards credit cards.
There's no annual fee, and you'll receive a $10 bonus after your first purchase.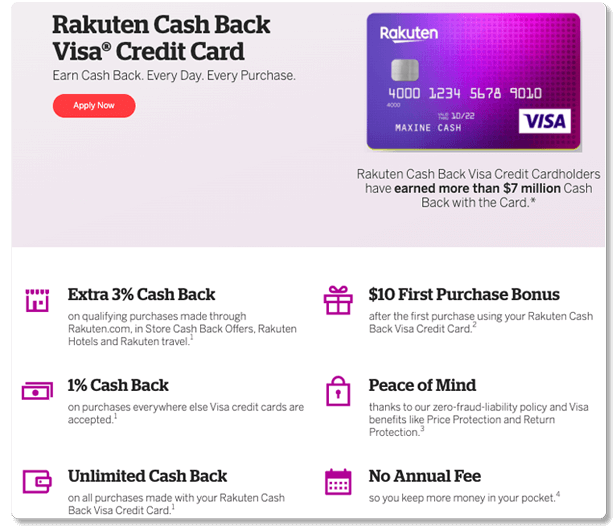 The Rakuten Cash Back Visa is also compatible with:
Apple Pay
Google Pay
Samsung Pay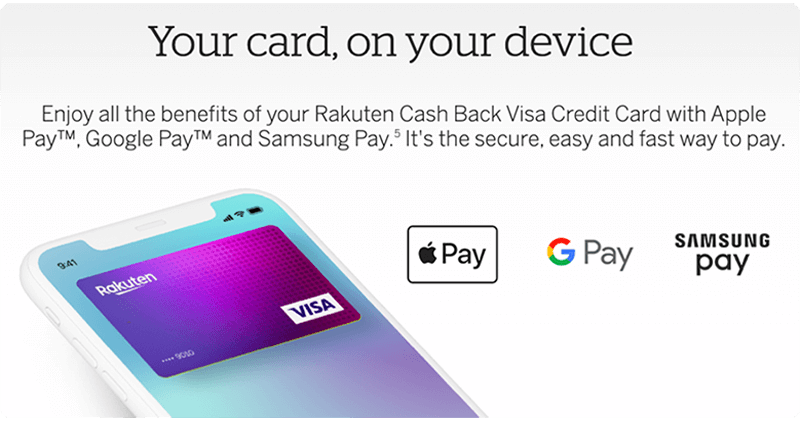 Getting Cash Back With the Rakuten Visa Card
Rakuten cardholders get 1% cash back on purchases everywhere Visa is accepted, and there's no limit on how much you can earn.
Using the card earns an extra 3% cash back on most Rakuten purchases, on top of any other cash back offer.

The main exclusions for 3% cash back are purchases made through:
Rakuten Dining
Giftcardmail.com
Raise.com
Giftcards.com
Only Qualifying Purchases Get 3% Cash Back
Only purchases that qualify for a cash back offer get you an extra 3% with the Rakuten Cash Back Visa; all others earn 1% cash back.
Say you buy pet food and cleaning supplies from Target, but only the pet food has a qualifying cash back offer from the store. Paying with the Rakuten Cash Back Visa will get you an additional 3% cash back on the pet food, but just 1% cash back on the cleaning supplies.
Other Cards May Get You More
While the Rakuten card offers decent rewards on qualifying Rakuten purchases, it may not always be your best option for other purposes.
For example, it comes with a 3% foreign transaction fee, so it's not the best card for traveling.
Additionally, for those purchases that only get 1% cash back with the Rakuten card, you can earn 2% with the Citi Double Cash and 1.5% with the Chase Freedom Unlimited.
Check it out: 8 Best Cash Back Credit Cards
Referral Bonuses
Rakuten's referral program is another way to supplement your cash back earnings.

The 2020 Referral Bonus
In 2020, you'll earn $25 every time a friend creates a Rakuten account and spends at least $25 in purchases that earn cash back through Rakuten. They'll need to complete their purchases by the end of the year for you to earn the 2020 bonus.
Presumably there will be a new bonus offer for 2021, which may be more or less than the current $25.
No Limit to Referral Bonuses
Each referral bonus should land in your account within 60 days of the referral making their qualifying purchases. There's no limit on how much you can earn through the referral program.
Along with your $25 bonus, your referrals will each receive $10 after they've spent their first $25 on qualifying purchases.
Rakuten Influencer Program
In addition to the referral program, you can also apply to become a Rakuten influencer. You'll need to provide information on your area of influence, number of followers, and how you can promote Rakuten.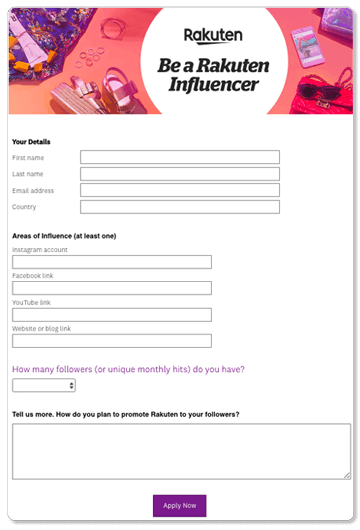 Influencers receive the same $25 bonus for each qualified referral but get additional perks such as invitations to private influencer events (which may include travel and accommodation) and tips on maximizing referral bonuses.
Cash Back on Travel
Rakuten also offers cash back on a variety of travel-related purchases including flights, lodging, rental cars, cruises, and vacation packages.
Booking Travel With Rakuten
These are just some of the travel sites that offer coupons and cash back with Rakuten:

Aggregators
Priceline
Expedia
Kiwi.com
Hotwire
Orbitz
Travelocity
Airlines
Air France
Emirates
Etihad
Hawaiian
Korean Air
Qatar
Rental Cars
Avis
Budget
Dollar
Enterprise
Europcar
Hertz
Cash Back on More Than 200 Sites
Rakuten offers cash back deals on more than 200 travel sites in various categories. Deals include coupons and cash back and are updated frequently.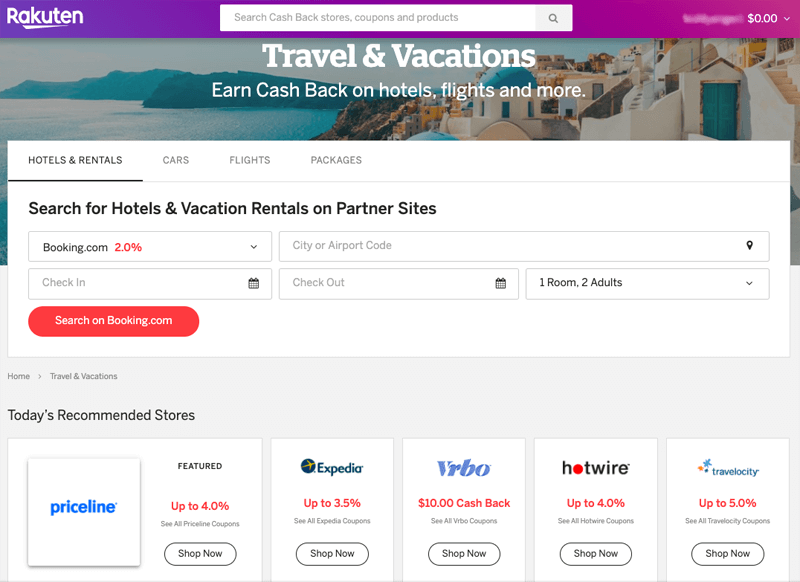 Get Cash Back After the Trip Is Over
It's worth noting that cash back earned on travel sites won't appear in your Rakuten account until you've completed your trip, even if you've paid in full.
Searching Rakuten's Partner Sites
Rakuten's partner sites pay for preferred placement, and they have a dedicated search tool at the top of the travel page.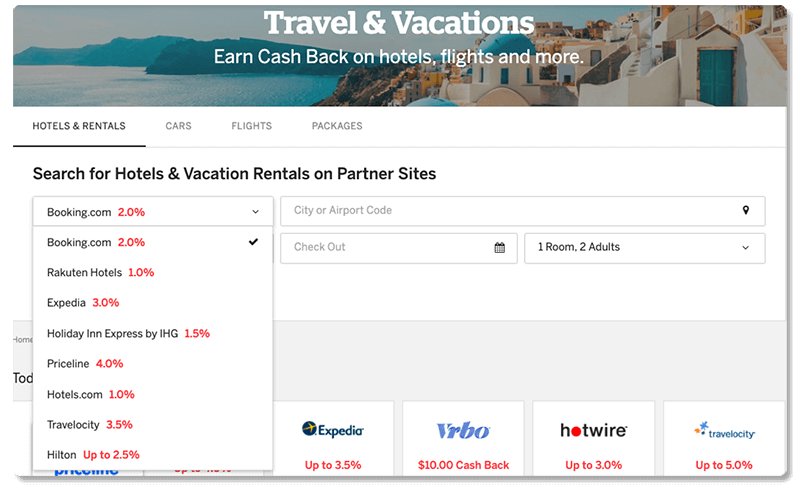 You can choose partner sites from a dropdown list and search for hotels, rentals, cars, flights, and packages based on your desired dates and locations.
Cashing Out With Rakuten
You can get your cash back through PayPal, or have what Rakuten likes to call a Big Fat Check mailed to you.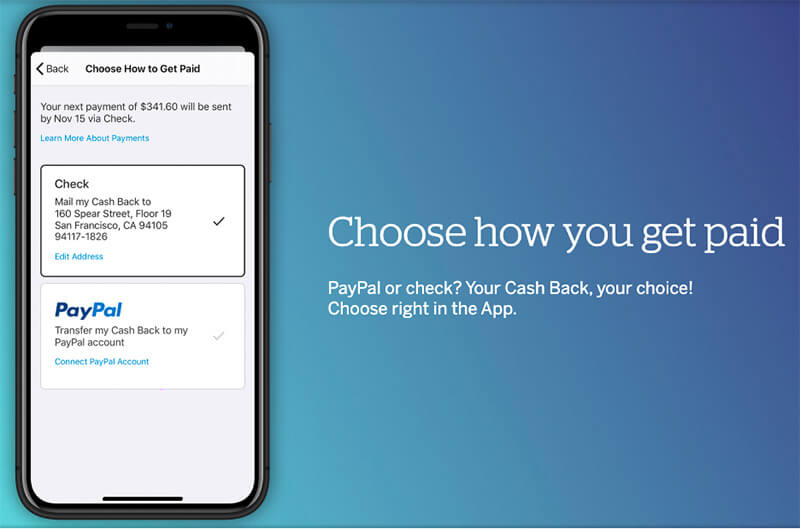 Choose PayPal or Paper Check
You'll need to add a valid mailing address to your Rakuten account for either payment method. PayPal payments will be made to the PayPal account associated with the email address you specify in your Rakuten Account. There are no fees for cashing out.
Rakuten's Quarterly Payment Schedule
Unlike apps that let you cash out immediately or as soon as you have a certain minimum balance, Rakuten pays out quarterly on a set schedule.
You'll only get your quarterly payment if you have a balance of at least $5. Balances of less than $5 are rolled over to the next quarter, meaning you'll have to wait another three months for a chance to cash out.
Rakuten Payment Schedule

| Purchase Period | Payment Date |
| --- | --- |
| January - March | May 15 |
| April - June | August 15 |
| July - September | November 15 |
| October - December | February 15 |
So Is Rakuten Legit?
Rakuten launched as Ebates in 1999, so it's been around for more than 20 years, making it one of the oldest and best-established cash back services. According to the company, it's paid out more than $1 billion in cash back to 12 million members in the U.S. alone (there are also dedicated Rakuten sites for Canada, Japan, Korea, and France).
Rakuten does seem to have experienced some growing pains over the years, but considering its longevity, large membership, and reliable results, you can feel confident it's a legitimate way to earn cash back when you shop.
Member Reviews Are So-So
Rakuten has 56,000 reviews on Google Play, with an average rating of 4.2 out of 5, and over 25,000 reviews on the App Store with an average rating of 4.3 out of 5.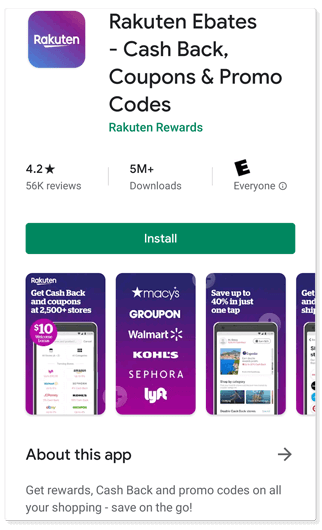 While reviews are generally positive, both the iOS and Android version have a good number of negative reviews, with users reporting technical difficulties or problems with rewards that are not credited or that mysteriously disappear.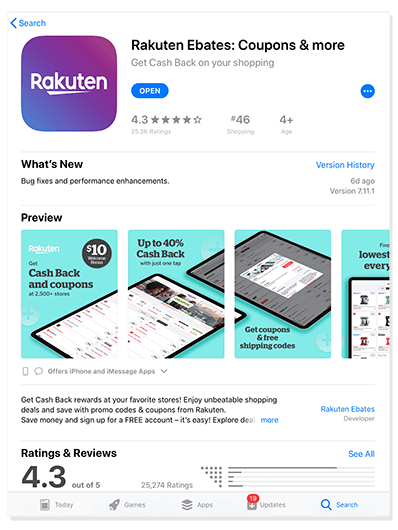 When members complain about lost rewards in the app store review section they are asked to email support for further help, so we don't know if those complaints are ever resolved.
It's a good idea to document all qualifying purchases, just in case. Take screen shots of online purchases and keep in-store receipts.
Many Complaints Are About Amazon
A lot of user complaints involve not getting cash back for Amazon purchases. Amazon is a Rakuten "Tiered Merchant," meaning the cash back offer may be higher for items in some departments and lower in others, making the cash back process complicated.
Additionally, Amazon may pull its cash back offers altogether. Rakuten has no control over Amazon's policies and is only able to direct members to other stores that carry similar merchandise.
Rakuten Rates Well With the Better Business Bureau
Rakuten provides a complete company profile on the BBB site, and with 375 complaints closed over the last three years and 401 user reviews averaging just under 4.5 out of 5, earns an "A" rating.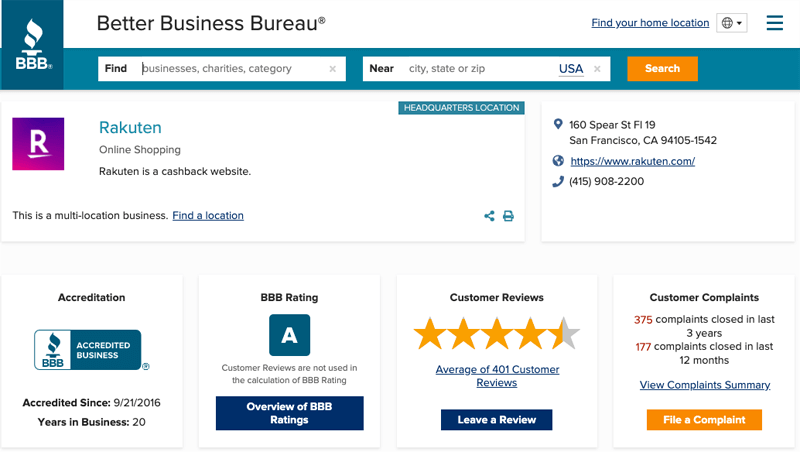 Rakuten Is Active on Social Media
Maintaining an active presence and engaging with members on social media is a good indication of a company's commitment to user satisfaction.
Facebook
Rakuten has almost a million likes and followers, posts regularly and responds to comments.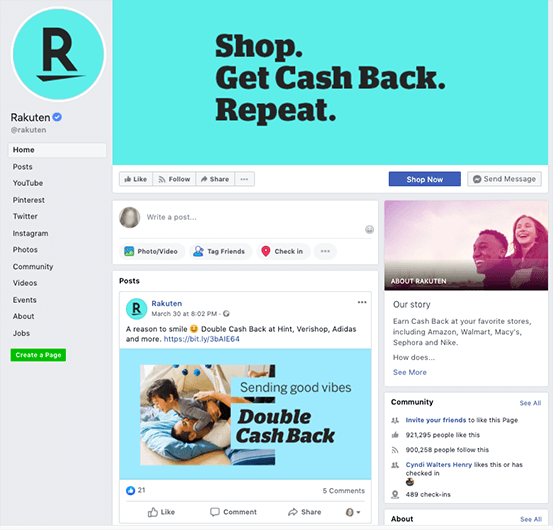 Twitter
Rakuten is active on Twitter with 78,500 followers. It tweets regularly and responds to users.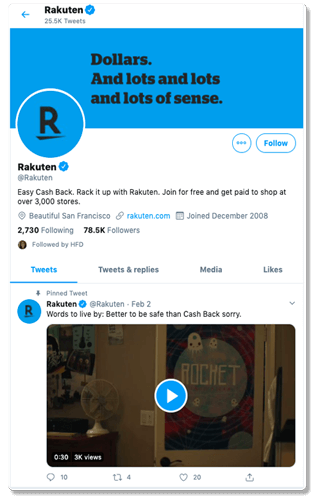 Instagram
Rakuten is active on Instagram with 127,000 followers. It posts regularly and recognizes posts by users.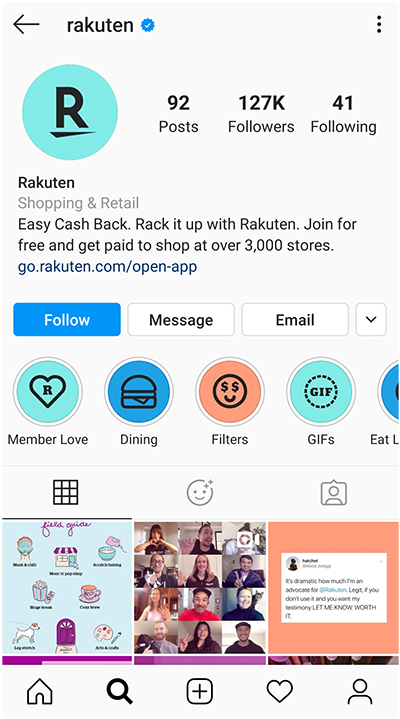 Rakuten Customer Support
Rakuten's app and website both have a Help Center that explains some of the service's main features and answers common questions.
Support is offered through a chatbot, but it can only respond to preset questions. If you need more help, you are offered a contact form that promises a human response.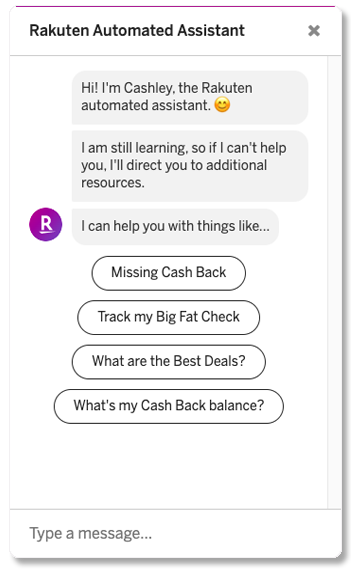 Some reviewers complain about lack of response from Rakuten customer service. The company doesn't promise timely responses, and if you want quick answers you're probably better off reaching out through social media.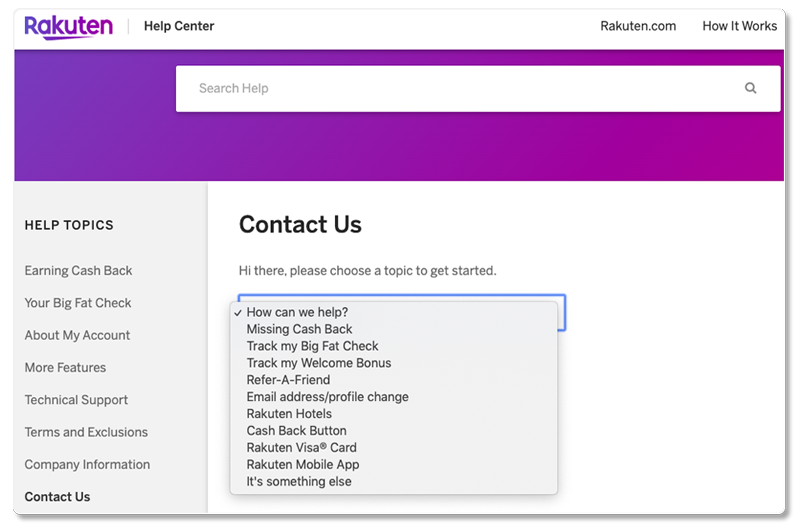 Rakuten's Pros and Cons
Pros
Impressive variety. Earn cash back at 2,500+ stores, 10,000+ restaurants, and more.
Convenience. Get cash back with the website, mobile app, and/or browser extension.
Unlimited referrals. Receive a $25 reward for each referral.
Solid reputation. Rakuten has been around for more than 20 years.
Cons
Rigid payment schedule. Payments are only sent once per quarter, no exceptions.
Complicated Amazon policies. If you do the bulk of your shopping on Amazon, you may find getting Rakuten cash back frustrating.
Slow customer service. The fastest way to get help if you have a problem seems to be through Rakuten's social media accounts.
Is Rakuten Worth It?
Cash back sites and apps aren't designed to provide a full-time income, but compared to similar services, Rakuten is one of the most reliable options for cash back.
That being said, as with all cash back schemes the amount you'll get back depends on your shopping habits. The more you buy, the more you can get back.
Variety Provides Something for Everyone
One big advantage Rakuten offers is the sheer number of stores and vendors it encompasses. With more than 2,500 stores and over 10,000 restaurants, plus travel sites, food delivery services, and more, it would be pretty hard not to find a way to save money with Rakuten.
Finding Cash Back Offers Is Easy
Having all those stores and vendors in one place makes it easy to shop for deals across different categories. Once you incorporate the website, app, or browser extension into your routine, you can shop as you normally do and rely on Rakuten to let you know when cash back deals are available.
Waiting for Payments Can Be Hard
One downside to Rakuten relative to other cash back sites is that you'll receive just four payments per year, on a schedule that is not your own, with no exceptions. If you've used other cash back apps and gotten used to cashing out whenever you like, you may find this annoying.
How Much Can You Make With Rakuten?
Rakuten lets you earn cash back through the website, browser extension, and/or mobile app, both online and in-store, with lots of stores and vendors to choose from. If you do any shopping at all, you're bound to get at least a little something back each quarter.
If you consistently rack up $25 referrals, always shop through the site or app, and check frequently for special offers, you could easily make $100 or more per month. All things considered, it's been a top cash back service for more than 20 years for good reason.
Rakuten, formerly Ebates, is a well-established service that helps you get cash back on online and in-store purchases just about anywhere you shop.

Download
We earn a commission on this offer.
Rakuten Frequently Asked Questions
What's the difference between Rakuten and Ebates?

Ebates was acquired by Rakuten in 2014. While the branding has changed, the service works the same as it did under Ebates.

Do I need to link a credit card to my Rakuten account?

Getting cash back from in-store purchases does require you to link a credit card, or a debit card that can be run as a credit card.

How are cash back payments made?

You can choose to receive cash back payments by PayPal or paper check.

When will I receive my cash back?

Rakuten makes quarterly payments on February 15th, May 15th, August 15th, and November 15th.

How many people can I refer?

There's no limit on referral bonuses; you'll get $25 for every qualifying referral.

What's the Rakuten Influencer program?

Rakuten offers influencers unlimited referral bonuses, along with access to private events and marketing help.
Author:
Alex McOmie
Alex McOmie currently serves as the Managing Editor for Money Done Right. He joined the Money Done Right editorial team in summer 2019. Learn more about Alex.