If you regularly buy from Walmart, even a small percentage in savings could add up to a lot of extra money at the end of the year. While Walmart tends to offer low base prices on most items, you can easily spend even less money on their products by making a few simple changes. Whether you shop on Walmart.com, at a physical store, or both, continue reading for nine ways to save money at Walmart.
1. Use the Shopkick App
Shopkick is a shopping rewards platform that offers gift cards in exchange for making purchases at certain retailers. Rewards are available for both in-store and online orders, and you can redeem your points—called Kicks—for gift cards to brands like Amazon, Apple, Starbucks, Best Buy, and Walmart.
I visited Walmart in April while using Shopkick to show how the app works and how it can save you money at Walmart. As you can see, I was able to earn 10 kicks just for walking into the store—even if I didn't end up buying anything. Shopkick was also offering up to 1,235 kicks for scanning products or up to 35,130 kicks for uploading a receipt from my local Walmart.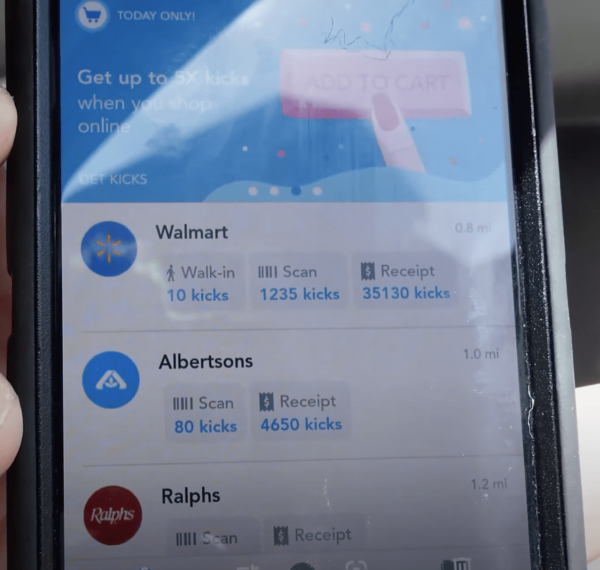 Along with the kicks I earned for entering the store and scanning barcodes, I also earned a total of 500 kicks for the receipt I submitted. I spent $8.96 on the purchase, which means I earned an average of around 55 or 56 kicks for each dollar.
Those 500 kicks ended up being enough to redeem for a $2 gift card to Target, which means that I got more than 20 percent of my purchase back in Shopkick rewards. Of course, you may get much more or less than that depending on the offers available at your local Walmart and the specific gift card you redeem your kicks for.
Also, use my Shopkick promo code LOGAN to get a $5 bonus when you download the app and earn at least 10 kicks within 7 days!
2. Check the Weekly Ad
While some of Walmart's best sales come during the holiday season, you can still find deep discounts on a wide range of products throughout the year. To find the weekly ad for your store, just open the left-hand menu on Walmart.com and navigate to "Weekly Ad."
Walmart still calls these "weekly ads," but your store's offers may be available for more than just one week. Simply click on an item in the ad to pull up more details including sizes, pictures, prices, dates, and whether the deal is available online, in-store, or both.
3. Get Generic Prescriptions
Walmart offers highly competitive prices on various generic prescriptions including medications for cholesterol, diabetes, and mental health. In fact, many of these prescriptions are available for just $4 for a 30-day supply or $10 for a 90-day supply.
Even if you think you have good insurance, it's worth comparing your current prescription price to the generic alternatives available at Walmart. If you're worried about taking a generic medication, keep in mind that the FDA recommends generic medicine as "an equal substitute for its name-brand counterpart."
4. Buy Refurbished Electronics
Unboxing brand-new electronics can be fun, but you can get the same device for a lower cost by buying refurbished instead of new. The price difference between a new and refurbished item will depend on the product and the seller you buy from.
Some refurbished products on Walmart.com are sold by third-party vendors rather than Walmart itself. On the other hand, they're still backed by a minimum 90-day warranty that gives you more than enough time to make sure the product functions as intended.
5. Take Advantage of Price Matching
It's impossible to always buy from the store with the lowest price on a particular item, but price matching makes it easy to get the best possible deal without going to multiple stores. If you're shopping at a physical Walmart, you can talk to an employee to get a price match on regular prices for the same item on either Walmart.com or Jet.com.
When shopping online, you can receive a Walmart.com price match for prices displayed for in-stock items on a variety of other ecommerce stores including Amazon, Best Buy, Target, and Walgreens. Unfortunately, Walmart doesn't offer any price adjustments on products that receive price drops after a purchase.
6. Buy Store Brands
Walmart's Great Value brand offers budget alternatives to a wide range of products. While some of these items may not be exactly the same as their name-brand counterparts, many are produced by name brands and simply packaged for sale at Walmart.
Again, the price gap between Great Value and the name brands is different for different products. For example, we found Great Value Almond Crunchy Honey Oats Cereal at just $1.33 for an 18-ounce box when ordered for pickup, while a box of Honey Bunches of Oats that's just slightly bigger (23 ounces) was nearly triple the price at $3.98.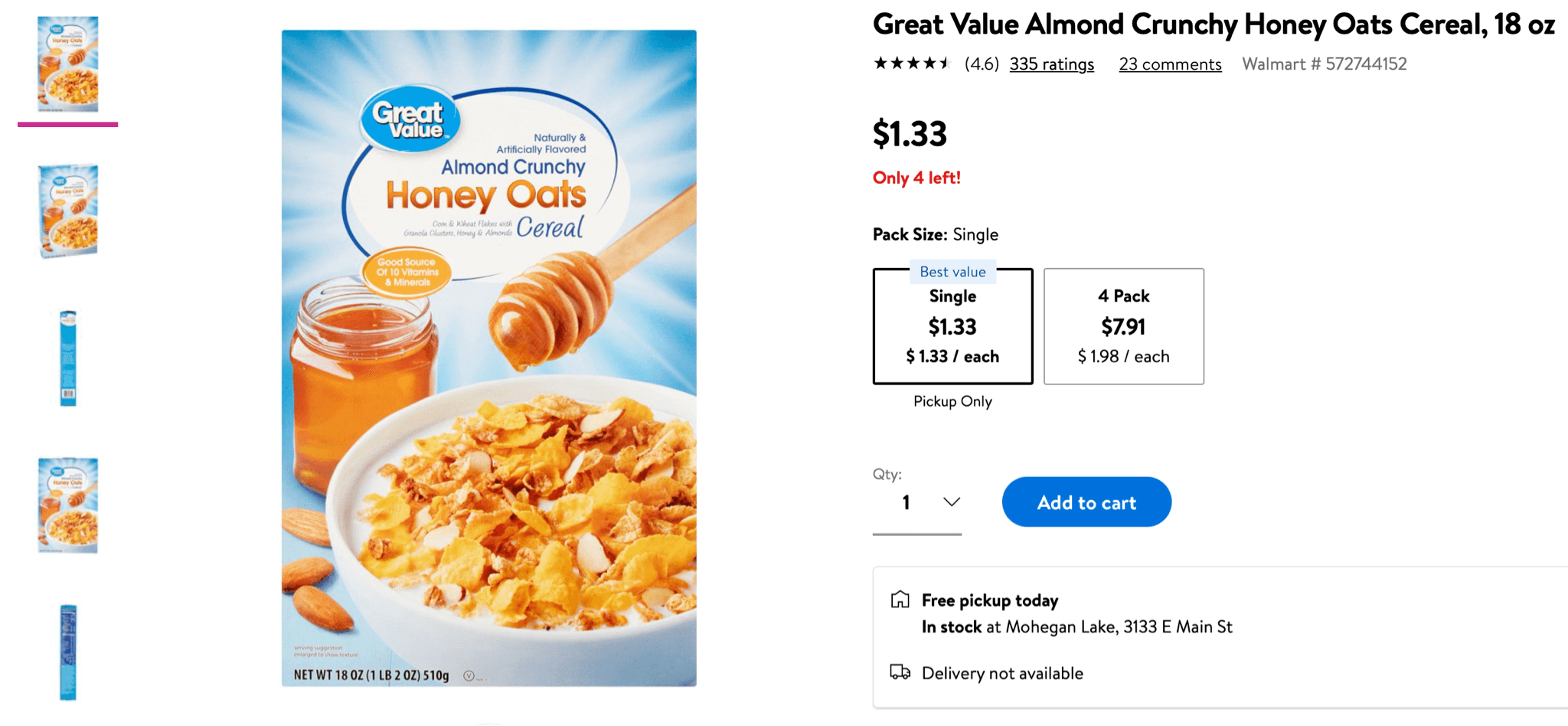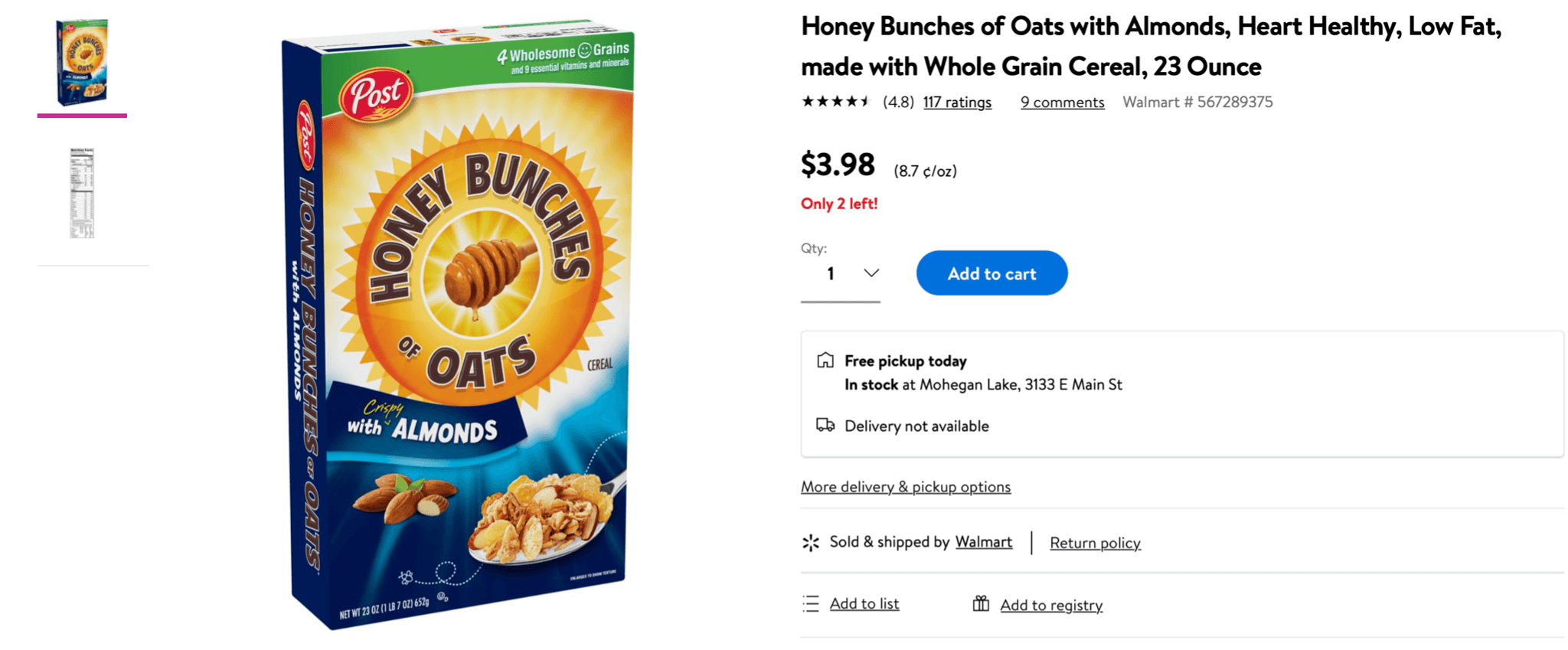 When you reach for a name-brand product, don't forget to check the shelf to see if there are any Great Value alternatives. You might be surprised at how much you can save on an average shopping trip simply by switching to store-brand items.
7. Look for Pickup and Shipping Discounts
Some Walmart.com products come with pickup and/or shipping discounts that give you money off the sale price simply for changing your delivery preferences. There's no easy way to predict which items will be eligible for either of these discounts, but you'll be able to see the option when you add an eligible product to your cart.
Pickup discounts come with a small markdown in exchange for picking the item up at a Walmart store instead of having it delivered. Shipping discounts offer a similar price drop when you accept a longer turnaround—typically three to five business days instead of the standard two. Keep an eye out for these tags when you're shopping on Walmart.com
8. Create a Walmart Baby Registry
When you create a baby registry at Walmart, you'll automatically receive a free welcome box that includes "up to a $40 value" in baby essentials. Friends and family members can easily find your registry and look for products on Walmart.com. Eligible registry items also come with stress-free returns for up to one year.
If you're expecting, this is an easy way to let your family and friends know what you need while getting a little extra gift with samples from brands like Huggies, Johnson's, and Dr. Brown's. Simply go to the Walmart Baby Box page and fill out some basic information to sign up for your free box.
9. Get the Capital One Walmart Rewards Card
The Capital One Walmart Rewards Card isn't for everyone, but it's an easy way to earn rewards when you spend money at Walmart—particularly on online purchases. It offers 5 percent cash back on all Walmart.com purchases including pickup and delivery, 2 percent back at physical Walmart stores, restaurants, and travel companies, and 1 percent back everywhere else.
Best of all, you can use the rest of the tips on this list to save money and then get even more cash back through the Walmart Rewards card. While the standard cash back rate is 2 percent on purchases at Walmart stores, you'll get the online rate of 5 percent on all in-store purchases for the first year as long as you use your phone to pay with your Walmart Rewards card through Walmart Pay.
That's it—these are the easiest ways to save money when shopping at Walmart or Walmart.com. With these nine tips, you'll be able to shave at least a few percentage points off your average order and potentially tens or hundreds of dollars over a year of purchases.
Author:
Logan Allec, CPA
Logan is a practicing CPA and founder of Choice Tax Relief and Money Done Right. After spending nearly a decade in the corporate world helping big businesses save money, he launched his blog with the goal of helping everyday Americans earn, save, and invest more money. Learn more about Logan.