Updated
February 26, 2021
M1 Finance Review 2021: A Free, Flexible Robo-Advisor
Stocks
Robo-advisors are among the hottest trends in the fintech (financial technology) space. These algorithm-driven apps let you totally "set it and forget it" when it comes to your investments. Just trust the computer and don't think about your money.
But I'm too much of a control freak. I want to have more of a say about where my hard-earned cash is going. That's where M1 Finance comes in.
M1 Finance is a hybrid of a robo-advisor and a traditional stock-broker platform. It invests your money into pre-built portfolios that you can completely customize. The service sets you up with a passive strategy, but you take an active approach if you want.
Sounds like the best of both worlds, right?
We took a further look at the platform. In our M1 Finance review, we'll discuss the benefits — as well as the limitations — of investing with this service.
M1 Finance Review Video
What Is M1 Finance?
M1 Finance opened up to investors in April 2015. Its headquarters are in Chicago, and as of 2019 it had more than $500 million in assets under management (AUM).
M1 Finance usually gets classed among the robo-advisors. Like Betterment and Wealthfront, the service uses pre-built portfolio templates based on Modern Portfolio Theory.
Only in the case of M1 Finance, these templates are referred to as "Pies," and each investment that's part of a Pie is called a "Slice." Maybe a bit cutesy, but it's actually an effective way to help new investors visualize how portfolios and asset allocation work.
That's the main goal of M1 Finance — to help beginning investors learn how to build a portfolio. It does this with a whole lot of visuals and a lack of the potentially confusing terminology you'd find on most trading platforms.
That brings us to our next question…
How Does M1 Finance Work?
Signing up for M1 Finance is totally free. There are no account or advisory fees, and you need only $100 to get started. This adds to the attraction for beginners.
As part of the sign-up process, M1 allows you to design your first Pie. Your introductory Pie is made of three Slices, which you can search and choose from M1 Finance's database. You can also adjust the weighting of each security in your Pie.
Once you've created your Pie, M1 Finance informs you what your Pie would have returned over the last five years. Your first Pie is really just a demonstration of how M1 Finance works. But you can retrieve it and invest in it for real later.
Once you've entered the personal information required for opening an account with any FINRA broker-dealer, you'll need to connect your bank account. This is a very straightforward process. And as soon as your bank account is connected, you can start investing right away.
You can open an account with no required deposit and even set up a few Pies. However, in order to start funding your Pies, you'll need at least $100 transferred into your M1 account.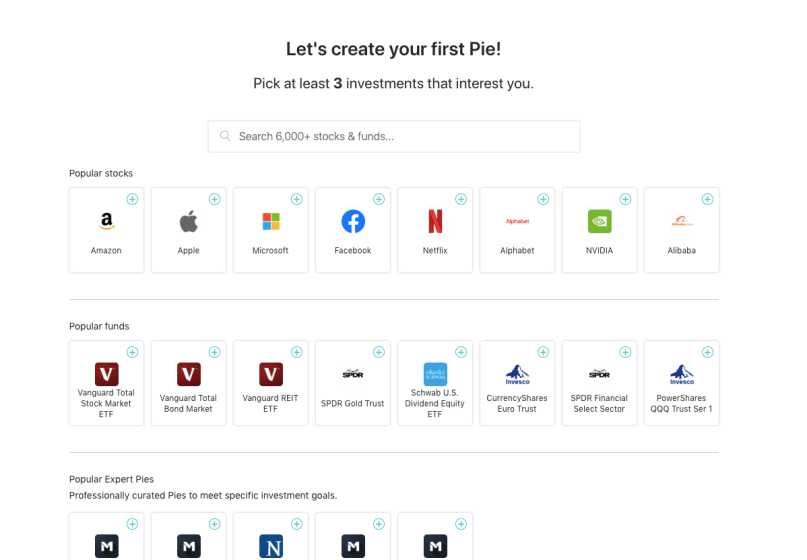 Pies
Of course, the main attraction of M1 Finance is the Pie, which is the platform's clever way to refer to a segment of your portfolio.
Your portfolio can have one or many Pies. And you're not limited to Pies that you create yourself. M1 Finance also offers Expert Pies, which are pre-built Pies based on the strategies of successful brokerages and advisors.
These Expert Pies are created to help you meet specific investment goals. For example, there's a Moderately Aggressive Pie that holds eight diversified stock ETFs. There's also a Berkshire Hathaway Pie that mimics the investments of legendary investor Warren Buffett.
It's a bit confusing, but you can also hold pre-built Pies within your own Custom Pie.
You can create several different Custom Pies — for instance, you can have a "Tech Pie" that's comprised of technology stocks. Or you can have a separate Pie for socially responsible companies.
You can also invest in more than 6,000 ETFs and individual stocks. With M1 Finance, you can even invest in fractional shares — meaning you can buy a smaller portion of a company than one share. You'd want to do this if you wanted to invest in, say, Amazon, but didn't want to spend the more than $1,700 required for one share of Amazon stock.
It also comes in handy when you allocate your Pies.
Pie Allocation
When you select new investments for your Pies, you'll be able to adjust their allocation. For example, you can have a Pie made of four Slices, each equally weighted (25%), or you can devote 50% of your Pie investment to one particular stock, etc. When you fund your Pie, the money will spread across the Pie according to your allocation. You don't need to figure out how much you need for each stock.
So, if you put $100 into a Pie and you have one stock set at 20%, one at 30%, and one at 50%, those investments will each receive $20, $30, and $50, respectively.
Through the course of your investing with M1 Finance, your Pie's allocation ratios will change as stocks gain and lose value. If you want it to go back to your original allocation, you need to rebalance your Pie. This can be done easily on the app.
(However, keep in mind that some other robo-advisors will automatically rebalance your portfolio to keep it at your ideal allocation.)
When it comes time to sell a stock or fund, you simply remove the Slice from the Pie. And you can always continue to add more Slices. You can have a Pie created of 100 fractional-share investments… although we wouldn't recommend it.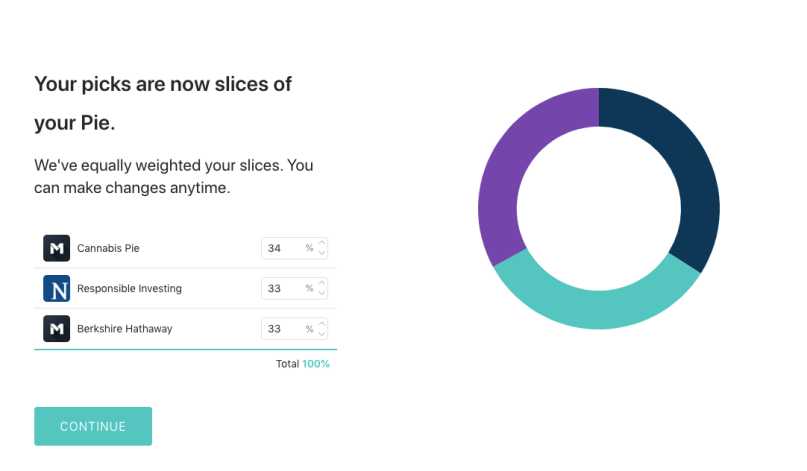 M1 Finance Fees and Features
M1 Finance doesn't charge any fees for a basic account — not even if you set up 50 Pies.
However, there are a few fees for stuff like requested paper copies and wire transfers (however, note that ACH deposits to or from your connected bank are always free).
Note that there are a few tiny regulatory fees applied to the sale of your Pie's securities. These fees are collected by the SEC and FINRA and are mandatory whether you invest with M1 Finance or another platform.
M1 Plus
However, you can choose to sign up for a premium membership, called M1 Plus. This level of membership costs $125 per year and gives you a few bonuses.
Unless you want to explore M1's banking features (which we'll discuss in just a minute), there's really no reason to sign up for a paid account. The only bonus it gives when it comes to investing is a second trading screen.
And frankly, if you need a second trading screen, you might be better served by a more advanced free trading platform such as E*TRADE.
M1 Spend
M1 Spend is a free checking account with a debit card that integrates with your M1 Finance account to give you a one-stop financial shop. The basic M1 Spend account charges no fees and will reimburse you for ATM fees once per month.
However, if you sign up for an M1 Plus account, your M1 Spend account will pay interest — currently 25 times the national average APY. This account also gives you 1% cash back on all purchases made with your debit card.
Plus, with M1 Plus and M1 Spend, you can get up to four reimbursed ATM withdrawals per month.
M1 Borrow
M1 Borrow is a new flexible line of credit. If you have an M1 Plus account, you can get a better base rate (3.25%, rather than 3.50%). Payback terms on these Borrow accounts are flexible, meaning you can pay it back when you can and in whatever amounts you decide.
Perhaps best of all, M1 doesn't pull a hard line of credit or report to the major credit bureaus. So there will be no impact at all on your credit score.
However, note that you must have at least $10,000 deposited in an M1 Finance account to take advantage of M1 Borrow.
M1 Finance Review: Pros
Free: Trading on M1 Finance is totally free.
Low Minimum Deposit: You don't need a minimum deposit to open an M1 Finance account. To start investing, you'll need only $100.
Easy-to-Use Mobile App: M1 Finance has a streamlined app for Android and Apple devices.
IRA Investing: M1 Finance will let you hold investments in a tax-advantaged retirement account. This sets it apart from other beginner-friendly services such as Robinhood.
Fractional Share Trading: You can invest in smaller portions of stock than one share. This means you can enjoy holding high-priced stocks in your portfolio without paying out big bucks.
Customizable Pies: You can totally customize your M1 Finance Pies… or not, if you so choose. Pick what investments you want to hold and decide how much of each you want in your portfolio.
M1 Finance Review: Cons
Not Much Hand-holding: If you'd prefer some more advice for setting up your investment account, M1 Finance is not a great choice for you. Although the company provides users with educational opportunities, you're largely on your own.
Can't Time Trades: M1 Finance makes trades at the end of the day, so you can't time the price movements of your stocks. Think before selecting risky, liquid stocks that could zig-zag during the day.
No Tax-Loss Harvesting: The tax-loss harvesting strategy can help you reduce your tax liability. It involves selling losing trades to offset your gains. M1 Finance doesn't offer tax-loss harvesting services, unlike some other robo-advisors.
Who Is M1 Finance Best For?
M1 Finance is best for new investors who want more control over their investments than what they'll find from a typical robo-advisor such as Betterment or Wealthfront. Being able to pick individual securities and build Pies is undeniably fun. You can also learn a lot about asset allocation and portfolio rebalancing from M1.
However, if you have any interest in learning how to really trade, M1 is not the best platform. It lacks many of the investment options you can find at other brokerages (such as options, mutual funds, cryptocurrencies, forex, etc.). Plus, you can't time your trades since all trades are made at the close of the day.
But if you're looking for a fun and simple way to invest and learn a bit while doing so, M1 Finance is a fine platform for you.
Katherine Peach
Katherine Peach is the former managing editor of Money Done Right.  She has more than 12 years of experience in the financial industry. She particularly enjoys writing about stocks and the markets, as well as investing in art and antiques. Learn more about Katherine.