BeFrugal

Basics: BeFrugal is a website and app that lets you earn cash when you make purchases through its website, mobile app, or browser extension.
Pros: It's a legit service that allows you to cash out with no minimum using Zelle, and if you are willing to be paid in gift cards or prepaid cash cards, you can earn a little bonus.
Cons: Even though you receive digital gift cards, there is still a waiting period; there are no in-store cash-back options; and the slightly dated website could use a refresh.

Number of Stores

5,000+

Fees

None

Minimum Payout

$1

Payout Timing

30-90 Days
Many companies compete for your loyalty in the cash-back app space, and each can serve a purpose. In this BeFrugal review, you will discover it is one of those sites that has some nice cash-back offers, and you can easily get some bonus cash if you follow one of my tips (which I share below).
You earn cash by making online purchases through the BeFrugal app or website. And, once you sign up, you can earn even more when you refer friends.
Our BeFrugal review will cover how the site and app works, why the company is willing to pay you cash back, and the pros and cons. Plus, I will teach you a simple trick to earn a bonus and your cash back.
Important: When you use my link, you can score a $10 bonus in your BeFrugal account once you earn at least $10 in cash back on BeFrugal within your first year of joining.
Where Can You Shop with BeFrugal?
BeFrugal pays you cash-back rewards when you shop online, so all of your purchases will need to be digital ones. The service does not offer an in-store cash-back option.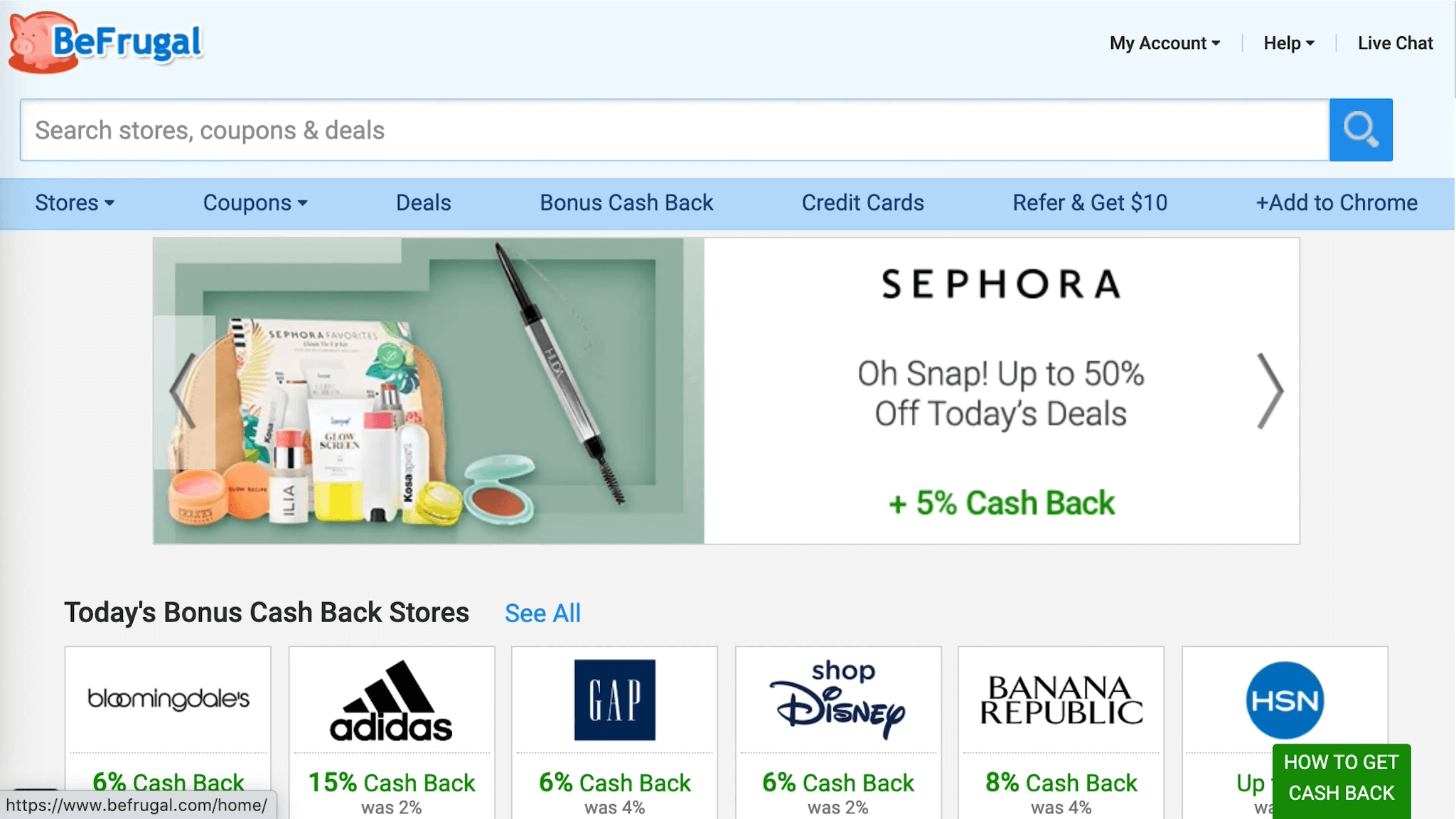 Even though you cannot earn any rewards shopping in a physical store, BeFrugal features more than 5,000 stores where you can earn cash-back. However, be sure to initiate your online shopping trip on BeFrugal's website, in its app, or with its browser button you downloaded.
Here is a sample of online stores where you can earn BeFrugal cash-back rewards
Amazon
Walmart
Ebay
Macy's
The Home Depot
Bed, Bath & Beyond
Dick's
Booking.com
Target
Best Buy
and literally thousands of other online retailers
How BeFrugal Works
After you sign up for your free BeFrugal account (you can do so with email, a Google account, Facebook, or Apple ID), you will be eligible to start earning cashback when you shop through the site or app or download the browser extension. If you do not start your shopping through the site, app, or extension, then BeFrugal will be unable to verify your purchases.
Would you like to see a complete walkthrough of BeFrugal? Check out my BeFrugal walkthrough video below!
BeFrugal Features
BeFrugal Features

| | |
| --- | --- |
| Number of Stores | 5,000+ |
| Fees | None |
| Minimum Payout | $1 |
| Payout Timing | 30-90 days after qualifying purchase |
| Payout Options | Zelle, ACH Direct Deposit, Venmo, PayPal, Gift Cards |
| Payout Bonuses | 1-6% if paid out as gift card |
| Mobile App | Yes |
| Desktop Version | Yes |
| Browser Extension | Yes |
| In-Store Cash Back | No |
| Coupons | Yes |
| Referral Bonus | $10 |
How Much Does it Cost to Join BeFrugal?
BeFrugal pays you; you do not pay BeFrugal. The company receives commissions from retailers to help drive customers to their online stores. BeFrugal uses these commissions to pay you.
How Much Can You Earn with BeFrugal?
It's impossible to say how much one can earn with BeFrugal because all of us are different. Some of us love to shop online and have our purchases shipped to our homes. Others like to shop in-store so they can see and touch what they are purchasing.
Sometimes competitors like Rakuten sometimes have a higher cash-back rate at a particular store than BeFrugal, but BeFrugal has a 125% matching guarantee.
So, how much can you earn? Potentially, you can earn more than any other cash-back app or service.
How to Redeem Your BeFrugal Cash-Back Rewards
BeFrugal will automatically record your shopping trips initiated through one of its platforms, and you will receive a percentage of the purchase price as a reward. If you were to make a $100 purchase at an online retailer with a 6 percent cash-back offer, then you will receive $6 in rewards.
When you want to receive your rewards, sign into your BeFrugal account, visit the Payouts page, and select a method to transfer the money. If you choose a direct deposit or transfer to an electronic payment service like Zelle, there is no minimum payout. Your transfer options include:
Direct deposit to bank account
Transfer to your PayPal, Venmo, or Zelle account
Receive a check (minimum payout is $25)
Receive an eGift card (minimum payouts range from $5-$10) from Visa and major retailers
These are just some of the eGift cards currently available on BeFrugal
Visa Prepaid Card
Sephora
Nike
Hotels.com
Lowe's eGift Card
Starbucks eGift Card
Walmart eGift Card
Kohl's eGift
Bed, Bath & Beyond
Amazon.com
Note: Be sure to check the terms and conditions associated with each of these cards. Some you will need to redeem and use within a certain period of time.
When Can You Cash Out Your BeFrugal Rewards?
After you make an eligible purchase through a BeFrugal shopping trip, it can take up to seven days for your cash-back rewards to appear in your account. When I made an Overstock.com purchase, it only took a few hours.
However, something to keep in mind: Even though the rewards will appear in your account relatively quickly, it can take between 30 to 90 days before you can request a payout.
Even though everything is done digitally, BeFrugal wants to make sure shoppers are not just going to make quick purchases, cash out on BeFrugal, close their BeFrugal accounts, and then return the items to the retailers. So, these 30 to 90 days take into account the refund policies of the different retailers.
How to Maximize Your Payouts on BeFrugal
In some respects, your cash-back rewards are already maximized on BeFrugal. The company guarantees that it pays you the highest cashback rewards.
If you make an eligible purchase and find another rewards site paying a higher rate, inform the company within 24 hours of your purchase. BeFrugal will match 125 percent of the higher cash-back rate. (Please read the fine print after you sign up for a free BeFrugal account.)
But, here is where I want to share with you my secret to maximize your payouts. It's quite simple:
At the time of writing this, if I choose a Visa Prepaid Card payout, I will earn a 5 percent payout bonus. However, I have to activate the card within 4 months, and I need to use all the funds on the card within 7 months. Who has time to track all that? There's no need to with my solution.
When I request a payout, I select the Visa Prepaid Card, claim my 5 percent bonus, and wait for a few days to receive my digital card. (You can request a physical card, but it will take longer to get your money, and you'll pay $3 for it.) As soon I receive the funds, I sign into my Amazon account and purchase an Amazon gift card in the same amount on the Visa Card.
With this trick, I not only receive my rewards and a bonus but now there is no time limit on when I can spend my money. I do a fair amount of shopping on Amazon and have an Amazon Prime account, so it is a win-win-win solution for me.
Current eGift Card Options on BeFrugal
eGift Card Options

| eGift Card | Payout Bonus | Minimum Payout |
| --- | --- | --- |
| Visa Prepaid | 5% | $5 |
| Sephora | 6% | $5 |
| Nike | 6% | $5 |
| Hotels.com | 6% | $10 |
| Lowe's | 3% | $5 |
| Starbucks | 2% | $5 |
| Walmart | 1% | $5 |
| Kohl's | 5% | $5 |
| Bed Bath & Beyond | 3% | $5 |
| Amazon.com | 1% | $10 |
Refer Friends to BeFrugal and Earn Even More
Immediately after signing up for your free BeFrugal cash-back account, you will be able to earn bonuses when you refer your friends.
You can earn an extra $10, and your friend can earn an extra $10, too. For you to get your bonus, your friend will need to sign up using your unique link and earn $10 cash back within a year.
This bonus is only for new accounts.
Is BeFrugal Legit?
After my BeFrugal review, I can confidently say it is most definitely legit. The service is easy to use. You can earn cashback at 5,000 stores, and you can snag coupons and deals at 50,000 stores. BeFrugal has been around since 2009 (forever in internet years), and it is headquartered in Boston.
TrustPilot Reviews are Positive
BeFrugal has a 4.3 out of 5 rating on TrustPilot, and most of the newer ratings are either 5 or 4 stars. One of the complaints is having to wait 30-90 days for a payout, but generally, the reviewers are pleased with the service.
The company has a 3.3 out of 5 rating with the Better Business Bureau. A number of the issues involved the time limits on some eGift cards, rewards not showing up, and customer service.
Getting Help
If you need help with BeFrugal, you can access a number of resources to help find the information you need. These resources include FAQs and articles on topics like "How Does Cash Back Work," "Missing Cash Back," and "Payouts." You can also reach out to customer service via their Contact Us page or through its Live Chat function.
BeFrugal Pros and Cons
BeFrugal Pros
It works as advertised. There's no shenanigans with not tracking shopping trips, and it pays out promptly.
No minimum on payouts. However, you have to choose an option like direct deposit or transfer it with a digital payment system, like Zelle or PayPal.
Payable bonuses when you choose eGift cards. If you are OK with receiving your rewards via an eGift card, then you can score up to an additional 6 percent.
It guarantees the highest cash-back rewards. I recently checked the cash-back offers of a few stores, and BeFrugal had the best rates each time. They have a guarantee, but be sure to read the fine print.
It offers a mobile app. If you like shopping on your phone, you can download the app from the Apple Store or Google Play.
You can earn even more through referrals. You and a friend can earn up to $10 through referrals. Conditions do apply, and your friends need to sign up through your unique link.
BeFrugal Cons
The wait time for an eGift card payout. Despite opting to receive my rewards digitally, I still had to wait a couple days for it.
No in-store cash-back options. If you want to earn rewards, it will have to be from an online shopping trip. Make sure you begin shopping through one of BeFrugal's platforms: The website, the mobile app, or the browser button.
The user interface. The company has been around since 2009, and Boston is considered a high-tech city. Let's get a refresh for the website's outdated look.
BeFrugal Review Conclusion: Is This Cash-Back Service Worth It?
Yes, indeed. You will not make a lot of money, and you will not receive a payout quickly. However, you can earn cash-back rewards and maximize your payouts, which makes BeFrugal an attractive option. Don't overlook the browser extension. Download it and check it out.
BeFrugal is a free service that lets you earn cash back rewards when you make purchases through its website, mobile app, or browser extension. It also features exclusive online coupons and daily deals.
Download
We earn a commission on this offer.
BeFrugal Frequently Asked Questions
What kind of service is BeFrugal?

BeFrugal is a free service that lets you earn cash back rewards when you make purchases through its website, mobile app, or browser extension. It also features exclusive online coupons and daily deals.

How do I cash out on BeFrugal?

Go to your Payouts page and see how much money is available for a payout. When you request this money, it takes about 2 days for you to receive your rewards. However, it can take 30 to 90 days for your rewards to become available for payout (because cash-back earnings will not be available until after a retailer's refund period).

Is there a way to earn a BeFrugal bonus?

Yes, there are a couple ways. If you choose an eGift card as your method of payment, then you might receive up to a 6 percent bonus. Also, you can boost your savings when you stack coupons with your cash-back rewards while you shop through BeFrugal.

What is the BeFrugal minimum payout amount?

Yes and no. It depends on how you want to receive your rewards. Payout methods like direct deposit, Zelle, PayPal, and Venmo have no minimum limit. However, eGift cards have minimum limits, starting at $5.

Do I need to start my shopping trip with BeFrugal?

Yes. In order for purchases made on your online shopping trips to show up on your account, you will need to sign into BeFrugal through the website, mobile app, or browser button.
BeFrugal Alternatives
BeFrugal

Rakuten/Ebates

TopCashBack

ShopAtHome

Number of Stores
Fees
Minimum Payout
Payout Timing

30-90 days after qualifying purchase

1-2 months after qualifying purchase

Payout Options

Zelle, ACH Direct Deposit, Venmo, PayPal, Gift Cards

ACH Direct Deposit, PayPal, eGift cards

Check, PayPal, Gift Cards

Payout Bonuses

1-6% if paid out as gift card

Mobile
App
Desktop Version
Browser Extension
In-Store
Cash Back

Yes, when you use a linked card

Yes, when you use a linked card

Coupons
Referral
Bonuses
Author:
Logan Allec, CPA
Logan is a practicing CPA and founder of Choice Tax Relief and Money Done Right. After spending nearly a decade in the corporate world helping big businesses save money, he launched his blog with the goal of helping everyday Americans earn, save, and invest more money. Learn more about Logan.