Money Done Right does not run display ads or accept sponsorships to promote particular products or services. However, we may receive a commission if you purchase or sign up through links on this page. Here's more information about how we make money.
Buying a boat is a major commitment, and finding the best way to store your new vehicle is crucial. Boat storage options range from relatively affordable to incredibly expensive. Wet or dry… indoor or outdoor… Which is right for you?
It's important to understand the pros and cons of each option before deciding how to store your boat. This article will cover everything you need to know about boat storage in order to make an informed decision based on your budget and needs.
Why Is Boat Storage Important?
When you purchased your new boat, boat storage ideas probably weren't the first thing on your mind. That said, it's critical to store your vehicle in a safe place.
Without a secure, sheltered storage area, your boat will deteriorate much more quickly and be subject to additional risks. It's especially important to find boat storage during the winter and anytime you're going to be away for an extended period of time.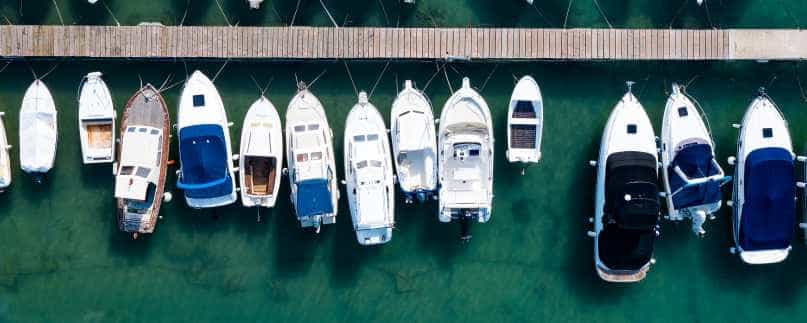 Boat Storage Ideas
Boat owners can use a variety of storage methods to protect their investment. These are a few of the most common boat storage ideas — keep in mind that the right choice for you depends on a range of factors including the cost of your boat, how often you'll need to transport it, and any harsh weather conditions in your area.
While it's always good to save money, be aware that the cheapest option isn't always the best in the long run. Outdoor storage, for example, is usually less expensive, but you'll need to winterize your boat and invest in a boat cover. Make sure to consider hidden boat storage costs when comparing different options.
Home Storage
Keeping your boat at home is probably the simplest option, but that doesn't mean it's the most effective. The most obvious benefit of this boat storage idea is that it comes at no extra charge. You can also put it in the garage for indoor boat storage or use a boat cover if it's outside.
That said, rearranging your garage to fit a boat can be extremely time-consuming, and it could clutter other areas of your home. You might also not want to store your boat outside if you're worried about theft or your home's appearance.
Furthermore, you'll need to drive the boat to the water yourself whenever you want to use it. If you're concerned about any of these issues, home storage may not be the best option for your boat.
Self-Storage for Your Boat
Self-storage solutions have become more commonly available, and they typically provide more flexibility than marinas (see below). Different options are available in different areas.
Indoor boat storage offers improved protection compared to keeping your boat outside. Commercial storage facilities typically offer both indoor and outdoor storage, so contact a storage facility in your area to learn more about your options.
Neighbor
More and more people are using Neighbor to store a wide variety of items, including boats of all sizes. Rather than working with a marina or storage unit, you'll be connected directly to a host.
Neighbor uses a model similar to Airbnb in order to help boat owners find suitable spaces that meet their needs.
The site offers much lower prices than many storage units, and you can use its search filters to find the perfect space. Neighbor claims that you could save 50% or more using the platform compared to a similar alternative.
While prices vary from one location to another, you should be able to find indoor and outdoor storage for a small boat for less than $100 per month.
Since hosts can list any kind of location, you'll find a much more diverse range of storage units on Neighbor. Most of Neighbor's units allow for 24/7 access to your boat, so you can pick it up at any time. Other available amenities include climate control, wet slips, dry lifts, and additional security.
We've published an in-depth review of Neighbor's services where you can find out more information. If you decide to sign up for an account today, you can use our referral link to earn an additional $50 bonus when you rent your first storage space.
Outdoor Boat Storage
Many marinas provide outdoor boat storage for a monthly or yearly fee, and this is often the most convenient option. Keeping your boat near the water makes transport substantially easier, and unlike some other solutions, the marina will have a specific storage area for boats. You can trust that your vehicle will be well maintained.
On the other hand, marinas typically charge a premium for the convenience and security they offer. You could spend significantly more than you would with another boat storage idea. Whether or not the ease of access is worth that money is up to you.
The average marina charges around $50 per foot per year for a wet slip. Check options in your area to determine exactly what you'll pay for each type of storage. Shop around with different local marinas to compare cost, location, and other factors.
You should also keep in mind that marinas often store boats outside on the water, which could lead to weather-related damage. If you don't have boat insurance, repair costs can add up very quickly.
Unless you can use a boat cover, it's usually best to avoid storing uninsured boats outside. Remember that your insurance policy may not cover damage that results from negligence.
The Benefits of Professional Storage
It's clear that self-storage and solutions such as Neighbor are often cheaper, but storing your boat at a dedicated storage facility offers its own advantages. Boats are a valuable investment, and mismanagement in storage could lead to substantial costs.
If you don't feel confident in your ability to maintain your boat, consider looking for professional storage. Marinas, storage facilities, and other boat storage solutions have experience and expertise in taking care of boats. They know how to keep your boat in good condition throughout the off-season.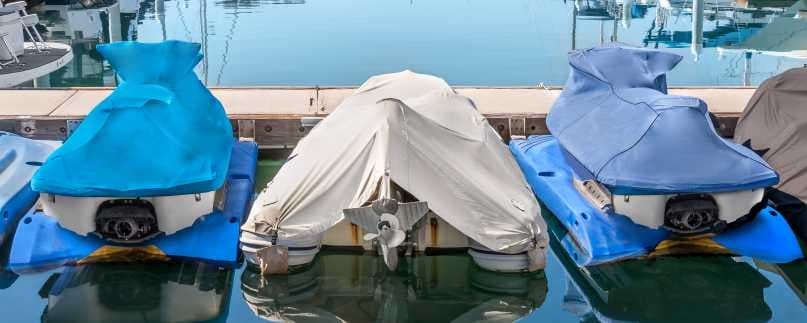 Boat Storage Sizes
Boat storage units come in a variety of sizes, and it's important to find the perfect size for your boat. A unit larger than you need will cost extra money without giving you any benefits in return.
These are some of the most common storage dimensions for boats of different sizes. Keep in mind that some person-to-person (P2P) boat storage units may have non-standard dimensions.
10 by 15
A 10-by-15-foot storage unit might not sound like much, but it's enough for many small boats. You can save a significant amount of money on boat storage costs by looking for a smaller space.
Ten by 15 is the right amount of space for small drifters and skiffs, along with Jet Skis and other equipment.
Keep in mind that most indoor boat storage units are roughly eight feet tall. If your boat is taller than eight feet, you may need to look for outdoor storage.
10 by 20 to 30
After 10 by 15, 10 by 20 and 10 by 30 are usually the next larger sizes. These spaces are more common than 10 by 15, and they're perfect for most medium-size boats. Make sure to measure your boat on a trailer to determine exactly how much space you need.
You should probably look for a space with these dimensions if you have a wakeboard boat, speed boat, fishing boat, or small pontoon. Again, don't forget to consider your boat's height when taking measurements.
Outdoor Units
If your boat won't fit in a standard indoor unit, outdoor storage is the next best option. Many units are covered, giving your boat at least some protection from the elements. Keep in mind, wakeboard boats with towers are often too tall to fit in an indoor boat storage unit.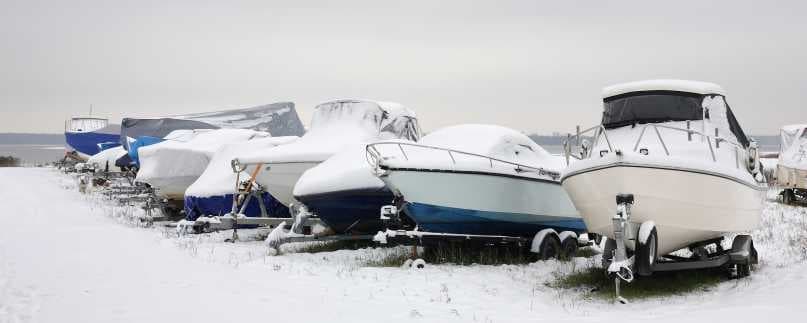 Winterizing Your Boat
It's important to winterize your boat if you live in an area with colder temperatures. Follow these steps to make sure your boat's interior and exterior are completely protected.
Cleaning
Both saltwater and freshwater boats should be thoroughly cleaned at the end of the season. Leaving salt and other debris on your boat will damage the paint over time. You can further protect your boat's paint by waxing and buffing before putting it into storage.
Make sure to spend some time on the interior, especially if your boat contains carpeting or leather. Any stains you fail to clean will set while the boat is in storage.
Adding Oil and Fuel
You might not think to add oil and fuel to your boat while it's in storage, but this is a critically important step that keeps your boat fresh. An empty tank will take in water and air, leading to significant damage.
Use a fuel stabilizer to prevent the fuel from evaporating in storage. You should also run antifreeze at the beginning of each winter.
Taking Out the Battery
You can leave your boat's battery in for indoor storage, but the battery should always be removed if you're planning to store your boat outside. Temperature fluctuations can damage a battery quickly, so make sure that the unit is climate-controlled.
Removing the battery also allows you to keep it charged during the off-season.
Indoor Boat Storage: Ventilation
While indoor boat storage units offer a number of advantages, they're also more likely to contain mold. Mold is an especially important issue because most boat insurance policies won't cover it.
It's important to keep your boat dry and ventilated throughout the storage season. As with covers, paying for vents during the off-season is much cheaper than getting mold removed when you take the boat out of storage.
Wet Storage: De-icing
A de-icer is the best way to protect your boat from ice if you're storing it on the water. Without de-icing, ice can form and lead to substantial damages. You should also check your dock lines carefully before putting the boat into storage.
Wet Storage: Sealing the Bilge
It's critical for your bilge to be completely sealed during the winter to prevent water from entering the boat. Without a strong seal, water could ruin your boat's interior or even cause it to sink. You can buy a bilge alarm or backup bilge pump for additional security.
Outdoor Storage: Covering Your Boat
Again, boat covering isn't necessary for indoor storage, but it's vital if you have an outdoor unit. Wind, rain, debris, and a range of other things can damage the interior and exterior of your boat. Boat covers are a small cost compared to the price of repairs or a new paint job.
While boat covers are the most common option, some boat owners prefer to use shrink wrap to protect their boat. This is the most effective way to keep out dirt, but it can also prevent moisture from escaping. It's critical to thoroughly dry your boat before storing it and make sure it has sufficient ventilation.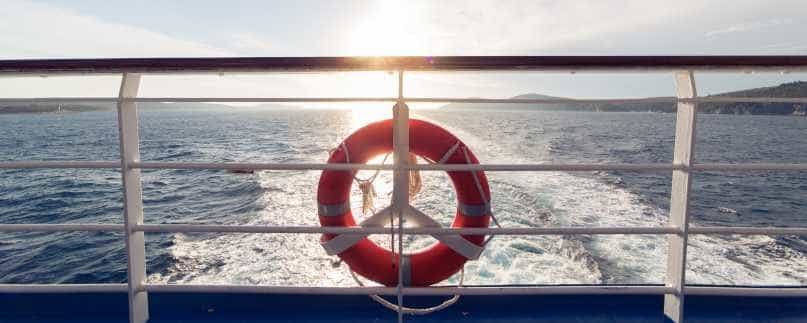 Boat Storage Insurance
Many boat owners let their insurance lapse while their boat is in storage, but coverage can be just as valuable during the off-season. Even when stored, boats are subject to a variety of risks that could lead to significant costs. Although homeowners insurance sometimes covers small boats, this protection probably won't be enough for major damages.
Depending on your storage method, you might even be able to lower your premium while your boat is being stored. Talk to an agent for more details on insuring a boat that's in storage. Insurance can be surprisingly cheap, especially considering how much damage many policies cover.
Each boat insurance plan works differently, but policies often pay for more than just repairs and replacement. With the right plan, you could be covered for everything from medical costs to liability and emergency services. If you need only certain types of coverage during the off-season, contact an agent to learn more about your options.
Final Thoughts
The way you store your boat has a large impact on its condition over time, so it's important to find the option that best matches your needs.
In addition to indoor and outdoor storage, there are also a variety of alternatives, including P2P and marina storage. We particularly like Neighbor for low-cost self-storage.
No matter what option you choose, remember to clean, dry, and winterize your boat before putting it into storage.
Logan Allec, CPA
Logan is a practicing CPA, Certified Student Loan Professional, and founder of Money Done Right, which he launched in July 2017. After spending nearly a decade in the corporate world helping big businesses save money, he launched his blog with the goal of helping everyday Americans earn, save, and invest more money. Learn more about Logan.