Survey Club Review 2023: Is This Survey Site Legit or a Scam?
Online Surveys
Survey sites are an increasingly popular way to generate passive income. In our Survey Club review, we'll take a look at one of the major survey sites on the internet.
Although taking surveys won't make you rich, they're a fun and easy way to make some extra bucks. However, it can be tough to distinguish between reputable survey sites and scams.
It's likely you don't have time to check out every platform. That's why we've taken surveys with a number of popular sites and identified the best opportunities.
We gave Survey Club a "C" rating. So let's dive in and take a more in-depth look at why we don't think it's one of the best survey platforms around.
This Survey Club review will cover the most important things new users should know about the platform. We'll also go over using the website and help you through the sign-up process.
Survey Club Review: What Is Survey Club?
Survey Club is one of the better-known survey sites currently available. The site was created in 2005, and while 14 years may not sound like a long time, Survey Club is actually earlier than most of its competitors.
Like most of survey sites, Survey Club offers small rewards in exchange for each survey you take. It provides surveys on a variety of topics depending on your location and demographic data. Survey Club claims to have more than 16 million members on every continent except Antarctica.
Survey Club Review: How Does It Work?
If you're interested in taking surveys, you probably want to know the details of how Survey Club works. This section will walk you through each step of the process from signing up to earning rewards. The earlier you create an account, the sooner you'll redeem your first reward.
Signing Up
The Survey Club sign-up process is similar to that of many other survey sites. You'll need to enter your full name, email address, gender, and date of birth along with some additional information.
Survey Club also invites you to sign up for other survey panels as part of the sign-up process. It recommends that you enroll in at least three of these. This is intended to help you find more surveys, but it also felt like a lot of work to sign up.
Survey Club uses this data to match you with the right surveys, so make sure everything is accurate. After you finish the account creation process, you can start taking surveys and earning cash.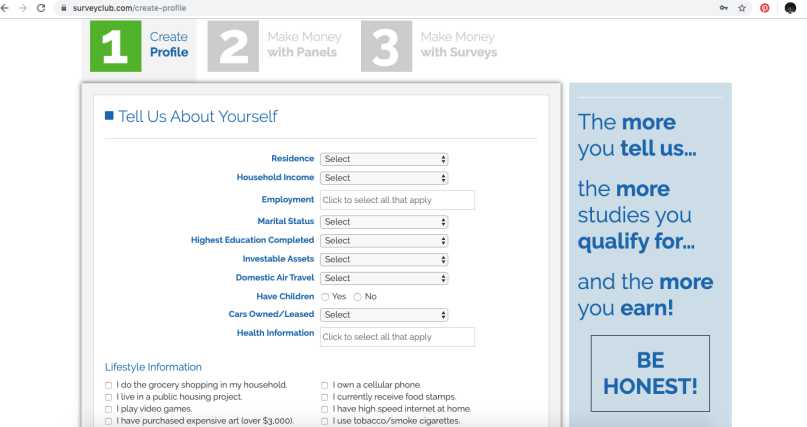 Taking Surveys
Once Survey Club has your information, the site will send you email invitations whenever you could qualify for a new survey. Remember to add the website to your list of approved senders so you don't miss any opportunities.
You can view the estimated time and available rewards for each survey, so it's easy to avoid surveys with a relatively low payout. Everyone's experience is different, but you should receive invitations at least somewhat consistently. This might fluctuate over time depending on demand for your demographic.
In addition to standard surveys, Survey Club also offers some other unique opportunities, including clinical trials and research studies. These opportunities aren't available on most conventional survey sites.
Furthermore, remember how Survey Club suggests you sign up for at least three other research panels? That's to help Survey Club find surveys offered by other sites.
Finding surveys is one of the most frustrating parts of most platforms, so access to additional surveys makes things a lot easier. Some longer opportunities provide as much as $200 in rewards, a lot more than other sites typically offer.
While Survey Club uses your information to identify good matches, there's no guarantee that you'll qualify for a survey. Each survey starts with a short screener questionnaire to make sure you fit your criteria. If you're screened out, you'll at least receive 10 cents in compensation for your time.
Earning Rewards
As mentioned above, you'll see exactly how much rewards you can earn with each survey. Unlike many other sites, Survey Club displays a cash value — you won't have to convert points to dollars. Rewards differ from one survey to another depending on the time involved and which company is running the survey.
Survey Club offers rewards as cash, but it claims that you can also redeem your balance for an Amazon gift card. Unfortunately, this option isn't accessible on the website. Keep in mind that you're allowed to redeem a minimum of $25. This makes it more difficult to reach the threshold necessary for your first redemption.
Most surveys offer one or a few dollars, but some come with significantly more. We've even seen surveys with as much as $200 in rewards. Make sure to check your email regularly so that you don't miss these unique offers.
You'll earn some rewards for failing to qualify with screener surveys, but these benefits are relatively small compared to those available after completing an entire survey. It can be frustrating to take a large number of screeners before qualifying for a complete survey.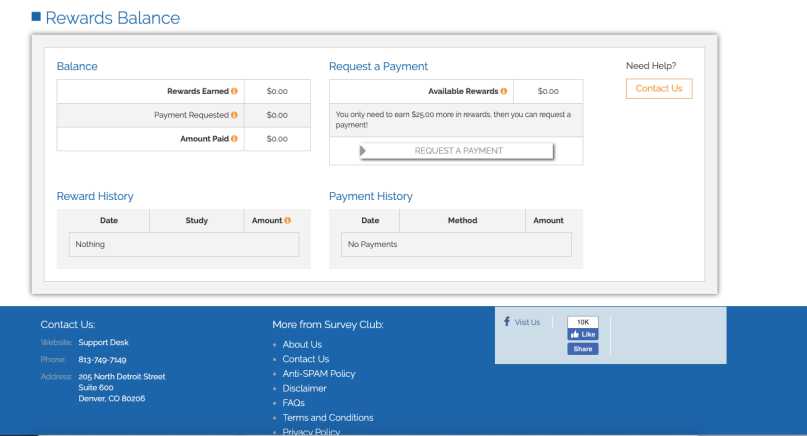 Survey Club Review: Pros
Survey Club is a reputable and professional platform. These are some of the positive things we found on the platform when working on this Survey Club review.
Clear Rewards System
Most survey sites offer points when you complete a survey. While there's nothing wrong with this system, it can be confusing to compare points to dollars. Some platforms use an intuitive ratio. $1 might be 1,000 points, for example. Others use an uneven amount to make it more difficult to determine how much you're earning.
Survey Club doesn't use points or any other intermediary, so all rewards are described in terms of cash. This makes it simple to calculate how much you're earning for the time you spend taking surveys. You can also look for high-paying surveys and determine which ones are the best deals.
International Support
It's not always easy to find surveys outside the United States, Canada, and the United Kingdom. While international users may not qualify for as many surveys, Survey Club is still open to a surprisingly diverse range of users. You can create an account from nearly anywhere on the planet.
With that in mind, there's no reason not to sign up and check out the list of available surveys. If you don't see any good offers, you can always move to another site. Either way, this is still more international support than most survey sites offer.
Higher Payouts
While Survey Club offers some relatively poor surveys, there are also some decent ways to make money. Focus groups and other opportunities provide significantly larger payouts than most conventional surveys. You could earn as much as $200 in a single offer.
Since the website gathers surveys from so many other platforms, you should be able to find good deals even if you don't qualify for any focus groups. Remember to check the website and your email regularly for the latest offers.
Support
Many survey sites fail to provide adequate support, making it easy to get stuck and miss out on rewards. Survey Club allows users to submit a help ticket when they have questions or concerns.
The knowledge base covers some of the most common issues users encounter while using the platform. There's also an FAQ for more basic information about how Survey Club works. All things considered, the website makes it very easy to take full advantage of its features.

In-person Events
The majority of survey sites function entirely online, but Survey Club also provides some physical opportunities. The website is based in the Denver area, so these are typically limited to users in and around Denver.
These opportunities tend to offer substantially higher rewards than other surveys, and they're relatively convenient if you live in the area. They have a smaller target audience than online surveys, so local users have a better chance of qualifying.
That said, it can be frustrating when you get an invitation to participate in a survey only to find out it's not necessarily near your home.
Payout Options
Survey Club allows you to redeem your rewards as cash. Other sites limit you to gift cards and sometimes products, but cash is much more flexible. You can deposit the money into your bank account for spending, saving, or investing.
Cash payouts are processed via PayPal, so you'll receive the money quickly. Some sites send cash only as a check that can take weeks to arrive. Survey Club's reward options are more flexible than most alternatives.
Survey Club Review: Cons
We consider SurveyClub to be a decent choice for surveys, but it isn't a perfect option. It comes with a few notable drawbacks compared to other sites. This section will go over some of the most inconvenient flaws we found while writing our Survey Club review.
No Mobile App
You may prefer to take surveys on a computer, but your phone is typically a more convenient option. With a mobile app, you can answer questions on your commute, while waiting in line, or during any other free time.
Unfortunately, Survey Club doesn't currently offer a mobile app. Some other sites have applications on both iOS and Android, so this is a major issue for mobile users. While the website itself is optimized for mobile devices, it's still much slower and less intuitive than a well-designed app.
Screener Surveys
Screener surveys are a common inconvenience across survey sites, but some platforms don't use them at all. Instead, they ask for more detailed profile information and only match you to surveys you qualify for. This removes the need for an initial questionnaire before each survey and makes your time more valuable.
Survey Club uses screeners and offers only a small reward if you're screened out of a survey. It can be difficult to qualify, so you may spend a lot of your time on screeners. This is especially frustrating because there's no way to predict which surveys you'll qualify for.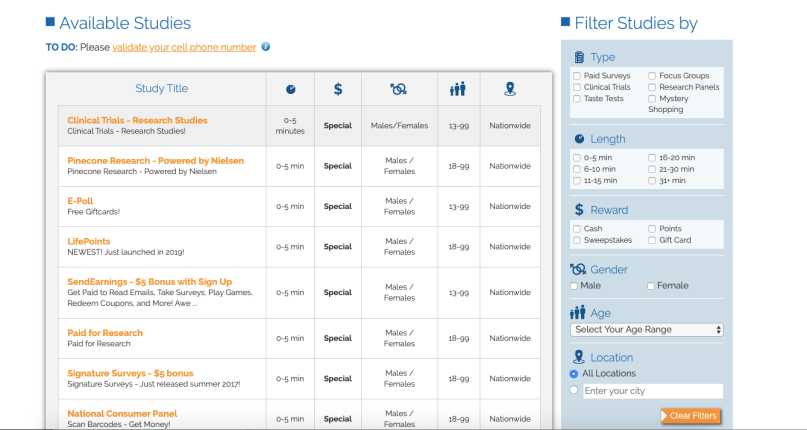 Small Payouts
While Survey Club offers the occasional opportunity for more money, the vast majority of surveys come with less than $5. This limits your earnings over time and prevents you from earning even close to minimum wage.
You'll make more money taking surveys than you would doing nothing, but it's not a very effective method of earning cash. Even if you take surveys consistently, you probably won't earn more than a few dollars per week. Don't think of surveys as anything more than a productive way to spend your free time.
This issue applies to every survey site, so it's not specific to Survey Club. That said, you should have realistic expectations before signing up. You'll probably be disappointed if you thought you could earn a second income.
High Email Volume
Email notifications are one of the benefits of Survey Club, but you'll probably receive more email than you have time for. The site tends to send notifications extremely frequently, especially if you fit common criteria. You might get tired of seeing so many survey notifications every week.
With that in mind, you might prefer to sign up with a separate email address. This prevents invitations from cluttering your inbox. You could also check the Survey Club website rather than waiting to receive invitations.
Conflicting Information
Survey Club describes its rewards policy differently in different areas of the site. The FAQ page claims that you can redeem rewards as a gift card or cash. On the other hand, there isn't a gift card option when you attempt to redeem your rewards.
If you'd prefer a gift card over cash, consider signing up with a more reliable website. You should use Survey Club only if you're fine with receiving rewards as cash.
High Minimum
Some sites allow you to redeem as little as $1, but Survey Club has a minimum redemption of $25. Considering how little most surveys pay out, it could take you a while to reach this number.
While you'll still earn the same amount of money, it's easy to feel discouraged when you need to take so many surveys to take out any cash. Websites with lower minimums help you feel like you're making consistent progress.
Survey Club Review: The Bottom Line
Survey Club offers some uniquely lucrative opportunities. That said, it can be hard to earn a significant amount of money if you're only taking surveys. The site also has a few other issues that could impact your experience.
If you're considering taking surveys for money, there are some better options out there. We particularly like Survey Junkie and Swagbucks.
Still, if you're intrigued by the opportunities Survey Club has to offer, you can always just sign up for a free account and give it a try!
Author: