Ladder Life Insurance Review 2020: Quick Approval for Term Life
Life Insurance
Everybody hates shopping around for life insurance policies. Not only is it something most people don't like to think about, but the application process can be confusing and time-consuming. That's where a new life insurance company called Ladder comes into play.
With Ladder life insurance, applying for the policy that best suits your family takes about five minutes. You'll even get instant approval.
Plus, Ladder life insurance is competitively priced. It offers a money-back guarantee. And it gives you the ability to "ladder" your policy to both save you money and match your changing needs over time.
In this review, let's take a look at how Ladder life insurance works. We'll check out what the underwriting process is like and why this company stands out from all the rest.
What Is Ladder Life Insurance?
Founded in 2017, Ladder is a young company. That's especially true when you compare its short history to other life insurance companies that have been around for more than 200 years.
Ladder isn't your father's insurance company. Based entirely online, Ladder seeks to appeal to a Millennial audience. However, anyone up to age 60 years old can apply for a Ladder policy.
The application process is quick and easy, taking only minutes to complete. Decisions are often instant.
One of the key features of Ladder lies in its name. You see, policyholders can "ladder" their coverage over time.
What does this mean?
Say you're a newlywed and you and your spouse have just bought a home. At this point, you're buying life insurance to protect your partner and your home in case something were to happen to you.
However, let's say a couple of years from now you have a baby… and then another. Suddenly, you feel like you need more life insurance coverage to provide for your children. With Ladder life insurance, you can easily apply for more coverage as your obligations change, adding it to your existing policy in just a few steps.
A decade or two down the line — when your children have graduated and your home is paid off — you can even decrease your term policy coverage with just a few clicks, saving your family money while still protecting those you love most.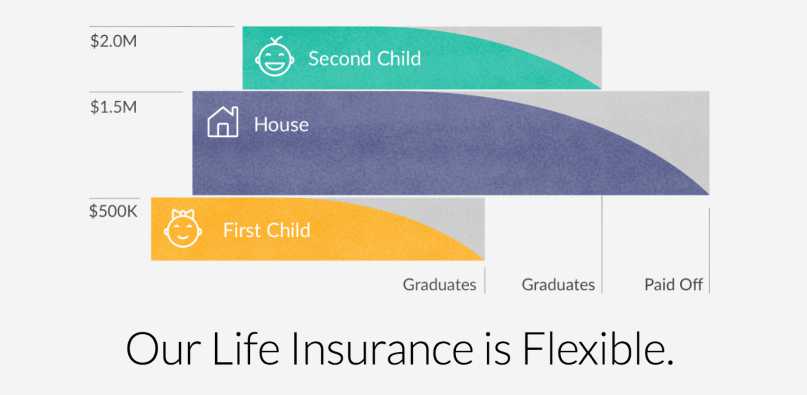 How Does Ladder Life Insurance Work?
Coverage through Ladder is offered exclusively in the form of term life policies. (Yes, there are different types.) These policies come in term lengths of 10, 15, 20, 25, or 30 years, depending on your needs.
Term policies are strictly death benefit policies. If you outlive the length of your policy term, there will be no payout.
The Fidelity Security Life Insurance Co. backs all Ladder life insurance policies so you can feel secure in your coverage. Also, because all of Ladder's brokers are also salaried — rather than working on commission — you can feel secure in their recommendations for your new policy.
Currently, Ladder life insurance policies are available in every state except for New York.
There are no cancellation fees with Ladder policies, so you're welcome to cancel your coverage at any time without a penalty. Additionally, the insurer offers a 30-day money-back guarantee. If you aren't happy with your new policy for any reason, simply cancel and Ladder will refund your first premiums.
10- to 30-Year Coverage
As a Ladder Life insurance customer, you can opt for a term life policy in five-year increments, ranging from 10 to 30 years. Minimum coverage is $100,000, and you're able to buy coverage as high as $8 million.
Once you lock in your premiums for the term length and coverage amount you choose, you won't ever have to worry about them changing. This means that your premiums won't increase over time due to aging or even changes in your health. The only time your premiums will change is if you initiate a coverage increase or decrease, utilizing the "ladder" feature.
How to Ladder Your Coverage
You may want to add more coverage to your life insurance policy if, down the line, you purchase a bigger home, have more children, accumulate debt, or want to provide even more for your loved ones.
With many insurance companies, this change might require applying for an entirely new policy. However, at Ladder, the process is easy, quick, and fee-free. It takes only a few clicks to apply for additional coverage.
Conversely, you may want to save money over the years by decreasing your term life coverage. Whether you pay off your home, your children grow up, you're able to eliminate debt, or your spouse becomes the breadwinner, you simply might not need as much life insurance coverage later on.
Laddering your policy downward is even easier and will save you money each and every month on your life insurance coverage through Ladder.
Calculating How Much Coverage You Need
If you're not sure how much life insurance you should buy, no worries. Ladder has a helpful coverage calculator on its website that's quick and easy to use.
Simply input data such as your current assets and obligations, your children and their ages, and any additional provisions you'd like to factor into your Ladder life insurance coverage. You can also include any existing life insurance coverage you may have.
The calculator will then tell you exactly how much term life insurance you should consider buying, as well as the closest coverage amount possible through the company.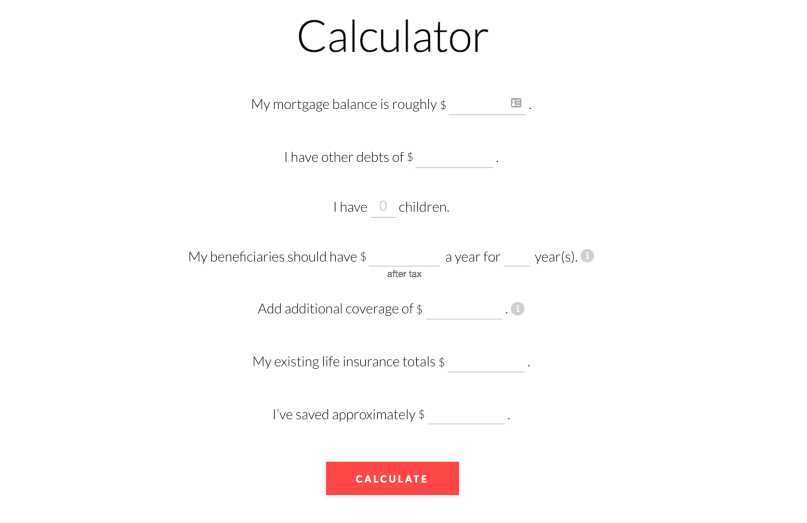 Ladder's Partner
Fidelity Security Life Insurance Co. backs policies through Ladder. This Kansas City-based partner company was founded in 1969 and has a proven track record of providing reliable and secure coverage to policyholders across the country.
Currently, Fidelity Security Life Insurance Co. has an A (Excellent) financial strength rating through A.M. Best and an A+ rating with the Better Business Bureau.
Applying for Ladder Life Insurance
No one wants to deal with a lengthy or frustrating life insurance application process. That's why Ladder has designed an application that is simple and quick so you can get an answer in a few short minutes.
You'll be asked to provide information about some personal factors to get an answer regarding your life insurance coverage application.
These include your:
Gender
Height and weight
Alcohol, tobacco, marijuana, and controlled substance use
Age
Immediate family history of diabetes, cancer, heart disease, Huntington's Disease, and Lynch Syndrome prior to the age of 60
Annual household income
Children
Mortgage balance
Desired coverage term length and amount
Risky hobbies or activities
Driving history
Medical history
Name and address
Social Security number
Entering this information is simple and straightforward. The entire questionnaire takes just a few minutes to complete and is almost entirely composed of drop-down menus and checkboxes.
Some applicants will be asked to participate in a health check. This might be triggered by age, medical history, coverage amount requested, or any number of factors. The health appointment (if required) is free, and a health technician will come to you at your convenience to ask a few questions, take your vitals, and collect blood/urine samples.
Restrictions on Ladder Life Policies
There are a few limitations to keep in mind if you're considering a Ladder life insurance policy.
Age
You can purchase a life insurance policy through Ladder as long as you're between the ages of 20 and 60 years old.
Ladder term life insurance policies are available until the policyholder turns a maximum of 70 years old. This means that if you're 55, you cannot buy a 20-year policy; instead, you'd be limited to 15 years of coverage. If you're 60, you're limited to a 10-year policy, and so on.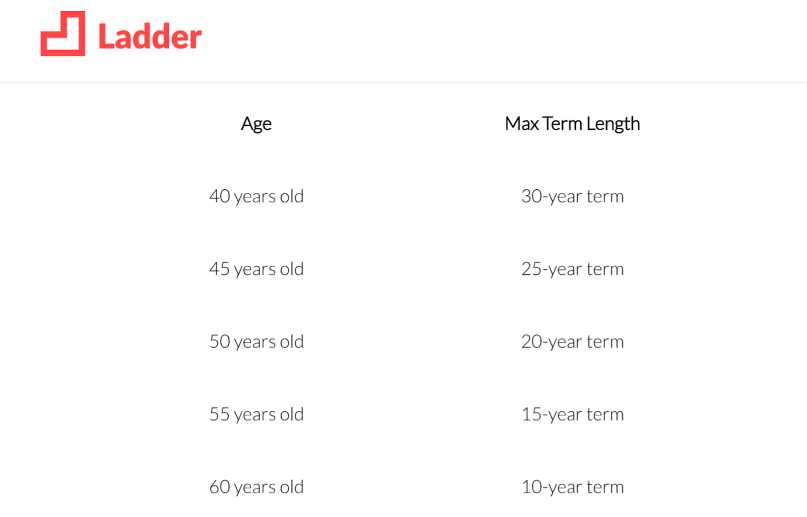 Location
Currently, Ladder life insurance is available to customers in 49 states, excluding those who live in New York.
Riders
At present, Ladder doesn't offer riders on any of its life insurance policies. The company's philosophy holds that riders — such as accelerated death benefits and waivers of premium, for example — tend to complicate life insurance without providing significant benefit.
Whether you agree with that assessment is up to you.
Ladder Life Insurance Review: Comparing the Process
Gone are the days of shopping around for a policy with a life insurance agent and meeting in their office to go over your medical history, coverage options, and possible premium costs. You'd then be subject to a medical exam and — assuming you met the standards required for coverage — stacks of paperwork to fill out before a policy would kick in.
Oh, and did I mention that many of the agents were working on commission, making it difficult to know if you were actually getting the most honest recommendations?
Now the process is much different. You can shop for life insurance coverage online in your pajamas, from the comfort of home.
With providers such as Ladder, you can have an answer in as little as five minutes just by answering some basic questions about your needs and medical history. The online calculator can even help you determine exactly how much coverage you need so you don't underbuy or overbuy.
If you're interested in reading about other life insurance companies with quick and easy application processes, check out our reviews of Haven Life Insurance and Bestow.
Ladder Life Insurance Review: Pros
There are many reasons why you may want to consider Ladder during your life insurance policy search.
Flexibility
You can build the Ladder life insurance policy that suits you best, choosing from term lengths of 10-30 years and coverage amounts ranging from $100,000 up to $8 million.
However, one of the best benefits of this company is the ability to "ladder" your coverage over time as your life insurance needs change. If you need to increase your coverage amount, you can easily apply to do so at any time.
Need to decrease your coverage? No worries; with a few simple clicks, you can reduce your policy coverage to whatever limit best suits you and your family.
There are no penalties or fees involved, either.
Coverage Calculator Tool
Ladder makes it easy to calculate exactly how much coverage you need from your life insurance policy with its coverage calculator tool.
After entering a few bits of personal information — such as your mortgage amount, number of children and their ages, existing debt, and any assets you hold — you can easily see how much coverage will protect your loved ones.
From there, you can increase or decrease your policy amount as desired.
Grace Period
No matter how diligent you are with your finances, there are times throughout your decades-long life insurance policy that you may inadvertently miss a payment. Rather than penalizing you right away, Ladder offers a 61-day grace period.
During that time, you'll still maintain full coverage, and you won't be charged a late fee, either. However, if payment is not received by the end of that grace period, your coverage will be terminated.
No Sales Agents Looking for a Commission
You can complete the entire application process online when obtaining your Ladder coverage. There's no need for most applicants to even interact with a sales agent; if you want or need to, however, you'll be glad to know that Ladder's representatives are not commission-based.
This means no high-pressure sales tactics or conflicts of interest when selling you a policy.
Easy Navigation and Fast Completion
Don't waste time with lengthy applications or in-person policy sales (unless that's your thing). Instead, you can enjoy a quick coverage search that can take as little as five minutes and give you an immediate decision.
Ladder's online application is simple to navigate and easy to complete. With just a few minutes and a handful of clicks, you'll get a quote for coverage and be one step closer to life insurance coverage.
Chat With Representatives
Ladder is open Monday through Friday from 8 a.m. to 5 p.m. Pacific. You can call the company during those hours with any questions you may have or — if you'd prefer — hop on the website to live chat.
Ladder Life Insurance Review: Cons
Of course, there are also a few important things to keep in mind along the way if you're thinking about applying for coverage through Ladder.
Ineligibility
We touched on this earlier, but Ladder life insurance policies are not available for everyone. In fact, there are a handful of reasons why you may find yourself ineligible for coverage.
They include:
Living in New York state
Being under 20 years of age
Being older than 60
Applying for a term length that exceeds your turning age 70
Needing coverage less than $100,000 or more than $8 million
While medical concerns will not preclude you from coverage, approval is given on a case-by-case basis. So there's always a chance that once a medical exam is conducted and more information obtained, you could be denied a policy based on preexisting concerns.
Only Term Coverage Is Available
If you're considering buying a permanent (or whole life) insurance policy, Ladder isn't the company for you. Here, you'll only find term policies. These are typically much more affordable and easier to obtain than whole life policies. However, you'll be limited in your term lengths, and once your term is up, your coverage will expire.
It's important to consider whether term or whole life insurance is the right choice for you and your loved ones.
Only One Rate Option
Since Ladder partners only with Fidelity Security Life Insurance Co., you'll be receiving only one premium quote when submitting your info through the website.
This means that you'll need to shop around elsewhere to ensure you're getting the best possible rate. Or you could use an aggregator to compare multiple rates at once.
The Bottom Line
If you're in the market for term life insurance, Ladder is definitely worth a look. The company not only makes the process simple but also offers a secure insurance product that will protect your family if the worst were to happen.
At Ladder, you'll be able to choose from a variety of policy coverage options. Term lengths range from 10-30 years, and coverage can be as low as $100,000 or as high as $8 million. No matter what you need, Ladder can build a policy to suit. If you need to adjust coverage in either direction later on, you can do so without penalty or fees.
Buying life insurance is never a comfortable process. However, with Ladder, it can be easier than ever to buy the coverage you need most.
Stephanie Colestock
Stephanie Colestock is a personal finance expert and writer who enjoys teaching people how to be financially independent and confident about their money choices, regardless of obstacles in their path (such as the crippling student loan debt she once held). Stephanie graduated from Baylor University, and is currently working toward her CFP certification. Her work can be seen on sites such as Forbes, Dough Roller, and Johnny Jet, among many others.