This post may contain affiliate links, which means the site may receive a commission if you purchase or sign up through these links at no extra cost to you. Please read full disclaimer for more information.
Online business ideas, especially home-based ones that you can start on the side, are a faraway dream for most people.
I mean, who wouldn't want to wake up in the morning, turn on their computer, and make six figures without even leaving the house?
Who wouldn't want to escape the 8-to-5 rat race, complete with endless traffic, demanding bosses, and annoying coworkers?
81 Best Online Business Ideas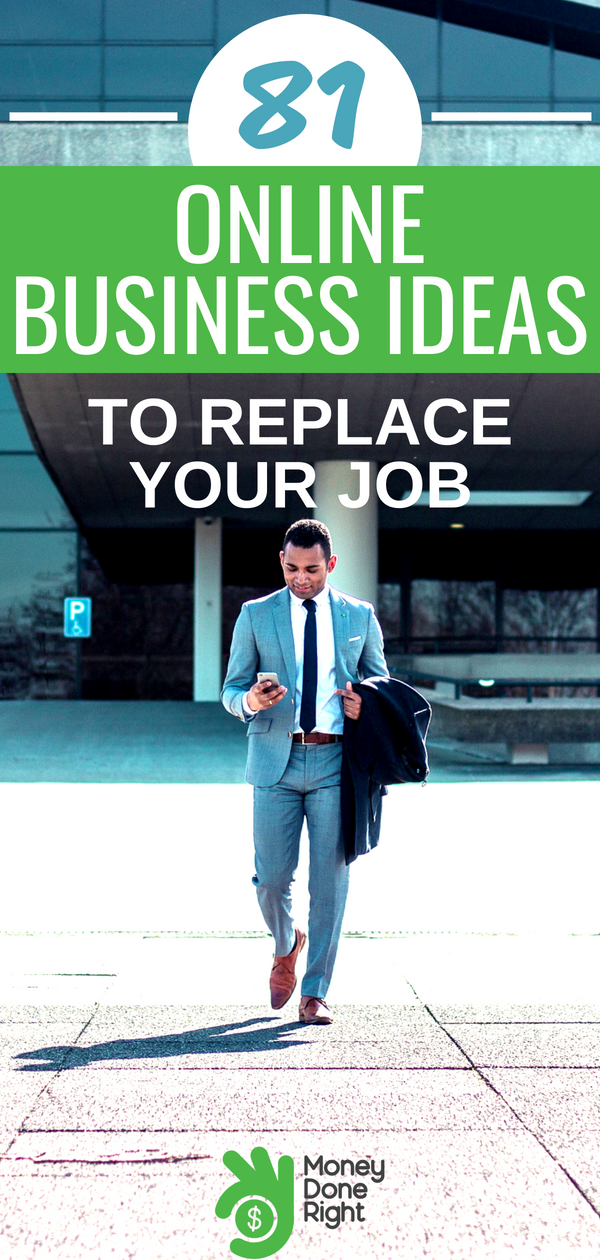 Well, believe it or not, every year it gets easier and easier for the average person to come up with their own online business ideas and execute them.
The fact of the matter is that the Internet is a freaking miracle, and if you know how to use it to your advantage, you can start an online business form home.
Here are 81 of the best online business ideas for 2019.
1. Blogging

I list this one first because I have firsthand experience with it.
On July 15, 2017, I bought the domain moneydoneright.com because I was sick of working my full-time job (complete with a 2-hour one-way commute) and wanted to build an online business that would provide me with more money and a better life.
So I worked on nights and weekends to produce content and promote my blog on social media.

By January 2018, my blog was making me over $12,000 a month, on the side, while I still maintained my full-time job that consumed at least 50 and sometimes up to 80 hours a week (not including my commute).
Click here to read my January 2018 blog income report and click here to read my latest blog income report!
It wasn't long after that when I put in my notice at work to kiss the corporate world goodbye forever!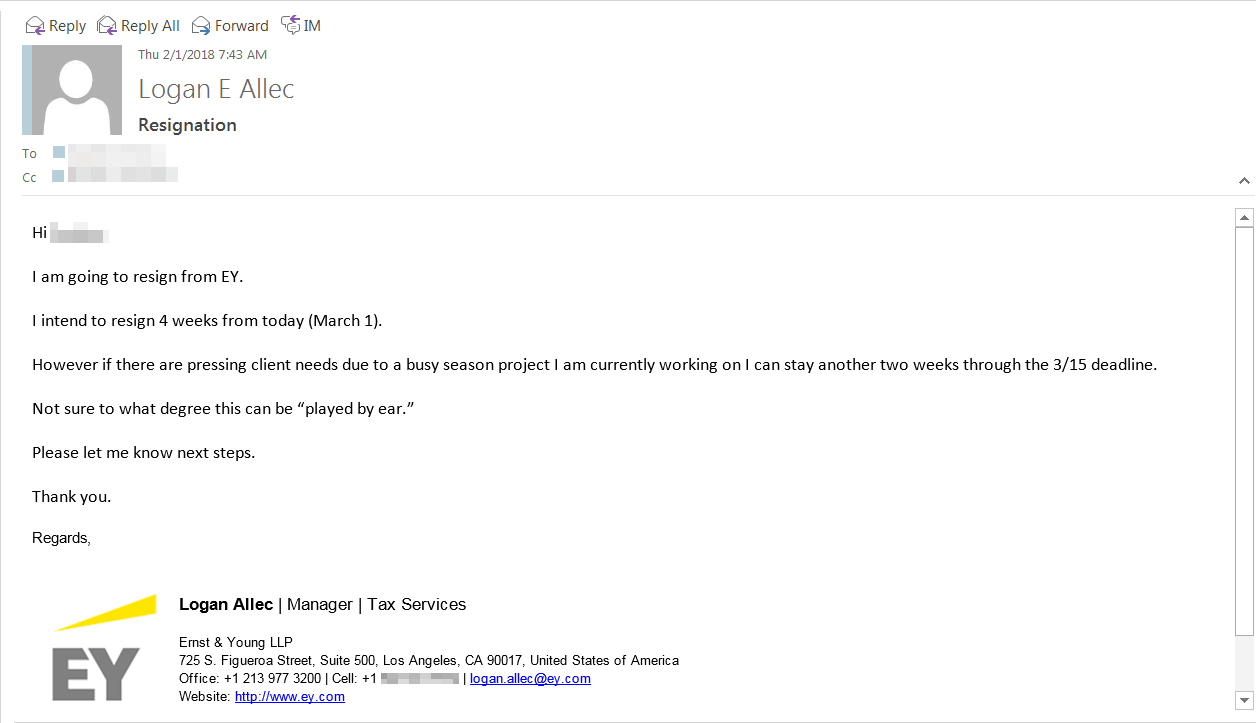 Since then, I've been able to over double my earnings from my blog now that I work on it full-time, from home.
And the best part is that it doesn't really feel like work!  I love what I do and the freedom it gives me.
I mean, today's a weekday, and I took a break from 10:30 AM to 11:30 AM to play Battlefield on PS4.
And even though I'm an ambitious person, I don't feel bad about it at all because I know that my blog is making me money 24/7.
I've recently put together a free course on starting a money-making blog.
If you are interested in learning how to create an money-making blog, please sign up in the box below.

2. Join a work-from-home network.
Work-from-home networks are free-to-join services that match people with the top work-from-home opportunities that best suit their availability and income goals.
No matter if you only have an extra 1-5 hours a week to commit or 30-40 hours, there are opportunities in the network for you.
Click here to join a top network and see what opportunities are available for you.
3. Become an Amazon Associate.

Did you know that Amazon founder Jeff Bezos recently overtook Bill Gates as the richest person in the world?
It's true. Amazon is taking over the (e-commerce) world!
And guess what? You can partner with Amazon as an Amazon Associate to make money without touching a single product.
You simply promote products that can be purchased on Amazon (which is just about anything imaginable) and receive a commission when somebody buys them.
Click here to learn how you can partner with Amazon.
4. Slogan Writing

Are you kinda witty? Then you may be able to make money just by thinking up slogans in your spare time.
Here's how it works:
Write a catchy slogan.
Upload it online

here

.
Get paid every time someone uses your slogan! Passive income!
Click here to learn more about earning passive income from slogans.
5. Voice Overs

If you don't mind being recorded, you may be interested in the various voice over jobs from home that have crept up online over the years.
Every day, there are literally thousands of pieces of content produced — from TV commercials, web presentations, radio jingles, and video game characters — that need voice over work.
And the majority of these content creators don't want to pay a Hollywood actor or actress thousands of dollars, so they're willing to pay everyday people $100 – $1,500 for lending their voice for 10 – 180 minutes.
I personally know some people who make $150 – $200 for just 10 minutes of work.
Pretty good, yeah? And the opportunities are endless!
Click here to learn how to start a voice over business.
6. Photography

Are you good behind the camera? Then you can make a somewhat passive side income licensing your photos online for others to download.
For example, I get all my pictures for this blog from various stock photo sites on the Internet. And every time I download a photo, the photographer who uploaded it gets a royalty!
Licensing one picture that you take and upload now can give you cash flow forever as it's downloaded again and again!
Click here to learn how you can get paid for your photos from home.
7. Video Game Testing Business

This is one of those online business ideas where you get paid to do something you enjoy, so it's not really work at all.
With more and more video games being produced every year, more and more video game companies are looking for everyday gamers to review their products.
Click here to learn how you can make up to $49,063 a year as a video game tester.
8. Make money off other people's Youtube videos.

Everybody knows that Youtube creators and vloggers can make a fortune.
But a little-known secret is that you can actually make money off of other people's Youtube videos.
So someone else creates the content, but you profit from it.
If that's not passive income, I don't know what is!
Click here to learn how to start making money on Youtube without having to create videos.
 9. Post ads online.

Companies worldwide are desperately searching for people to type up their ads and post them online.
You can work part-time or full-time.  It's up to you.
Click here to learn how you can get paid to post ads online.
10. Used Book Reseller Business

Check out the book below. It's called Disney's Haunted Mansion: Pop-Up Book.
Notice the price.
I bet you were shocked to learn that some children's book from the 90s could fetch that kind of dough.
Imagine you bought that book for $2 and sold it for that price. That's a pretty good profit margin, wouldn't you say?
You could do that a few times a day on the side, couldn't you?
And with so many people willing to part with old books like this for pennies, you can see how you can start to make some serious money selling used books like this.
Click here to learn how you can get started selling used books on Amazon.
11. Real Estate Wholesale Business

Did you know that you can make money in real estate with no money down?

Yes, you can!  Here's how it works:
Find a motivated seller who needs to sell his or her house quickly and doesn't have time to go through a real estate agent
Negotiate with this seller and get his or her house under contract
Assign this contract to a cash buyer who wants to flip it or keep it as a rental
Confused?  Don't be.  There's a 21-year-old guy who makes over $1,000,000 a year doing this.
Click here to watch his 70-minute training video.
12. Social Media Marketing Business

In the business world today, social media is a must.
It's no longer optional like it was 10 years ago.
Either a business is on social media, or it will fail.  And this reality is scaring older business owners out of their minds.
That's where Facebook, Pinterest, and Instagram-savvy you come in.
Click here to learn how you can make over $700 a week helping businesses with their social media accounts.
13. Drop Shipping

You may have heard of people making six-figure income with drop shipping but aren't quite sure what exactly drop shipping is.
Let me break down the basic steps of a drop shipping business:
Find common household items that interest you.
Easily set up an online storefront on Shopify, Clickfunnels, or Amazon (takes less than an hour).
Connect your online storefront to a credit card processor and bank account (takes less than 30 minutes).
Drive traffic to your online storefront.
When people purchase from your online store, you purchase the item from a third party who ships it directly to the customer and collect the difference as profit.
You don't have to worry about storing inventory or packaging up products at the post office.
You are simply a facilitator for the transaction.
Click here to learn how to start your own drop shipping business with online entrepreneur Tai Lopez.
14. English Teaching Business

If you have fluency in English, a Bachelors' degree, and at least some experience working with children, then you can make $14-$25 per hour teaching English from home with Gogokid.
By the way, don't let the "experience working with children" requirement scare you away. This could be simply be babysitting or caring for your own children!
Click here to apply to teach for Gogokid and get a $300 bonus after you teach your first three classes!
15. Start a Consulting Business.

Consulting is incredible because you are simply taking knowledge that you already have and sharing it with others for a profit!
I personally know people who left their W-2 jobs an to launch a consulting business and within 2 years were netting over $100,000.
One of them grew his business to over $1,000,000 within 5 years!
When it comes to launching an online consulting business, there is perhaps no greater teacher than Anik Singal.
Click here to learn more about Anik Singal!
16. Bookkeeping

If you're somewhat decent with numbers, you can start an at-home bookkeeping business with absolutely no training in accounting or bookkeeping necessary!
What with so many small businesses forming every year, bookkeeping is an extremely in-demand skill set that doesn't require much training to learn.
In fact, Entrepreneur Magazine recently concluded that bookkeeping is the #1 most profitable small business. Here's what they had to say:
Finances are a part of everyone's lives, so here's an industry that will remain important no matter what. Not only that, but these types of businesses don't need to purchase or maintain any expensive equipment, thus have few overhead costs. — Entrepreneur Magazine
If this sounds like something that interests you, then click here to check out a FREE 3-part video series Bookkeeper Business Launch: How to Start Your Own Virtual Bookkeeping Business and Earn $80+/hr Without Going Into Debt.

17. eBook Business

Publishing a book is a lot easier these days than it was even 20 years ago.
See, these days we have things like Amazon Kindle where practically anyone can self-publish their own books.
Click here to learn how to sell e-books on Amazon Kindle.
18. Instagram Posts

If you have a smartphone and an Instagram account, you could be making up to $200 per day.

The trick, of course, is knowing what kind of photos to take to make the most profits and where to sell them.
It's really not that hard when you learn how to do it.
Click here to learn how to make money on Instagram.
19. Twitter Posts

Even with the rise of platforms such as Instagram and Snapchat, Twitter is still thriving with over 500,000,000 tweets tweeted every single day.
And there is actually a way to make money on Twitter by promoting products in tweets and getting paid for it.
The best part is that you can set your tweets on autopilot ("auto-tweeting"), meaning that auto-tweeting could potentially be a decent stream of passive income for you.
Click here to learn more about getting started with auto-Tweeting.
20. Phone Apps

When it comes to making money online, it's actually easier to get started with apps than with strategies such as Facebook ads or Internet marketing.

And at the end of the day, it's not too difficult to come up with a profitable app idea.
The issue is in the execution, that is, actually creating the app for people to download.
That, of course, is where training comes in.
Click here to learn how to make phone apps for profit.
21. Freelance Writing Business
You can turn your solid writing skills into an extremely lucrative work-from-home career.
With emojis and texting taking over our daily communication, it's becoming more and more difficult to find people who can communicate effectively in writing. And so they can charge a premium for their skills.
Every day, there are literally millions of pieces of content published online — and every single one of those pieces needed someone to write it.
The opportunities are endless!
Click here to learn how to get paid to write at home!
22. Virtual Assistant
Virtual assistants help people and businesses do things online.
All you have to do is know how to use the Internet!
Your tasks could be anything from proofreading articles to curating social media content to managing a calendar.
And there are dozens of other ways to make good money working from home as a virtual assistant.
Click here to grab your FREE list of over 150 services you can offer as a work-from-home virtual assistant!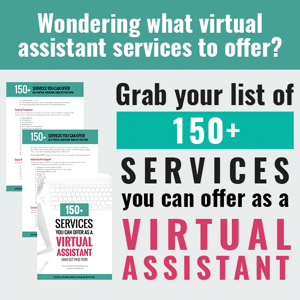 Click here to grab your FREE list of over 150 services you can offer as a work-from-home virtual assistant!
23. App Testing

With so many apps hitting the market every day, it's very easy for any given app to get lost in the crowd.
That's where app testers come in.
App testers test the app, trying out its various facets and features, and write an honest review.
These reviews helps the app get seen in the Google Play Store and Apple App Store, which creates publicity for the app.
App developers also take the recommendations of app testers to make improvements to their apps.
Click here to learn how to start your own app testing business.
24. Proofreading
Are you a grammar Nazi or a spelling bee champ?
Do you actually know the difference between "they're", "their", and "there"?
Do you find yourself shaking your head at grammatical errors you come across in everyday life?
If so, then you're a rare and in-demand breed.
Click here to sign up for a free workshop on becoming a work-from-home proofreader.
You can take your grammatical gifts and apply them to becoming a work-from-home proofreader.
All you need are your grammar skills, a computer, and an Internet connection.
Click here to sign up for a free workshop on becoming a work-from-home proofreader.
25. Life Coach

If you like people and are passionate about helping others, starting a life coaching business from home may be right for you.
Not only is this online business idea extremely profitably, but it can also be extremely satisfying knowing that you are providing others with the information they need to better themselves.
Click here to learn more about starting a life coaching business from home.
26. Freight Brokerage

Freight brokers help shippers that need to move freight from point A to point B by finding a carrier (trucking company) that will haul the freight for slightly less than the shipper is willing to pay them.
Brokers earn between 10% and 35% profit per shipment they broker, which translates to approximately $100 to $500 per shipment.
Although you may only start off getting 1-2 shipments a day, experienced brokers can do as many as 5-10 shipments a day.
And the best part is you can become a freight broker from home!
Click here to learn more about becoming a freight broker.
27. T-Shirt Design

Did you know that over 2 billion T-shirts are sold every year? It's true! Think about how many T-shirts you own. Probably at least a dozen or two, right? And consider the fact that every one of those T-shirts had a designer who was paid handsomely for his or her creativity.
And just one or two T-shirts that you design today could provide you with passive income for years to come! And you can get started designing T-shirts from the comfort of your own home.
That's right. Somebody else can handle for you all the production, inventory, and shipping.
Click here to learn more about making money selling T-shirts online.
28. Product Assembly Business

Did you know that over 250 companies are currently paying people to assemble their products from the comfort of their own home?
It's true!  They need workers to assemble products from crafts to jewelry to direct mail packages and more!
The company will ship you the materials as well as step-by-step instructions, and then you get to work assembling the product!
It's kind of like LEGOs for adults, except you get paid for it!
Click here to learn how to get started with your product assembly business.
29. Data Entry

Thousands of companies need work-from-home data entry workers.
They don't want to have to pay for people to come into the office for something they can do at home.
See, when workers come into an office, the company has to rent space for them to use and provide facilities such as air conditioning, restrooms, etc.
They would rather people simply work from their home for data entry tasks, so there are plenty of opportunities for this kind of work.
Click here to learn how to get started with a data entry business.
30. Ticket Broker

Ticket brokering used to be associated with scalping.
It used to be a long, tiring process that involved a lot of driving and having to show up to events hours before they started to sell your tickets.
Well, that's not the ticket broker game anymore.
Now, you can launch your own ticket broker business from home, getting the best tickets and selling them for major profits on Stubhub and Ebay.
Click here to learn how to start an online ticket broker business.
31. Travel Agency

Many people think that travel agents have gone the way of the dinosaur.

Not true!  Now, to be honest, people don't need a travel agent anymore to book flights.
The majority of flights these days are booked online.
But did you know that 70% of cruises are booked through a travel agent?
Also, those who spend the most on cruises (senior citizens 55+) aren't very computer savvy and prefer communicating with a human being.
That's where you come in with your work from home travel agency business!
Click here to learn how to start your own home-based travel agency business.
32. Tutoring

Do you know stuff?  Of course you do.
Then consider sharing your knowledge with others and getting paid for it!
Of course, you can find people to tutor the old-fashioned way by posting in your local classified section, but the Internet has made it extremely easy to create a profitable online tutoring business.
You can set your own hours, taking on as many or as few students as your goals and schedule allow.
Click here to learn how to start a tutoring business online.
33. Translation

If you know a language other than English, you're a hot commodity, my friend.
In fact, the United States Department of Labor expects that the demand for interpreters and translators to increase by more than 28% by 2024.
Click here to learn how to launch your own translation business.
34. Dog Treat Baking Business

You can make a killing making dog bones because (1) pet products is a $65 billion industry and (2) your competition will be slim.
As dog owners become more and more picky about their pet's health, they are becoming less content with the standard, mass-produced dog treats that can be purchased at the grocery store.
That's where you come in with your unique dog treats and bones!
Click here to learn how to start a dog treat baking business from home.
35. Woodworking

Do you love the smell of freshly-cut wood?
Do you have a little workshed or maybe a garage where you can launch a new business?
Then making money from home as a woodworker may be just the job for you.
See, more and more people every year want "handcrafted" items and aren't happy with store-bought furniture.
And they are willing to pay top dollar for such pieces!
Click here to learn how to start making $90,000 – $150,000 with a woodworking business from home.
36. Event Planning

If there's one thing that people will never stop paying for, it's getting together with family and friends.
We've known for years that paying tens of thousands of dollars for a wedding isn't the greatest financial move.
But guess what?
We still do it.
Wedding planning, and event planning in general, is a booming business and will be around as long as people like nice gatherings with family and friends.
Click here to learn how to start your own event planning business.
37. Office Cleaning

Cleaning office buildings is not the most glamorous job — and that's exactly why the opportunity is huge.
I'm not talking about big high-rises.  The owners of these buildings typically offer cleaning services to the tenants.
I'm talking about the small office and industrial parks.
Often, each business in these kinds of spaces is responsible for cleaning their own office.
And the job typically falls on some disgruntled employee who does a crappy job, leading to low morale in the office.
This is where you can help with your office cleaning services.
Click here to learn how to start your own office cleaning business.
38. Import/Export

Go pick up five random objects in your house.
I guarantee that at least one of them (if not all of them!) was manufactured overseas.
We don't think about it in everyday life, but there are people making big money importing products like these from other countries as well as exporting American-made products around the world.
Who knows?  Maybe the next big import/export profiteer will be you!
Click here to learn how to start your own import/export business.
39. Shrimp Farming

If you've ever seen Forrest Gump, you know how profitable Shrimp Farming can be.
Click here to learn how to start your own shrimp farming business!
40. Beekeeping

You can make money selling honey produced by your own bees!
It's true!  These days, people aren't happy with the big-brand store-bought honey.
They want something with a personal touch.
That's where you (and your bees) come in!
Click here to learn how to start your own beekeeping business.
41. House Sitting

You can make money caring for other people's houses!

Not only do you get free room and board, but you also get extra cash!
And while you're at your clients' house, you can spend your free time working on another business idea from this list.
Multiple streams of income, baby!
Click here to find house sitting opportunities near you.
42. Cryptocurrency

The cryptocurrency market is extremely volatile, meaning that the prices of various cryptocurrencies such as Bitcoin and Ethereum go up and down constantly.
This means that while cryptocurrency may not be a stable investment in the long term, there is plenty of profit to be made in the short term by taking advantage of these price swings.
Howeve4, you have to learn the key cryptocurrency trader tactics if you expect to make money.
Click here to learn how to become a cryptocurrency trader.
43. Sports Agency

Becoming a sports agent isn't an easy task, but it can be extremely profitable
Now, you will not start out working with top NBA, NFL, or MLB stars, but you may be able to get started with some lower-league players and work your way up the ladder.
Click here to learn how to start your own sports agency business.
44. Lawn Care

Do you know how many lawns exist in your city or even your neighborhood?
Tens if not hundreds of thousands!
And each one of these lawns needs somebody to take care of it.
Sometimes, it's the person who lives in the property or owns the lawn.
But oftentimes, upkeeping the lawn is hired out to a third party like you.
If you enjoy the outdoors and making yards look nice, starting a lawn care business may be perfect for you.
Click here to learn how to start your own lawn care business.
45. Worm Farm

This may sound a bit gross, but there's actually a high demand for worms.
And you can raise them from your own home!
Click here to learn how to start your own worm farm!
46. Embroidery

A little-known online business secret is that the Internet embroidery business industry doubles itself every decade.
So if you know your way around a needle and thread, starting a home-based embroidery business just might be the right idea for you.
Click here to learn how to launch a work from home embroidery business.
47. Pool Hall

Believe it or not, there is a huge opportunity in the pool hall business.
See. most pool halls are dirty and smelly and are closing down at a rapid pace.
Today's consumer simply doesn't want to go to a nasty dive pool hall.
But if you can outsmart the competition by creating an attractive, top-of-the-line pool hall, you can make a killing.
Click here to learn how to open your open pool hall business.
48. Medical Transportation Business

The non-emergency medical transportation industry is booming thanks to aging Baby Boomers.
What is this industry, you ask?
It is the business of transporting people in wheelchairs, stretches, or those ambulatory who need assistance.
You do not need any special skills, training, or equipment to get into this rapidly-growing industry.
Click here to learn how you can start your own medical transportation business.
49. Personal Organizer Business

Do you want to change people's entire lives for the better?
Are you a naturally organized or even OCD-type person?
Do you hate clutter?
Well, I have good news for you.
There are tens if not hundreds of thousands of dollars to be made in the personal organizer business.
As a personal organizer, you will help people get not only their stuff organized, but also their lives.
Click here to learn how to start your own home-based personal organizer business.
50. Rare Coins

Rare coin trading is an extremely profitable field, and as such many people think you need to break into it you need to be some nerdy coin expert with thousands of dollars in the bank.
This is not true!
The fact of the matter is that you can start investing in rare coins with a mere $100 and no experience in coins whatsoever!
Click here to learn how you can get started trading rare coins for profit.
51. Computer Security Business

It is estimated that one in three computers contains malicious software.
And most of the time, this software goes undetected!
People just think their computer is getting old and slow when really they have unwanted software slowing down their CPU.
And they're willing to pay somebody to fix the problem!
That's where you come in.
Click here to learn how to start your own computer security business.
52. Koi Farming

Keeping and raising ornamental fish (including koi) is the #2 hobby in the world, second only to Photography.
The total spent on the hobby in the U.S. alone is over $2 billion a year.
Nearly 13 million households in the U.S. currently keep ornamental fish.
This presents a huge opportunity to those willing to breed these beautiful fish from home since the government has recently imposed a significant amount of red tape on imported koi.
Click here to learn how to start your own koi farm business.
53. Craft Business

If you're passionate about crafting, then starting your own craft business selling your items over the Internet, from home, could be in your future.

But as with any business, you have to treat it like a business, not a hobby.
Click here to download your free report "Top 10 Questions About Starting Your Own Craft Business Answered".
54. Gold Selling

The United States is the largest jewelry market in the world, and millions of Americans have old, broken, or just out-of-fashion pieces of jewelry sitting in their jewelry boxes.
Your mission, if you choose to accept it, is to acquire these pieces of jewelry and resell the gold for a profit!
Click here to learn how to launch a gold selling business.
55. Gift Baskets

Gift baskets, if put together correctly, can wow clients and friends alike.

And the margins on them can be incredible because you can buy the items that go in the basket for very cheap, but sell the gift basket itself for a lot more.
You know how expensive gift baskets are, right?
It's all about the packaging (literally)!
Click here to get your free mini-course on starting a gift basket business!
56. Photo Booth

Photo booths are often the center of attention at events such as weddings and other parties.
And guess what?  You can build your own photo booth from scratch, even if you aren't a very handy person.
Once you have your photo booth set up, it's off to the profit-earning races!
Click here to learn how to start your own photo booth business.
57. Italian Ice

Italian ice is hot, hot, hot (not literally of course)!

Most Italian ice push cart owners only work on the weekends, and many only work on specific days such as special events.
Click here to learn how to start your own Italian ice business.
58. Cleaning Products Business
A generation or two ago, everybody bought big-brand cleaning products at the store.
People didn't have much choice.
Nowadays, however, people are much more picky with their soaps and cleaners.
They're concerned about finding natural products without harsh and potentially cancer-causing chemicals.
And they're willing to pay you for your homemade cleaning products.
Click here to learn how to start a cleaning products business.
59. Sell Avon.

Selling Avon goodies such as makeup, hair care, and body products can be a good way to use any makeup knowledge you may have in order to make money on the side.
Earnings vary, with 20% earned on sales seeming to be the reported norm.
Click here to sign up to sell with Avon!
60. Salvage and Recycling Business

As the public grows more and more aware of the limited resources our planet has to offer, salvage and recycling business will become more and more profitable.
Click here to learn how to start your own salvage and recycling business.
61. Vending Machine Business

Strategically-placed, well-stocked vending machines are an excellent source of passive income.

The machine does the work for you!  You don't even have to be there!
However, you must know what to sell, where to sell, and how to sell.
Click here to learn how to start a vending machine business.
62. Handyman

If you know how to swing a hammer and crank a wrench, a handyman business might be right up your alley.
People will always need repairs done around their homes and businesses, so this is a business with very steady prospects.
Click here to learn how to start your own handyman business.
63. Property Caretaker Business

Property caretakers are people such as estate managers, ranch hands, and groundskeepers who take care of a large property for the owner.
If you enjoy being in the outdoors and working with your hands, this could be the business idea for you.
Click here to learn how to start your property caretaker business.
64. Roofing

I personally know a roofer with an 8-figure business.
Now, he's been doing this for 20 years, but my point is that roofing is an extremely lucrative field.
And it's not unheard of for new roofing businesses to net six figures within their first few years of business.
Click here to learn how to start your own roofing business.
65. Phone Love

I won't say too much about this one, but let's just say that there are some very lonely men out there!
66. Mystery Shopping Business

Secret shoppers are needed to visit and rate various retail stores, restaurants, and services throughout the country.
All you need is an eye for detail and a love of shopping and eating out!
Click here to learn how to start a mystery shopping business.
67. Guitar Teaching

If you can play guitar reasonably well, communicate with confidence, and demonstrate patience, then you could possibly make a living teaching guitar.

But it's not just about teaching a few kids some basic chords.
You have to know the business aspect.
Click here to learn how to start your own guitar teaching business.
68. Window Tinting Business

If you have a penchant for cars, a window tinting business
Click here to learn how to start your own window tinting business.
69. Pest Control

Bugs are (perceived to be) icky.
And most people would rather pay someone else to deal with an infestation than deal with it themselves.
Click here to learn how to start your own pest control business.
70. Hookah Bar

Owning and operating a hookah bar is extremely fun and extremely profitable if you know what you're doing.
Click here to learn how to start a hookah bar.
71. Scrapbooking

Publishing a book is a lot easier these days than it was even 20 years ago.
See, these days we have things like Amazon Kindle where practically anyone can self-publish their own books.
Click here to learn how to create your own scrapbook business.
72. Property Tax Appeal Business

Every property owner in the country is convinced they pay too much in property taxes.
But they feel helpless to do anything about it.
That's where you come in with your property tax appeal business.
You will be able to help your clients lower their property tax, and they will pay you handsomely for it!
Click here to learn how to start your own property tax appeal business.
73. Popcorn

Almost everybody loves popcorn!
And you can enjoy incredible margins by buying kernels and spices for a fraction of the $9 per bag people are willing to pay!
Click here to learn how to start your own popcorn business.
74. Juicing

Juicing is a big business.

From everyday people looking to lose weight to those who seek a juice cleanse to those who simply want a delicious, healthy, and refreshing beverage, your client base is massive and recurring!
Click here to learn how to start a juicing business.
75. Flea Market

There's a lot of money to be made in flea markets and swap meets, but most people are just doing it wrong.
Learn how to do it right, and you could have a six-figure business on your hands.
Click here to learn how to start your own flea market business.
76. Non-Profit

If you have a cause you'd like to champion, then starting a non-profit business may be right for you.
And yes, there is still money to be made with a non-profit business!
Click here to learn how to start a non-profit business.
77. Business Card Distribution Business

I'm not talking about designing business cards.
I'm talking abut a business where you help business owners distribute their own business cards.
Yes, many business owners are willing to pay you to do this!
Click here to learn how to make money distributing business owners' business cards.
78. Party Rental

Starting a party rental business can be extremely rewarding as you bring joy to the children!
Potential ideas are renting bounce houses, party supplies, etc.
Since some parents tend to splurge on their kids' birthdays, you can be sure that you will most of the time have a steady stream of clients.
Click here to learn how to start a party rental business.
79. Balloon Animals

To start this side hustle, all you need is a bunch of balloons and a balloon pump.
Once you figure out the basics, you can plop yourself down at anywhere where children are: public parks, malls, busy neighborhoods, etc.
But must make sure that you get permission first!
You may be required to get a permit or pay a small fee.
Click here to get the Balloon Animal University Pro Kit.
80. Buy an Existing Business

So maybe you've gone through the list above and concluded that starting a new business from scratch isn't for you.
That's OK!  You can still become a business owner by purchasing an already-established, cash-flowing business.
Click here to learn how to purchase a profitable business endeavor rather than starting one from scratch.
81. Develop Streams of Passive Income

After you've made some money with the ideas above, your ultimate goal should be to invest your profits not only back into your business but also in passive revenue streams that can make you money while you sleep.
Here are some passive revenue stream ideas that you can start today:
Revenue Stream 1: Invest in dividend-paying stocks and get a $10 bonus.

We love dividends here at Money Done Right.
When you invest in a dividend-paying stock, you are acquiring a portion of a company that somebody else built and that thousands of other people work for, and they are giving you a portion of their profits. Blows my mind!
There are plenty of great places to open up a stock-investing account, but the one that's getting us hot and bothered at the moment is Acorns.
And for a limited time, Acorns is giving a sweet $10 sign-up bonus to Money Done Right readers (click here).
Hands-Free Investing with Acorns
Acorns is great because it does all the work for you.
You tell it your age and financial goals, and it develops a custom portfolio for you based on empirical data, not the latest hot stock tip.
Get Free Money In Your Account

You also get free money deposited into your dividend stocks simply for shopping with brands through the Acorns app at no extra charge to you.
For example, last week I took an Uber, and I got $0.50 deposited into my Acorns account!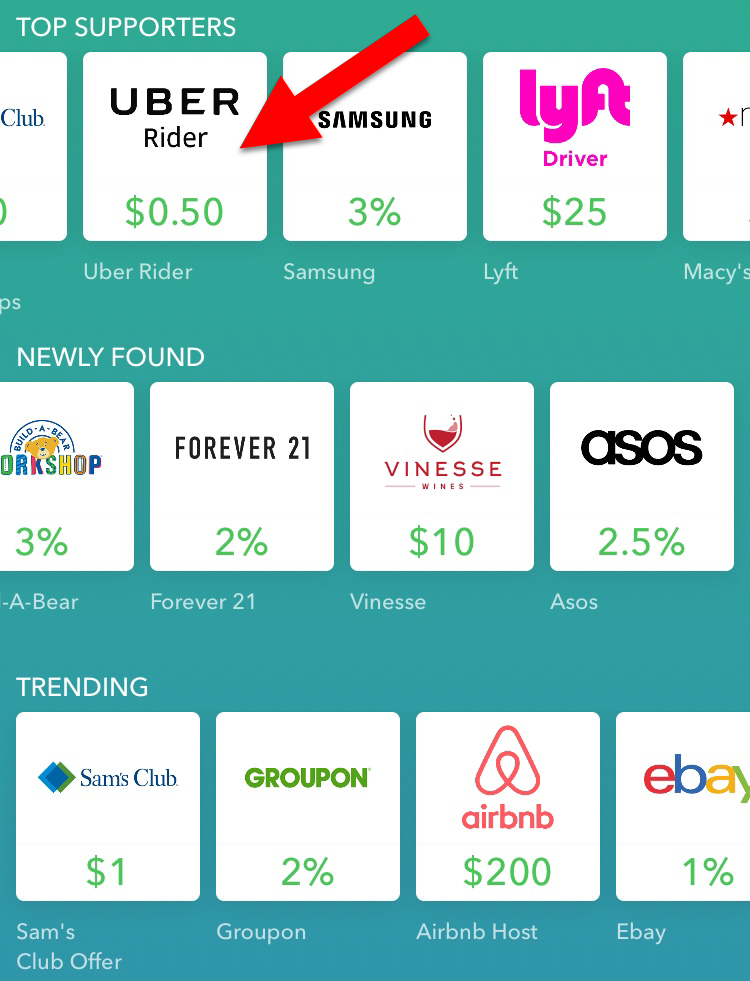 There are a lot more other cool features, but for now, I suggest you download Acorns for yourself to see what it can do for you.
Click here to sign up for Acorns and get your $10 welcome bonus!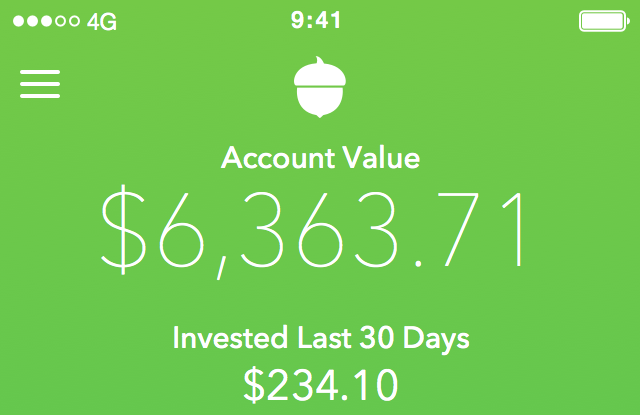 Acorns has developed an incredible, easy-to-use platform.
No matter if the stock market goes up or done, we still get dividends deposited into our Acorns account every quarter!
Click here to sign up for Acorns and get your $10 welcome bonus!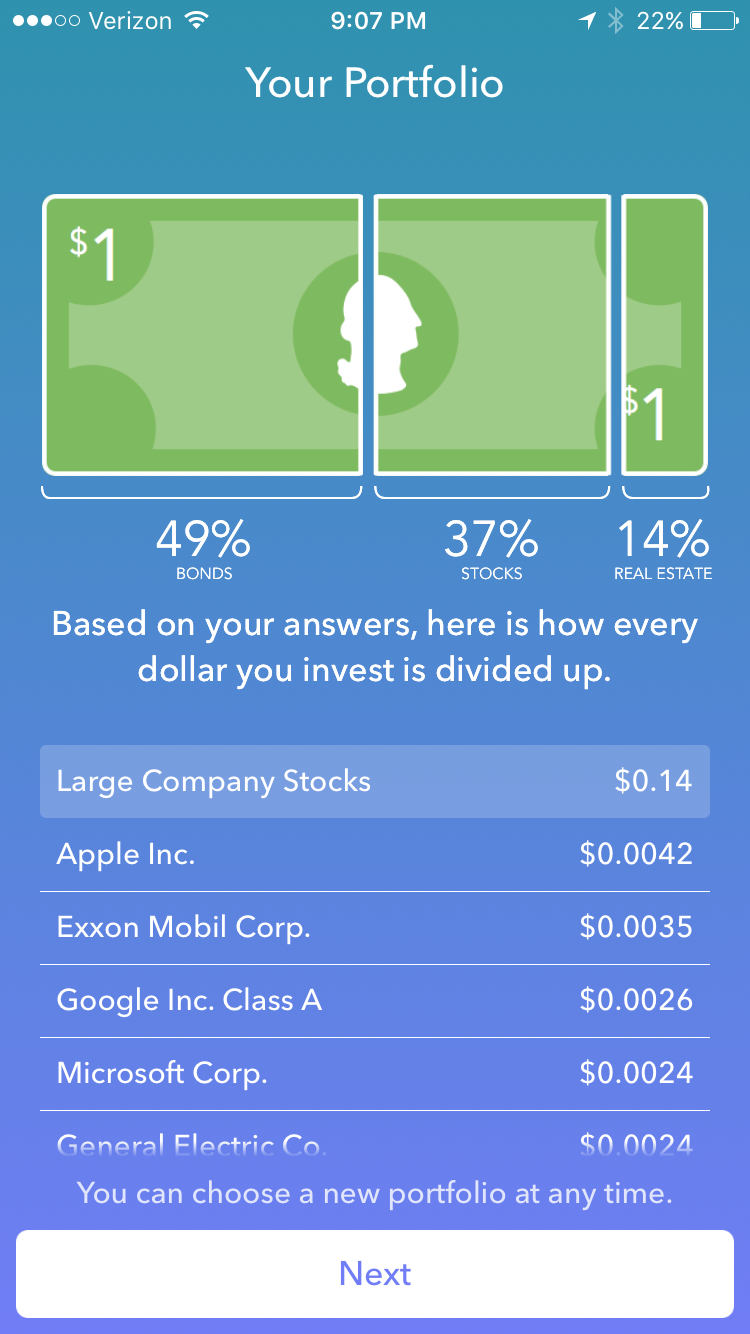 Revenue Stream 2: Invest in Private Real Estate Deals With Only $500
Real estate is one of the classic forms of passive income: you own property, and others pay you for using it.
The downside to traditional real estate, of course, is that you typically need a lot of cash to get started.
Not so anymore with the rise of private real estate investing platforms.
We personally invest in one of these platforms called Fundrise.
Fundrise lets everyday people invest in top deals across the nation — way better deals than most people could find on their own.
It also lets you diversify your real estate holdings. For example, I am invested in deals in 10 different states!

And for the first 90 days of your investment, Fundrise will buy your investment back at the original investment amount if for any reason you are not satisfied.
Click here to sign up to see Fundrise's latest investment opportunities.
Revenue Stream 3: Lend money in $25 increments earning 4-6%.
Lending out money is one of the oldest ways to earn passive income. It's essentially renting out your money for either people to use, and the rent you charge is known as the interest rate.
Now, in the old days, if you wanted to lend money to somebody in particular, you were taking on a pretty risky business, unless he or she put up some form of collateral. But now, thanks to technology, you can spread out the risk by only lending your money in $25 increments.
How does this work? Well, let's say Borrower A needs a $25,000 loan. Instead of going to one entity, like a bank or rich person, to borrow the full $25,000 — which would be very risky to that one entity — he or she borrows $25 from 1,000 people. This scenario presents much less risk because the most any single investor could lose is only $25.
Such an arrangement would have been administratively impossible just 15 years ago. But thanks to the wonders of the Internet, it is now very possible, and the peer-to-peer lending industry, as it's known, is thriving for borrowers and investors alike.
Click here if you have $25 and you'd like to earn way more interest than the bank pays you.
Logan Allec, CPA
Logan is a CPA, Certified Student Loan Professional, and founder of Money Done Right, which he launched in July 2017. After spending nearly a decade in the corporate world helping big businesses save money, he launched his blog with the goal of helping everyday Americans earn, save, and invest more money. Learn more about Logan.