Amex Cell Phone Protection: How I Used It in 7 Steps
Credit Cards
This is my broken iPhone: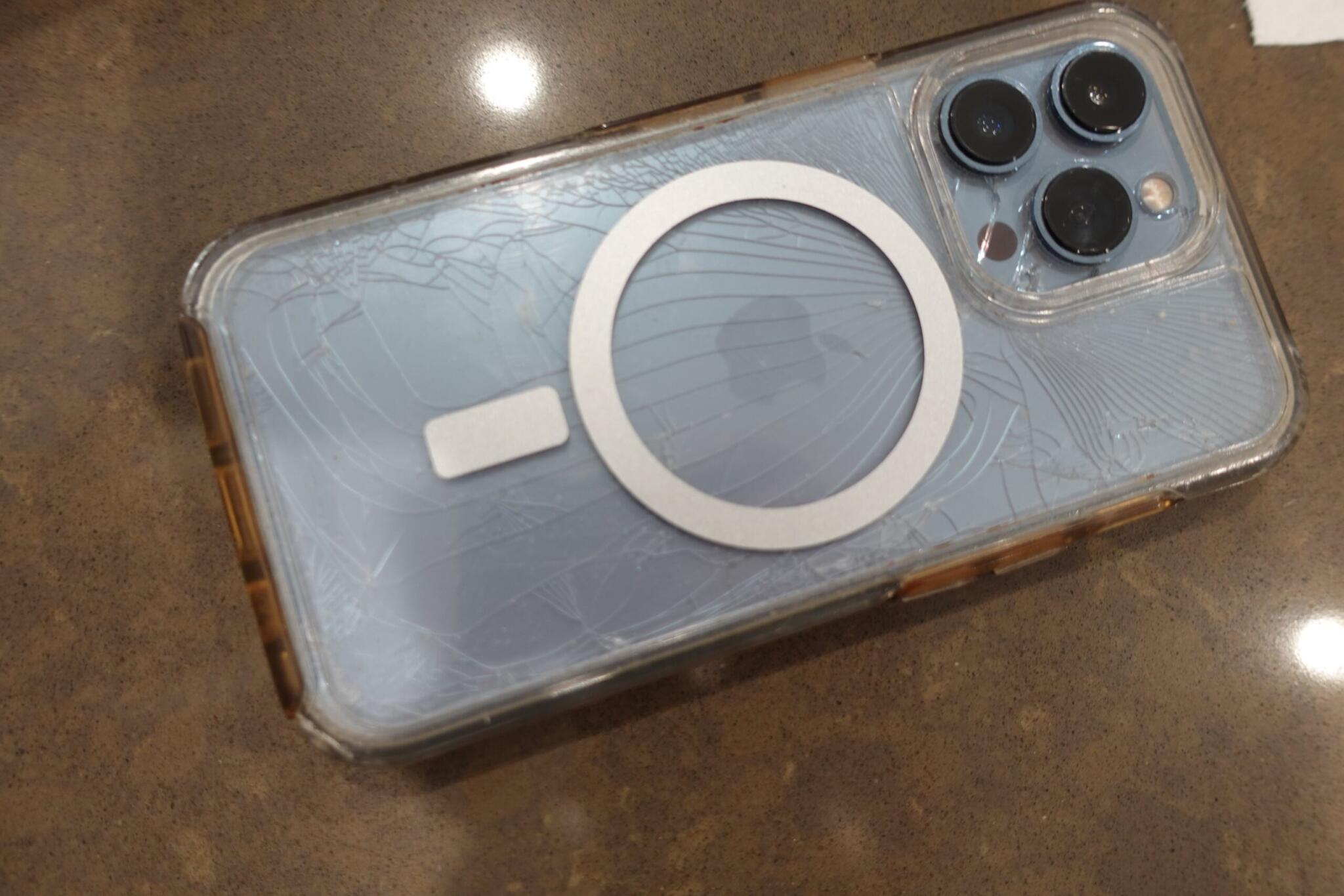 And this is the check I just got from AIG Claims, Inc. — the insurance company that handles Amex cell phone protection — for $551.16:
Yup, they covered the full replacement cost of my iPhone ($601.16) less the $50 deductible that's explained in Amex's cell phone protection terms.
And it wasn't a hassle at all. So I thought I'd tell the tale of how I qualified for Amex cell phone protection and how I submitted my claim to ultimately get paid.
Important: The card I used to file my claim is the American Express Business Platinum card. If you have a different card, some things may be different, but the gist of filing a claim will be the same.
Step 1: Make Sure You're Covered
To qualify for Amex cell phone protection, you have to pay the cell phone bill for the phone in question with your Amex card that offers cell phone protection.
And your coverage doesn't begin on the date you make your first cell phone bill with your Amex card — it actually begins on the first day of the month after you make your first payment with the card.
So let's say you paid your cell phone bill with your qualifying Amex card in March; your coverage would then begin on April 1.
And you have to keep paying your cell phone will with your qualifying Amex card.
Step 2: Determine if Your Loss or Damage Is Covered
Lost and Stolen Phones
First of all, if your phone was stolen, and you filed a police report documenting this, you're covered.
But if you simply lost your phone or it "mysteriously disappeared," you're not covered.
Damaged Phones
What about if you still have your phone, but it's damaged?
There are some other nits, but basically Amex says if the damage to your phone is merely "cosmetic," it isn't covered. Here are examples of damages Amex says is "cosmetic" and therefore not covered:
Minor abrasians
Scruffs
Scrapes
Dints
Scratches
Chips
Other superficial damages that do not fully break through, separate, or penetrate the phone's display screen or casing and do not impact the phone's functionality.
So what about probably the most common damage experienced by cell phones — a cracked screen?
You're in luck — cracked screens are covered.
So basically, if your screen cracked, or your damage isn't merely cosmetic, you're covered.
In my case, my three-year-old son Hunter dropped my phone, and the back of the phone cracked. I was worried this would be considered merely "cosmetic" damage until the phone started not being able to make calls shortly thereafter and my iPhone flashed a message on my screen saying, "No SIM Card Installed."
That's when I took it to the Apple Store to take a look at it so I could document my loss, which is the next step.
Step 3: Document and Quantify Your Loss
The next thing I did is document my loss at the Apple Store as quickly as possible.
The "genius" at the Apple Store provided me with the document below, which established that my phone was experiencing SIM card failure and would have to be replaced. This document established that the damage to my phone was not, in fact, cosmetic since it impacted the phone's functionality.
Note: You can open your claim before documenting and quantifying your loss, but I did it in the order described in this article.
Naturally, the technician also gave me a quote for the repair, which served to quantify my loss.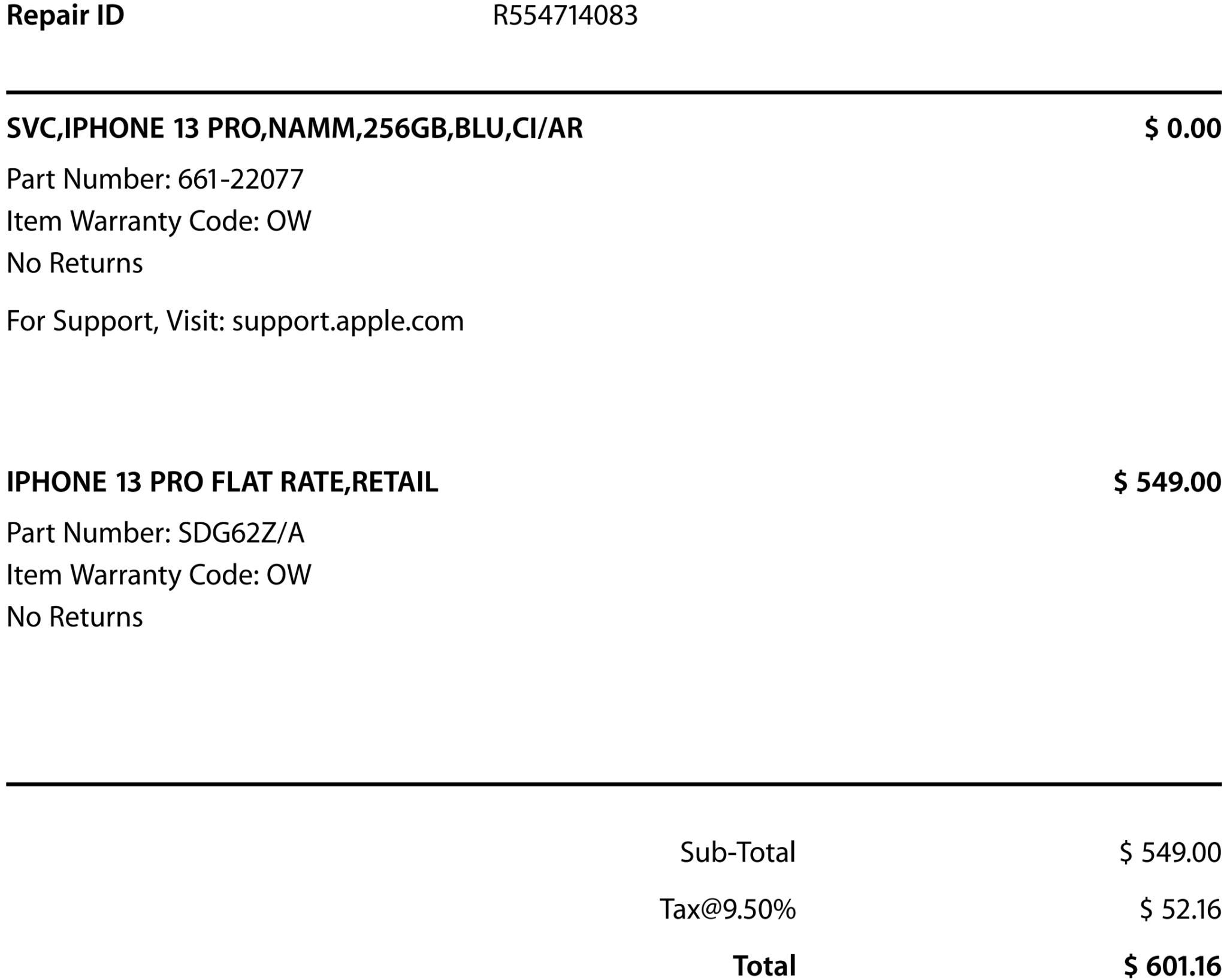 At this point, you can choose — like I did — to get your phone repaired or replaced on the spot. (I can't really function without my phone.)
Step 4: Open Your Claim Within 90 Days of Loss or Damage
The next step is to open your claim within 90 days of when your phone was stolen or damaged.
You can open your claim by calling 1-833-784-1467. You will be connected to a representative from New Hampshire Insurance Company, which is an AIG company.
This representative will ask you some basic information about yourself, your relationship with American Express, and what happened to your phone.
At the conclusion of this conversation, the representative will open your claim and give you a claim number.
Step 5: Email Requested Documentation
Shortly after you open your claim — the same day, in my case — you will receive an email from [email protected] with a list of additional information you need to email to [email protected] in order for the company to process your claim.
You must provide this information to AIG within 120 days of when your phone was stolen or damaged or your claim may be denied.
Here's the list of documents you need to email back to AIG:
Three claims forms that AIG includes in their initial email to you (these are easy to fill out — just basic information)
American Express statement for the month before your phone was stolen or damaged — this is because your coverage doesn't begin until the first of the month after you pay your cell phone bill with the card.
Cell phone bill for the month in which your phone was stolen or damaged as well as for the previous month
Proof of eligible cell phone
Receipt for purchase of cell phone
Repair estimate
Step 6: Look Out for Approval Email
Finally, after you email all these things back to AIG, you'll stay on the lookout for an email from AIG notifying you that they have approved the claim.
Personally, I submitted all my documents to AIG via email on December 7, and then I got an email from AIG on January 13 that my claim was approved. So it was a little over five weeks of waiting for me.
Step 7: Cash the Check
Shortly after receive the email from AIG stating that your claim was approved, you'll receive the check in the mail. Remember, the insurance coverage has a $50 deductible. But when you receive that check, go ahead and cash!
Source: American Express. Guide to Benefits for American Express Card Members: Cell Phone Protection. Accessed January 25, 2023.
Author:
Logan Allec, CPA
Logan is a practicing CPA and founder of Choice Tax Relief and Money Done Right. After spending nearly a decade in the corporate world helping big businesses save money, he launched his blog with the goal of helping everyday Americans earn, save, and invest more money. Learn more about Logan.