Updated
September 30, 2021
Apple Credit Card Review: The Secure Cashback Card We've Been Waiting For
Credit Cards
Whispers have been going around since last year about a possible Apple credit card. Now, it appears the wait is over. At a recent event in Cupertino, Apple CEO Tim Cook unveiled their plans for the card, which will be through the Mastercard system and backed by Goldman Sachs with a summer 2019 release. Here's what you need to know about Apple's upcoming credit card, how to get your hands on it and how it could change the credit card experience altogether.
Quick Facts About the New Apple Credit Card
Apple CEO Tim Cook said that "there's some things about the credit card experience that could be much better." This Apple credit card is aiming to remedy pain points which consumers have had for a long time by offering the following:
The card will offer up to 3% cashback.
There will be no fees associated with the card.
The cards will have no number, CVV code, expiration date or signature in an effort to increase card security.
Purchases with the card with be authorized via Face ID or Touch ID and a security code.
After its summer release, customers can download the Wallet app on their iPhone to sign up for the Apple card.
Pros & Cons
Pros
No annual, late, over-the-limit or foreign transaction fees.
The 3% cashback on Apple purchases and 2% cashback on purchases using Apple Pay are competitive with or better rates than other cashback cards.
Cashback will be credited every day as "Daily Cash," which is different from monthly cashback payments given by other cards.
The physical card is strong and durable, made of titanium.
Cons
To reap cashback advantages, vendors will need to be set up for Apple Pay.
No sign-up bonus has been announced yet.
No specific APR for monthly balances has been announced.
The 1% cashback rate for purchases outside of Apple Pay is not as advantageous as other cards.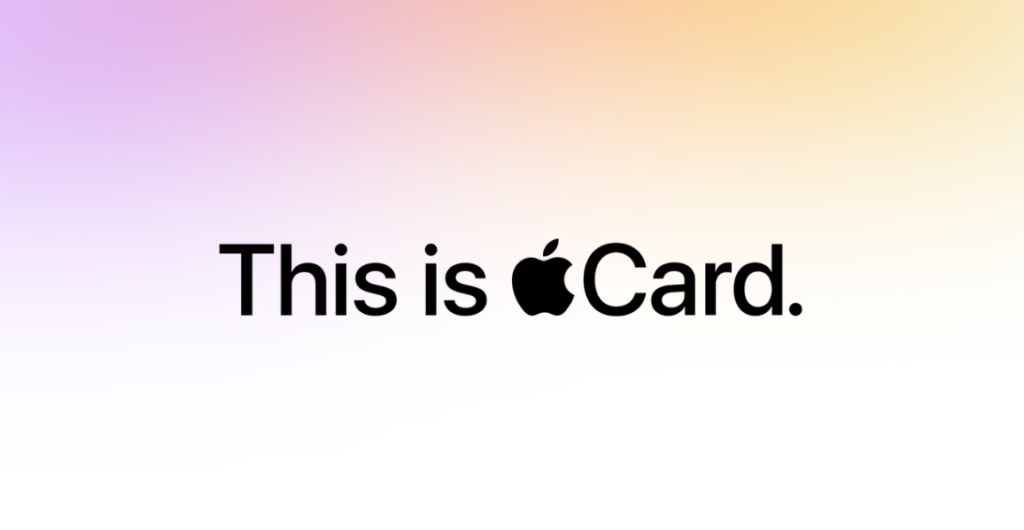 Full Review
Cashback rewards through Apple Pay, a titanium physical body and mobile-friendly app features are just a part of what is hyping the Apple Card since it's recent unveiling. With no annual fees and backing by both Mastercard and Goldman Sachs, the Apple Card is quickly becoming one of the most sought-after developments of 2019. Here's what you need to know:
Apple Credit Card: Basic Info & Overall Benefits
Just like any credit card, the Apple Card in the Wallet app has a lot of information to digest and potential new benefits to consider. Chief among the most interesting parts are the app functionality, cashback return tiers, zero fee promise, physical card features and support system. Apple announced on March 25 that the Apple Card has been design to "help customers lead a healthier financial life." Let's see what that looks like:
App Functionality
How to. To get the most from the Apple Card, consumers will need to download and use the Wallet app that pairs with the card. The app has a full range of functionalities, including detailed trend reports, payment reminds and rewards tracking, to name a few.
Easier spending profiling. The app also combines machine learning and maps to create transactions lists with more accurate vendor data. The transaction data sorts into exact store names, instead of the usual confusing corporate names which complicate sorting bills later on. These lists make category sorting and profiling spending habits easier.
Release date. Also, though a summer 2019 release date has been announced with sign-ups through the Wallet app, there are no announcements for the release of the physical card at the moment. However, the lag in physical card does not hinder Apple Card adoption.
Immediate use. Once a consumer signs up with the Wallet app and are approved, their card can be used from their iPhone via the app right away — even if their physical card hasn't arrived in the mail yet. The ability to use the card features sans physical card is a great way to encourage app adoption and overcome the physical card lag that many new credit card rollouts see.
Cashback Returns
Who doesn't love cashback? In this day and age, if your credit card isn't giving you some form of cashback then something is wrong.
Daily Cash. As Jennifer Bailey, Apple's Vice President of Internet Services, explained, the Apple Card will feature a model called "Daily Cash." The Daily Cash system gives consumers their cash back at a daily rate, rather than the monthly rate used by most other credit cards. The cashback will come in the form of Apple Cash to your account, after a transaction post.
Three cashback options. There are three tiers of cashback, depending on how you use the card. Here is a quick rundown of each possibility and how the card stacks up against competitors. You can earn as much as 3% cashback on Apple purchases, 2% cashback on purchases made with Apple Pay and 1% cashback when using the physical card.
Compared. Comparatively, the 2-3% cashback range is equal to or better than many other credit cards, although some cards like Capital One® Savor® Cash Rewards Credit Card do have up to 4% cashback.
Zero Fees
One of the main reasons why so many people are wary of credit cards in general is due to all the fees that companies like to hide from consumers until it is too late for them to avoid.
No penalty fees. Apple has noted that the Apple Card's goal is to: "provide interest rates that are among the lowest in the industry" and that if a customer misses a payment for whatever reason, they will not be slammed with penalties. As such, the company has announced that Apple Card will be a no-fee card, with no additional payments needed for annual, late, international or over-the-limit fees. In this regard, Apple Card users will be able to set their mind at ease in terms of accidentally missing a payment or overdrawing.

Interest Rates
Interest rates. As the card will be issued by a bank — Goldman Sachs — there will still be interest rates as high as 24% based on your credit score.
What you see is what you get. Here, however, is the shining feature of Apple's zero fee promise. Many consumers may be more likely to pay back the money owed due to the lack of late fees which would stack the money owed higher and higher, crippling the buyer's ability to make it back out of the red. Due to there not being penalty interest rates, the interest rate you see when you qualify for the card is the rate that you will retain throughout using the card.
Late payment impact. While late payments will not be penalized monetarily, they will still impact credit score.
Interest tracker. Additionally, the Wallet app contains a tracker which can show you how much interest you'll be billed for, based on the balance you pay down. It seems to be a card built for those who may be a bit bad at paying on time, but still want benefits.
Physical Card
Titanium. Say goodbye to the days of plastic credit cards and hello to titanium. That's right — titanium. It has a sleek design and minimal wording; it is an Apple product after all.
Minimal design. Due to security concerns, Apple has noted that the Apple Card will not have any of the following: a card number, a CVV security code, an expiration date or a signature. Instead, the card will retail only your name and a chip. It will also have a magnetic strip, which is obviously not necessary for their favored digital payments but may still be necessary for merchants behind the times or large-scale systems yet to adopt new measures, such as mass-transit systems.
Needs contact. An interesting aspect of the physical card to note is that Mastercard, the system Apple Card will be issued through, has noted that the card won't support contactless payments. This means you won't be able to just tap the titanium card to a terminal for payment. This is an interesting choice, given the card's focus on ease of use.
Replacement. If the physical card is lost, then users can freeze the card and order a new one. As the replacement order is processed and the new card sent out, Apple notes that the card can still be used from the Wallet app, effectively as a virtual card.
Security. Apple's security measures are trifold: banking on Goldman Sachs to secure users' credit card data, minimizing information found on the physical card and implementing Face ID and Touch ID measures to increase difficulty of use for stolen cards.
Support
Mobile. Keeping in line with the sleek, mobile functionality of the card's design, the customer service will also be streamlined through mobile.
Text. Any communication for Apple Card help, troubleshooting or questions will be handled by text via a request via Messages. This feature promises to be an excellent addition for younger consumers and others who are mobile-focused or professionals who don't have the time to "stay on the line" while waiting to be patched through for help.
Apple Credit Card: Possible Flaws & Food for Thought
No credit card is without aspects which won't appeal universally. In this, Apple Card is no different. There are certainly different elements of the card that won't draw in certain demographics. Here are a few of the possible flies in the Apple Card ointment, as well as additional food for thought that may be of interest to those considering buying the card.
Mobile Focus May Alienate Some Consumers
While many of the Apple Card and Wallet app elements promise to provide features tailored to mobile-conscious consumers, there are also many logistics which may alienate others. Here are a few to note:
The 2% cashback is earned by using Apple Pay, while only 1% cashback is earned for using the physical card. For many users used to having physical cards to carry and use, this focus on using mobile to pay may be disconcerting. Older users, in particular, may prefer a card to a mobile app, as they may have trouble navigating the app, may not have an advanced mobile or worry about their phone losing charge while out.
For many of us, calling on a phone for customer service is the worst. It wastes a lot of time, as you wait on hold seemingly forever. Yet, not everyone is app savvy enough to be comfortable texting for customer support and may, indeed, prefer to call in-person. For those specific consumers, the Apple Card customer service experience would leave a lot to be desired.
Again, for users who are not mobile or app proficient, analyzing the spending trends and fielding the payment reminders which would pop up as alerts on their mobile may be overwhelming or annoying. For users who prefer printouts from their bank sent via snail mail, this mobile-based analysis and alert method may not be ideal.
How Apple Card Cashback Compares
Originality. While Apple certainly makes waves and gain notice with whatever product they roll out, not every product is as wholly original as many consumers may believe. For instance, in the case of the Apple Card, many of the features that are catching on as revolutionary or consumer-conscious have actually been around in various forms in various other credit cards for a while now.
No-annual-fee cashback cards. One of the leading no-annual-fee cashback credit cards currently on the market is the Citi Double Cash card. It provides the consumer with 1% cashback for every purchase, with an additional 1% back when the bill is paid on time. That means that you essentially make 2% cashback for everything you purchase. This is comparable to the Apple Card in the 2% offered, although with the Apple version, you need to use the Wallet app, as using the physical card will drop the cashback to 1% (or increase it to 3% if buying Apple products).
What does this mean? Using the Apple Card to get the 2% would perhaps best suit users who are comfortable with apps and paying via mobile and may be late with making payments while users who prefer physical cards may choose the Citi option.
Apple store cashback. The 3% cashback offered when buying Apple products has had a lukewarm reception by many, due to the cashback rewards offered by other mobile-based cashback apps. Amazon offers a $50 gift card when you sign up (Apple hasn't announced any sign-up rewards as of yet) and 5% cashback on Amazon purchases. Uber offers 4% cashback on dining and $100 back when $500 is spent in the first three months, driving business early on. Many wonder what rewards Apple may announce for adoption, if any, later this summer.
Qualifying for an Apple Card
Have an iPhone. You need an iPhone to apply for an Apple Card. While a brilliant business move by Apple, this fact alone means that Android users will probably be completely shut off from the service.
Existing credit. In addition to an iPhone, those looking to qualify will also probably need existing credit. The exact credit score range needed to apply has not been announced. However, the variable interest rates with a low of 13.24% do note that those with lower credit scores will have higher interest rates, up to 24.24%. While it may seem like a lot, it is actually comparable to other no-annual-fee credit cards such as Chase Freedom or Discover Card.
Is the Apple Credit Card Right for Your Needs?
So, now the final question of all of this:
Is the Apple Card right for you?
While that question is highly subjective, based off of your lifestyle, buying habits and mobile ease, there are a few factors to think about when considering switching to an Apple Card.
The Apple Card is built for consumers who are tech and mobile savvy, may not be that great with paying on time, and want rewards regardless.
Due to the higher cashback percentages offered for using the Wallet app, consumers who have no problem using a mobile app for payment will be able to use the system to make more cashback.
Also, due to the lack of fees attached to late, overseas or overdrawn accounts, the Apple Card seems to be taking into account those who may not be that great with being on time with their payments. In that regard, the card would take the pressure off of a person who may be a bit distracted, forgetful or simply not yet have the necessary amount to make the payment.
The card's analysis features and customer help service, also mobile-based, will be more easily used and understood by consumers who can easily navigate mobile.
If you're good with mobile technology and may possibly be a bit bad at paying on time but still want the no-fee rewards, then the Apple Card may be for you.
Apple Card has an announced release of Summer 2019.
Author:
Logan Allec, CPA
Logan is a practicing CPA, Certified Student Loan Professional, and founder of Money Done Right, which he launched in 2017. After spending nearly a decade in the corporate world helping big businesses save money, he launched his blog with the goal of helping everyday Americans earn, save, and invest more money. Learn more about Logan.