So you're in the market for a travel card. Well, you're certainly not hurting for options; it seems that every few months some bank drops a new travel card.
But you're here because you want to know which travel card is best.
Well, the truth is, it's pretty tough to crown a single travel card as the best. The best travel card for you may be different than the best travel card for me because we have different spending habits and travel goals.
That said, I've been able to narrow down my list of the top travel cards to six, and I'm pretty confident that the best card for you is somewhere among these six.
Before we get into the list, though, let's talk about the basics.
What Is a Travel Credit Card?
Rewards credit cards come in two main flavors: cash back cards and travel cards.
Cash back cards give you, well, cash back. A good cash back card will either give you 2% cash back on all purchases or 3-6% cash back on at least one bonus category such as dining, groceries, or gas.
Travel cards, on the other hand, give you points — called "miles" by some card issuers — that you can redeem for travel expenses such as airfare, lodging, and transportation.
Why Travel Cards?
You may be wondering why anybody would want to use a travel card rather than a cash back card; after all, wouldn't you rather have rewards that you can do anything with, like cash, rather than rewards that you can only redeem for travel?
Well, here's why travel cards are so great: if you strategize correctly, you can earn more value per dollar spent on a travel card than on a cash back card.
For example, when it comes to cash back cards, the highest cash back percentage you could currently earn on dining and entertainment is 4% on the Capital One® Savor® Cash Rewards Credit Card.
But if you use the Chase Sapphire Reserve, one of the top travel cards that we feature in this article, you will earn what amounts to 4.5% back on dining and entertainment spending insofar as you redeem for travel rewards through Chase's online portal.
There are hundreds of travel cards out there, but they all fall into the three basic categories that I discuss below. Note that I've made up the names of these three categories myself; this isn't commonly-accepted nomenclature.
Travel Portal Cards
The most common — and perhaps the most lucrative — travel cards are those issued by a bank that has its own travel portal through which you can either 1) directly book travel expenses in exchange for points or 2) transfer points to various travel partners' rewards programs.
For example, when you use the Chase Sapphire Reserve card, you are earning points to use through Chase's travel rewards portal called Chase Ultimate Rewards.
Through this portal you can use your points to book flights, hotel stays, rental cars, cruises, and more.
Alternatively, you could transfer your points — oftentimes at a bonus rate — to one of Chase's hotel or airline partners.
Airline and Hotel Cards
Airline cards and hotel cards constitute another type of travel card.
These cards earn rewards that can be redeemed through specific airlines and hotel chains, and they typically offer special benefits for use on these specific airlines or at these specific hotel chains.
Generally speaking, these cards are worth it only if you are particularly loyal to a certain airline or hotel chain.
Reimbursement Cards
Reimbursement travel cards are perhaps the most straightforward way to earn travel rewards: you simply receive a statement credit for any travel purchases you make with the card.
For example, if you earn $200 worth of travel rewards on a reimbursement card, and you spend at least that much in travel expenses on that card, you could have your $200 rewards applied as a statement credit.
An example of a reimbursement card is the Capital One® Venture® Rewards Card, though it does permit transfers to airline partners.
When Travel Cards Make Sense
Travel cards — especially premium cards that provide a lot of value but at the cost of a high annual fee — aren't for everybody.
But they are right for some people, especially those with an incurable wanderlust.
If you see yourself in any of the profiles below, then a travel card may be your next money move.
You Travel a Lot
This is pretty obvious. Travel points won't do you any good if you rarely travel. But if you make at least a couple trips a year, the right travel card can possibly let you travel for free.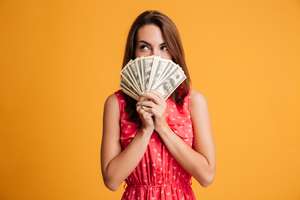 Interested in Cash Back Cards?
If after reading this section you've concluded that cash cards are more your thing, check out our top picks for cash back cards!
You Can Hit Sign-Up Bonus Tiers
For many people, the primary draw of travel cards is their massive sign-up bonuses.
These sign-up bonuses typically go something like this: if you spend at least $2,000 on the card within the first three months of card opening, you will receive 40,000 bonus points.
Of course, the devil's in the details. How much are those 40,000 bonus points actually worth? If they're worth a penny each when redeemed for travel, then they're essentially worth, in total, $400. This means you're getting $400 in rewards on $2,000 spend, which comes out to a 20% redemption rate not including the standard points earned on each transaction.
But here's the thing: you need to be able to put enough on these cards to hit its sign-up bonus tier (in the example above, this would be spending $2,000 in the first three months). If you can't possibly put $2,000 on the card in three months, then maybe you should look at a card with a lower sign-up bonus tier.
Don't Be Fooled.
Sign-up bonuses are great, but remember that you shouldn't spend extra money that you wouldn't have spent otherwise just to obtain a sign-up bonus.  It doesn't make much sense to unnecessarily spend $1,000 just to earn a bonus worth $500.  Be wise!
You Go Out a Lot
In terms of per-transaction earnings, travel cards really shine when it comes to "fun" spending such as on restaurants, entertainment, and travel expenses themselves. Many travel cards give their holders double, triple, quadruple, or more points when it comes to these kinds of charges made on the card.
So if you spend a lot on "fun" expenses, then you can really rack up the points if you charge them to a travel card.
Don't Settle. Ever.
You don't have to settle for one cash back card! I personally use five cash back cards on a regular basis.  Of course, keep in mind that it may not be the best idea from a credit score perspective to apply for all nine of the cards below, so study the qualities of each and only apply for the one(s) that you think will truly benefit you the most.
7 Best Travel Cards
Like I said previously, it's pretty tough — if not impossible — to state that such-and-such travel card in unequivocally the "best" travel card on the market today.
There are so many factors that go into choosing which travel card is best for someone, including their individual spending and travel habits. As habits are by nature personal and unique to every individual, I strongly hesitate to make a claim that any particular travel card is the "best" for everybody.
However, I did spend hours researching travel cards and contrived six different "awards" for travel cards. Hopefully you'll gravitate toward one of these award categories and find the travel card that makes the most sense for you.
The Platinum Card® from American Express
Capital One Venture Rewards
Chase Sapphire Preferred
Chase Sapphire Reserve
Delta SkyMiles® Gold American Express Card
Marriott Bonvoy Boundless Card
Responses are not provided or commissioned by the bank advertiser. Responses have not been reviewed, approved or otherwise endorsed by the bank advertiser. It is not the bank advertiser's responsibility to ensure all posts and/or questions are answered.
To see the rates and fees for the American Express cards featured, please visit the following links: American Express Platinum Card: See Rates and Fees; Gold Delta SkyMiles(R) Credit Card from American Express: See Rates and Fees
Author:
Logan Allec, CPA
Logan is a practicing CPA and founder of Choice Tax Relief and Money Done Right. After spending nearly a decade in the corporate world helping big businesses save money, he launched his blog with the goal of helping everyday Americans earn, save, and invest more money. Learn more about Logan.