Updated
September 29, 2021
How to Save Money by Retiring in Vietnam
Saving Money
Southeast Asia is becoming more and more popular with the western expat community as time goes by. It offers a plethora of benefits such as a welcoming culture, low cost of living, and lovely weather.
For people in the United States, retiring is becoming more worrisome, with rising costs and a Social Security check that does not seem to cover enough of them.
If this is something you are worried about, retiring in Vietnam could take away a lot of that stress. Consumer prices in Vietnam are 46.12% lower than in the United States, according to Numbeo.
Pros and Cons of Retiring in Vietnam
Before we jump into the costs of living in Vietnam post-retirement, let us talk about some of the pros and cons.
Pros
Relatively cheap in comparison to the United States and many European countries.
A lot of the Vietnamese population speaks English, especially in major cities like Ho Chi Minh or Hanoi.
The geography of Vietnam allows residents to experience a variety of natural environments, including sandy beaches, palm trees, and forested highlands.
Most tourists consider Vietnamese culture welcoming to those from other countries.
Cons
If you are used to peace and quiet, do not bet on getting it in places like Ho Chi Minh, which has a large population and a lot of traffic.
There is no retirement visa scheme, which means you will have to opt for a one-month or three-month visa and extend it pretty regularly.
Costs to Live in Vietnam
The cost of living is low in Vietnam relative to the United States. You should not expect to spend more than $1,500 a month no matter where you live, but you can get by with a whole lot less.
Cities like Ho Chi Minh or Hanoi are more expensive to live in compared with lesser-known and less-populated areas like Nha Trang City and Da Nang.
You could live comfortably spending anything between $700 and $1,200, but take that estimate with a grain of salt for a couple of reasons.
First, locals have an average wage of about $350 per month. If you plan on living an extremely simple life, you could do it with much less than $700.
Second, the estimate includes amenities that could be considered luxuries, such as Wi-Fi, air conditioning, or even the location of your residence.
Here are the costs to consider, and some options that could affect them:
Cost of Renting Apartments or Houses
How much you should expect to pay for housing depends on where you want to live.
Ho Chi Minh and Hanoi
Ho Chi Minh is probably the most expensive location you could choose to live in the country, because it is the most heavily populated and technologically advanced. Consider it the New York of Vietnam to better understand relative costs.
The city is separated into multiple districts, and the cost of renting would be according to your district. A general rule is anything in District One or District Two is prime property and comparatively more expensive.
A lot of remote workers and people who make a living blogging use Ho Chi Minh as a base, so it comes with more of a techy crowd. You can find big brands and big malls with more ease than in other parts of Vietnam, as well.
You will not find a lot of retirees in Ho Chi Minh because the tech appeal means it is not as calm and chilled out as locations such as Da Nang can be.
While Ho Chi Minh is definitely the most expensive Vietnamese city, a couple could still live an extremely comfortable life for less than $1,200 per month with not more than $600 going toward a one-bedroom apartment. Most people get by with a whole lot less. With $800 a month, the average expat could live a comfortable life spending about $450 on an apartment.
Hanoi, the capital of Vietnam, also has a large number of expats, but it is definitely not as much hustle and bustle as Ho Chi Minh. If you are looking for a city that is more local in its way of life and even slightly cheaper, Hanoi is a good option.
You will find cheaper food and even slightly cheaper accommodation in Hanoi, so it comes down to what you are looking for. If you want a more relaxed lifestyle, Hanoi is a better bet. Ho Chi Minh could work for someone who is looking for fast Wi-Fi and an active nightlife.
Nha Trang City and Da Nang
If city life and slightly more expensive prices do not sound amazing to you or if you are just trying to cut down on costs, places like Nha Trang City and Da Nang could be a perfect fit.
They are both coastal areas and have much lower rent prices than the larger cities. Their natural beauty will leave you speechless, and the local food is enough to make your mouth water.
You can expect to spend around 15% less in these cities for rent than you would in Hanoi or Ho Chi Minh. So, you could either spend less or get a more lavish apartment, depending on what you want.
Visa Costs
As mentioned above, one of the not so great parts about Vietnam is the lack of retirement visas.
3-Month Single-Entry Visa
The most commonly used visa by expats is the three-month single-entry visa that allows you to live in Vietnam for three months.
You will then have to cross the border and go to a nearby country like Hong Kong or Thailand and apply again.
If you live in Vietnam for a while, you will probably hear the term visa run thrown around in the expat community. It refers to leaving the country to avoid overstaying your visa so you can take a few days to apply for another and re-enter.
The visa itself is really simple to apply for and receive, but you would have to do it with an annoying amount of frequency. A single-entry three-month visa costs $34, and you should receive the approval letter within two to three days.
12-Month Multiple-Entry Visa
Another option for U.S citizens only is the 12-month multiple-entry visa.
You'd apply for the visa every year as a multiple-entry 12-month visa, but visa holders are required to leave the country once every 90 days (three months). This option costs $240 and obviously only comes up annually.
Some people find the three-month rule cumbersome, while others use it to take a small break in another country or visit friends and family back home. Some U.S. expats consider it the better option, because you only have to apply once annually.
Food and Drinks
This is probably the cheapest point on this list. Food in Vietnam is extremely cheap while still being really tasty.
When I lived in Vietnam, I realized it is one of the few countries where eating out can actually be cheaper than groceries. This is not to say groceries are expensive; you can get your monthly supply for less than $90.
Rather, it is to highlight how incredibly cheap local food is. You can get tasty street food that serves as your entire meal for $1.
Even a restaurant meal at a cheap restaurant is about $3 — no kidding. A Vietnamese delicacy, pho, which includes noodles and pork, is available at sit-down restaurants for $2.
Here is a picture of a meal my boyfriend and I tried for $4 at a mid-level restaurant in Ho Chi Minh: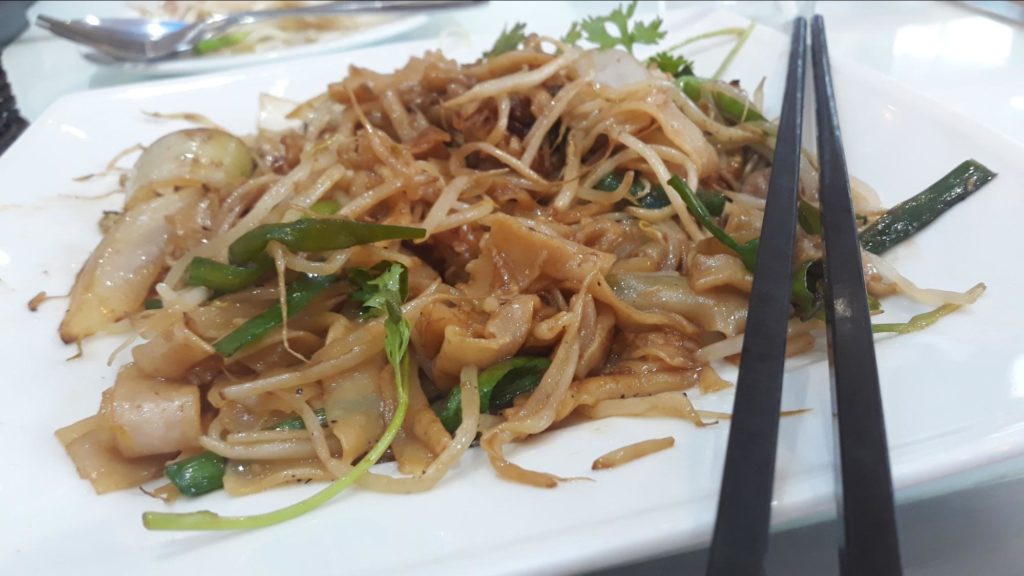 This does not mean you cannot find expensive restaurants in Vietnam; you could easily live the high life if you wanted to, but there are a variety of options.
To give you a better understanding, a mid-range restaurant could total at about $17 for a meal with drinks.
Regarding drinks, a beer can cost as little as $1, and a cappuccino is sold at around $2. As long as you don't go to Starbucks, your costs should be low, even if you have a drink every day.
Even fast food in Vietnam is less expensive than elsewhere. You can buy a McDonald's meal for less than $5!
While I was in Vietnam, I had a dozen McSpicy burgers from the location closest to me, because it is by far the best burger there. It is a must-have if you are in the country, because whatever recipe it uses is superior to any other.
Another benefit of living in Vietnam is you get to try a variety of dishes you never thought you would even see. Octopus and tarantulas are available as street food all around, and if you are open-minded, you can spend an entire month just trying new dishes.
One of the best experiences I have had and would recommend is a little street food shop called Five Boys Number One on Bui Vien Street in Ho Chi Minh and try the octopus. It is out of this world. The vendor also sells amazing milkshakes and fried chicken among other things.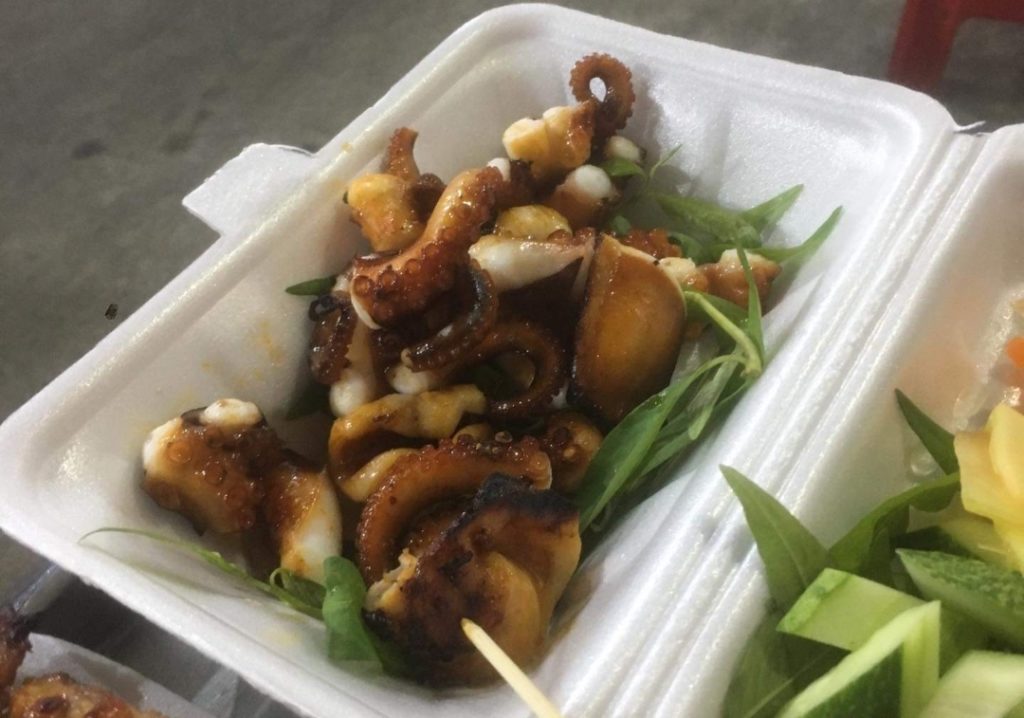 Lastly, you can buy water for about 30 cents per bottle, but if you are living in Vietnam, you will probably buy it in bulk, because the tap water is not drinkable. A reusable 19-liter jug costs about 43 cents.
Utilities
A SIM card from a phone company like Mobiphone is about $6.50 per month for 8 GB of data, but you can pay for more data if necessary.
Utilities such as electricity, heating, water, and garbage will cost you less than $80 per month, and you could even hire a maid if you need to; the going rate would be about $3 an hour.
Your utilities won't likely cross $100 per month even if you are spending frivolously. If you focus on saving money, you could easily get by on $50 or less.
Medical Care
Much like the United States, medical care in Vietnam can be a bit expensive, so getting insurance is not a bad idea. Thankfully, health insurance in Vietnam is significantly cheaper than what it is in the United States.
Luma is one of the most recognized international health insurance companies in Vietnam among expats. You can expect to pay about $70 per month, but this will not include dental and check-ups.
It should be noted that internationally accredited hospitals are normally only found in big cities. The private hospitals in these areas include doctors from the United States, Korea, and France, and Vietnamese doctors who trained abroad.
Medicine is available at any of the countless pharmacies in Vietnam. Prescriptions aren't needed for most medications, and prices are very affordable.
Extras
While food, drink, rent, and medical care will be your main expenses, knowing the costs of a few extras is always helpful.
Here are the average prices of some basic leisure items most people wind up spending money on:
A gym membership is approximately $20 per month.
A movie ticket costs about $4.
One liter of gas is approximately 90 cents, and a motorbike can be rented for an average of $10 per day.
A packet of Marlboro cigarettes cost little more than $1.
Author:
Freya Kuka
Freya Kuka is a contributor to various digital marketing publications, and specializes in B2B (business-to-business) writing for various industries. You can get in touch with her via Twitter @freyakuka28, or by visiting her website: collectingcents.com.