American Consumer Opinion Review 2020: Is This Survey Site Legit or a Scam?
Online Surveys
Money Done Right does not run display ads or accept sponsorships to promote particular products or services. However, we may receive a commission if you purchase or sign up through links on this page. Here's more information about how we make money.
American Consumer Opinion is one of the most popular survey sites, providing cash in exchange for answering questions. In our American Consumer Opinion review, we'll cover everything you need to know about the platform. We'll detail how it works and how you can earn money quickly by taking surveys.
Hopefully, our American Consumer Opinion review will help you make an informed decision.
What Is American Consumer Opinion Review?
American Consumer Opinion is a membership-based survey panel founded in 1986 by Decision Analyst. Back in the '80s, the panel conducted its surveys via the U.S. mail. In 1996, the panel went online and opened up to international members, too.
The organization has expanded dramatically since then, and it now has more than 7 million members. People join American Consumer Opinion from all over the world, although it's still most popular in the U.S.
American Consumer Opinion has been around for a relatively long time, so you can expect both professionalism and privacy. The company's email-based customer service will quickly help you resolve any issues, and the website is easy to understand and navigate. You won't run into any of the issues associated with smaller or newer services.
Is American Consumer Opinion a Scam?
First, let's get this out of the way. You might be worried about investing time on a survey site, but American Consumer Opinion is among the industry leaders. You can depend on the panel to respect your privacy and pay out rewards as outlined in the terms and conditions.
How Does American Consumer Opinion Work?
Signing Up
Signing up for American Consumer Opinion is a simple process you can finish in just a few minutes. You can create an account using your email address or with either Google or Facebook. American Consumer Opinion won't post on your profile or share any personal information.
Once you have a new account set up, you'll first have to take a New Member Survey. This questionnaire will ask you a number of basic demographic questions (ethnicity, employment field, income, etc.), as well as the full names and birthdates of the people in your household. You'll receive five points for taking this survey.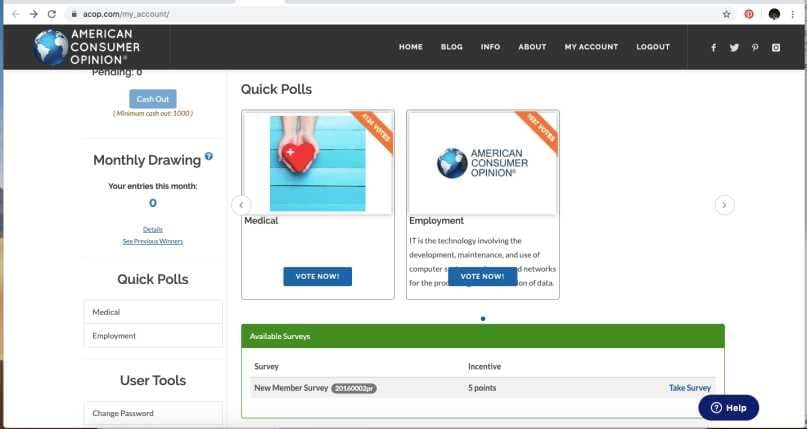 The answers that you supply to the New Member Survey are intended to help American Consumer Opinion determine which current surveys and polls you qualify for.
Apparently, the panel didn't like my answers, because I have no available surveys! That's a bummer, but everyone's experience should be different.
Taking Surveys
The first step in taking any survey is completing a screener questionnaire. Screeners ask fewer than 20 questions to determine if you qualify to take the entire survey.
Here's one of the coolest things about American Consumer Opinion: If you don't qualify for the survey, you'll still receive some kind of reward. This may be in the form of five to 50 points or an entry in a sweepstakes.
If you do qualify, you'll then get to take a survey. Although the length — and depth — of each survey varies, American Consumer Opinion reports that the average length is 10 minutes.
Once you've completed your survey, you'll receive your points.
Keep in mind that sometimes a few surveys don't offer incentives. If you're serious about racking up points, check before you even take the screener. Fortunately, each survey's incentive is clearly displayed from the start.

Points
Each point is equivalent to one cent, and your points will add up quickly once you start taking surveys. You can redeem your rewards once you reach 1,000 points, or $10. American Consumer Report pays out rewards on Hyperwallet and PayPal, or you can request a check.
If you use PayPal, keep in mind that the website will send your cash to the address you signed up with. Make sure to either register with your PayPal email or add the email you registered with to your PayPal account.
American Consumer Opinion Review: Pros
If you're interested in American Consumer Opinion, you should know its top features. These are some of the biggest "pros" that we found when completing our American Consumer Opinion review.
Flexibility
American Consumer Opinion is one of the largest survey agencies, so you'll have access to a range of surveys. If a survey doesn't provide enough rewards or doesn't seem interesting, just move on to another (if there's one available).
American Consumer Opinion also allows you to redeem your rewards directly rather than as a gift card or similar alternative. Once you reach 1,000 points, you've earned $10 you can spend anywhere you would use cash.
If you're interested in a chance at even more rewards, you can use your points to buy entries in sweepstakes. While there's a good chance you won't win anything, you could turn a small reward into something more substantial.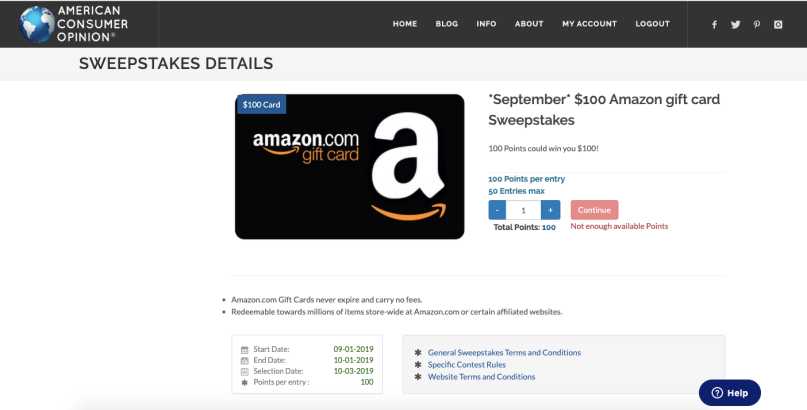 Notifications
New surveys are always popping up on American Consumer Opinion, but it's hard to tell which ones you'll qualify for. Fortunately, the website will send you an invitation via email whenever you're eligible for a survey.
This feature makes it easy to use American Consumer Opinion without checking the website every day for new surveys. You can take surveys as you receive them and earn rewards gradually. The website also displays point values to help you decide which surveys to take. Unfortunately, it doesn't provide an estimate on how long a survey will take to complete.
Note that the survey invitations you receive by email will often give you 100 or more points, more than what's typically available on the website.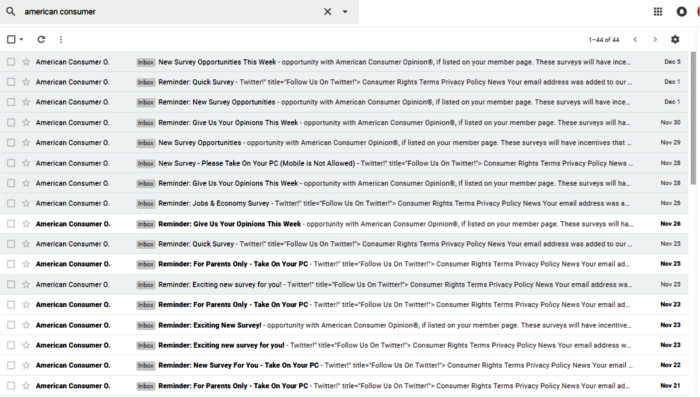 Payment Options
Some survey sites and other passive income platforms offer only gift cards as incentive. American Consumer Opinion, on the other hand, lets users in most countries also redeem via PayPal, Hyperwallet, or check. These options give you much more flexibility than is available with many of the website's competitors.
While a PayPal balance is easier to spend than a gift card, gift cards give you a higher return on investment. PayPal charges small transaction fees that cut into your rewards. Gift cards, on the other hand, allow you to spend the full listed value.
In addition to rewards for yourself, American Consumer Opinion also facilitates donations to charities. That said, you can choose from only the list of supported charities, giving you less control over your money.
Survey Variety
Many survey platforms send the same kinds of questionnaires over and over, but American Consumer Opinion provides a range of options. In addition to taking surveys, you can also review ads, test products, provide feedback, and more.
Access to so many different choices makes American Consumer Opinion feel less repetitive than other survey sites. You can always try something new if you're tired of completing the same types of surveys.
Accessibility
Some survey sites are accessible in only a small range of countries, but American Consumer Opinion is available worldwide. You can create an account no matter where you are as long as you're over 14 and have an email address. From there, the platform will ask you for some additional information including your address and income.
If you're outside of countries like the U.S., U.K., and Canada, it can be tough to find survey opportunities. American Consumer Opinion is a great place to start for international users. The panel is always looking for different perspectives, so nearly anyone can find surveys on American Consumer Opinion.
American Consumer Opinion's low age requirement makes it perfect for younger people interested in making money. You can start earning rewards before you're even old enough to get a job or a driver's license. This is likely an underrepresented demographic on survey sites, so teenagers can earn even more money.
Trust
Trust is one of the top issues for survey takers, and we're all concerned about our privacy. Taking surveys involves sharing personal and sometimes private opinions. It's important to find a website that takes your security seriously and actively protects your data.
Fortunately, American Consumer Opinion is backed by Decision Analyst, a market research organization with an A+ rating from the Better Business Bureau. This company has been around for a long time, and it's not going away anytime soon.
American Consumer Opinion Review: Cons
Overall, American Consumer Opinion is a good site for completing surveys. (In fact, it was one of the few survey companies we've awarded with an "A" rating.)
However, that said. there are some limitations that new users should be aware of. These are some of the "cons" that we found when completing our American Consumer Opinion review.
Turnaround Time
Once you reach 1,000 points, you'll still have to wait up to six to eight weeks for your reward. This is an inconvenient processing time for relatively small sums, although some people report receiving rewards more quickly. Payouts can take eight to 10 weeks to facilitate if you use Hyperwallet.
The slow transfer speed associated with American Consumer Opinion is even worse considering how long it takes to reach the minimum redemption threshold. It's frustrating to sign up for a new survey site without seeing benefits for weeks or even months.
No Referral Bonus
Unlike a few other survey sites, American Consumer Opinion doesn't offer any sign-up or referral bonuses.
Fortunately, you'll earn your first five points immediately by filling out the New Member Survey. This will also make it easier to find new surveys you qualify for. Answering these simple questions is the first thing you should do after creating an American Consumer Opinion account.
Restrictions on Redemption
Earning points for taking surveys is great, but American Consumer Opinion limits your ability to withdraw rewards. You'll need to earn at least 1,000 points in order to redeem your first reward. Each point is equivalent to one cent, so 1,000 points works out to $10.
That might not sound like much, but you'll need to take numerous surveys to reach your next reward. Shorter surveys of around 10 to 20 minutes offer between five and 50 points, while those that take more than 20 minutes come with between 100 and 5,000 . Although you can earn points quickly with some surveys, it could take you hours to accumulate 1,000 points.
With that in mind, you shouldn't think of American Consumer Opinion as an adequate source of income. It's always nice to see a few extra dollars in your account, but don't consider it anything more than that. Taking surveys is perfect for short periods of free time, but it's not an effective way to earn a living.
Difficulty Finding Surveys
Each survey targets a specific group of people, and there's no way to predict which ones you'll qualify for. While some users will find a large number of surveys, others may have more trouble.
This issue is present in all survey sites, but some platforms allow you to earn money in other ways. If you can't find enough surveys, you can get rewards by performing other actions. With American Consumer Opinion, you'll simply have to keep waiting.
Slow Progression
The truth is that it takes a long time to earn rewards on any survey site. It's exciting to take your first two or three surveys, but the process can get old quickly, especially if you've been working for a while with little benefit.
Surveys typically offer between about five and 50 points, although longer surveys sometimes provide more. You shouldn't expect to earn more than a few hundred points for each hour of answering questions. Since you need a minimum of 1,000 points to redeem, it could take you a while to earn any money.
The slow progression associated with American Consumer Opinion is even more frustrating considering that there aren't any other ways to earn rewards. Other websites offer referral bonuses and other incentives to help you feel like you're making progress.
If you decide to sign up for American Consumer Opinion, don't expect it to replace your income. More realistically, look for the website to give you a few extra dollars each month.
On the other hand, if you have a significant amount of time to devote to a new project, you should consider another source of passive income rather than taking surveys. Passive income typically involves some work up front, but you'll continue to earn money with very little effort.
Unpredictability
As with any survey site, it's impossible to predict which users will receive the most invitations. Survey availability depends on what the platform's clients are looking for. While most members should have no trouble finding new surveys, others will have much fewer opportunities.
If you're having trouble identifying surveys on American Consumer Opinion, make sure you've entered all relevant information on your profile. The website uses this data to help you find surveys you could qualify for. You probably won't receive many invitations before filling out your profile.
On the other hand, if you still can't get enough surveys, it might be best to try another site. Different platforms are looking for different people, and demand could be higher somewhere else. Availability also fluctuates dramatically from one week to the next. You'll receive a notification whenever you could qualify for a new survey.
Here's the lowdown on our two favorite survey sites for 2019.
American Consumer Opinion Review: The Bottom Line
American Consumer Opinion is one of the most popular survey sites, and it's a decent way to make a little money on the side. You can earn rewards quickly by taking surveys on a variety of topics whenever you have free time. The platform has flexible payment options to suit your needs.
That said, American Consumer Opinion isn't perfect. The lack of a referral bonus makes it that much harder to earn points, and you need 1,000 points to redeem anything at all. Even then, users report that payments can take up to 12 weeks to process.
If you decide to sign up for American Consumer Opinion, don't expect to earn more than a little extra each month. There are more efficient ways to invest your time if you're looking to maximize your passive income. Still, American Consumer Opinion is one of many effective ways to supplement your earnings.
Alex McOmie
Alex McOmie is a writer focused on providing insightful, actionable content that can truly change the way readers approach their finances. He joined the Money Done Right editorial team in summer 2019. Learn more about Alex.