Bestow Life Insurance Review 2020: Low-Cost, Easy-to-Obtain Insurance
Life Insurance
Looking for an easy way to find a life insurance policy that will work for you without wasting your time and energy?
Enter Bestow, a life insurance agency founded in Dallas, Texas, in 2016.
Bestow uses big data analysis in order to make the entire quote, application, and approval process as painless as it can possibly be.
Read on for our Bestow life insurance review that covers how Bestow works, the application process, restrictions, comparisons, pros, cons, and our final thoughts on the application.
Bestow Review: How Does It Work?
Bestow has an online term life insurance website that efficiently uses technology to improve the life insurance application process for everyday Americans.
With its uniquely designed underwriting framework, Bestow can efficiently analyze online applications and assign approved life insurance policies in just minutes. Recently, Bestow raised $15 million in funding, which contributes to their future advancement in the life insurance industry for the coming years.
Bestow Life Insurance Options
Bestow offers two different life insurance plans, with different minimum and maximum coverage, starting premium prices, and duration lengths.
All plans are backed by Bestow's partnership with North American Company for Life and Health Insurance® and are offered in 49 states across the U.S. It does not include New York.
Each plan is issued by an A+ Rated carrier, carries no cancellation fees, and comes with a 30-day money back guarantee.
Here are your options with Bestow:
10- or 20-Year Coverage
The single- or double-decade coverage plans involve a minimum coverage of $50,000 and maximum coverage of $1 million.
Their starting premium price is $8.13 per month.
This plan is popular with consumers who want to lock in their rates on premiums, without having to worry about fluctuation over the years.
2-Year Coverage
The 2-year coverage plan includes a minimum coverage of $50,000 up to a maximum coverage of $500,000.
The starting premium price within this plan is $2.50 per month.
This coverage plan is recommended for those who don't necessarily want to be locked into a longer commitment and value the flexibility which can allow them to change their mind as markets shift.
Quote Form
Are you not sure what plan you want?
Don't worry.
Enter basic data like your age, height, weight, and state and see a rough price range for coverage options that may be available to you.
The slide tool allows you to see how premiums and policies fluctuate as coverage increases and decreases.

.
Bestow's Partner
Bestow is backed by a partner with a long track record and assets numbering in the billions: North American Company for Life and Health Insurance®. They pay the claims for Bestow. They were founded in 1886 and currently offer an array of life insurance products across America. A member of the Sammons Financial Group, North American Company has earned an A+ financial strength rating from A.M. Best.
The Bestow Application
The Bestow process is built for ease and efficiency. The process of applying for a life insurance policy offered by Bestow takes just a matter of minutes to fill out the necessary forms. The best part? No doctor appointment needed!
Here is some of the information you can expect to provide to Bestow in order to get the application process rolling:
Throughout the application process, the Bestow pages and icons are easy to navigate and the process flows seamlessly. It is about as stress-less as taking out a life insurance policy could be.
That said, it's important to have some key pieces of information handy as you complete the application, including your personal information including height, weight, and driver's license information.

.
Restrictions on Bestow Policies
Age
Bestow has quite a few life insurance policy restrictions based around age.
For instance, only those 45 years old or younger can purchase 20-year term life policies.
Additionally, both those under 21 and over 54.5 years old may not purchase any of their policies.
Location
While Bestow is available in 49 states, it is not available for those living in New York.
Personal Information
As with any life insurance company, various other factors may lead to ineligibility such as a person's build (weight, height, body mass index), amount of existing coverage, and other factors.
However, Bestow notes that they are continually aiming to offer more coverage to more people, so just because you may be ineligible one day doesn't mean that might not change in the future.
Getting Life Insurance: Bestow vs. Traditional
Historically, you had to meet with an insurance agent in order to get a life insurance policy.
The process may start with prequalification to get a quote, then a paperwork process and a doctor's visit for a physical exam and blood work.
That kind of process can take weeks to complete and multiple doctor's visits.
Bestow decided to make things easier and find a better way to offer life insurance policies.
That's why, instead of going to the doctor, they use big data analytics, and instead of in-person paperwork, you can complete the entire process paper-free in minutes online.

.
Bestow Pros
No Bestow life insurance review would be complete without looking at the pros and cons represented by Bestow's various policies and plans.
Below are a few quick summations of all the good points involved when you take out a life insurance policy with Bestow.
1. Customization
There are generally three term lengths (the 2-, 10- and 20-year plans) that can be adjusted according to coverage wanted.
The plans with fewer years have smaller premiums without tying customers into long-term contracts. In other words, once a policy is issued, the rates are locked in — but once your policy term is up, rates are likely to be higher. That's why it's often helpful to get a longer-term plan.
All of this customization means that you can choose the plan that best suits you and your lifestyle.
2. Quote Estimator Tool
As mentioned, Bestow's quote form allows you to enter personal details and receive an average price range for your coverage.
The tool can be used without entering personal details, meaning you won't receive annoying emails and notifications for weeks and months afterward.
Instead, Bestow insurance is confident enough to give you the tools to decide for yourself to move forward with their company or not.
3. Missed Payment Lenience
Missing a payment may be due to any number of reasons.
Maybe you forgot, wires got crossed in the transfer, or you simply didn't have the amount ready at that time.
Luckily, Bestow gives everyone 60 days to catch up if they miss a payment.
Only after 60 days of no payments being received will Bestow cancel your plan due to inactive payment.
However, if you realize the mistake, want the coverage again or gain the necessary funds at a later date, you can come back to Bestow and reinstate it.
4. No Sales Agents or Medical Exams
As a 100% completely online process, Bestow does not require you to interact with sales agents or medical examiners.
Instead, Bestow relies on their own confidence in their product (along with customer reviews) instead of sales agents and constantly-improving technology instead of medical examiners.
This completely online, hassle-free way to approach life insurance policy planning is an immense draw.
5. Easy Navigation and Fast Completion
In this day and age, it is now more important than ever before to offer a product or service that can be completed or integrated as quickly as possible.
People just hate having their time wasted, especially by forms or slow website navigation.
Bestow has streamlined the process, making the questions easy to answer and the pages easy to click through. The final result is a great customer interaction and experience.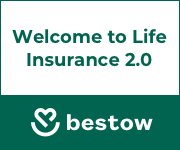 .
Bestow Cons
Of course, we'd be remiss in this Bestow life insurance review if we didn't also go through some of the cons you might encounter when dealing with the company.
1. Ineligibility
As previously mentioned above, there are a range of reasons why people may be ineligible for different Bestow life insurance policy options. Here's a quick recap of some reasons why people may be found ineligible:
They live in New York
They are under 21 years of age
They are over 54.5 years of age
Their build (weight, height, body mass index)
Their existing coverage
They are 45 years old or older, applying for a 20-year plan
2. Only One Partner
Bestow insurance only provides policies through North American®.
That means that there's no way of comparing prices in order to find the cheapest options from various providers.
This may not be ideal for those who value cheap prices above all else, like ease and efficiency of the process from start to finish.
Final Thoughts
Not only has Bestow been working to improve the life insurance policy planning world, but it is also making it as easy and streamlined as possible for people to access their work.
Bestow may be better for those who want set plans of a certain length (2, 10 or 20 years) and who may want different coverage later on.
Overall, Bestow is a great company to help someone who wants things as easy as possible, with as much help as possible, to obtain their best-fit life insurance policy.

.
Disclosure: This post was made in paid partnership with Bestow. Neither Bestow nor North American Company for Life and Health Insurance were involved in the preparation of the information in this article. The opinions and ideas expressed in the article are those of the author(s) and are not promoted or endorsed by Bestow or North American. You should always seek professional advice before making a financial decision.
Logan Allec, CPA
Logan is a practicing CPA, Certified Student Loan Professional, and founder of Money Done Right, which he launched in July 2017. After spending nearly a decade in the corporate world helping big businesses save money, he launched his blog with the goal of helping everyday Americans earn, save, and invest more money. Learn more about Logan.