Updated
September 29, 2021
2020 Panel Review: Is This Survey Site Legit or a Scam?
Online Surveys
It's tough to tell which survey-taking websites are legit, especially considering how many options are out there. Our 2020 Panel review covers the information new users need to know before signing up. We'll also explain how to create an account and start making money.
2020 Panel Review: What Is 2020 Panel?
2020 Panel uses a business model similar to many other survey sites. Companies pay the site to collect market data, and 2020 Panel finds participants by offering some of that money in exchange for taking surveys.
The research organization has been around since 1986, giving it a longer history than most alternatives. Plus, it's free to sign up.
2020 Panel Review: How Does It Work?
Signing Up
Joining 2020 Panel is as simple as entering your email address and creating a password. From there, you'll receive a confirmation email. Verifying your address is the last step toward creating an account.
Following account creation, the website will ask for some additional information to match you up with surveys. Keep in mind that survey availability varies widely from one user to another, mainly depending on demographics.
After signing up, 2020 Panel will let you know whenever new surveys are available. Unlike some other sites, you can take surveys only when you receive an invitation. You can't look for surveys on the website, and you may not qualify for any surveys on your first day.
Even if you don't qualify for a survey right off the bat, there are some quirky features you might enjoy checking out. For starters, there's a coupon page that lets you print out coupons for some major-brand items.
Then there's a job search function that pulls data from career boards. I guess it's a reminder that you could be doing more lucrative things with your time than taking surveys!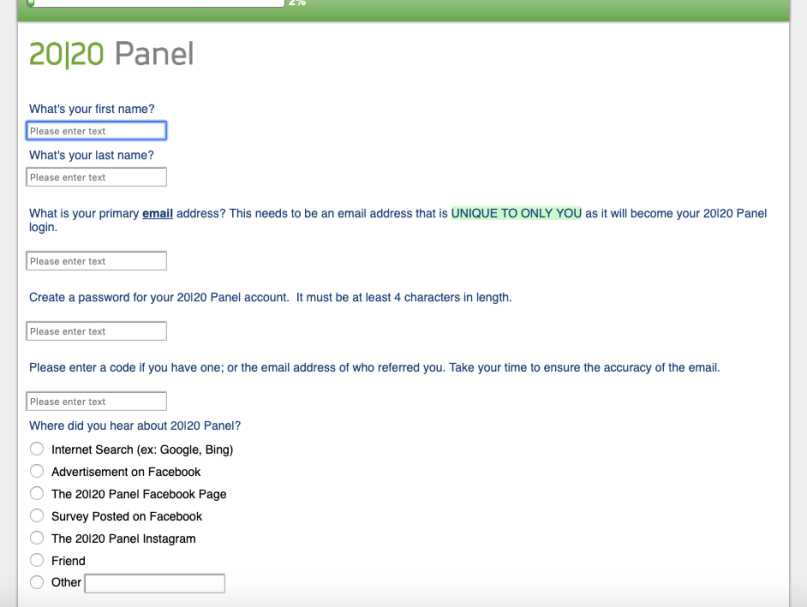 Taking Surveys
2020 Panel offers a wider variety of surveys compared to most competitors. Rather than just answering questions online, you may be invited to participate in a number of ways. Remember to check your email filters to make sure that messages from 2020 Panel go to your inbox.
One supplement to the conventional survey is an online interview. In this case, you'll answer a few screener questions to determine whether you're eligible for the interview. If you're selected, the website will connect you to a moderator for the interview.
2020 Panel also runs user-driven discussions through both chat rooms and webcams. These opportunities range from roughly 30 to 90 minutes, but typically lead to better rewards than surveys alone.
Finally, members in a few locations may be eligible for in-person participation. 2020 Panel currently has facilities in Miami, Nashville, and Charlotte, North Carolina. It's an even better opportunity for people living in these areas.
Remember that 2020 Panel uses your personal information to connect you with new opportunities. You probably won't receive any invitations if you haven't completed the initial profile survey. The website adds new questions periodically, so you should check your profile regularly to make sure you haven't missed anything in your inbox.
Emails from 2020 Panel typically invite you to a preliminary questionnaire, so there's a chance you won't be accepted for the entire survey. Getting screened out can be frustrating, and there's no way to predict which surveys you'll qualify for.
Earning Rewards
2020 Panel offers both points and money for different surveys, so look at the reward before taking a new survey. Points expire after 18 months, more than enough time to redeem them in most cases. You can redeem points for PayPal or a gift card when you reach at least 500.
If you fail to qualify for a survey, you'll still receive 10% of the reward value. This makes it feel like the time was worth it, especially compared to sites that don't offer any rewards unless you finish the entire survey.
Focus groups and online discussions usually offer much better rewards than surveys. Again, don't forget to check the form of the reward to make sure it's something you're interested in. You should expect to receive around $50 to $200 after completing a focus group. This is significantly more than is typically available with most other sites.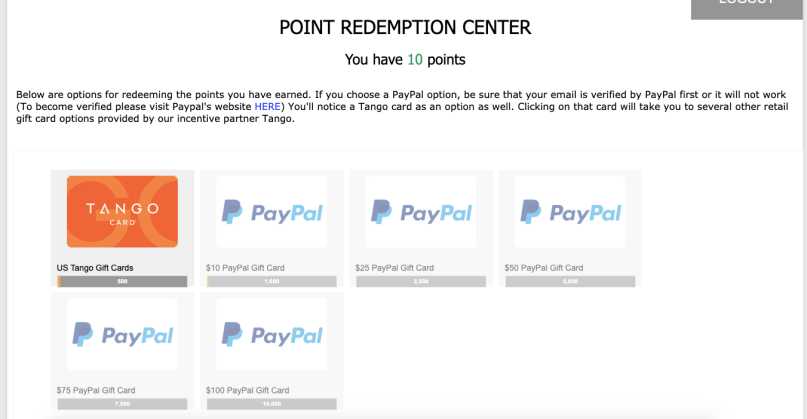 2020 Panel Review: Is 2020 Panel Legit?
2020 Panel is a highly reputable survey site, and it's a trustworthy option for anyone interested in earning some extra cash. It offers a few particularly valuable advantages that make it worth considering above the competition. These are a few the things we liked that we found while writing this 2020 Panel review.
In-Person Discussions
In-person focus groups are available in only a few cities, but they're still a unique opportunity among survey sites. They also offer some of the best rewards available on any platform.
If you live in a supported area and are interested in taking surveys for money, 2020 Panel could help you earn substantially more than competing platforms. Rather than making a dollar or two for each interaction, you could earn as much as $200.
Free Coupons
2020 Panel consistently offers valuable coupons to all members at no charge. You can view the available coupons at any time and download them after creating an account. Most deals are on common household items you likely would have considered purchasing anyway.
Free coupons provide a benefit at no cost, and you can redeem an unlimited number of deals. After signing up, remember to check the coupon page regularly for new offers. 2020 Panel coupons could help you save a few dollars every week.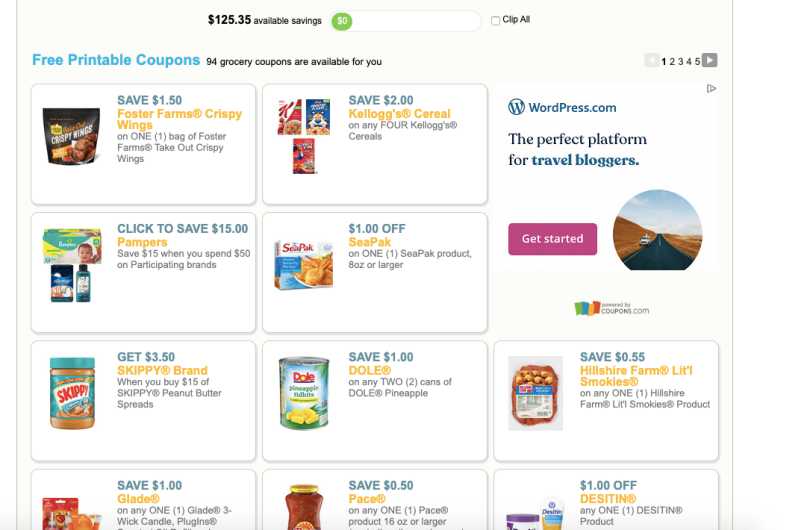 Screener Rewards
You need to complete a short screener before being accepted for an entire survey. While 2020 Panel rejects many users, you'll still get a small reward if you don't qualify. Some other sites provide rewards only if you qualify for and complete the full survey.
Screener rewards are relatively small, but they're a significant step up from nothing. If you're consistently taking surveys, these rewards will add up quickly and supplement what you earn from finishing surveys. Don't get discouraged if you're consistently screened out. Different demographics are in demand at different times.
Reliability
Many survey platforms are relatively new to the scene, but 2020 Panel is one of the oldest. The company is serious about market research and won't try to scam you or sell your answers.
2020 Panel uses your responses only to form statistics, so they won't be directly associated with you. Your information is entirely anonymous and will never be shared without your permission.
Privacy
2020 Panel's privacy policy describes exactly what the site does to keep your data safe. Privacy and data security are two of the top concerns for most internet users. They're especially important for survey sites since you'll be asked to share personal information.
The website removes most user data within a year of collecting it, so there's no long-term record at all. Its privacy policy is extremely thorough, so check it out if you're worried about your security.
Referral Benefits
Referrals are the perfect way to add to the money you make from surveys. 2020 Panel has a robust referral program that provides entries into a cash drawing. You could win as much as $100 just by introducing a new member to the website.
The platform regularly announces new winners, so you could even see your name on the 2020 Panel website. The more people you refer, the more chances you'll have to win the money. You might not get anything, but you could earn a lot more than competing sites typically offer.
2020 Panel Review: Is 2020 Panel a Scam?
2020 Panel is a highly reputable website, but there are some issues with the platform. Every site has unique pros and cons, so try a few out to see which ones work for you. Since you can create an account for free, there's no risk involved. You won't lose anything except a few minutes.
These are some of the biggest issues we found when working on our 2020 Panel review.
No Mobile App
There's nothing wrong with taking surveys on your computer, but it may be more convenient to complete them on your phone. After all, we're often looking to kill time when commuting on the train, sitting in carpool line, or waiting at the dentist's office.
Unfortunately, 2020 Panel currently doesn't offer a mobile application on either iOS or Android.
With that in mind, you'll probably end up taking surveys on your laptop or desktop. Other survey sites have better mobile options, so check out some alternatives if that's an important feature. Mobile access makes it easy to complete surveys no matter where you are or what you're doing.
Unpredictable Availability
Survey availability varies widely on nearly every site, and it can be tough to earn a sustainable income. You could go weeks or months without qualifying for a survey or other opportunity.
You can take a survey on 2020 Panel only if you've received an invitation to do so. When working on this 2020 Panel review, we weren't invited to participate in any surveys beyond our initial profile setup.
It may be worth switching to another survey panel if you're not receiving enough invitations. Different demographics get more surveys on different sites, and there's no way to predict which one is right for you.
Confusing Rewards System
2020 Panel is one of the few survey sites to offer both cash and points, and the site doesn't make the rewards system very clear. While users report receiving a 10% reward after being screened out, this isn't mentioned on the website.
The website has a relatively disorganized design that makes the platform somewhat difficult to understand. It will probably take you some time to get used to the layout and start using the site more efficiently.
Limited Access
Users in the United States will have no trouble accessing 2020 Panel, but there's no mention of international support on the platform's website. Registration is limited to Americans above the age of 18. Many other platforms are open to younger people and those in other countries.
Furthermore, the lack of widespread support for in-person focus groups limits the appeal of 2020 Panel. While this is a great opportunity if you live in one of the three cities listed, it won't make a difference for the vast majority of members. Even if you are in a supported location, you may have trouble qualifying for focus groups.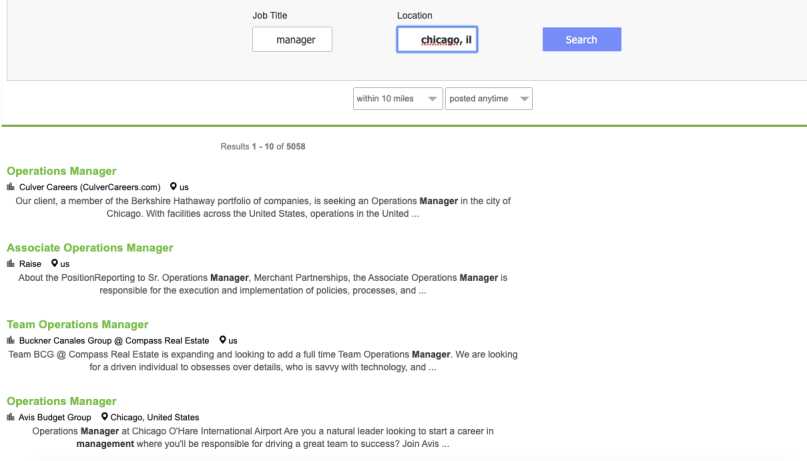 Contact Methods
Many survey platforms simply send an email when new surveys are available. 2020 Panel emails for online surveys, but they also call for certain opportunities. They're one of the few sites that still use phone calls to notify members.
Most of us avoid all but the most important calls, so you might find 2020 Panel to be intrusive. If you're not interested in being contacted by phone, check out another survey site. Email allows you to view and complete surveys at your convenience rather than in response to a call.
Low Payouts
As mentioned above, the payouts associated with in-person focus groups are a major advantage of 2020 Panel. On the other hand, you shouldn't expect the same amount of money from online surveys. Similarly, online discussions offer much smaller benefits than the focus groups available in Charlotte, Nashville, and Miami.
Of course, relatively low payouts aren't exactly unique to 2020 Panel. Survey sites are generally designed to provide some money on the side, not a second source of income. You'll only be disappointed if you expect to earn more.
Point Expiration
Most survey platforms offer points that last forever, but 2020 Panel points expire after 18 months. While that might sound like a long time, it's easy to forget about your points until after the expiration date. Remember to check your balance periodically and make sure to use points while they're still redeemable.
Screener Surveys
Like some other sites, 2020 Panel uses screener surveys to determine whether you qualify for the entire survey. You might answer questions for a few minutes before being rejected from that opportunity.
The website offers 10 percent of the total reward whenever you're screened out. While that's better than nothing, screener surveys are still one of the most frustrating things about 2020 Panel. You might only qualify for a fraction of the surveys for which you receive an invitation.
Invitation-Only
Rather than displaying a list of surveys, 2020 Panel surveys are available exclusively via email invitations. There's no way to take surveys at all if you don't have any pending invitations.
This makes the sign-up process slightly underwhelming, since you won't have any surveys to take after creating an account. Instead, you'll simply have to wait until you receive your first invitation. As mentioned above, availability can be unpredictable, and you could wait hours, days, or weeks.
Since you can take surveys only by invitation, there's a chance that surveys will fill up before you respond. Each survey requires only a certain number of responses. You might miss out if you see the email too late.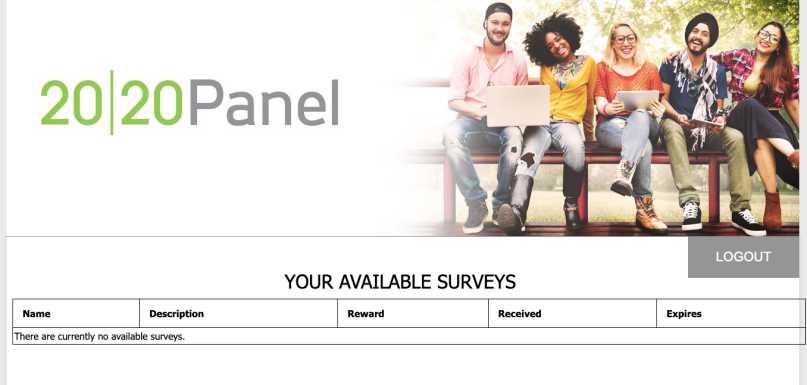 Profile Changes
Updates to the profile surveys are another one of the platform's unique quirks. Most other sites ask you to fill out a one-time personal information form. 2020 Panel, by contrast, regularly adjusts its profile surveys.
The website uses your information to find surveys, so you may not receive invitations if your profile isn't up to date. It's easy to forget about your 2020 Panel account and potentially lose a variety of opportunities.
2020 Panel Review: The Bottom Line
2020 Panel is one of the most unique survey sites currently available. It offers both online surveys and traditional focus groups to help you earn money quickly. Unfortunately, those focus groups are currently available in only a few select areas.
Members also have access to a variety of coupons, and you can sign up for free to start saving even more money. Between these offers and 2020 Panel's surveys, you could earn a surprising amount of cash.
On the other hand, 2020 Panel has a number of glaring flaws. It still doesn't offer a mobile app, and its confusing reward system uses both points and cash. Furthermore, 20|0 Panel doesn't offer any international support.
If you're an American interested in earning passive income, 2020 Panel is an OK way to get started. However, you might find a more versatile platform such as YouGov or Swagbucks a better fit.
Author: