InboxDollars Review 2021: Earn Cash for Taking Surveys Online
Online Surveys
If you're looking for a way to make extra money online, you might be curious about InboxDollars, a popular survey website.
InboxDollars lets you earn real money for taking surveys and completing other random online tasks. That sounds intriguing — after all, I like the idea of making money without having to leave the house.
So I took InboxDollars for a spin.
The verdict? While the website definitely won't make you rich, it could be a fun way to earn a few bucks here and there in your spare time. Just be aware that it could take some time before you've earned your first check from InboxDollars.
If you're interested in trying this survey site, keep reading our InboxDollars review to find out if it's a good fit for you.
What Is InboxDollars?
InboxDollars was founded in 2000 and currently has millions of members in both the U.S. and the U.K.
The company also owns SendEarnings and DailyRewards and has some significant advertising partners, including Target, Netflix, ADT, and Groupon.
Keep in mind that InboxDollars is a survey aggregate site. So when you click on an activity, it's likely you'll be directed to a third-party site. However, InboxDollars will keep track of your earnings and fulfill your cash payout.
How Does InboxDollars Work?
InboxDollars will let you start completing surveys and earning cash as soon as you sign up. In fact, the company offers a $5 signup bonus just for joining.
The Signup Process
Signing up involves giving InboxDollars your name, email, and mailing address. Once you've verified your email address, InboxDollars will credit your account with your $5 bonus.
However, take note that you can't claim any cash until you've earned $30. So if you want your InboxDollar account to pay off, you'll need to start taking surveys right away.
The Surveys
InboxDollars will send you email invitations to take surveys, but you can also find them by looking at your dashboard. (A word to the wise: If you plan to sign up for a few survey sites, you should set up a designated email just for this purpose. Otherwise, your inbox will be swamped with invites.)
The first survey InboxDollars will invite you to take is a 30-question Profile Survey. The survey will ask you for personal and demographic information, including your birth date, your ethnicity, and whether you have any medical conditions.
If you're uncomfortable with supplying this kind of information, you have the option to click "Prefer not to answer." But note that doing so could disqualify you from receiving some survey invitations.
The Profile Survey gives you 50 cents for about five minutes of your time. Most of the surveys I was invited to take paid from 25 cents to $1. However, the time commitment for each varied, with one three-minute survey paying 50 cents — as did a 21-minute survey! Meanwhile, a 17-minute survey gave me $1.25. I really could find neither rhyme nor reason to payouts.
InboxDollars tells you upfront how much time each survey should take. This is good — you can decide whether a survey is worth your time.
Plus, there's no illusion that you're going to make anywhere near the minimum wage just by completing surveys. There are many other ways to make a more significant amount of money quickly. Still, taking surveys is easy and painless.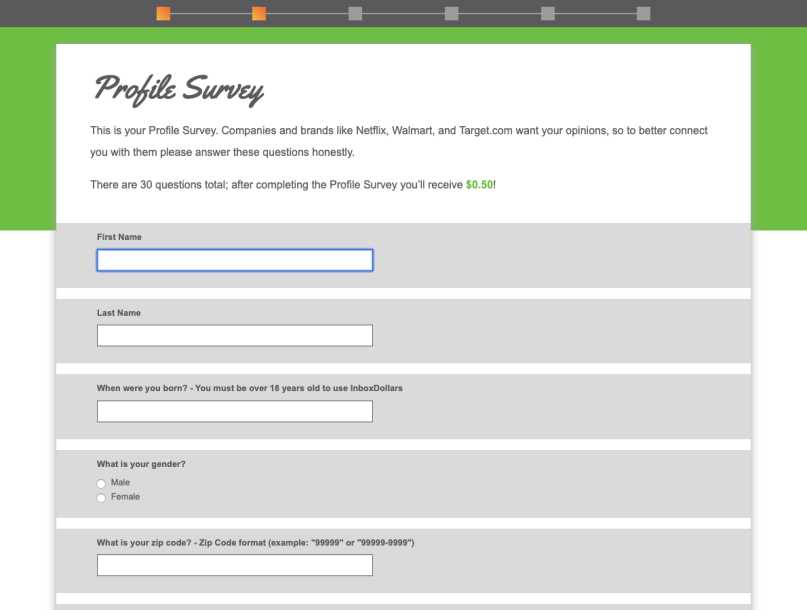 Other Ways to Earn Cash
If you're not a fan of surveys — or if you get tired of taking them — there are other opportunities on InboxDollars.
The website's "Offers" category gives you rewards for interacting with some of InboxDollars' advertising partners. One offer that I found appealing was earning $12 for becoming a Hulu subscriber. Or, you could make $10 for signing up for stock-trading app Stash.
If these are services you're already considering signing up for, InboxDollars' offers could be worth your while.
Then there are the "Games" that let you earn rewards for playing Mahjong, Solitaire, or a Candy Crush knockoff. You can play these both on the InboxDollars website with your desktop computer or on your phone. If you enjoy playing games often, this could be another fun way to earn a little bit of cash.
InboxDollars also provides members with coupons. These are actually pretty useful. I scored $1 off a pint of Ben & Jerry's plus earned an extra 25 cents in InboxDollars rewards for clipping the coupon.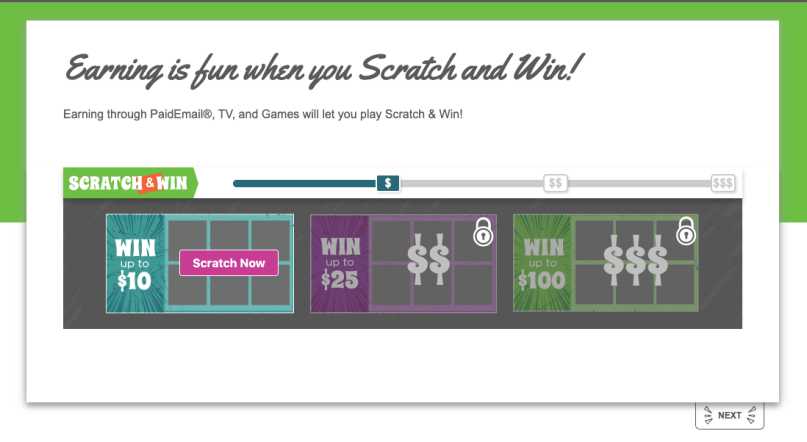 Receiving a Payout
Once you've earned $30, you can request a payout in the form of a check, online gift card, or PayPal balance.
Since you'll be making only a dollar or two per day, at most, it might take quite a while to receive your first check. You'll have to decide whether you want to devote enough time to InboxDollars activities to make an account worth your while.
InboxDollars Review: Pros
When working on this InboxDollars review, I found somethings about the platform appealing:
Clear Cash-Based System
Many of the other survey sites we've reviewed use complicated points systems. In some of these cases, points have no consistent cash equivalent, so it can be confusing to determine just how much you're earning.
On the other hand, InboxDollars assigns a clear cash value to each survey or task, so there's no guessing how much you can earn for an activity.
Cash Payouts
In addition, InboxDollars lets you earn cash, which you can receive via a check or PayPal transfer. This compares favorably to some other sites that let you earn only gift cards. After all, you can use cash however you want — from applying it to bills to treating yourself to some ice cream.
Coupons
InboxDollars offers useable coupons for discounts on household-name products. Plus, you can earn a small reward just for clipping each coupon.
Time Transparency
I appreciate that InboxDollars is upfront and informs members of how much time each survey should take. Believe it or not, some other survey sites don't do this. I want to know whether a survey is worth my valuable time.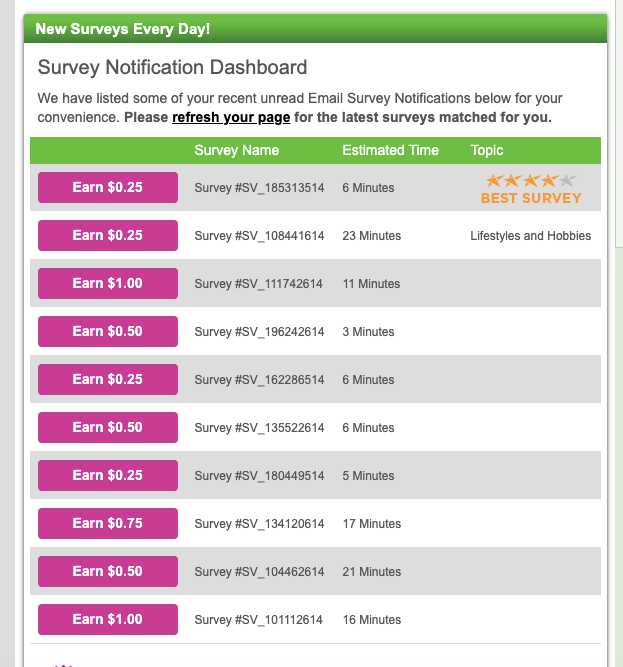 Earn Rewards for Special Offers
To tell you the truth, I think the best deals on InboxDollars can be found in the "Offers" section. For example, if I weren't already a Hulu subscriber, I could have signed up through InboxDollars and received a $12 reward — the equivalent of two months of free access to Seinfeld and everything else I want to watch on the streaming channel.
InboxDollars Review: Cons
Of course, there are drawbacks to every online service. Here are some of the issues I found when writing this InboxDollars review:
Small Payouts
To be honest, I don't see much appeal in spending 10 or more minutes on a survey that will pay only 25 cents. However, if you've got time to kill while on the train for your daily commute, you might not be bothered by the small payouts.
Just be aware that this won't make you rich or pay you a sustainable income. (We've got ideas for that here.)
It Takes a While to Earn a Payout
No bones about it, it will take a while to earn your first $30 payout. So I recommend getting started with InboxDollars only if you know you can commit to using the site for a while before receiving any cash.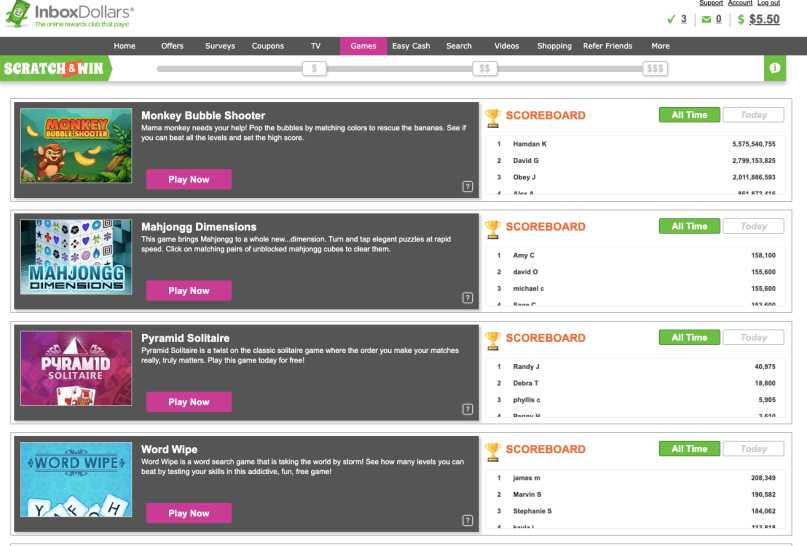 Third-Party Surveys
A lot of the surveys you'll receive invites for are on third-party sites. And unfortunately, some of these sites can be spammy. So make sure you have malware installed on your computer before you accept any invitations.
You Won't Qualify for All Surveys
You may not qualify for all of the surveys InboxDollars invites you to participate in. And unfortunately, you won't receive any award if you don't make it past the screener. (Some sites, such as Survey Junkie, will let you do this.)
InboxDollars Review: The Bottom Line
First off, this bears repeating: No survey site will let you earn any serious cash. This includes InboxDollars, which can pay off only a buck or two per day.
It's also important to keep in mind that it might take you some time until you earn the $30 you need to receive your check, gift card, or PayPal transfer.
However, if you don't need to earn a lot of money in a short period of time, InboxDollars can be a fun survey site to play around with. Although it won't pay your rent, if you commit enough time to taking surveys, playing games, or even clipping coupons, you could earn enough cash to cover your online streaming subscriptions or take a friend out for lunch.
Logan Allec, CPA
Logan is a practicing CPA, Certified Student Loan Professional, and founder of Money Done Right, which he launched in 2017. After spending nearly a decade in the corporate world helping big businesses save money, he launched his blog with the goal of helping everyday Americans earn, save, and invest more money. Learn more about Logan.