InboxDollars Review 2023 – Here's How Much I Earned in One Hour
Online Surveys
Basics: InboxDollars is a rewards website and app that lets users earn a little bit of money by completing easy online tasks like surveys and games. You won't earn a lot, but InboxDollars does let you redeem for real cash.
Pros: You can cash out through PayPal, and the InboxDollars email program fortunately does not spam your inbox.
Cons: It will take a while for you to actually earn money through InboxDollars, and when you do cash it out, it's probably not going to be that much.

Payout Options

Once you reach $15, you can redeem rewards through PayPal, Prepaid Visa (if available), or through e-gift cards available on the InboxDollars website.

Our Earnings

$6.30 in one hour


Mobile App

Yes, Android and IOS

Sign-Up Bonus

$5 sign-up bonus
InboxDollars is a rewards platform that claims to pay users with real cash. To test this out for myself, I spent an hour on the site to see if it actually worked. In this review, I'll walk you through how InboxDollars works, how much I earned, and whether or not it's worth it.
What is InboxDollars?
InboxDollars is an online rewards website that lets participants earn money through completing various online activities like taking surveys, watching videos, and more.
If you'd rather watch a review of my experience with using InboxDollars, check out the video below!
How Does InboxDollars Work?
InboxDollars works by selling your online activity and demographics to third-party brands and companies. Essentially, you are trading your online patterns, activities, survey choices, and other user information for monetary value.
InboxDollars lists numerous ways to earn through their platform, but how much you'll actually make will vary.
Is InboxDollars Legit?
Yes, InboxDollars is technically legit; it's part of Prodege LLC, a marketing insights company that provides brands with consumer behavior reports. InboxDollars is even acknowledged by the Better Business Bureau as an accredited business.
But nowadays, a lot of things can be marked as legit if you pay for the right approval seals. Sure, InboxDollars is "legit" in the way that it won't scam you out of your money, but whether it's "legit" in the way that you'll earn enough to actually cash out is a different question.
InboxDollars Gold Membership
According to InboxDollars, members automatically become Gold Members upon receiving their first cashout. InboxDollars Gold Members receive perks like faster payment processing and exclusive offers.
How To Sign Up For An InboxDollars Account
Signing up for an InboxDollars account is easy.
Head over to InboxDollars.com for desktop or download the InboxDollars app for your phone.
Enter your email address and create a password.
Click "Sign Me Up!"
Sign-Up Bonus
Upon signing up, you'll receive a $5 bonus to activate your account. However, the minimum amount to cash out from InboxDollars is $15, which means that you'll have to earn $10 additional dollars to actually collect this $5 bonus.
I earned $6.30 during my first hour of using InboxDollars. You won't earn a lot, but you can redeem for actual cash.
Initial Survey
After you create your account, InboxDollars asks you to input some personal information through a sign-up survey for 50 cents.
In all, it took me about three minutes to sign up, complete the survey, and get $5.50 in my InboxDollars account. But remember, I can't actually cash out on these earnings until I make $15.
How Do You Make Money on InboxDollars?
Ways to make money with InboxDollars

| Ways to Make Money with InboxDollars | How Much I Made In One Hour |
| --- | --- |
| Sign-Up Bonus | $5 |
| Initial Survey | 50 cents |
| Redeem Special Offers | N/A |
| Answer Trivia Questions | N/A |
| Check off your "To-Do List" | N/A |
| Download Coupons | N/A |
| Play Games | 3 Cents ( 26 mins) |
| Watch Videos | 2 cents (5 mins) |
| Read Paid Emails | N/A |
| Shop Through InboxDollars | N/A |
| Refer Friends | N/A |
| Take surveys | 75 cents (13 mins) |
| TOTAL | $6.30 |
Redeem Special Offers
After completing the first survey, InboxDollars pitches you several offers to earn money quickly, which can help you hit that $15 threshold.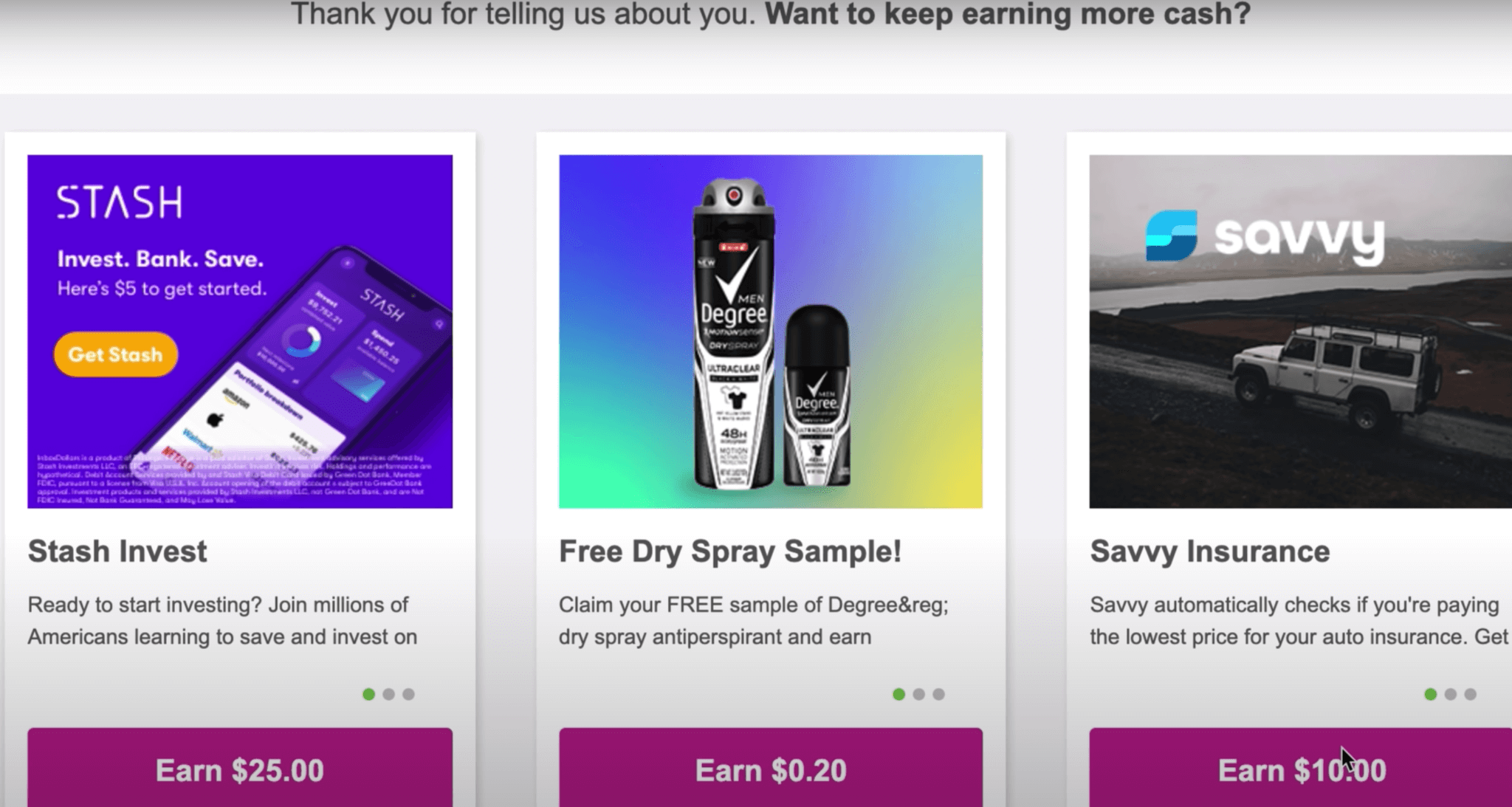 InboxDollars receives a commission when you sign up for various platforms through them, so they offer you a portion of that commission to persuade you to sign up. For example, InboxDollars will offer you $25 to sign up for Stash Invest.
However, these offers can be somewhat involved. If you sign up for Stash Invest, for example, you're agreeing to open a brokerage account and invest through Stash Invest. That's a big commitment for just $25.
Additionally, the offers you see on InboxDollars may not be the best offers on the internet. For example, you might be able to get $30 for Stash Invest somewhere else.
Answer Trivia Questions
Through InboxDollars, you can answer trivia questions to earn a virtual scratch-off.
After signing up, I returned to the home screen and answered a trivia question about It's a Wonderful Life. I answered correctly, but unfortunately, I didn't earn any money. Instead, the scratcher bar at the top of the screen progressed, which meant I got the chance to use a virtual scratch-off to potentially win some money.
Check Off a To-do List
InboxDollars also has a "to-do list" which comes with a 50-cent bonus when completed.
This list asks you to activate your account and take the profile survey if you haven't already. Then, it shows a variety of next options on how you can earn more money.
Download Coupons
The next item on the to-do list is to print a coupon to earn a reward, which you can do by clicking "do," selecting a coupon, verifying your phone number, and then printing the coupon.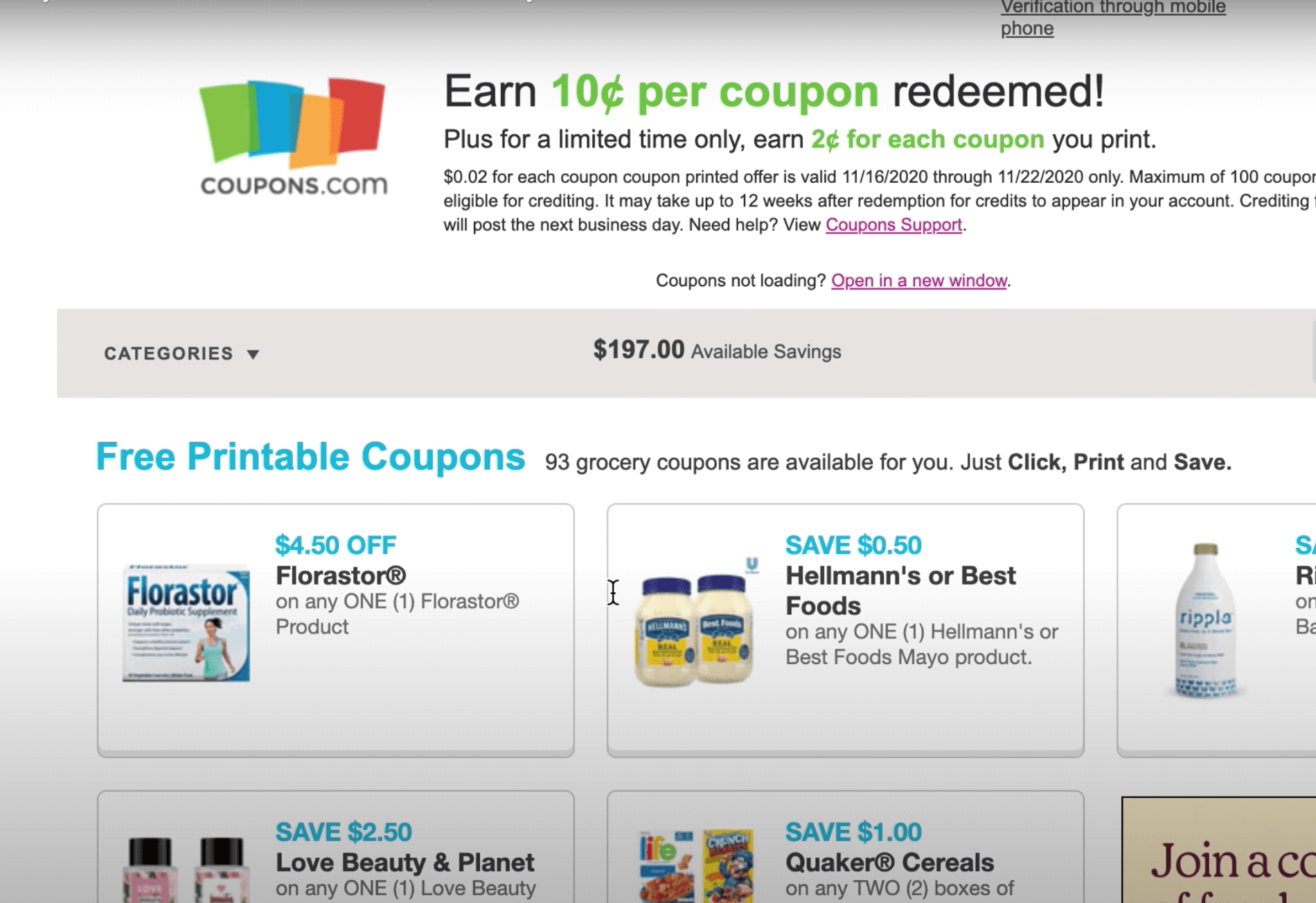 According to InboxDollars, you get 2 cents for printing a coupon and an additional 10 cents for actually using it. However, InboxDollars claims this reward may take 12 weeks to process.
Overall, 12 cents total for printing and using a coupon is not a lot. I'm not sure if this is even a redeeming quality for InboxDollars, since you'll need a printer and 12 weeks worth of patience. But, it is a nice bonus if you plan to buy one of these products anyway.
Play Games
InboxDollars then asks you to earn points toward a virtual scratcher by playing one of their online games. I chose to play a word search game called "Word Wipe" for 26 minutes.
I earned one scratcher from playing Word Wipe, which gave me a reward of 3 cents. This is an hourly rate of about 6.9 cents, which isn't a good rewards rate, but in my opinion, if you're going to play a similar game anyway, you might as well get paid for doing so.
Watch Videos
The next item on the to-do list is to watch videos under the "videos" tab. On this page, I clicked "Take a Discovery Break," which shows search results for different highly-monetized search phrases in the hopes that you'll click on the search results.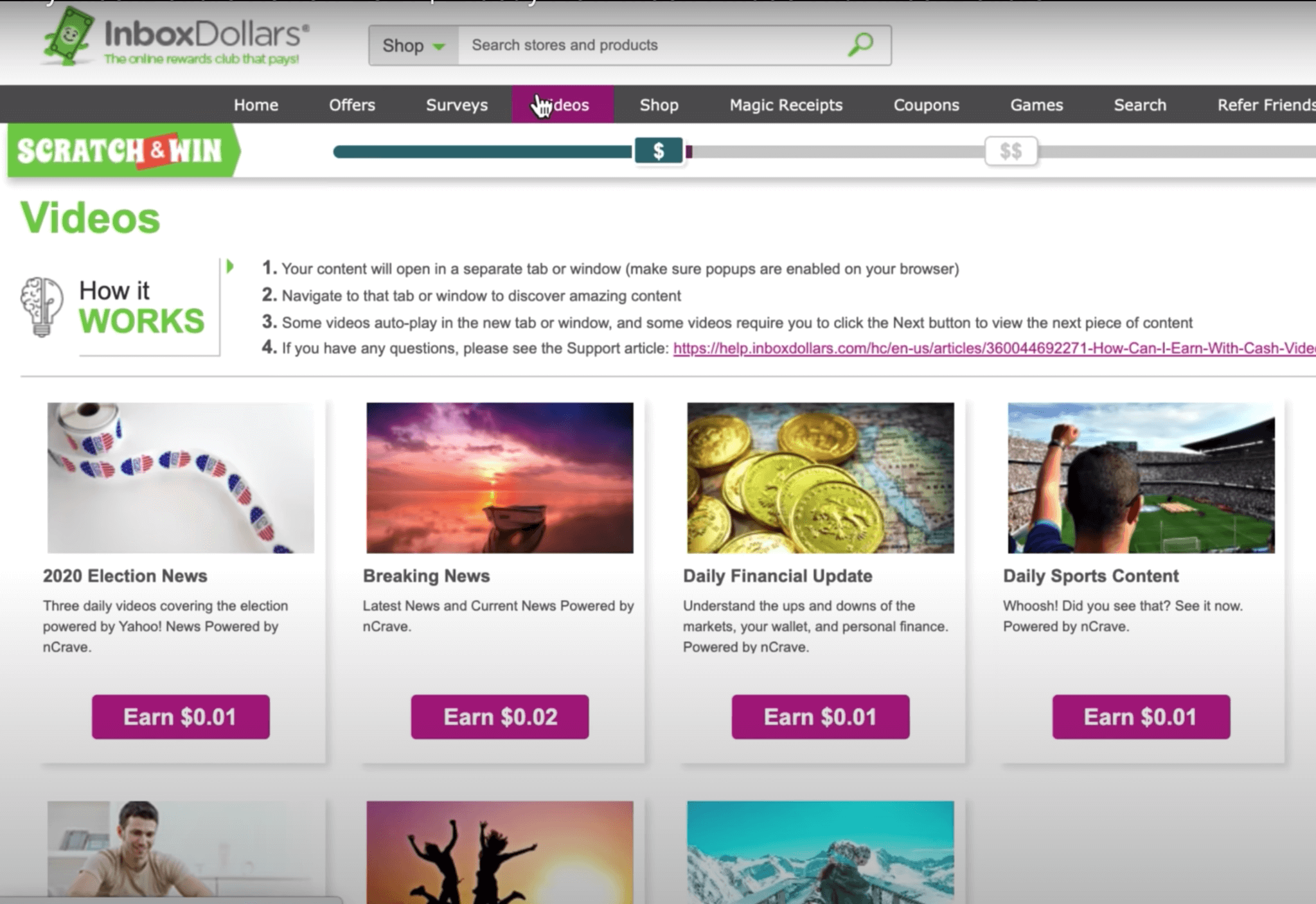 You don't actually have to click the advertisers or the search results to earn money for this. Instead, you can simply continue to click "Next Page" as long as you have about a 25-second wait between clicks.
There were a total of 12 pages for a total of about five minutes, all for a reward of two cents. This is equivalent to about 24 cents an hour.
I also watched a how-to video about InboxDollars to complete another item on the checklist, but unfortunately, I was not paid for doing so.
Read Paid Emails
The final item on the to-do list was to confirm my first paid email. I did not sign up since it said it might send up to four emails a day, and I didn't want more spam in my inbox. As a result, I did not receive a 50-cent bonus for completing all the items on the checklist.
However, if you do enlist in InboxDollars paid emails, expect to earn scratch-off rewards or other special offers within the lower end of the Inboxdollars payout spectrum.
Shop Through InboxDollars
InboxDollars has a "Shop" feature, which is its own version of a cash-back portal.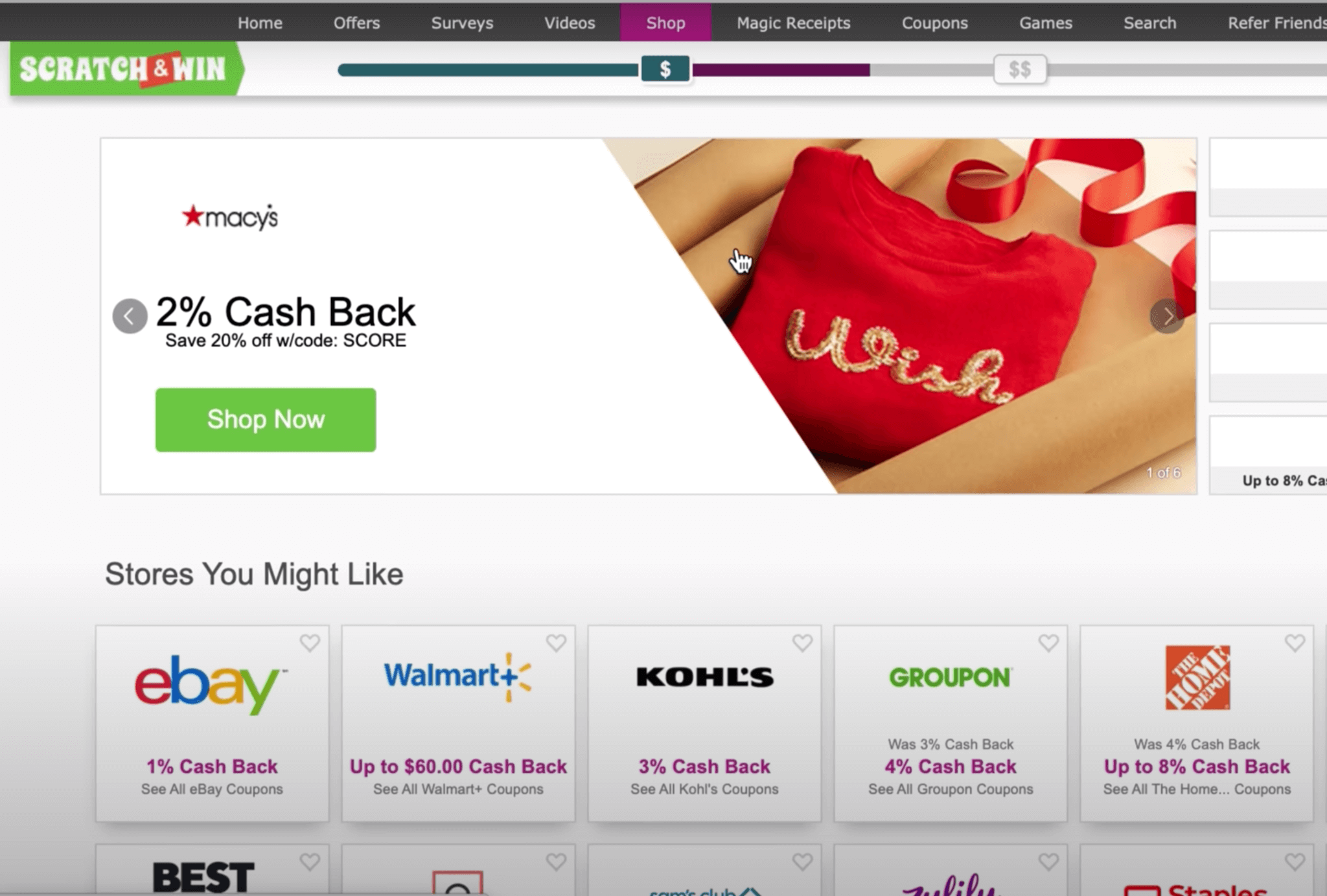 If you make a purchase at one of the available sites, InboxDollars receives an affiliate commission, and it gives you a portion of it in return (equal to a certain percentage of your purchase).
I didn't test this portal out, but I have no reason to doubt its legitimacy. However, you're likely to find better rewards for a given store at other cash-back sites like Rakuten.
Refer Friends
InboxDollars also has a referral program that offers 30% of the lifetime earnings of friends you refer. If you do refer people to InboxDollars, though, don't make it sound like they'll make a lot of money, because it's really just small rewards here and there.
Complete Surveys
Surveys are perhaps InboxDollars' most popular feature, and the platform offers a list of surveys with different payouts per estimated time under the "survey" tab.
I scanned the list and chose the three surveys with the highest payouts per estimated time. However, for the first two surveys I chose, I spent several minutes answering questions and then was told I didn't qualify, meaning I didn't receive any reward for my time.
But I was able to complete the third survey, which had a reward of 75 cents for an estimated 10 minutes (equivalent to a $4.50 hourly rate). It only took me 8.5 minutes, and I was credited the full 75 cents.
Survey rewards
Overall, I spent about 13 minutes on surveys and made a total of 75 cents, which is equivalent to an hourly rate of $3.46.
However, note that I specifically selected the surveys with the highest payout relative to the time estimate, so if I continued to take surveys, the payouts would have diminished over time, causing the hourly rate to decrease.
In other words, while I did earn equal to an hourly rate of $3.46 for a short period of time, I wouldn't be able to do that consistently. Not only would I run out of surveys, but I would also be more and more limited to surveys with extremely small payouts.
Replace Google
Finally, InboxDollars has a "search" tab, which allows you to earn progress on the scratcher bar by using InboxDollars to search for things on the internet four times a day.
Overall Rewards
Overall, I spent one hour in InboxDollars and made a total of $6.30. However, after subtracting the five dollar sign-up bonus and 50 cent profile survey bonus, my actual rewards were only 80 cents.
How Much Money Can You Make With InboxDollars?
InboxDollars blogs like this one claim that you can make $60 or more per month, but from my personal experience, I made $6.30 in one hour. Bear in mind that I prioritized options with the highest payoff rates, so I'm not too sure if I could actually make $60 in one month.
Payoff Rates
I'd estimate that you would make about 6.9 cents per hour playing games, 25 cents per hour doing activities like the "Discovery Break," and a maximum of $3.50 per hour taking surveys.
Payoff Options
You can redeem your InboxDollars rewards and request payment through PayPal, Prepaid Visa (if available), or through e-gift cards available on the InboxDollars website.
Does InboxDollars actually pay?
Yes, InboxDollars actually pays users real money. While this sounds promising, keep in mind that it won't be a lot of money, and you need to have earned at least $15 before you can cash out.
How long does it take to get paid?
According to InboxDollars, payments are processed on the first Wednesday that falls at least eight days after payment was requested. However, I didn't spend enough time in InboxDollars to earn $15, so I can't personally confirm that InboxDollars actually pays out as promised.
InboxDollars App
InboxDollars offers a mobile app option available for Android and IOS. This is potentially a better way to earn money through InboxDollars (rather than using a desktop) if you habitually pick up your phone as you wait or commute throughout your day.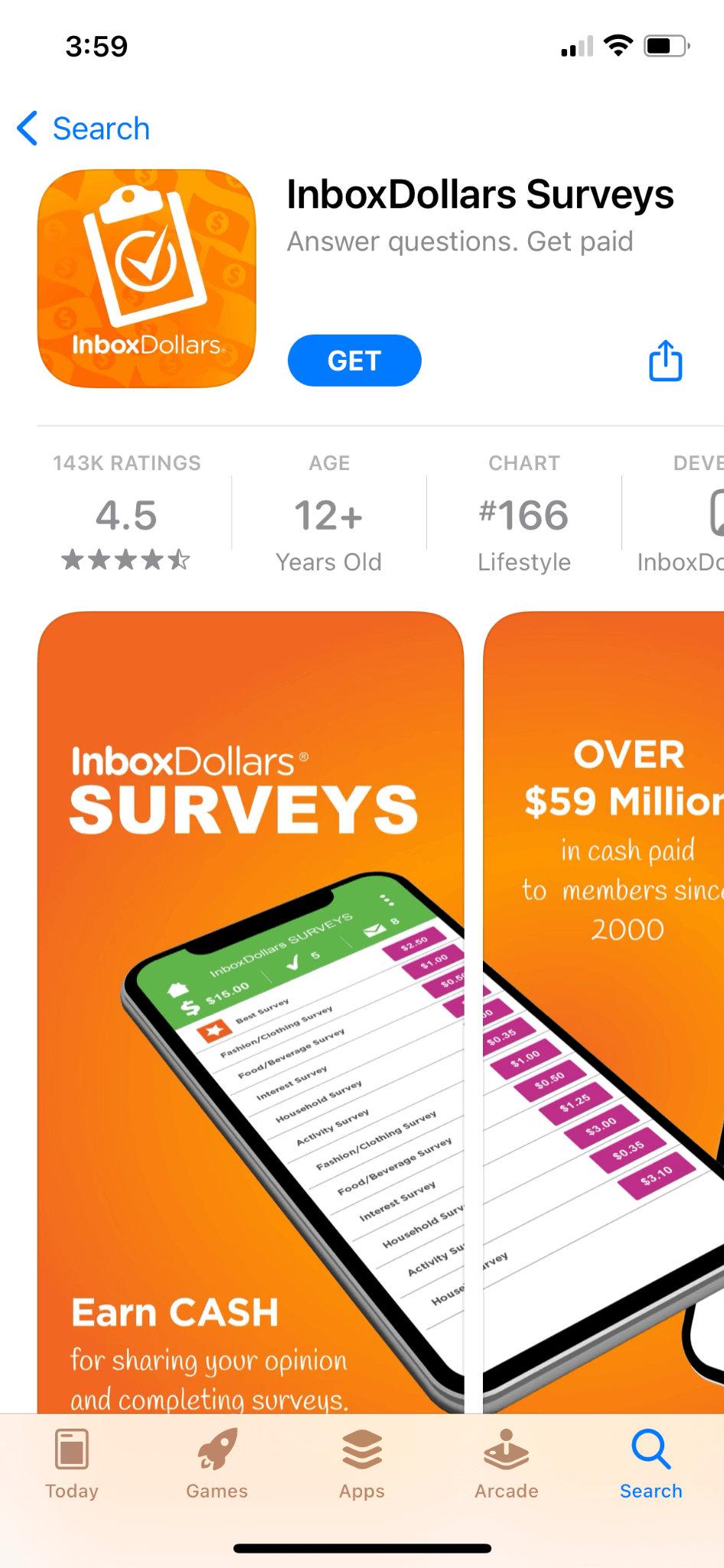 InboxDollars Hacks and Tips
InboxDollars won't make you an overnight millionaire (or even a sustainable side income), but there are some tried and true ways to make earning on the platform easier. However, note that most of these hacks and tips require a significant time commitment to using InboxDollars.
Use InboxDollars Search
InboxDollars has its own search engine where you can earn a Scratch and Win after you make four qualified searches.
You can even set InboxDollars Search as your homepage, so using the feature can feel more natural.
Spend More Time on InboxDollars
This one is more of a fact than a hack, but to earn more money on InboxDollars, you have to spend more time on InboxDollars. I only spent one hour on InboxDollars and made less than $7, but you could possibly earn more if you commit more time to using InboxDollars.
Refresh the Offers Page Consistently
InboxDollars has an offers page that lists all the ways you can earn money on the website. The offers change frequently, so this page is especially useful if you end up not qualifying for certain surveys, but want to explore more ways to earn.
Follow InboxDollars on Social Media
If you follow InboxDollars on social media, you can follow along with exclusive deals, promos, and "WINIT Codes" that act as raffle tickets for InboxDollars rewards and sweepstakes.
Here are InboxDollars' Instagram, Facebook, and Twitter accounts.
InboxDollars Pros and Cons
So, is InboxDollars worth it? Here are the platform's pros and cons so you can decide for yourself.
Pros
I didn't receive any spam emails from third parties through InboxDollars. All I got were a couple emails a day from InboxDollars telling me about new survey opportunities, not from third parties that InboxDollars gave my information to. But if I had opted in the paid emails program, I probably would have been spammed.
InboxDollars has several cashout options. Many similar sites only offer gift cards, but in addition to gift cards, InboxDollars offers cash out through Paypal, Prepaid Visa (if available), or donations to a select charity.
Cons
InboxDollars has reasonably low earnings. You're just not going to make a lot of money.
To cash out on InboxDollars, you have to first earn $15. This high withdrawal limit paired with low earnings doesn't really promise a fast and easy earning process. In fact, InboxDollars' business model seems to be based on the assumption that the majority of individuals will never actually be able to cash out, meaning that the website can essentially sell data without ever having to pay for it in the first place.
You don't make any money by completing surveys that you don't ultimately qualify for. This is extremely frustrating, since I already spent time answering questions to see if I qualified for the surveys.
Alternatives to InboxDollars
InboxDollars

Survey Junkie

Swagbucks

LifePoints

Sign-up Bonus

10 LifePoints (equivalent to about 90 cents)

Payout Options

Redeem cash for e-gift cards, Paypal credits or Visa cash

Redeem points for e-gift cards and Paypal credits

Redeem points for e-gift cards, Paypal credits or Visa cash

Redeem points for e-gift cards and Paypal credits

Min. Cashout
Pros

Users earn relatively more money per survey compared to other survey websites
The InboxDollars website claims to pay up to $20 per survey but the participant needs to match the demographic requirements; usually, InboxDollars surveys pay under $1

Better privacy options and limited data collection than InboxDollars
Participants have claimed to earn $20 to $200 a month through Survey Junkie based on their involvement

Users earn relatively more money compared to other survey websites -Participants have claimed to earn $25 to $100 per month through Swagbu ks based on their involvement

Better privacy options and limited data collection (LifePoints sell your data to third parties but conceal your identity)

Cons

High minimum withdrawal threshold
Time-intensive for low payoff
Users must qualify for surveys to earn money from surveys

Time-intensive for low payoff
Users must qualify for surveys to earn money from surveys

Time-intensive for low payoff
Users are limited to earn money through surveys they only qualify for

Low payoff
Users are limited to earn money through surveys they qualify for
Is InboxDollars Worth It?
In my opinion, InboxDollars is not worth spending time on –but given that it is a free platform, you don't have anything to lose other than your time. Whether InboxDollars is worth it really depends on you and what you want out of it.
Who InboxDollars Is Good For
InboxDollars might be good for people with limited options to earn money.
For example, if you're in a situation where making a few dollars an hour from home makes sense – like if you are taking care of children or are disabled – then InboxDollars could be a useful tool to supplement your household income.
While Inboxdollars may not be a sustainable way to make a living, it can be an easy and accessible option to earn a quick buck here and there. And by buck, I could literally mean $1.
Sign Up
We earn a commission on this offer.
Min. Cashout
$15
Redeem cash for e-gift cards, Paypal credits or Visa cash
Mobile App
Yes
Apple iOS, Google Android
Sign-up Bonus
$5 sign-up bonus
Who InboxDollars Isn't Good For
I would not recommend Inboxdollars to people who don't have a lot of time, or to people who want to earn money fast.
You would have to spend a lot of time on InboxDollars to make a relatively significant amount of money, so it is not a particularly lucrative venture if you're looking for a side hustle either.
Final Thoughts on InboxDollars
While InboxDollars does "pay" you for completing easy tasks, you will ultimately earn a very small amount. It could be worth it to someone who's okay with making a very little amount of money per hour in their spare time, but if you're looking to earn more than that, InboxDollars would not be the ideal "side gig" situation.
Frequently Asked Questions
Is InboxDollars safe and legit?

InboxDollars is a legitimate website owned by Prodege LLC, a California-based market research company. However, if you're concerned about your privacy, I would recommend reading through the website's Use of Information page first, since InboxDollars sells user data to third parties in exchange to pay you money.

How much money can you make from InboxDollars?

I earned $6.30 in one hour using InboxDollars. However, some testimonials like this InboxDollars blog claim to have earned more than $60 per month.

Is InboxDollars worth the time?

If you have limited time to earn money, InboxDollars would not be worth using. Instead, using InboxDollars would be more beneficial to situations where you have limited options to earn money, or want to make the most out of a long commute.

How much can you make on InboxDollars a day?

While I only earned $6.30 while testing InboxDollars for one hour, InboxDollars claims you can easily make an extra $60 per month, which comes out to $2 per day.
Author:
Logan Allec, CPA
Logan is a practicing CPA and founder of Choice Tax Relief and Money Done Right. After spending nearly a decade in the corporate world helping big businesses save money, he launched his blog with the goal of helping everyday Americans earn, save, and invest more money. Learn more about Logan.