Brigit Review 2023: Loans Up to $250, But There's A Catch
Personal Loans
Best For: People who need loans and budgeting tools.

Pros: Brigit doesn't charge interest on their loans, and they don't have a minimum credit score requirement.

Cons: A "Plus" plan is required for most of Brigit's features, which costs $9.99 per month.

APR

0%

MINIMUM CREDIT

N/A

TERMS

Assigned upon distribution of funds

ORIGINATION FEE

$9.99 / Month
A host of new companies are now offering small loans without any interest charges, as an alternative to high-interest payday loans.
Brigit is one of these. But is their monthly-fee model really an improvement over traditional payday loan terms?
What Is Brigit?
Brigit is a web and app-based payday loan service that offers its users cash advances in exchange for a monthly fee of $9.99.
They also offer users a credit building program, identity theft protection, overdraft protection, and personal finance insights.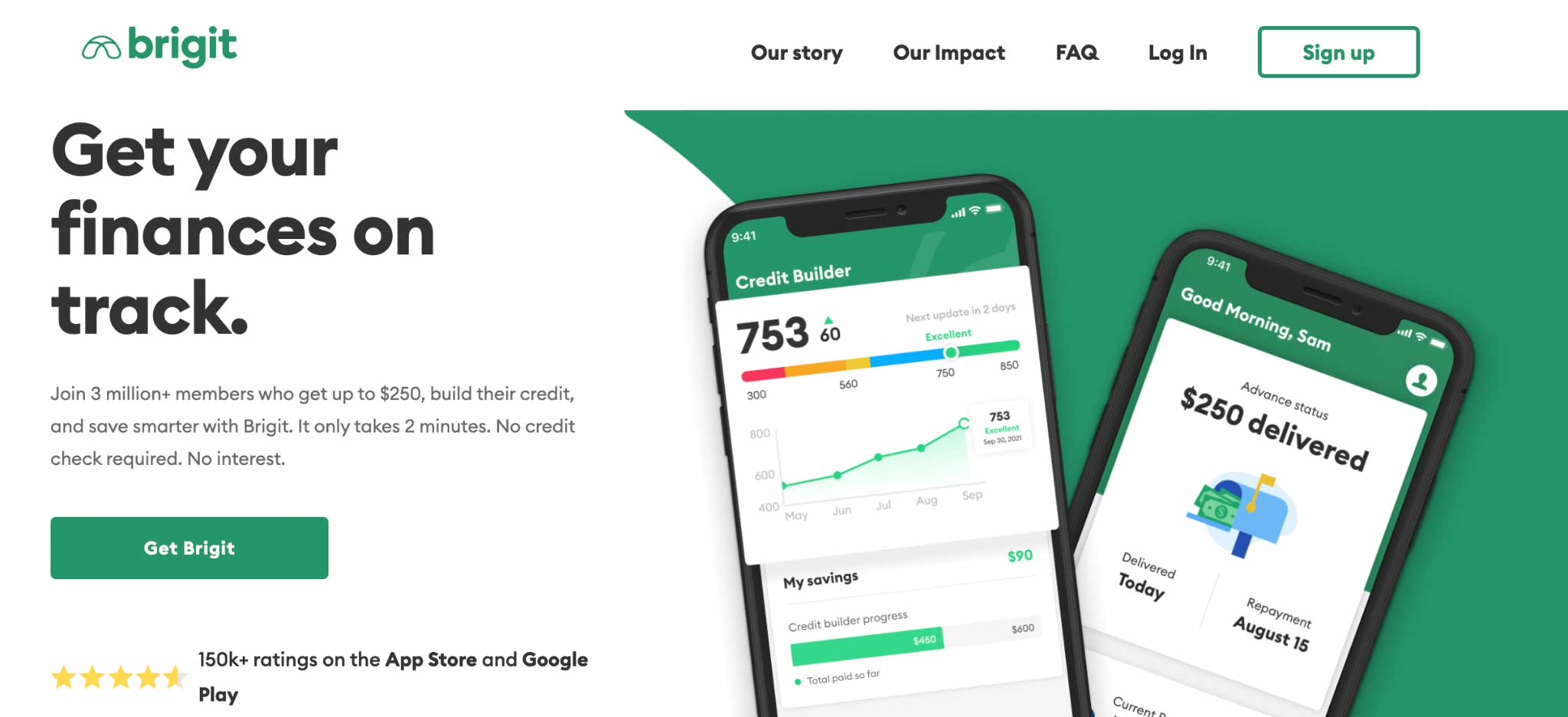 According to Brigit, their mission is to help everyday Americans build a brighter financial future.
How Brigit Works
With Brigit, users can borrow up to $250 in seconds for any reason.
When borrowing through Brigit, they won't charge you interest, check your credit, or hit you with hidden fees.
They also have technology that works behind the scenes to help you avoid overdrafts, budget your money, and build your credit.
Overdraft Protection
Since their infrastructure is tied to your bank account, they use your bank data to predict when you're likely to overdraw your account.
When Brigit detects a high likelihood of an overdraft, it can automatically add funds to your account, so you can avoid paying costly overdraft fees.
Budgeting Tools
After pairing with your bank account, Brigit provides basic budgeting tools to help you understand how you're spending your money.
These tools are available to anyone with a free plan.
Credit Builder
You can also set up a "Credit Builder" account, which allows users to build their credit through a 12-month loan taken out in the user's name by Brigit.
During the term of this loan, Brigit holds onto the funds and makes payments on the loan every month.
Each month, the borrower chooses an amount of money they put toward the loan (out of their own pocket), and at the end of the 12 month period, the borrower should (in theory) have seen a drastic improvement to their credit score.
If there are any excess funds from borrower contributions, they are then returned to the borrower.
According to Brigit, some users have had their score increase by as much as 60 points.
Here are some ideas for how to improve your credit score without paying any monthly fee.
Brigit At a Glance
Brigit At a Glance

| | |
| --- | --- |
| Loan Amounts | Up to $250 |
| Interest Rate | N/A (monthly fee instead) |
| Minimum Credit | No credit check required |
| Term Length of Loan | Assigned upon distribution of funds |
| Monthly Payment | Assigned upon distribution of funds |
| Origination Fee | $9.99/month |
Now that we've rated Brigit, let's take a deep dive into each category, and explain why we've given them each particular score.
APR
We've given them a 10/10 in the APR category because they simply don't charge interest on the money that you borrow.
Most payday loan services charge exorbitantly high interest rates, so it's refreshing to see a service that doesn't charge interest at all.
Although they don't charge interest on their loans, the monthly subscription fee can really be expensive if borrowers don't rely on Brigit very often, but we'll speak about that more in the next section.
Fees
Although Brigit got a great score when it comes to APR, the fees that they charge are a different story.
They say that they don't charge any hidden fees, or ask for any tips. (Probably a reference to Earnin, a similar company that generates revenue through tips.)
While that is technically true, you do have to be a "Plus" member to take out a loan with Brigit.
The membership costs $9.99 per month, and you cannot unsubscribe while there's a balance on your loan.
The monthly fee that they require can make a Brigit loan either a terrific deal or a terrible one.
Let's see how the effective interest rate of a Brigit loan could change depending on how often you use the service, or how long you take to pay back the loan.
Brigit Fees

| | | | |
| --- | --- | --- | --- |
| Amount Borrowed | $250 | $250 | $250 |
| Plus Membership Term / Time to Pay Off | 1 month | 3 months | 12 months |
| Total Membership Dues | $9.99 | $29.97 | $119.88 |
| Effective Interest Rate | 3.98% | 11.99% | 47.95% |
Someone who uses Brigit's service only briefly, or who borrows every month, will be paying a much lower fee (as a percentage) than someone who only uses it once per year.
And if you pay for Brigit Plus for an entire year (nearly $120), and only borrow $250 from them — or wait 12 months before paying the loan — then you're effectively paying a 48% fee on the money that you borrowed!
In that case, it would be much cheaper to have gotten a loan from pretty much anywhere else.
To be fair, Brigit does offer other services with the membership, but some of these services are easy to find elsewhere, like free budgeting and spend tracking apps.
Transparency
Brigit got an 8/10 score for transparency because they really are quite transparent.
They have an extensive FAQ section that has answered practically every question imaginable.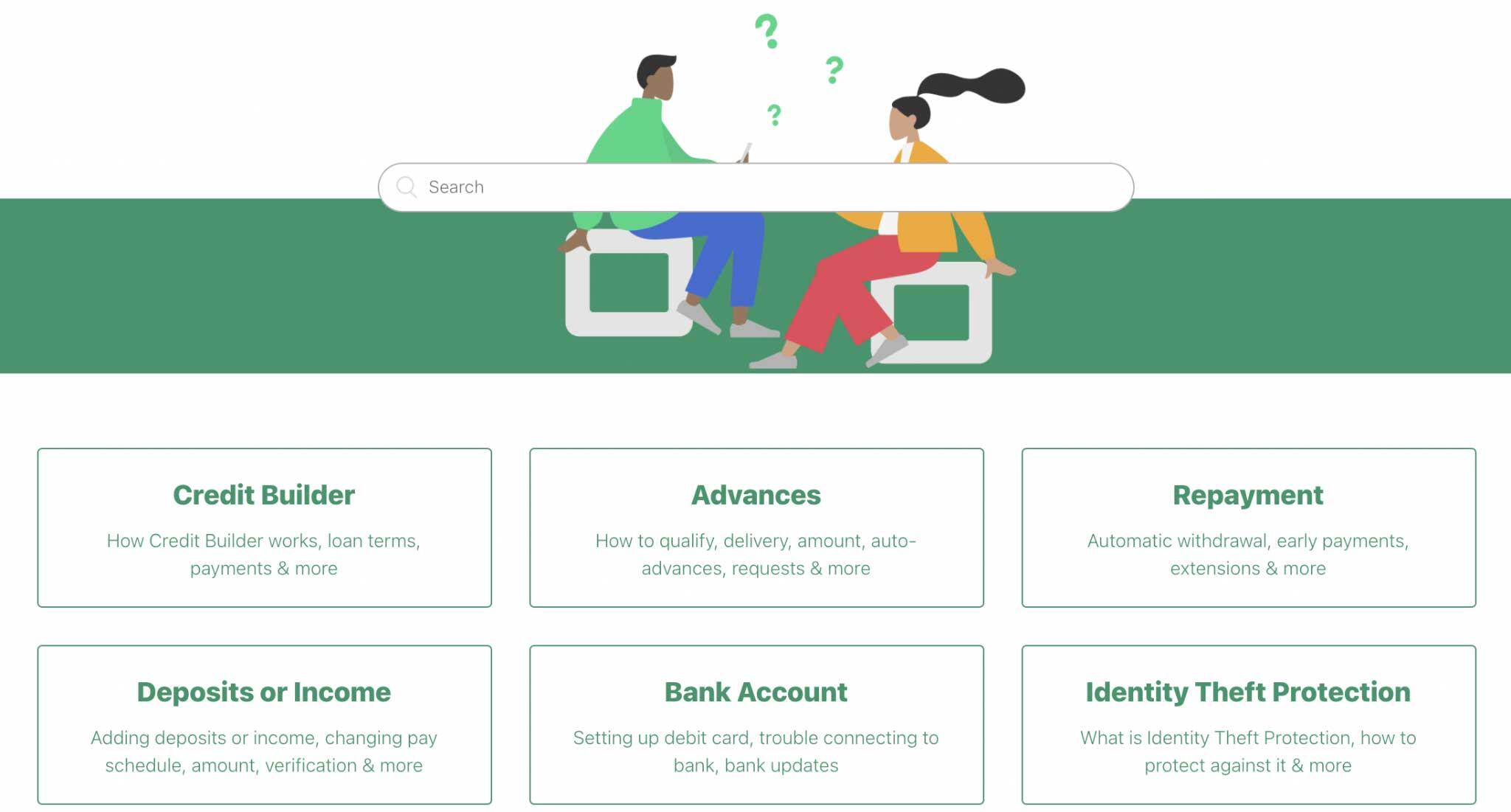 One area we really wish they would have been more transparent on is the fee dilemma that we've outlined above.
Borrowers should be made aware of the effective fee that they're being charged on the money that they borrow.
As we outlined above, if you're not borrowing with Brigit very often, the subscription fees can represent a huge percentage of the money that you borrow.
Flexibility
We gave Brigit a 7/10 score for their flexibility because they don't openly disclose the loan terms they offer on their website.
According to their FAQ section, they assign the loan's due date when you request the funds.
While payday loans typically have a term of just a week or two, a bit more clarity would be nice.
Aside from the fogginess around their loan terms, they do have a great program for requesting due date extensions.
Since they give borrowers an "extension credit" each time they make two consecutive on-time payments, they incentivize users to practice good financial habits.
Funding Speed
Brigit got a 5/10 in the funding speed category because their funding speeds are just… average.
With a Brigit loan, you will receive your funds within 1-2 business days.
While 1-2 days isn't slow by any means, it isn't particularly quick either.
There are other payday loan companies that can get borrowers funding much faster than Brigit (however, their interest rate is likely higher).
Getting a loan on the same day would likely require a borrower to go somewhere in person though, which is an area of service not offered by Brigit.
Accessibility
Brigit earned a 7/10 in the accessibility category because they alienate anyone who doesn't have a normal job with a recurring paycheck.
One of Brigit's requirements is that the borrower needs to receive a regular, recurring paycheck from their employer.
Brigit Qualification Requirements
Brigit Qualification Requirements
You receive a regular paycheck via bank transfer
Your checking account must be at least 60 days old, with regular use.
The checking account tied to Brigit is not a joint account
The balance in your account needs to be above $0.
There needs to be a history of having money leftover on both your payday and the following day.
You must have three or more recurring deposits from your employer, with an average paycheck of $400 or more
You must receive $1,500 or more per month from the same company.
This automatically disqualifies anyone who is self-employed or works in the gig economy.
This means that business owners, rideshare drivers, app-based delivery drivers, and full-time freelancers are ineligible for Brigit loans.
In today's day and age, the freelance/gig economy is exploding.
There are countless people working for themselves that might not receive a steady paycheck from an employer, and Brigit makes it impossible for those people to get a loan through them.
Other Features
Although we didn't give Brigit's other features a rating above, we're giving them a 9/10. Brigit's Credit Builder Loan is a unique program that helps its users build their credit.
They also offer helpful information on personal finance and budgeting, and they even help users make extra money on the side through their partnerships with companies operating in the gig space.
Minimum Credit
No credit check
Brigit Pros and Cons
Brigit provides easy access to cash and doesn't charge interest, but the loans are small and the monthly membership fee can add up.
Brigit Pros
Payday loans without the hassle. Most payday loans come with incredibly high interest rates, Brigit doesn't. They also don't ask for "tips" or charge any hidden fees like other loan apps.
No credit check. Brigit doesn't pull a hard inquiry when you request a loan from them. This means there won't be any ding to your credit report.
Smart overdraft protection. Brigit uses your bank data to predict when you're likely to overdraft and intervenes with quick cash.
Helpful personal finance tips. Brigit helps you budget your money, and even offers up ideas for side hustles to earn extra cash.
Entirely digital. Brigit is an app-based solution for payday loans. This means you don't have to waste time talking on the phone, or going to a physical location.
Brigit Cons
Brigit requires a paid subscription. In order to get a Brigit loan, you'll need to pay $9.99 per month. Depending on how often you use their service, or how quickly you can pay the loan, it might actually be cheaper to get a payday loan.
Low maximum loan amount. Although fast cash is great, $250 might not necessarily solve your problems, and as of right now, that's the maximum amount that Brigit offers.
No good for gig workers. Brigit requires you to have recurring deposits from your employer. This can present a problem if you're a freelancer or gig worker that isn't being paid on a set schedule.
Encourages poor financial habits. It's okay to take a payday loan every once in a while for emergencies, however, you shouldn't make this a habit. Payday loans, even Brigit's encourage borrowers to spend more than they earn, and come with a hefty cost.
How to Apply at Brigit (Step-by-Step)
These are the basic steps you'd go through to set up a Brigit account.
Step 1: Basic Info and Validation
Enter your email and phone number. A verification code will be sent to your phone, which you'll need to enter into the app.
Step Two: PIN Number
You'll be prompted to create a four-digit PIN.
Step Three: Personal Information
Tell Brigit your first and last name.
Step Four: Bank Account Requirements
Brigit will ask you to confirm that you meet minimum requirements for their service.
As of November 2021, your bank account must be at least two months old, you must get paid regularly, and you must earn more than $500/month.
These are not the only requirements but they are the basic requirements for linking your account.
Step Five: Bank Account Verification
Brigit connects to your bank account through Plaid, a company that specializes in connecting apps to bank accounts.
Step Six: Borrow Up to $250
Once you're verified to be eligible, you can borrow up to $250.
I found that signing up for Brigit is both simple and easy. It only takes a few minutes to go through the signup process.
Brigit Consumer Reviews
Everything with Brigit seems solid on paper.
They have an extensive FAQ section to answer customer questions, and their service connects with trusted services like Plaid.
Still, it's important to take a look at what people who use the product are actually saying.
To get an idea of how people feel about Brigit, we'll take a look at their Better Business Bureau profile, as well as user reviews.
Better Business Bureau Reviews
Brigit is not accredited by the Better Business Bureau, however, they do have a "B" rating, which is a fairly solid rating.
If you're not familiar with the process that the Better Business Bureau uses to rate companies, we've outlined some important metrics below:
A BBB rating represents their own opinion of how likely a business is to interact with their prospective customers.
Their ratings go from A+ on the high end, to an F on the low end
When rating a company, the BBB will usually provide reasoning behind the rating that they gave.
The reason that Brigit received a B rating is that, as of November 2021, they have 79 complaints filed against them since they opened 3 years ago.
The BBB site also allows customers to leave reviews of companies.
In the case of Brigit, their users were not very happy.
When it comes to user ratings on the BBB site, Brigit has ten user reviews.
Overall, the users rated Brigit 1.6 stars, out of a possible 5, a dismal rating to say the least.
User Reviews
Brigit User Reviews

| Reviewer | Issue | My Take |
| --- | --- | --- |
| Jeffrey H – 11/03/2021 | Jeffrey says he got and paid back a Brigit loan, but when he tried to get another loan, he was denied. | Without knowing more about Jeffrey's situation it's hard to know what to make of this. It's possible that his finances changed and Brigit no longer felt he was likely to pay a second loan back. |
| Howard H. – 10/10/2021 | Says he tried to cancel his account multiple times but nothing happened. | Many of the reviews are about this situation, and Brigit responds to all of them. Generally they claim that the person didn't follow the proper steps for cancellation (which may have included paying off their loan). |
| Kameron T. – 6/22/2021 | Complains about continuing to be charged the monthly membership fee. | Brigit responds saying that you can't cancel your membership until you pay off your loan. I can understand someone being upset about this if they didn't understand how it worked initially. |
| Billy – 4/24/2021 | Claims that he never borrowed the $50 that was taken from his bank account. | Brigit responds claiming to have proof that the customer requested the loan. I'm inclined to believe Brigit on this count, it doesn't seem likely that they could get access to the person's bank account without the person giving Brigit their information. |
Brigit Frequently Asked Questions
Will applying for Brigit affect my credit score?

Requesting a loan from Brigit will not affect your credit score. They do not pull a hard inquiry when you request a loan, so there are no dings to your credit.

Is there a minimum credit score requirement with Brigit?

Brigit does not have any credit score requirements to obtain a loan with them. They do, however, have certain banking requirements that we discuss under the "How can I qualify for Brigit?" section.

Can I build my credit with Brigit?

Paying off your Brigit advances on time, and in full will help you build your credit score over time.

This is because they report your borrowing behavior to the major credit bureaus.

They also have a helpful Credit Builder loan program, that they claim can help increase your credit by as much as 60 points in just 3 months.

How do I pay Brigit back?

When using Brigit, you don't have to worry about remembering to make a payment on time.

Brigit will automatically withdraw the money you borrowed on your repayment date.

Your repayment date can be found at any time via the app, and Brigit will remind you 2 business days before they withdraw the payment from your account.

You can also request to extend your due date or repay Brigit early through the app if you would like.

Can I change my due date on Brigit?

It is possible to change your due date on Brigit, however, they don't allow you to do this all the time.

Upon opening your account, you're given one "extension credit" that allows you to push your repayment date off to a later date.

Although you're only given one extension credit to start off with, Brigit does offer opportunities to earn more credits.

In fact, for every two consecutive on-time payments you make, you will earn one extension credit, and they allow you to save up a maximum of three credits at a time.
Brigit offers low-hassle loans for employed people who need a small amount of cash to cover bills. They don't charge interest, but you must pay a $9.99/month membership fee to get a loan.
Author:
Logan Allec, CPA
Logan is a practicing CPA and founder of Choice Tax Relief and Money Done Right. After spending nearly a decade in the corporate world helping big businesses save money, he launched his blog with the goal of helping everyday Americans earn, save, and invest more money. Learn more about Logan.