Best For: People looking to find a loan quickly and painlessly.
Pros: PersonalLoanPro is an easy-to-use website that makes the loan finding process simple. They also have a wider range of APR and loan amounts, making it useful for most everyone.
Cons: Using PersonalLoanPro means you cannot customize your loan options. You are presented with loan options and can either choose them or not. You also need to input personal information that some users may not be comfortable with.

APR:

Usually 2.49 - 35.99%

MINIMUM CREDIT:

Starting from 580 depending on lender

TERMS:

61 days - 180 months

ORIGINATION FEE:

0 - 8% depending on lender
With an ever-increasing number of companies offering loans online, it may seem overwhelming when choosing a lender.
PersonalLoanPro promises to simplify the process and find the best loans for you. Let's find out if that is true.
What Is PersonalLoanPro?
Right off the bat, it's important to note that PersonalLoanPro does not provide loans themselves.
Whereas companies such as SoFi and Upgrade are lenders and will provide you funds directly, PersonalLoanPro is simply an aggregator of offers from lenders.
PersonalLoanPro will take your information such as income, desired loan amount, and use of loan. and provide you with the best solution from their list of associated lenders.
The service is provided free to users, so there are no financial implications for at least testing the service.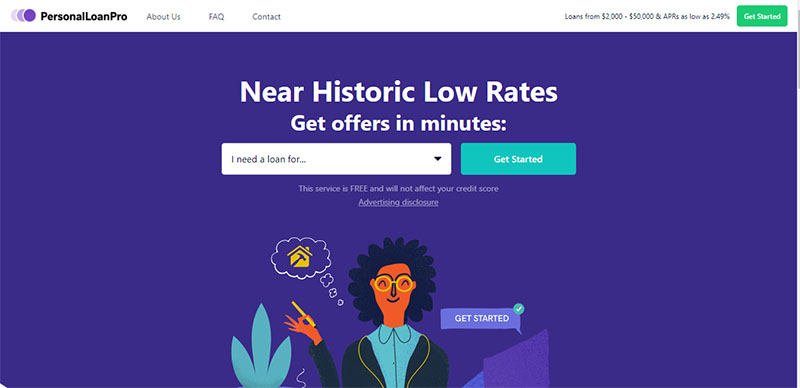 PersonalLoanPro Highlights
PersonalLoanPro is one of many loan comparison sites found on the internet today.
PersoanlLoanPro works with various lenders that include big names such as SoFi, Upgrade, LendingClub, Prosper, and Best Egg.
While these aren't the only lenders, nor is it a guarantee that you will receive an offer from these lenders, it's reassuring to see that they work with well-known lenders and not predatory, high-rate lenders.
Compared to competitors, PersonalLoanPro offers higher dollar amount loans and potentially lower interest rates on the loans.
When going through PersonalLoanPro, users can request a loan anywhere between $1,000 – $50,000.
This is a much higher range and higher top-dollar amount than a lot of the competition.
The interest rates available appear to be a bit lower than other sites, but this of course will depend on your financial picture and the lender you decide to go through.
PersonalLoanPro states that the rates will begin at 2.49% and if you can get near that range, it is a very good option.
PersonalLoanPro At a Glance
| | |
| --- | --- |
| Loan Amounts | $2,000 - $50,000 |
| APR | 2.49 - 35.99% |
| Minimum Credit | 580, but it depends on the lender |
| Terms | 61 days - 180 months |
| Origination Fee | 0 - 8% depending on lender |
| Funding Speed | As little as 1 business day |
APR
Since PersonalLoanPro is not a lender itself, the APR received will depend on which lender you decide to choose after being presented your options.
PersonalLoanPro states that the minimum APR offered by their partners is 2.49%, while the maximum rate presented is 35.99%.
Most lenders today are gravitating in the 5 – 6% range, so if you can qualify for one of the lower rates offered, PersonalLoanPro may be a good choice.
Fees
There are no fees associated with using PersonalLoanPro.
This means there is no downside, at least financially, for checking and seeing what loans you qualify for on their service.
When it comes to the fees associated with the loans themselves, there's no way to tell what you will pay until you are taken to the lender's site.
Since this is not a part of PersonalLoanPro, we won't cover it in this review.
However, be sure to look out very carefully for any fees you may pay.
These can be origination fees, application fees, late payment fees, prepayment fees, and others.
Transparency
I actually found PersonalLoanPro to be pretty transparent.
They make it very clear on the homepage that they are not a lender themself.
They are also forthcoming in how they make money.
In fact, the very first question on their FAQ is "How Does PersonalLoanPro Make Money?"
While you do need to input your Social Security number in order to complete the process, they state that as soon as you are taken to the lender website, your information is removed from their servers.
I think they could provide more information on what rates and lenders are available through their system, but the major issues seem to be covered.
Flexibility
If you receive a loan with bad terms or a poor rate, I would hesitate on putting the blame directly on PersonalLoanPro.
Being that they are more of an "aggregator", the flexibility that you get will depend entirely on the lender that you go with.
I will say, the wide array of terms and APR available from the lenders on PersonalLoanPro exhibit some very good flexibility and options for people looking for loans.
The available terms span all the way from 61 days to 180 months and the potential APR starts very low.
While ultimately the flexibility of the terms and loan details lie with the lender, it appears that PersonalLoansPro provides a decent amount of choice.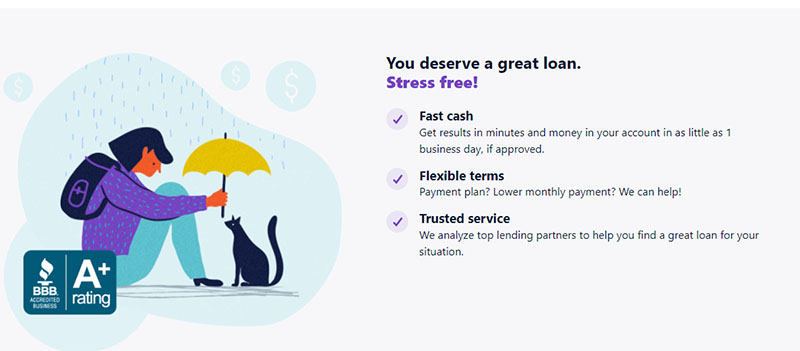 Funding Speed
Here is the great thing about personal loans nowadays: Once you have been approved, the money is yours very quickly.
According to PersonalLoansPro, if you are approved for a personal loan through one of their vendors, you can receive your money in as little as one business day.
If you need the money quickly, this is a great option.
Accessibility
PersonalLoansPro makes it very easy to at least be presented with the options available to you.
Of course, whether or not you are approved will be up to the individual lenders.
The application process on the website takes no more than 2 minutes and asks only the basic questions.
You will need to specify your income, the desired loan amount, the reason for your loan, and a few other basic demographic questions.
Note that you are required to input your full social security number.
This is typical of the loan application process, but if you would rather a third party not have access to your social, then applying directly with the lenders may be a better option.
At PersonalLoanPro, they can provide loan options to customers with a credit score as low as 580.
This is lower than many lenders, but there will likely be higher interest rates and fees associated with the loans.
Other Features
PersonalLoansPro is a very bare-bones website.
This could be a positive or negative depending on exactly what it is that you are looking for.
The only thing you can do is fill out your information and be presented with a list of loans.
They specialize in aggregating loans and don't bother with anything else.
If you are looking for a simple process to compare loan options, PersonalLoansPro is a good option.
If you need more help with the process or want extra features, look elsewhere.
How to Apply at PersonalLoanPro
The application process is straightforward regardless of technical expertise.
After just a couple of minutes, you should be presented with a list of available loans for you.
Step 1: Complete the Online Application
From the home page of PersonalLoanPro, select the reason for your loan and click "Get Started".
From here, fill out all of the required information on the next few pages.
Step 2: Review the Loan Options
PersonalLoanPro will compile a list of potential loans from their partners.
Depending on your financial picture and needs, you may receive multiple, one, or no options.
Review the terms, fees, and other details provided on the website.
Step 3: Click the Loan Most Appealing to You
PersonalLoanPro will present you with a list of loans available to you.
Once you decide which loan you prefer, clicking the link will take you directly to the lender's website.
From here, you will be dealing directly with the lender and will no longer be using or needing PersonalLoanPro.
PersonalLoanPro Consumer Reviews
PersonalLoanPro has been used by a large number of users during their time in business.
This is good for us because it has provided plenty of user reviews for the service.
Our PersonalLoanPro review will cover the Better Business Bureau rating and various user reviews from across the internet.
Better Business Bureau
PersonalLoanPro is currently rated as an A+ on the Better Business Bureau.
They have been accredited on the BBB since 2018 and continue to be today.
If you are struggling to find them on the BBB website, they are listed as On the Barrelhead, Inc, which is their parent company.
You can find PersonalLoanPro under the "alternate name" section of their profile.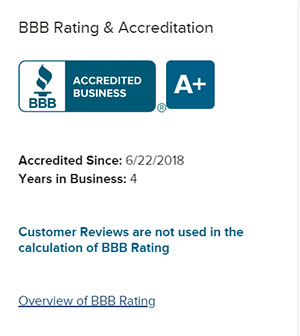 Take the BBB accreditation and rating with a grain of salt, however.
Even with the A+ rating, they average 1 star based on 5 consumer reviews on the website.
User Reviews
Outside of the BBB, there are various other places where we can find reviews of PersonalLoanPro.
On TrustPilot, PersonalLoanPro has a fairly poor rating of 2.2 based on nearly 400 consumer reviews.
Let's dig a bit deeper into the problems consumers seem to be having.
Reviewer
Issue
My Take
Svetlana on 11/18/2021
Svetlana complains that PersonalLoanPro has been bombarding her with emails since she used the service.
Unfortunately, this is a common occurrence with any service that you need to input your email into.

In the privacy policy, PersonalLoanPro states that they may use your email address for marketing purposes including emails, ads on websites, and other advertising.
Ashley on 10/10/2021
Ashley stated that the APR that she received was too high.
The problem with aggregators like PersonalLoanPro is that users don't know where to put the blame.

For Ashley, her financing information led to her receiving a high APR. But this has everything to do with the lenders rather than PersonalLoanPro.
Debra on 3/22/2021
Debra stated that the website says loans will be 3.99% but she received a 5.99% rate.
For people using any loan website, it is important to note that the lowest rates they show are potential rates, not necessarily what you will receive.

So while this may seem a bit deceptive, it's common practice in the industry so be aware!
Marcus on 3/17/2021
Marcus stated that rather than being forwarded to a lender, he was just sent to another loan finding service.
I find this hard to believe, but if it is true, I don't think it should be happening.

If you are a service that advertises connecting users to lenders, you should do just that.

In Marcus's case, it seems he was thrown into a loop of loan-finding websites which shouldn't happen.
Is PersonalLoanPro Legit?
PersonalLoanPro is a legit site.
It is not a legit personal lender, but that is not what they are claiming to be.
The majority of the negative reviews I found tended to be people that did not go into the service knowing what they were getting into.
If you know that PersonalLoanPro is an aggregator that will match you up with a lender, from everything I have read and experienced in my testing – the site works well.
PersonalLoanPro Pros and Cons
PersonalLoanPro is very simple to use but is limited in its scope.
Pros
User Friendly: Whether you have tech experience or it's your first time using a computer – PersonalLoanPro makes the process easy for everyone.
Quick Process: The time between logging on and being presented with your loan options should take you no more than a few minutes.
Low Potential Rates: PersonalLoanPro has a minimum rate of 2.49%, which is much lower than a lot of the competition.
Cons
No Filters: There is no way to filter for things like loan term, or fixed rate. You simply get what you are presented with.
Input of Personal Information: While they say they won't do anything with your information, inputting your full Social Security number on a random website may be too much for some users.
No Knowledge of Lender Terms: There is no way to know the fees, terms, and other requirements of the lender until you go through the process on their website – away from PersonalLoanPro.
Who PersonalLoanPro Is Good For
If you want to go through a quick, painless process for a loan – PersonalLoanPro is a great option.
While there won't be much in the way of choices and customization, you can be ready to apply for a personal loan within a few minutes.
Who PersonalLoanPro Is Not Good For
If you have an idea of exactly what terms you are looking for, look elsewhere.
There is no way to choose what PersonalLoanPro will present you with, meaning you will be shown random terms, rates, and lenders.
Also, I would advise going elsewhere if you have a bad financial picture.
While the lower credit score requirement might seem enticing, this will likely result in you receiving a high APR such as the maximum 35.99%.
For someone struggling financially, that is not a good idea.
Alternatives to PersonalLoanPro
| | PersonalLoanPro | PersonalLoans.com | CashUSA | BadCreditLoans.com |
| --- | --- | --- | --- | --- |
| | | | | |
| Best For | People who want to find a loan quickly and painlessly. | People who don't have the best credit scores. | People who need small loans fast and who have bad credit. | People with bad credit who need fast money. |
| Loan Amounts | | | | |
| APR | | | | |
| Minimum Credit | | | | |
| Terms | | | | |
| Origination Fee | 0 - 8% depending on lender | | | |
| Funding Speed | | | | |
| Credit Check | | | | |
PersonalLoanPro Frequently Asked Questions
Does PersonalLoanPro cost anything to use?

No. PersonalLoanPro gets paid by the lenders for advertising their services. Users of the website will not be charged at any point by PersonalLoanPro.

Will PersonalLoanPro affect my credit?

Using the website will not affect your credit, however going through with the loan will. On PersonalLoanPro, they do a soft credit check that will not impact your score at all.

Do I need good credit to use PersonalLoanPro?

While they only require a minimum of 580 credit score, users in that range will likely receive a loan with worse terms and high APR so be aware of that.
Author:
Evan Diaz, MBA
Evan Diaz, MBA, covers personal finance topics for Money Done Right. After getting his MBA and working in investment banking, Evan began writing full-time. He's an avid investor and has a passion for helping people improve their finances.